Hurricanes lose lead then rally past Sharks
Published
Feb. 8, 2015 1:33 a.m. ET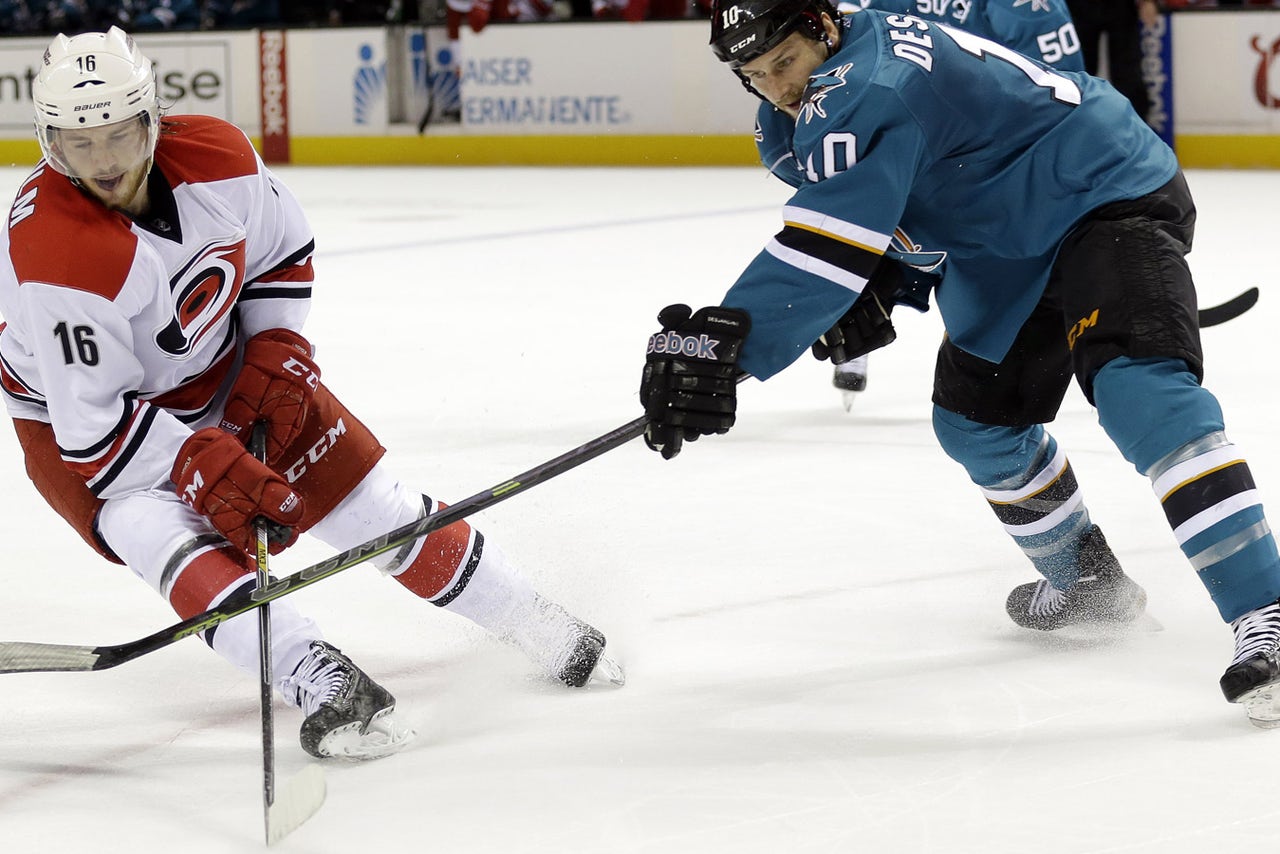 SAN JOSE, Calif. -- Andrej Sekera and Victor Rask scored 3:41 apart late in the third period and the Carolina Hurricanes beat the San Jose Sharks 5-4 on Saturday night.
Eric Staal, Andrej Nestrasil and Elias Lindholm also scored for the Hurricanes, who are 9-3-3 since Jan. 1 and have won four straight in San Jose. Cam Ward stopped 23 shots to improve to 4-1 against the Sharks.
Tomas Hertl scored twice and Logan Couture and Patrick Marleau also scored goal for San Jose. Antti Niemi finished with 26 saves.
Sekera put the Hurricanes ahead with less than 5 minutes remaining and Rask's empty-netter made it 5-3 with 1:10 to go. Marleau closed the scoring 15 seconds later.
The Hurricanes took the lead in the game's first minute when Staal beat the Sharks to a bounce off the backboard. The sequence started when Sekera won the puck off the boards at the blue line.
Staal has 10 goals since his younger brother Jordan returned to the lineup from a broken right fibula 17 games ago. He scored seven through his first 30 games.
Nestrasil made it 2-0 early in the second period as he split a pair of defenders to beat Niemi after taking a pass from Alexander Semin.
Hertl scored his first goal 3 minutes later after Chris Tierney won a battle to the puck behind the net and passed it out to him.
Lindholm, who has six points in four games against the Sharks, made it 3-1 midway through the second period on a power play. He was able to skate in with the puck until he found a gap.
The Sharks scored twice in the first four minutes of the third period to tie the score. Hertl's baseball-style swing on a puck in the air produced the first score, and Couture worked a give-and-go with Matt Tennyson to tie it.
---