Hurricanes coach Al Golden: 'We're excited about the direction we're going'
Published
Aug. 4, 2014 2:02 p.m. ET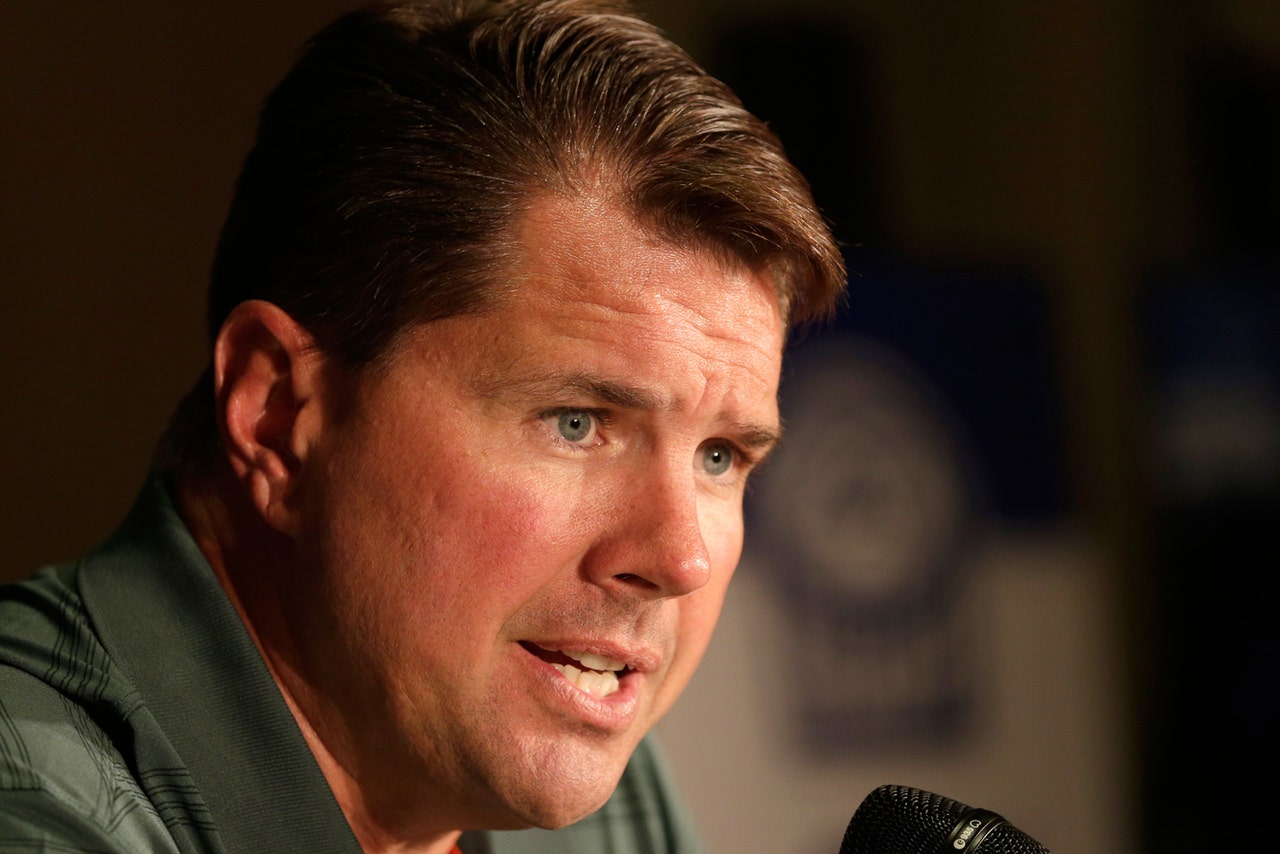 CORAL GABLES, Fla. -- A year ago, the University of Miami football program remained in flux.
The NCAA had yet to release sanctions. The Schwartz Center for Athletic Excellence still looked like a construction site.
While the improvement since then is promising, it's hard for the UM community to remain patient when rival Florida State won a national championship in January, routing the Hurricanes along the way.
Year Four of the Al Golden Era officially begins Tuesday when camp opens at the refurbished Greentree Practice Fields.
"We're on a different course, we're on a different path," Golden said on Monday morning. "We're proud of the way we do things, we're excited about the direction we're going. ... We sat here a year ago and we didn't know what the future held."
After nearly 18 months, the transition is finally over. Football can resume without the outside distractions. A primetime Labor Day matchup in Louisville awaits 27 days from now.
"It's exciting to us and now we have to take a big step in terms of how we attack on the field and type of team we want to be," Golden said.
He compared his team to a phoenix, being reborn again each year with different circumstances and personnel.
Last season's team that went 7-0 before finishing 2-4 faced various obstacles -- from All-ACC running back Duke Johnson's season-ending ankle injury to defensive meltdowns on third-down situations.
"What I really what to see these guys come out and do is all the things they did in the spring and summer -- I want to see it translate into our brand, into who we are, into our identity," Golden said. "It's their time. It's their time to show what type of team they are and have become. That's the edge I want to see.
"We play one of the greatest traditions that there is in college football. We're proud of that. We respect the heck out of that, but it's really important for these guys to represent right now and who they are. I want to see that more than ever because these guys have had a different approach to things since January. Now I want to see that continue with their accountability, with being focused, with being unselfish, with continued communication."
Much like he presents himself on gamedays in a dress shirt and tie, Golden exuded composure on Monday.
He had the look of a man on a mission -- one who wants his team to think the same way as it embarks on one lasting 12 games. He wants to establish that mindset, saying it "needs" to be the standard the team establishes.
Setbacks, Golden vehemently explained, cannot happen during camp. They cannot if the Hurricanes hope to continue their upward trend and reach prominence once again.
"This whole camp is just understanding how to put your head down and keep going and worrying about your one," Golden said. "One play, next-play mentality when you're on the field. If you have a bad play go onto the next one. Don't let it impact one series, one day, one practice, one game.
"This team is different from last year, but if we didn't learn from the bowl experience, if we didn't learn form that second half in Tallahassee than we're not doing our job. We have to really go week to week, be respective of who our opponent is and take care of our world."
NOTES
-- On the report redshirt freshman quarterback Kevin Olsen will be suspended: "With any of these instances, as I've said to you guys before, if somebody gets suspended it's going to come from (athletic director) Blake James or (senior associate athletic director of communications) Chris Freet. In terms of how we're approaching camp, we have four quarterbacks. We're going to cut it to two after the second scrimmage. We'll have two that will get ready for the trip to Louisville."
-- Asked whether Olsen would be at practice on Tuesday, Golden responded with "absolutely."
-- Ryan Williams, who was scheduled to meet with the doctor on Monday night, will be the only limited player when camp opens. The nine injured playeres from spring are good to go: "I have everybody being integrated right now."
-- Miami awaits the arrivals of freshman Trayone Gray -- who Golden said could be used as a running back, wide receiver or wildcat quarterback -- as well as junior transfer Darrell Langham.
-- On the departure of linebackers coach Micheal Barrow: "As I said to him as he was starting to try to figure out what direction he wanted to go, I just said, 'There is no calendar for family. If this is the direction you want to go then it's our job to help you with this transition.' It's been difficult for him."
-- On what he and the team have done since Figueroa and Blue were kicked off the team and suspended from school.: "I'm responsible for all 114 guys and really every staff member, so I'm responsible for everybody. It's something we take seriously and it's something we're very prudent with in terms of being proactive. We bring in speakers. ... It's something that's disappointing. We just have to continue to educate and communicate and make sure we're making great choices in the community and on campus."
You can follow Christina De Nicola on Twitter @CDeNicola13 or email her at cdenicola13@gmail.com.
---