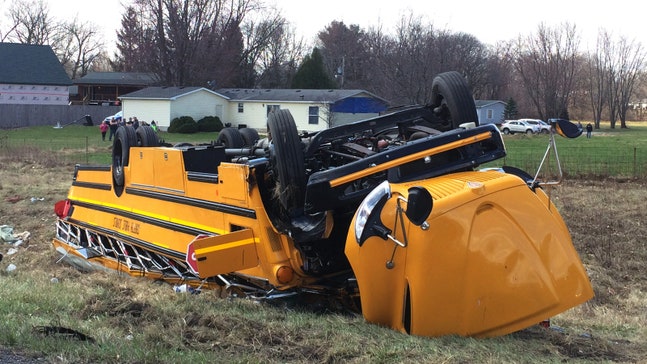 HS team bus headed to state semis crashes when woman spills drink
Published
Mar. 19, 2016 3:05 p.m. ET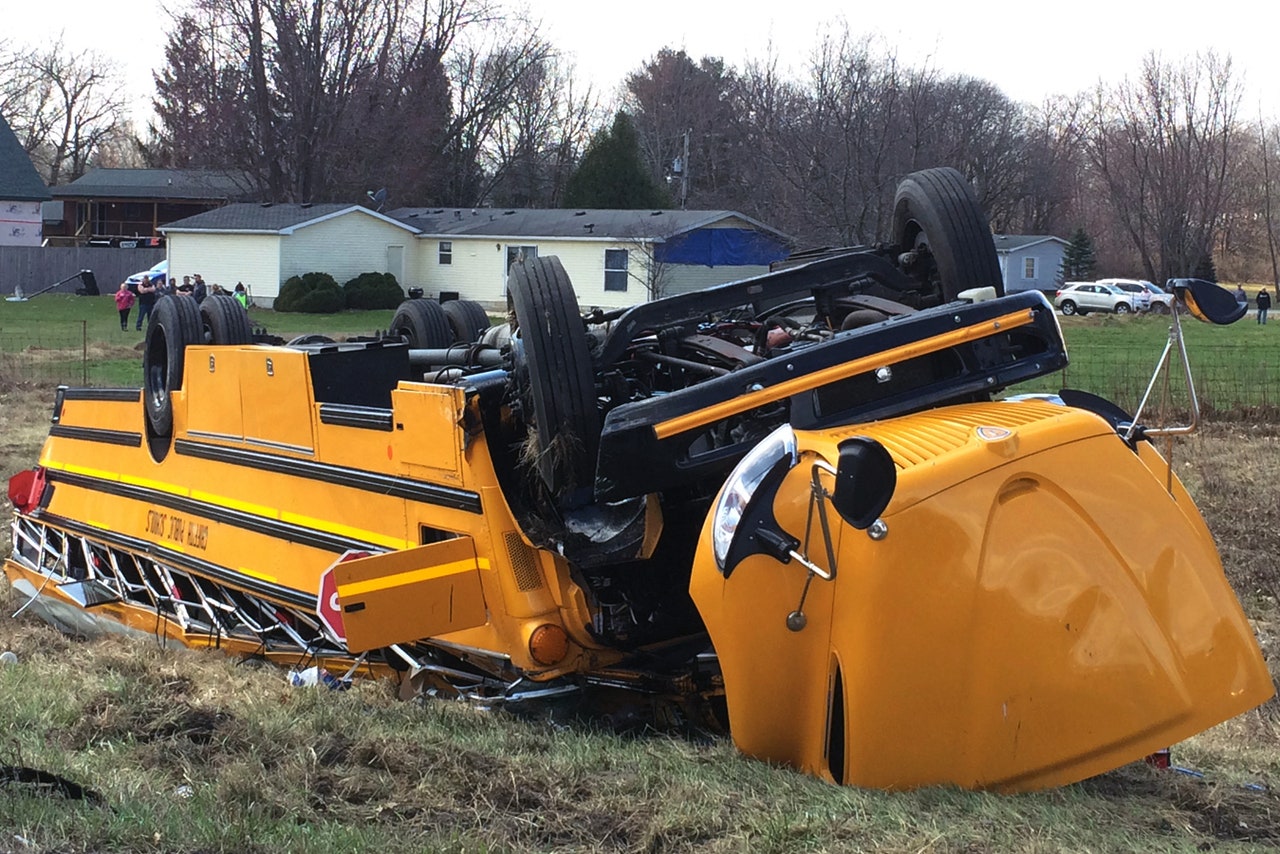 UPDATE: A freshman boys basketball coach at Griffith High School is in stable condition in the hospital and all of the 26 other occupants of a school bus that rolled over have been treated and released.
The school district says in a statement late Saturday that 20 students had been released as well as three coaches, the team trainer, a ball boy and the bus driver.
Freshman coach David Garrett is at Advocate Christ Medical Center in Oak Lawn, Illinois, in stable condition.
Griffith Public Schools will have counselors available to students and staff next week to help heal the emotional wounds.
A community prayer service will be held at 2 p.m. on Sunday at a local park.
DEMOTTE, Ind. — A northwest Indiana high school basketball coach was airlifted to a hospital Saturday after a driver who spilled her drink sideswiped a bus carrying 27 players and staff, causing it to overturn on an interstate.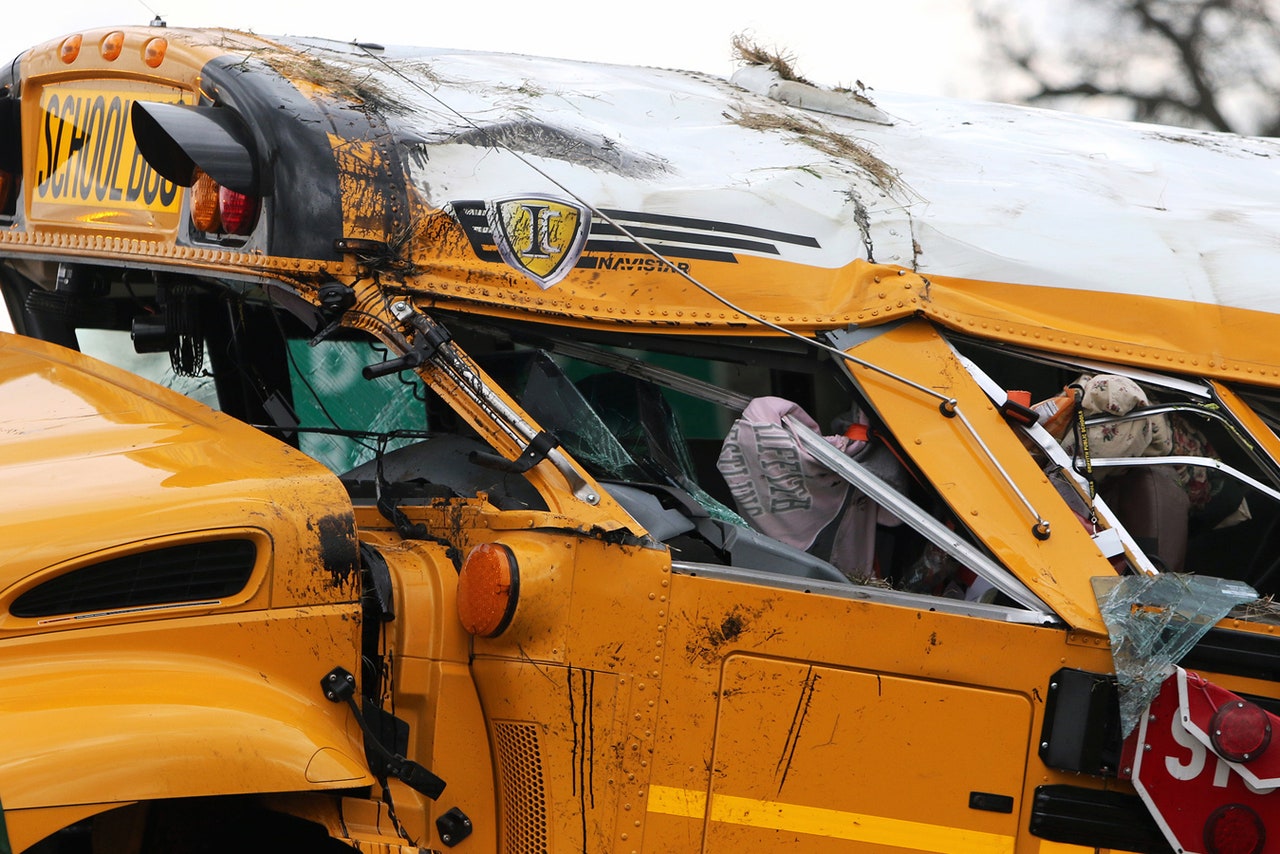 The Griffith High School boys basketball team was traveling to a state semifinal game in Lafayette when the rollover occurred around 12:30 p.m. on Interstate 65 near DeMotte, authorities said. The bus landed on the side of the roadway with part of its roof smashed in.
Superintendent Peter Morikis said "several" players and coaches were injured. He said everyone on the bus was taken to one of three area hospitals.
Indiana State Police Sgt. Ann Wojas said none of the injuries were life-threatening.
Morikis said freshman coach David Garrett was airlifted to Christ Advocate Medical Center in Oak Lawn, Illinois. Morikis didn't describe his injuries.
"Our hearts are heavy today," he said. "What began with excitement — as the fulfillment of a dream to play in the semi-state tournament — has ended tragically. We are praying today for the members of our Griffith school family, who have been injured."
Wojas said Dominique T. Small, 23, of Terre Haute, was southbound in the left lane when the lid of her drink came off and the drink spilled on her. Small tried to grab the drink but lost control of her 2001 Kia and sideswiped the bus, which was southbound in the right lane, Wojas said.
She said 21 students and six adults were on the bus.
Small and a passenger in her car also were taken to a hospital with non-life threatening injuries, Wojas said.
Mark Kadowaki, a surgeon from North Carolina who was traveling to Wisconsin, said he arrived on the scene shortly after the accident and found the bus "upside down."
"There were still some people trapped in the bus," Kadowaki told The Times. "One gentleman had to be extracted from the bus by the emergency crew. Everyone else was able to come out of the bus under their own power or with assistance."
"It could have been a lot worse," Griffith High School Assistant Principal Dustin Nelson said.
Athletic Director Stacy Adams said in an email that emergency crews advised everyone on the bus to receive medical attention "for preventive measures." He said other buses that were carrying fans to the game weren't involved in the crash and had been directed to return to the school.
The Indiana High School Athletic Association said on its Twitter account that the team's game against Marion has been postponed. Officials said they'll talk with Griffith High School administrators Sunday about a possible makeup date.
Wojas said one southbound lane of Interstate 65 was open during the crash investigation, and traffic was backed up for almost 10 miles. All lanes reopened at 4 p.m.
Authorities said the investigation is ongoing and no one had been ticketed or charged as of Saturday evening.
---