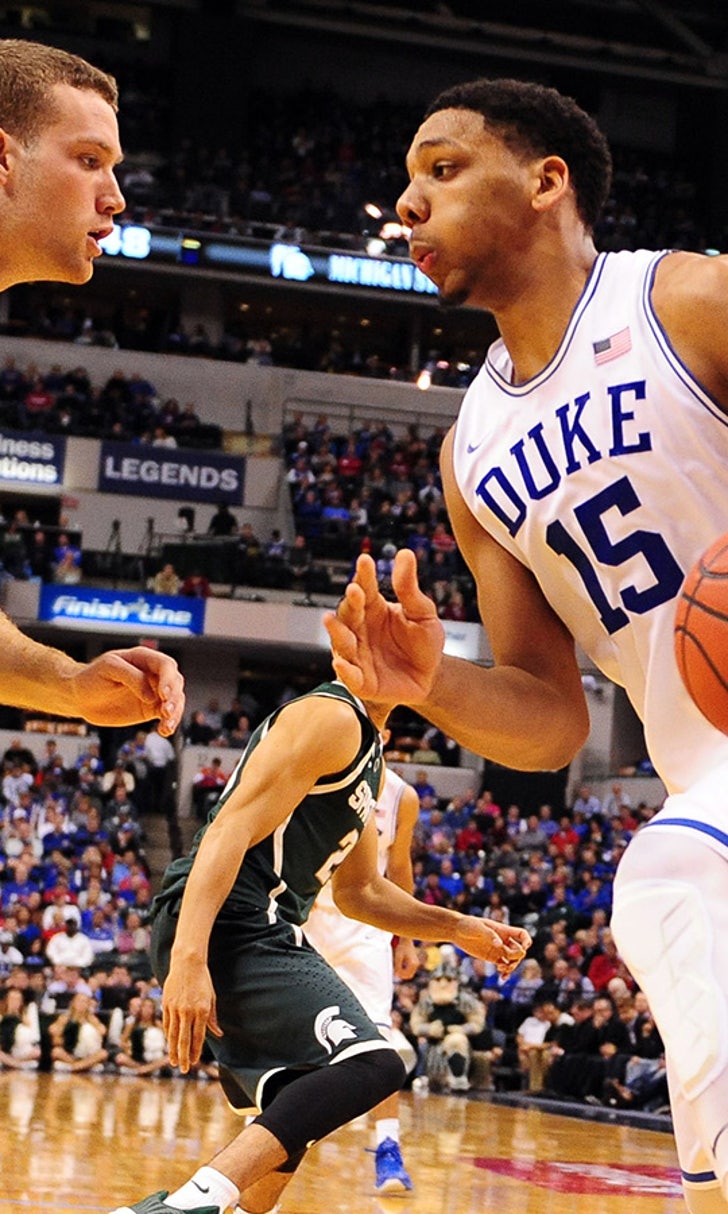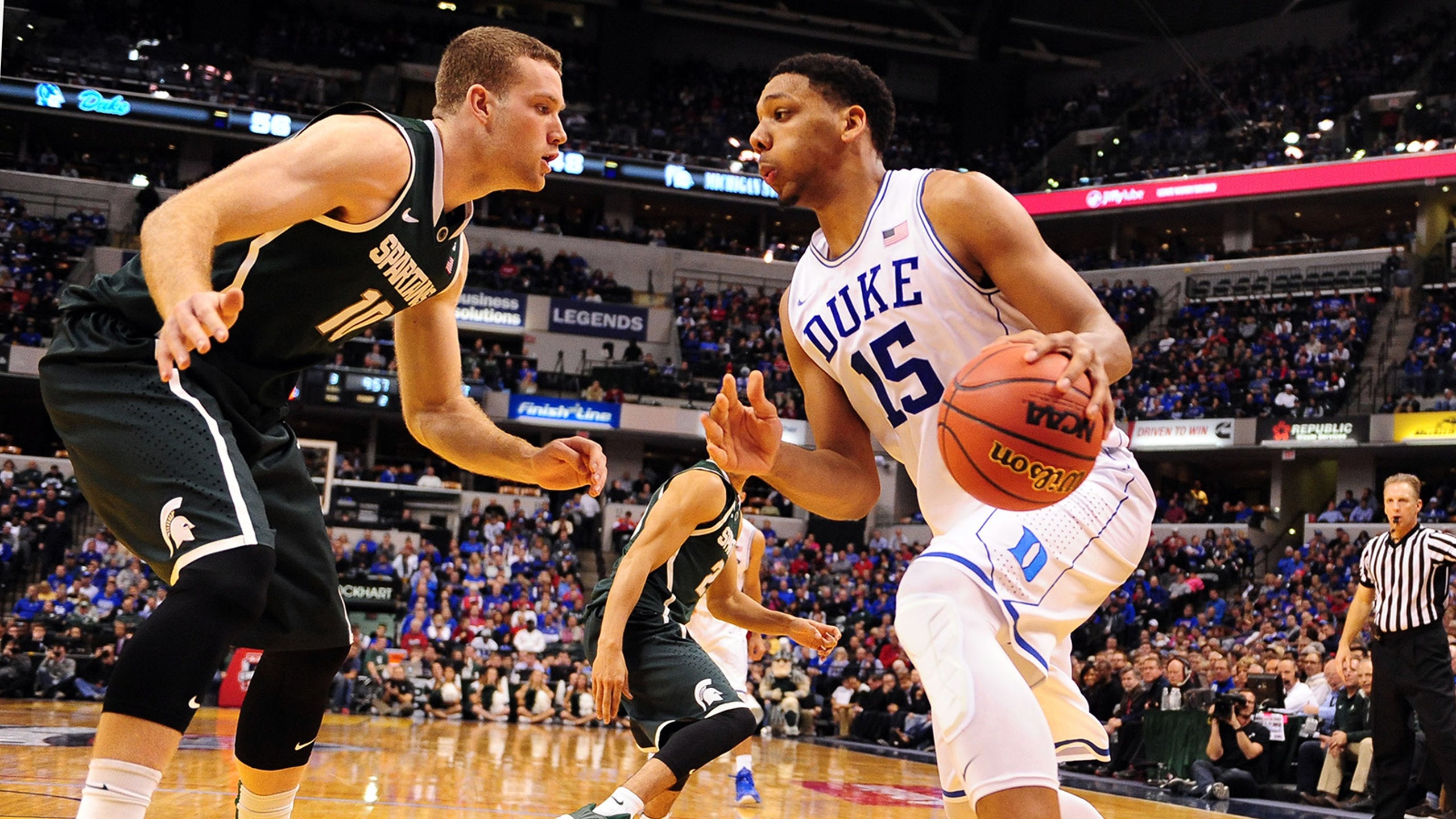 How is Duke utilizing freshman center Jahlil Okafor on offense?
BY Zach Dillard • November 21, 2014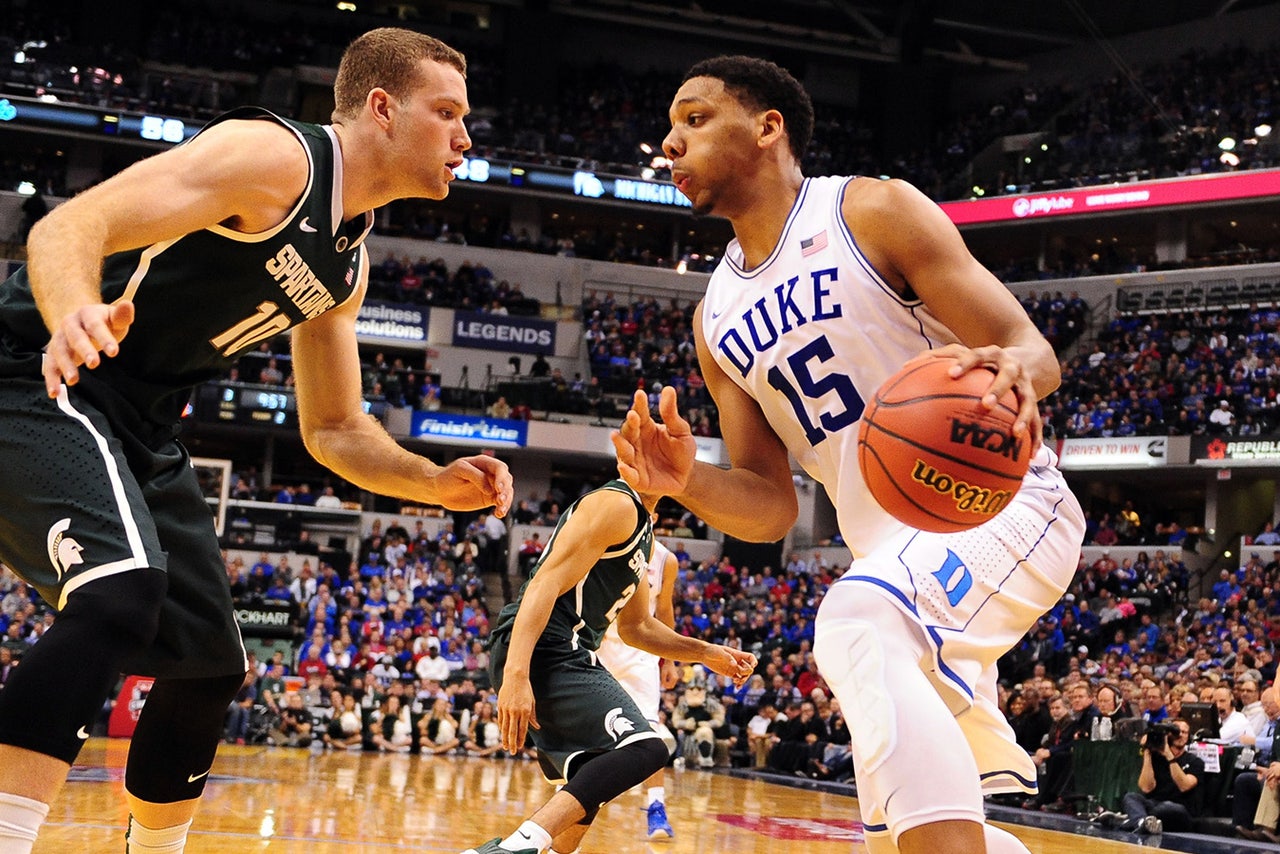 Mike Krzyzewski's Duke teams rarely lack for overall talent. His current roster boasts nine McDonald's All-Americans, tied with top-ranked Kentucky for the country's greatest collection of individual talent, and he's brought in 11 five-star recruits this decade. Perhaps more importantly, relative to the success of the 2014-15 Blue Devils, Coach K does not hesitate to immediately showcase that talent once it arrives on campus.
In two of the past three seasons in Durham, freshmen served as the go-to offensive option: first a volatile 2012 season with guard Austin Rivers, then the excellent 2014 campaign from Jabari Parker. If point guard Kyrie Irving had not been sidelined with a toe injury for the majority of his freshman season, it might be three instances in the past four years. From Johnny Dawkins to Jay Williams to Luol Deng, first-year players have often served as primary options for Krzyzewski's teams.
That will not change this season.
Boasting the No. 1 recruiting class in the country, Duke started three freshmen -- ultra-talented big man and projected No. 1 draft pick Jahlil Okafor, explosive forward Justise Winslow and smooth guard Tyus Jones -- in a season opener for the first time since 1983. After two routs of Presbyterian and Fairfield, that group led the way in a slow-cooking of Michigan State. Looking at the three results, it's clear that freshmen will remain the focal points of the Duke's top-ranked offense, particularly Okafor.
The 6-foot-11, 270-pound Chicago native has lived up to his billing as the next great center through the first three games, averaging 17.7 points while effectively shooting 83.3 percent from the floor. He's made 25 of his first 30 collegiate shots -- with the ball in his hands, he's been unstoppable. It's been a long time since the college game saw such an athletic talent already blessed with Okafor's plethora of low-post moves, excellent footwork, shooting touch and sheer feel for the game around the basket. This news is not lost on Krzyzewski.
"(Jahlil) has a chance to be the best one," Krzyzewski said of big men he's coached over his career. "The only two guys like him are Elton (Brand) -- and he still has to play really, really well to be as good as Elton; Elton was the first pick and the National Player of the Year -- and then Booz (Carlos Boozer). ... Those three guys are similar. Jah's the biggest one, though, and Jah can pass the best. You can get it to him and he can draw attention. He just has to learn what he can do."
Okafor looks like Option A in Duke's half-court offense, taking up nearly 25 percent of Duke's available possessions.
While that's a small sample size and a far cry from the program's reliance on Parker a season ago (31.8 usage rate), game film shows that Okafor is still the key piece to the Blue Devils' system. Another freshman, Winslow, owns the highest usage rate on the team, but in the half-court game Okafor is the centerpiece -- Krzyzewski is just coming up with different ways to use him.
Through his first three games in a Duke uniform, Okafor has scored 53 total points. He's blocked just as many shots as he's missed. This does not make Okafor a flawless player -- he's disappeared for extended stretches (especially when fatigued in Michigan State game) and his work on the defensive end and in the rebounding department needs improvement -- but he's an offensive force when clocked in. His points have largely come from his varied and advanced post-up game, but there are plenty of different scenarios that will give opposing big men cause for concern defensively. Here's a basic picture of how Okafor is scoring his points:
It's clear where he's most comfortable getting the ball, and where things are still a work in progress. That may change as the competition level increases. For instance, after rarely showing pick-and-roll against Presbyterian and Fairfield (perhaps for a lack of need), Okafor scored all six of his pick-and-roll points against Michigan State on Tuesday night. Three games is, obviously, not the entire picture, but there's enough evidence to show that the freshman big man is serving as the offensive foundation for both the regular starters and when Krzyzewski trots out smaller, perimeter-heavy lineups.
With so much attention being paid to Okafor given his lofty recruiting hype and his body of work to date, teams are inevitably going to focus on taking him away. It's a pick-your-poison situation considering how well Duke shoots the ball and attacks from the perimeter. But after a season in which the Blue Devils so little production on the interior (37 percent of shots at the rim, 164th-most nationally), here are three ways they have run their attack through Okafor in the post:
Creating space for Okafor to operate is the ticket here. In one-on-one situations, there are few, if any, post defenders in college basketball that can contain him over the course of his 25-plus minutes on the court. Forget the overmatched squads of Presbyterian and Fairfield, an undermanned No. 19 Michigan State could only find 6-foot-9 defenders Matt Costello and Gavin Schilling and 6-foot-6 Marvin Clark to try and contest the freshman -- Okafor made eight of his 10 shots in the game.
(On the other hand, Okafor will not always stand head and shoulders above the competition. Wisconsin's Frank Kaminsky, Connecticut's Amida Brimah, Louisville's Montrezl Harrell, NC State's BeeJay Anya and others coming up on Duke's schedule should provide much more intriguing big-on-big challenges.)
In many ways, Duke was one of the very best landing spots for Okafor. Duke can position shooters all over the perimeter with Winslow, Jones, Quinn Cook, Matt Jones, Rasheed Sulaimon and freshman Grayson Allen, and Krzyzewski's professional-type penchant for court spacing pays off dividends when defenses are forced to choose between Okafor and a 3-pointer. Making matters even worse for opponents, Okafor is a willing and capable passer out of the post, as opposed to a "black hole" scenario.
Okafor's strength and great hands help him establish excellent post position and catch the ball in favorable spots, occasionally reeling in a pass with both feet planted in the lane. Based on the three-game sample, he seems most comfortable on the right block, i.e. with his left shoulder to the baseline. He doesn't use nearly as many cross-screens to establish position on the right-hand side of the paint -- often he simply shields off his defender and Duke swings it to the right wing for a quick entry pass. From there, Okafor can go to work with incredible efficiency.
Returning to the spacing angle, what Duke does off the ball seems simplistic but is imperative. They rarely run extra defenders into Okafor's area. An extremely common look when Okafor has the ball -- or is about to receive the ball -- is one where Duke spaces three shooters around the perimeter with forward Amile Jefferson serving as a high screener. With so much attention being focused at the top, it often creates elbow room for Okafor in the post, which leads to points:
Duke would take that situation on every single possession if it could. Okafor is working with at least five feet of space in every direction with plenty of options and time to make a decision if a double-team comes. This is well within his comfort zone. If teams without an elite post defender are going to go man-to-man and avoid double-teams, much like Michigan State did, Okafor's shooting percentages suggest he's going to win this matchup 80 percent of the time.
(Yes, he scored on that play.)
As far as his isolation arsenal, he's extremely quick for his size and not overly predictable, capable of going to either hand when beating his man to the rim. His footwork is an asset, as he rarely finds himself off-balance or gets himself into a bind he can't escape from. If a defender gives him space while trying to block off the lane, Okafor is as effective as anyone the sport has seen in recent years in feeling his man's weight and pulling up for a quick and accurate jump shot.
"He's weird," Costello said after the game. "On his moves and stuff he's quick, he's big, he's strong. He's a tough, tough matchup. He kind of took us to school tonight a little bit."
When Okafor does post up or operate on the left wing, it's often coming off a cross-screen. Duke showed this look on multiple occasions in each game, but not nearly as often as when the big man would simply plant himself on the right block and go to work. The cross-screen often comes from Jefferson -- the 6-foot-9 forward who works in a pseudo-utility role in this offense, mainly setting screens all over the court, operating as a high-post passer and working on the offensive glass -- though he's not on the court with Okafor on every possession.
Against Michigan State, Krzyzewski offered an interesting look when the Blue Devils were bringing the ball up the court, almost offering a "surprise" pick to get Okafor into excellent position for a quick basket. With Quinn Cook bringing the ball up with man-to-man pressure and the floor spaced with Sulaimon and Matt Jones on the wings and Winslow at the top of the key, Sulaimon sprinted down into the paint to set a cross-screen. Okafor's defender, Schilling, seemed surprised by the pick and by the time he tries to go over the top, Cook is already making his entry pass. When Okafor catches the ball this deep, you've already lost the battle:
There is Option No. 2 for defenses: zone. With a few exceptions, Okafor appears less active against zone defenses, functioning more as a backside rebounder and beneficiary of high-low passing and penetration from the guards. It's not Okafor at his most dominant, but it also opens defenses up for the third-best shooting team nationally so far (69.1 percent effective field goal percentage) to tee off from long range. If any team wants to throw zones or double-teams to limit the post's efficiency, that's going to be a byproduct.
Early moral of the story: Make Okafor work on both ends of the floor. Make him work to establish position and throw a variety of looks at him. Make him work defensively by drawing him out on high ball screens and force him to defend 25 feet from the basket (something Michigan State did rather well). None of this may be 100 percent full-proof against the country's No. 1 offense featuring the nation's Preseason Player of the Year, but when Okafor is comfortably posting up on his favored right block and going to town, the odds are already slanted heavily against the defense.
From the opening tip of the Champions Classic, Duke served notice that it is well-equipped to run a pick-and-roll set, something it rarely needed to show in its season-opening routs.
Duke ran a variety of pick-and-roll looks at Michigan State with numerous ball-handlers, notably fellow freshmen Winslow and Tyus Jones. (The Jones-Okafor combo led to points off pick-and-rolls three times against Michigan State.) Perhaps not surprisingly, the most common and effective on-ball screen action came on the right wing -- Okafor flashing up from the right block then working his way back to the basket with his shooting hand shielded away from the defender. The Blue Devils ran this play on the first possession of the game:
Before Winslow receives the return pass off the in-bounds play, Okafor immediately works his up for the screen on Michigan State guard Denzel Valentine. With the ball in Winslow's hands -- he's the most athletic and capable slasher on Duke's roster -- the Spartans have some split-second decisions to make. Valentine seems a little late recognizing the screen and tries to battle over the top, but Costello gets caught in no-man's land attempting to hedge the screen and starts back-pedaling.
The play is essentially over from there. With Valentine a step behind and Costello back-pedaling, Winslow make it to the free throw line before dumping it to Okafor over the top. Easy bucket.
That basket set the early tone for the game, one in which Okafor scored eight points in the first five minutes. But just as important as the on-ball action is how Krzyzewski's offense creates the space needed to run the two-man set.
After the return pass to Winslow, Jefferson flashes for an off-ball screen at the top of the key. Jones uses the screen to clear out to the opposite corner while Cook drifts along the opposite wing. For those counting at home, that initially leaves Winslow, Cook and Jones beyond the 3-point line with Okafor and Jefferson setting perimeter screens. With Michigan State tracking each man, that leaves 10 players roughly higher than the free-throw line ... and a wide-open paint:
Once again, the Blue Devils are going to try and get Okafor this type of space throughout the season. If it comes on the move, then so be it. He looks like a more-than-capable option in the two-man game.
Justise Winslow appears to be Duke's most effective player in transition, but Okafor does run the floor well and is an effective option with the defense retreating.
Duke is renowned for its spacing and willingness to pull up for a 3-pointer before the defense gets set, but this also opens up post opportunities. In fact, the Blue Devils and Okafor seem to recognize more than most that transition off a rebound or made basket is a good time to establish post position. Duke doesn't hesitate to feed it to Okafor, and actually passed him up a couple more times in favor of knocking down open 3s. Particularly in the first two games, when the Blues Devils were able to get out in transition more, seeing Okafor run his man down to the block, turn and receive the pass before the defense even gets set was a common occurrence:
See where Okafor catches that ball and the number of red jerseys around him? There's not a second defender within 10 feet of him, there wasn't enough to time to get set. Fairfield coach Sydney Johnson seems to be calling for more on-ball pressure, but by that time the shot has already found the bottom of the net.
These are but a few cards up Krzyzewski's sleeve when it comes to creating opportunities for his newest post talent. Jahlil Okafor has matched every expectation to date on the offensive end, and if he's getting better and figuring out what will and will not work at the collegiate level, that's not a welcoming thought for teams on the back end of Duke's schedule -- because even when an opposing coach is satisfied with the defensive effort right now Okafor can still walk away with 17 points on 10 shots without taking over the game.
"As good as Okafor is, I thought we did a decent job on him," Izzo said. "But he's a hell of a player. You just got to love a guy that wants to be what he is. He is a center that wants to be a center."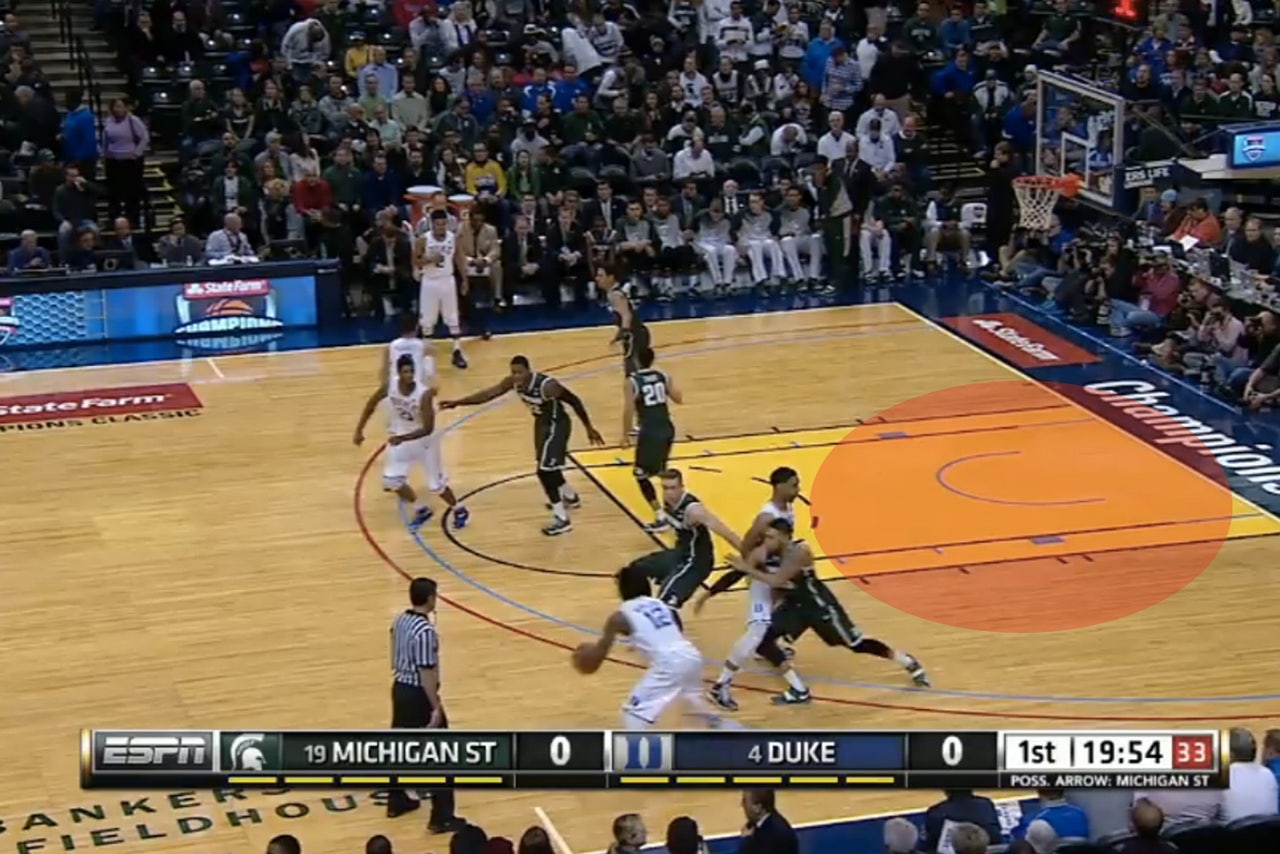 According to his own coach, he's still learning how.
---