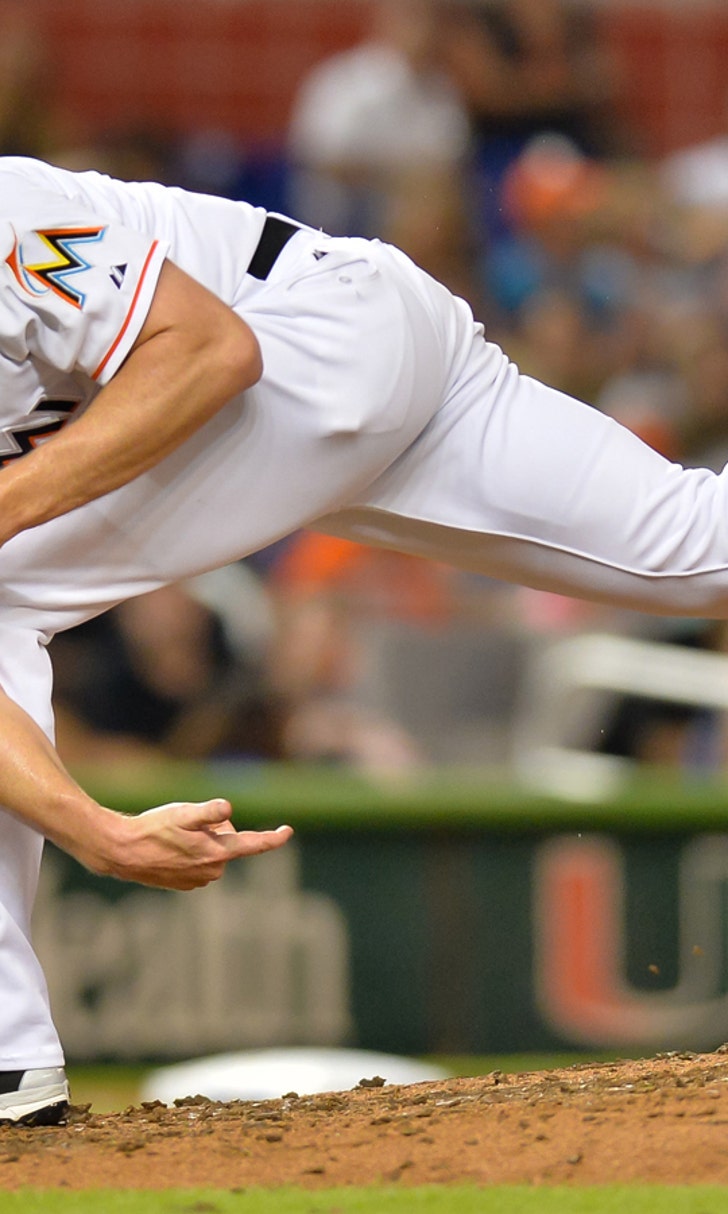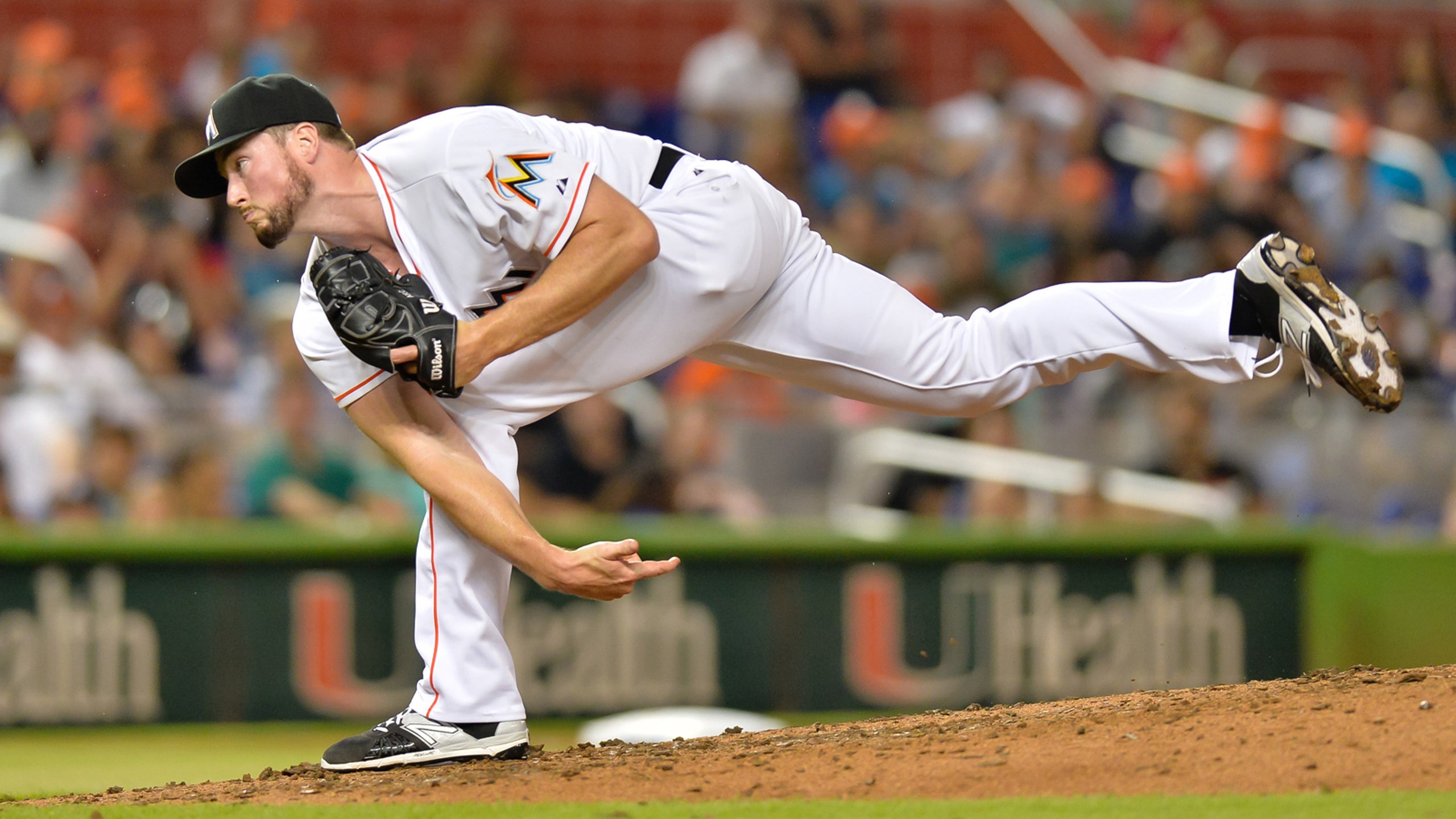 Hopped up: Carter Capps emerges as elite reliever, strikeout machine for Marlins
BY foxsports • July 27, 2015
A collective murmur -- followed by a corresponding eruption of cheer -- echoes throughout Marlins Park as the scoreboard flashes the velocity of the first pitch of the eighth inning.
The Miami Marlins lead the Cincinnati Reds 8-1 during the final game before the All-Star break. Reliever Carter Capps' first offering to Eugenio Suarez just read 101 mph on the radar gun.
This has become a common occurrence since Capps got recalled from Triple-A New Orleans on May 20 and became one of the bullpen's most reliable arms.
"Every now and then it's a little louder than others, obviously," Capps said inside the home clubhouse before the All-Star break. "Sometimes I notice, but most of the time I really couldn't tell you. Every now and then if they get really loud, like when Jose (Fernandez's) pitching. There's more people here so it seems a little louder.
"For some reason it has a mystique. You see guys like Dan (Haren), who doesn't throw as hard, throws 88, but he definitely gets just as many outs as I get. There's all kinds of ways to get guys out. I'm just lucky I can make a few more mistakes probably."
Since his return to the majors, Capps (1-0, 1.26 ERA) leads all big-league relievers with 54 strikeouts.
According to Fangraphs, his 98.1 fastball velocity ranks third. His 17.27 strikeouts per nine innings easily paces relievers with at least 20 innings (Los Angeles Dodgers RHP Kenley Jansen is second at 16.35). His 0.70 WHIP is fifth. He has struck out a batter in all but two of his 27 outings, including multiple hitters in 17 of them.
An improved slider to complement the speed and command of his fastball explains Capps' meteoric rise into the setup role and the top of the leaderboard standings.
"I hit my dad with the ball a couple of times when I started getting older, and that's when we stopped playing catch together," Capps said. "That was the telltale sign."
Capps, however, never really knew how fast until his coach, Carl Lancaster, at Mount Olive College in North Carolina asked him to convert from catcher to pitcher during his redshirt year.
The 6-foot-5, 220-pounder grew up as a backstop. He never tried out radar guns as a child, never grew intrigued by the speed of his throws.
"I was always a catcher," Capps said. "I always had a good arm. I knew I had a good arm, but I couldn't have told you how fast it was. He had mentioned it to me while I was on a visit there. He had mentioned he wanted me to come there and try to do two-way. I tried it and kind of took off with it."
During his redshirt season, Capps spent time throwing bullpens and intrasquad games, getting used to being a pitcher.
Forget the mechanics. Forget the delivery. The key to his success was fairly simple. It was a simple lesson to learn but tough to execute.
"Just trying to hit the glove instead of throwing it by the batter," Capps said. "Sometimes even now I get caught up with, 'I can throw it by this guy' and I'll either throw a ball or leave it over the middle of the plate instead of just trying to hit the glove and being happy with the result. Usually that's a good result if you can hit the glove every time."
It paid off.
From 2010-11, he compiled a 24-1 record and 2.28 ERA, earning the distinction of American Baseball Coaches Association (ABCA) National Player of the Year in 2011. In just two seasons, Capps achieved the second-most wins in program history with the best winning percentage and the second-best ERA.
His 129 strikeouts in 2011 were 21 more than second place on the all-time list. A starter, he once struck out 13 batters in a game and 12 in another over seven innings. Of his three career shutouts, the one on March 12, 2011, against Coker, was a no-hitter.
"In college I was throwing a lot of fastballs," Capps said. "Kind of seemed like guys weren't seeing it very well. I don't know. Every outing it seemed like it was getting harder and harder. I had just switched over from catching, so I was still kind of learning everything. That's when I first realized and everybody was telling me what the gun readings were."
What does it feel like to throw with that kind of force and speed, with that type of conviction? He said it doesn't feel differently coming out of his hand.
His unconventional -- yet legal -- delivery, during which he hops forward from the rubber, has had opponents in a tizzy because of his success. As for the origins of it, Capps, who turns 25 next month, wouldn't delve into specifics.
He calls himself raw. After all, he has had parts of just four big-league seasons between the Seattle Mariners and the Marlins on the mound and two years in college. Compare that to colleagues pitching their entire lives.
"[I'm] still learning, but getting better," Capps said. "Definitely not a finished product yet."
You can follow Christina De Nicola on Twitter @CDeNicola13 or email her at cdenicola13@gmail.com.
---
---