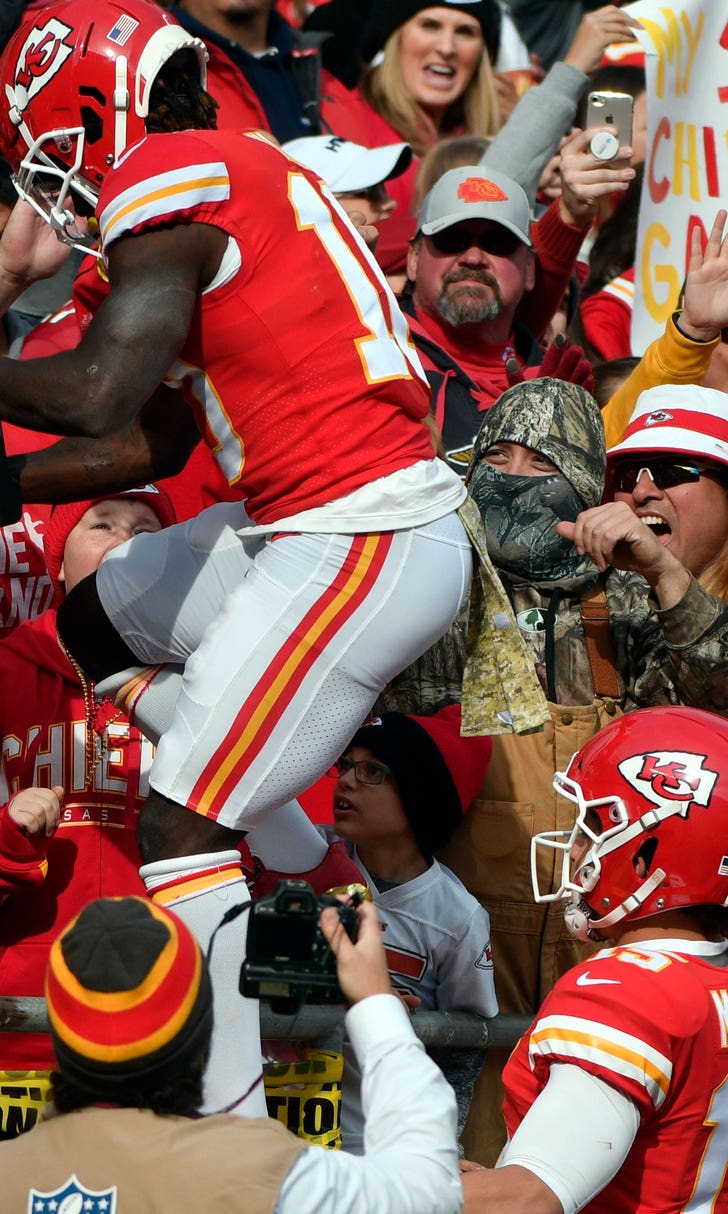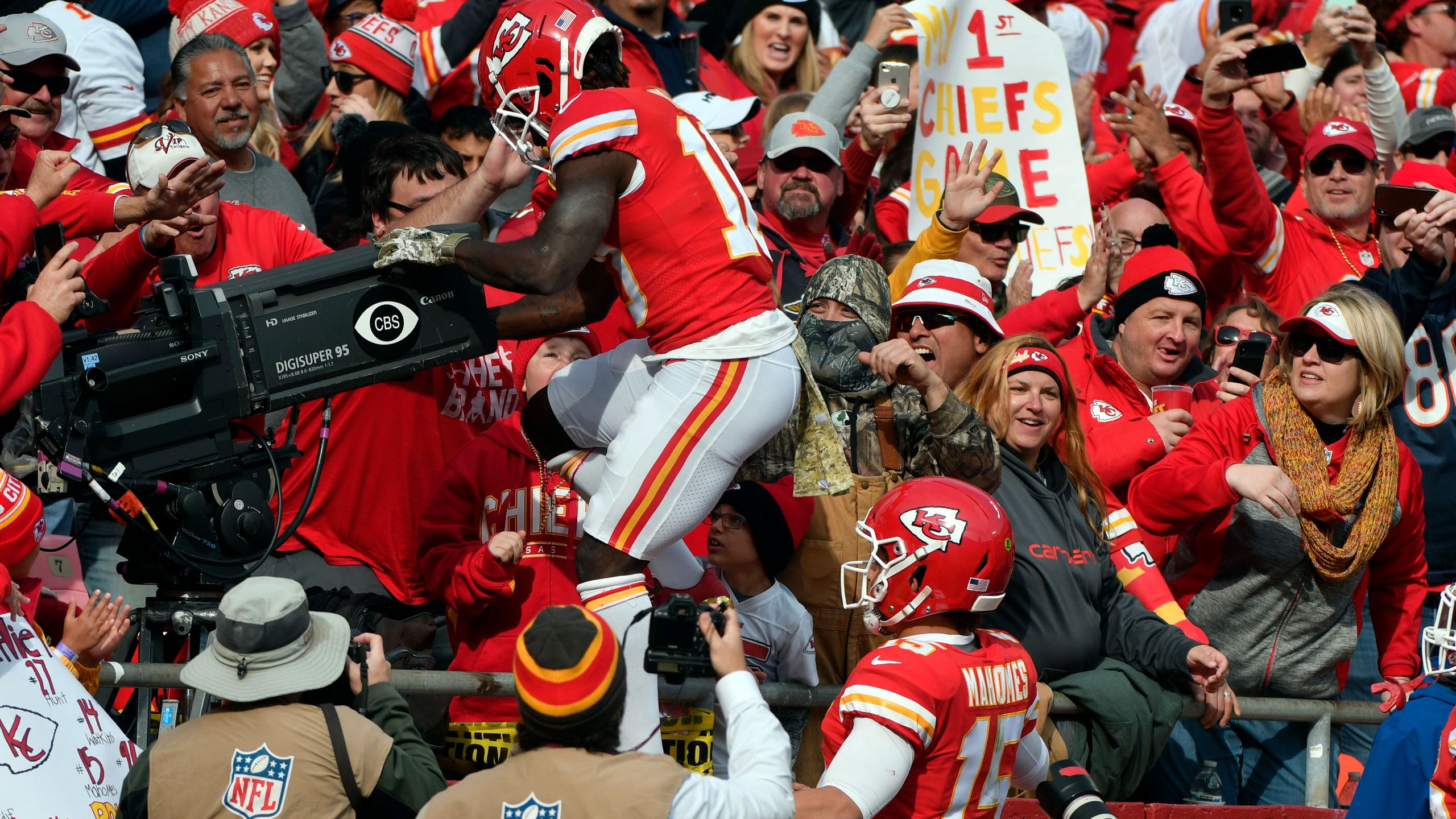 Hill's commandeering of camera is latest reprisal of some old celebrations
BY Arnie Stapleton • November 13, 2018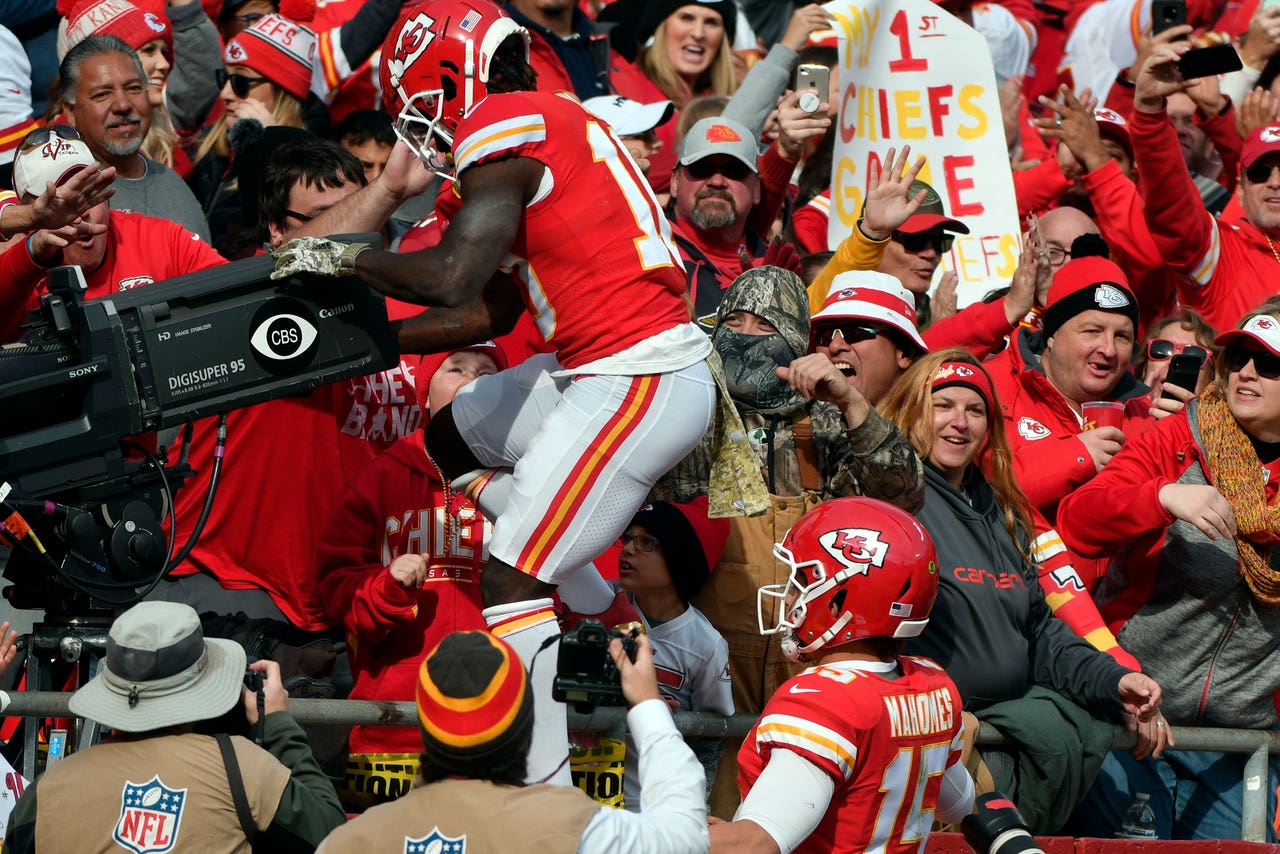 NFL players seem to have run out of creative ways to celebrate.

Either that, or they've decided to pay homage to the players they grew up watching, even if it costs them some funds for injecting fun into the game.

Chiefs receiver Tyreek Hill was the latest to go old school when he commemorated his second touchdown in Week 10 by commandeering a TV camera like Cincinnati's Chad Ochocinco once did.

"The celebration just came into my head," said Hill, whose actions netted an unsportsmanlike conduct penalty and coach Andy Reid's ire.

"That was too much," Reid said.

The NFL, which has relaxed celebration rules, might agree.

Hill's stunt came days after Saints receiver Michael Thomas was fined $30,000 for using a phone as a prop, a la Joe Horn, and Titans safety Kevin Byard was dinged $10,026 for celebrating an end zone interception on the Cowboys' midfield star logo, just like Terrell Owens did in 2000.

Saints tight end Ben Watson added a little twist to his celebration when he stuffed the football under his jersey to signal his wife's pregnancy just like ... Ben Watson did, back in 2009.

When Watson, 37, scored against the Rams last Sunday, he let the world know he and his wife, Kristen, are expecting twins by stuffing the ball under the front of his jersey and holding up five fingers on one hand as he often does to honor his five children.

Then he held up two more fingers on his other hand in honor of the twins on the way.

Nine years ago, Watson similarly stuffed the ball under his jersey after scoring as Kristen was close to full term with their first child, Grace. He was fined shortly thereafter for using the ball as a prop.

"So the cool thing is I will be able to say (to his twins) that, 'When I did it for Grace, I had to pay. When I did it for you all, the league had changed,'" Watson said. "What a difference nine years make."

Not for everyone.

Hill was flagged for unsportsmanlike conduct in Kansas City for taking over the TV camera, just as Thomas was for pulling a flip phone out from under the goal post padding after his fourth-quarter score against LA.



"Where did he get a flip phone?" Watson said. "I said (to Thomas), 'Do you even know who Joe Horn is? You must have been in elementary school back then.' But that was pretty good. I've got to give him props on that one."

No pun intended, of course.

Byard said Friday his $10,026 fine was worth it because his interception denied the Cowboys a touchdown and sparked a 28-7 run in Tennessee's 28-14 win in Dallas on Monday night.

Byard said he expected the Cowboys to take offense when he sprinted to the 50-yard line to pose on the star, then began a sort of Irish jig when teammates joined him at midfield.

"I was actually expecting someone to knock my head off," Byard said. "I was like, 'If we get enough guys to the 50, we are just going to start dancing on the star.'"

Cowboys running back Byron Jones quickly shoved Byard away, playing the part of George Teague, who blasted Owens when he did the same thing while with the 49ers 18 years ago.

"You don't do that," Jones said.

Byard met with his coach, Mike Vrabel, who had a big problem with his defensive back's actions. Vrabel said he wants players to celebrate with each other and not stand up an opponent.

"It's not what we want to do," Vrabel said.

Byard said his over-the-top celebrations are history.



ALTITUDE ACCLIMATION

Last year, Bill Belichick decided to stay in Colorado after a win at Denver to acclimate to the altitude of Mexico City's Azteca Stadium (elevation 7,200 feet) by practicing at the Air Force Academy (6,621 feet).

It paid off in a 31-8 drubbing of the Oakland Raiders, who stayed home and prepped at sea level.

McVay said the trade-off is scrubbing the team's routine, but the wildfires and mass shooting in Thousand Oaks have made training in Southern California anything but normal anyway.

The Rams will train in the Rocky Mountains on Thursday through Saturday before flying to Mexico, and McVay said a second charter with family members will fly out from LA to Colorado later in the week.

"I think it really served us well last year when we went to Jacksonville before we played in London," McVay said. "Staying out there, kind of a way to connect with the team. Getting away a little bit. This instance definitely provides a little bit different approach where your families are so important right now."

 
---
---