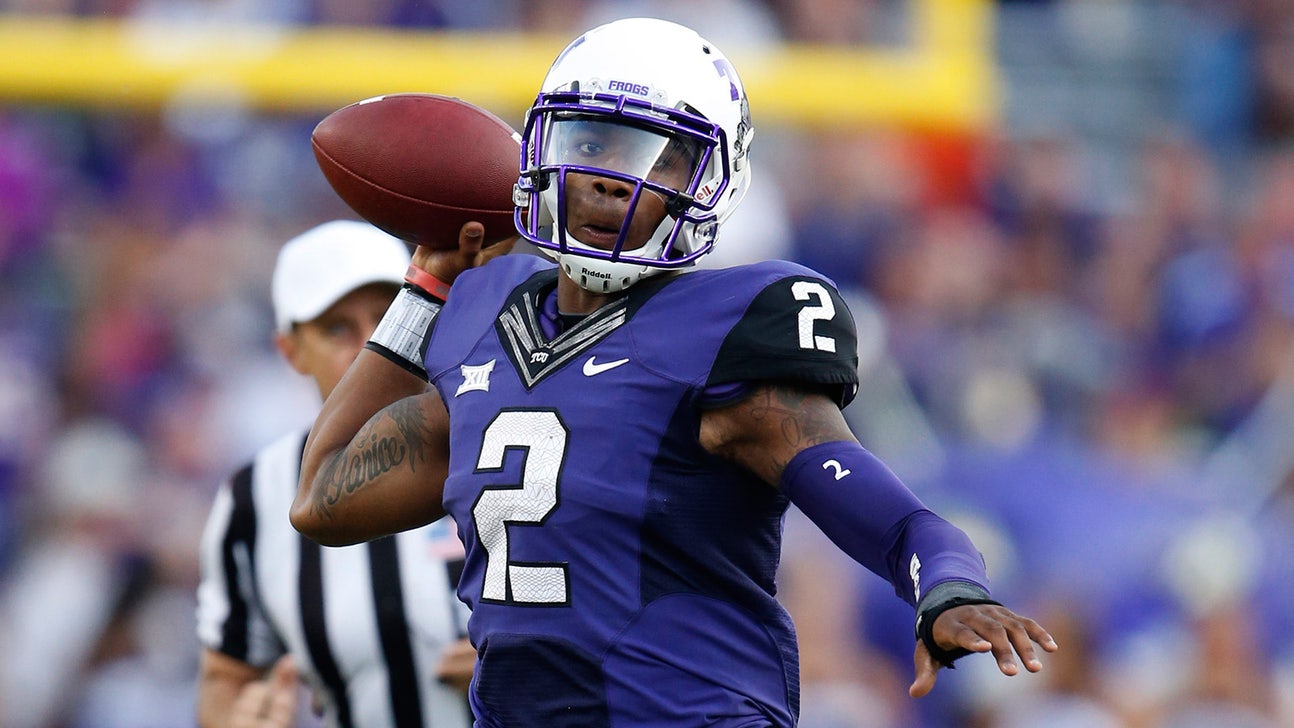 Heisman Forecast: TCU's Boykin makes out-of-nowhere rise
Published
Oct. 29, 2014 1:43 p.m. ET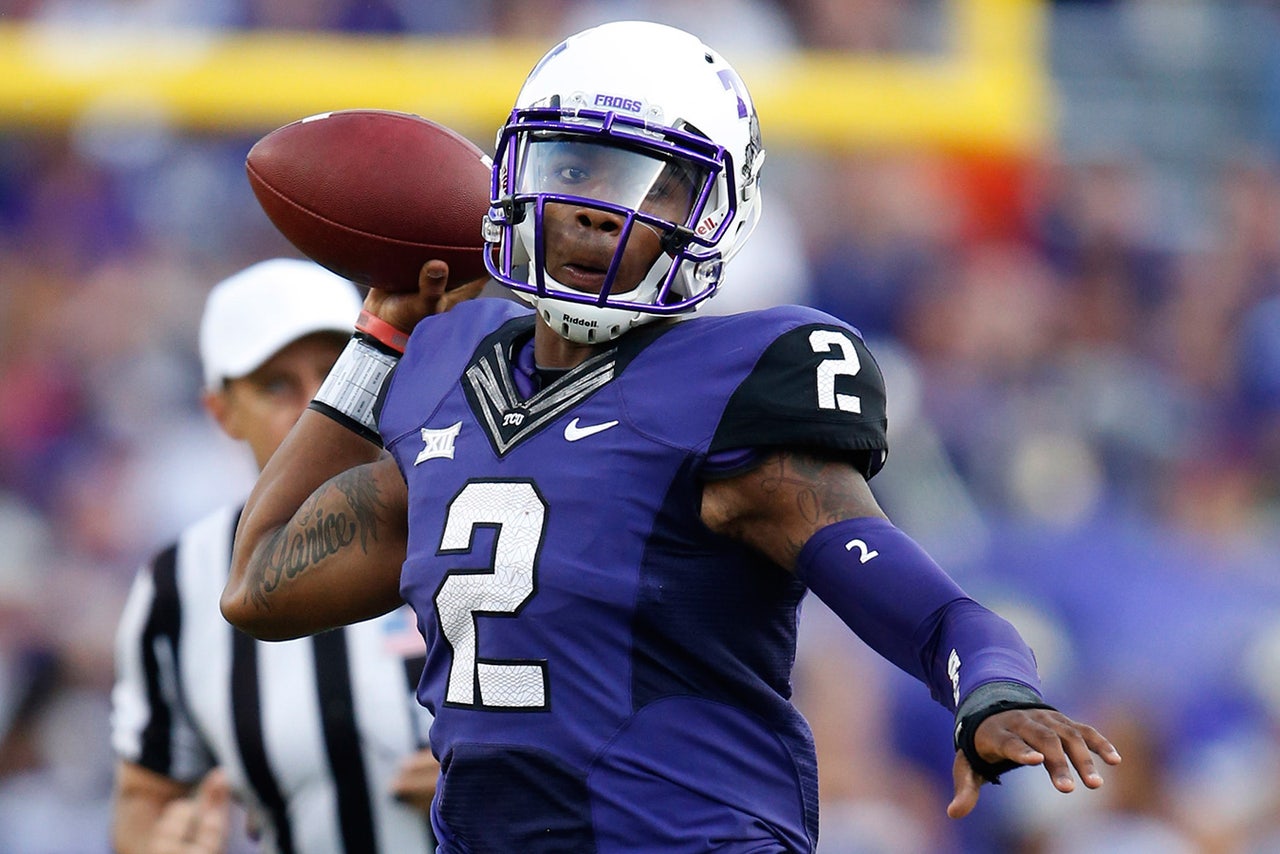 Two years ago, a Matt Joeckel lost a preseason position battle to quarterback that would take the reigns of a Kevin Sumlin offense and win the Heisman Trophy.
TCU's Trevone Boykin is following the 2012 template of Texas A&M's Johnny Manziel, at least in terms of beating out Joeckel -- who transferred to Fort Worth in April and was immediately eligible -- and he's doing it in an up-tempo spread attack that's from a member of the Sumlin coaching tree in Doug Meacham.
As far as the trophy?
"I'm canceling the Heisman talk," Boykin said after throwing for seven touchdowns a week ago against Texas Tech.
With Oregon's Marcus Mariota and Mississippi State's Dak Prescott entrenched as the clear leaders in this race, Boykin winning would likely take further chaos. But it looks like Boykin, like Manziel and so many of the recent winners (Winston, Newton, Griffin and Ingram), and recent finalists like Tre Mason and Andre Williams ('13), Manti Te'o ('12) and Tyrann Mathieu ('11) is becoming the latest out-of-nowhere-face in the Heisman race.
A trip to New York isn't out of the question for Boykin, who has thrown for 2,306 yards, 21 TDs and three interceptions (only Mariota has a better ratio at 24 to 1), and who can strengthen his case the next two weeks against No. 20 West Virginia and No. 9 Kansas State.
Should Boykin continue to keep the surprising Horned Frogs in the playoff hunt, he's going to stay in this conversation, chatter that will only build if he can outduel rising Clint Trickett and the rising Mountaineers in Morgantown.
Before we get into the players that are set to rise and fall in the race heading into Week 10, here's a look at the current voting forecast, where Prescott gives up the lead for now.
1. Marcus Mariota, QB Oregon, RS Jr. 2. Dak Prescott, QB Mississippi State, RS Jr. 3. Ameer Abdullah, RB Nebraska, Sr.
He moves into the top spot (more on Prescott's slight slide later) despite throwing an interception last week against Cal, but that was his first dating back to Nov. 29 of last season against Oregon State. His string of 253 straight passes without a pick is the second longest such streak in Pac-12 history, second only to Mariota's previous run of 353. One advantage Mariota holds over anyone else is that in his voting region (Far West), he's the clear-cut top threat. This weekend looms large as he faces nemesis Stanford, against whom Mariota has completed 57.7 percent of his passes, and he's been sacked six times in two losses. Putting that Cardinal hex behind him and following it up next week against No. 17 Utah could make the Ducks' leader hard to pass by.
There's an interesting debate in Big Ten country, between Abdullah and Wisconsin's Melvin Gordon. Abdullah leads the nation with 1,249 yards, while Gordon is fourth (1,168), but Gordon averages more yards per carry at 166.9 (second) to Abdullah's 156.1 (third). Abdullah has more TDs (17 to Gordon's 16) and more 200-yard games (four to Gordon's two). While Gordon is on pace for 2,000 yards and doesn't have two bad games like Abdullah, who had 54 yards on 17 carries vs. MeNeese State and was held to 45 by Michigan State, the Cornhusker gets the edge as the biggest weapon on a team in the playoff race, as the Nebraska was 15th in the initial College Football Playoff poll. But the good news is this debate will soon be settled on the field, though, as they meet on Nov. 15 in Camp Randall.
November has the potential to see Marshall position himself as a real threat to become the Tigers' second straight finalist, or it could leave he and Auburn on the outside looking in at the playoff and the West title. It begins Saturday at No. 4 Ole Miss against a banged-up defense that is without one of its stars after linebacker Denzel Nkemdiche was lost for the season. The way LSU ran against the Rebels, totaling 264 yards, bodes well for the SEC's best ground game at 281 per game. Marshall has become a more effective season as the season wears on, averaging 103.2 yards over the last four games and he had his way with Ole Miss rushing a year ago, running 14 times for 140 yards and two TDs. Another performance like that and Marshall could start making some serious noise with Texas A&M, No. 11 Georgia and No. 6 Alabama still to play.
It's not that Prescott was bad against Kentucky -- he threw for 216 yards, a TD and an INT and ran for 88 yards and two scores -- but running back Josh Robinson stole the show and wound up getting the Mario Bros. treatment. Unless Mariota slips up against Stanford or No. 17 Utah, Prescott is going to have to wait a couple of weeks for the kind of game that can truly elevate his standing. The Bulldogs play Arkansas this week and Tennessee-Martin before a Nov. 15 trip to Alabama. An interesting note on Prescott: per ESPN Stats & Information, he is the fourth Power 5 player since 2004 with at least three TDs in each of the first seven games. None of the others (Mariota and Oregon State's Sean Mannion in '13 and Texas Tech's Graham Harrell in '07) were even invited to the ceremony in those years.
Here's where the perception created by the CFP poll claims its first victim Heisman victim. Ranked sixth by the AP and seventh by the coaches, the Fighting Irish were seated 10th by the selection committee. Stanford's slide from 13th to out of the rankings means Golson doesn't have any signature wins on his resume and while he nearly led an upset of No. 2 Florida State, there's the potential that after this weekend -- should the Seminoles beat No. 25 Louisville and No. 14 Arizona State fall to No. 17 Utah -- that Notre Dame won't have a single remaining ranked opponent on its schedule. That's a scenario that would be hard to overcome as other contenders, ones that already have key wins in hand, continue to strengthen their cases.
One week after lauding Barrett for his play over a four-game stretch, he has his worst game of the year at Penn State, throwing for just 74 yards and two INTs. While he did run for 75 yards and two scores, and the Buckeyes escaped with a double-overtime win, this definitely hurt his chances. He'll have an opportunity to get back on track this week against 4-4 Illinois before heading to East Lansing for a game that will be make-or-break for he and Ohio State against No. 8 Michigan State.
---