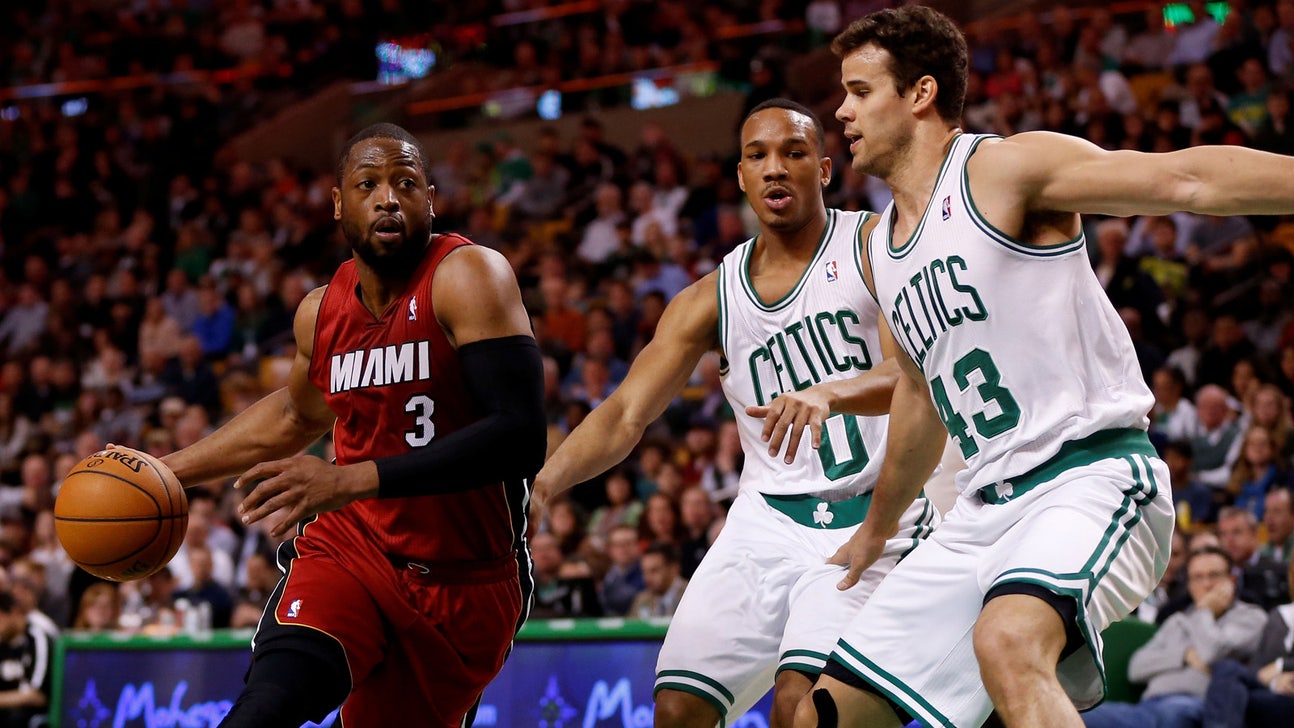 Heat Check: Wade not enough to overcome absence of LeBron
Updated
Mar. 4, 2020 4:34 p.m. ET

Even with LeBron James sitting out due to back spasms, the Miami Heat figured to have enough firepower to beat the struggling Celtics in Boston.
Not so.
The Celtics' defense held Miami to 37 second-half points and Boston overcame a six-point halftime deficit to beat the Heat for the second time this season with a 101-96 win on Wednesday night.
It was Miami's 11th loss this season to a sub-.500 team and 11th loss in its last 12 regular-season games at TD Garden.
James sat out a night after scoring 43 points in a victory at Cleveland. He has dealt with back spasms during the season, and with this being the second game during a four in five days stretch, his status likely was a precautionary measure.
In retrospect, it was a costly absence.
Dwyane Wade, who rested his knees and did not play against the Cavs, scored 17 points but struggled in the second half with just four points.
Chris Andersen scored 16 points, 10 in the fourth quarter, and grabbed eight rebounds. Chris Bosh had 11 rebounds but only six points on 3-of-11 shooting.
The Heat (46-20), who had six double-figure scorers, lost for the sixth time in their past nine games. Miami failed to cash in despite dominating the paint, outscoring Boston 50-20.
Avery Bradley scored a game-high 23 points for the Celtics (23-46).
Center Greg Oden, who against the Cavs made his second straight start, joined James as Miami's inactive players.
Udonis Haslem started and scored 14 first-half points, on 7-of-8 shooting, with four rebounds to help the Heat build a 59-53 advantage.
Miami had 20 assists in 26 first-half field goals and outscored Boston in the paint 32-8 during the first 24 minutes.
The Celtics remained close at the half largely due to their 3-point shooting -- 9 of 18.
Mario Chalmers had eight assists in the first period to set a team record for a quarter.
THE TURNING POINT
Boston closed the game with a 9-4 run. The game was tied at 92 with 4:15 remaining, during which Miami shot 2 of 7.
THE DIFFERENCE MAKER
Rajon Rondo only had nine points but had 15 assists and 10 rebounds. He scored four points in the final 1:44.
STAT OF THE GAME
The Celtics hit 13 of 28 attempts from 3-point territory.
WHAT'S NEXT
The Heat will return home to play the Memphis Grizzlies, and former Miami star Mike Miller, on Friday at 7:30 p.m.
You can follow Charlie McCarthy on Twitter @mccarthy_chas or email him at mac1763@bellsouth.net.
---