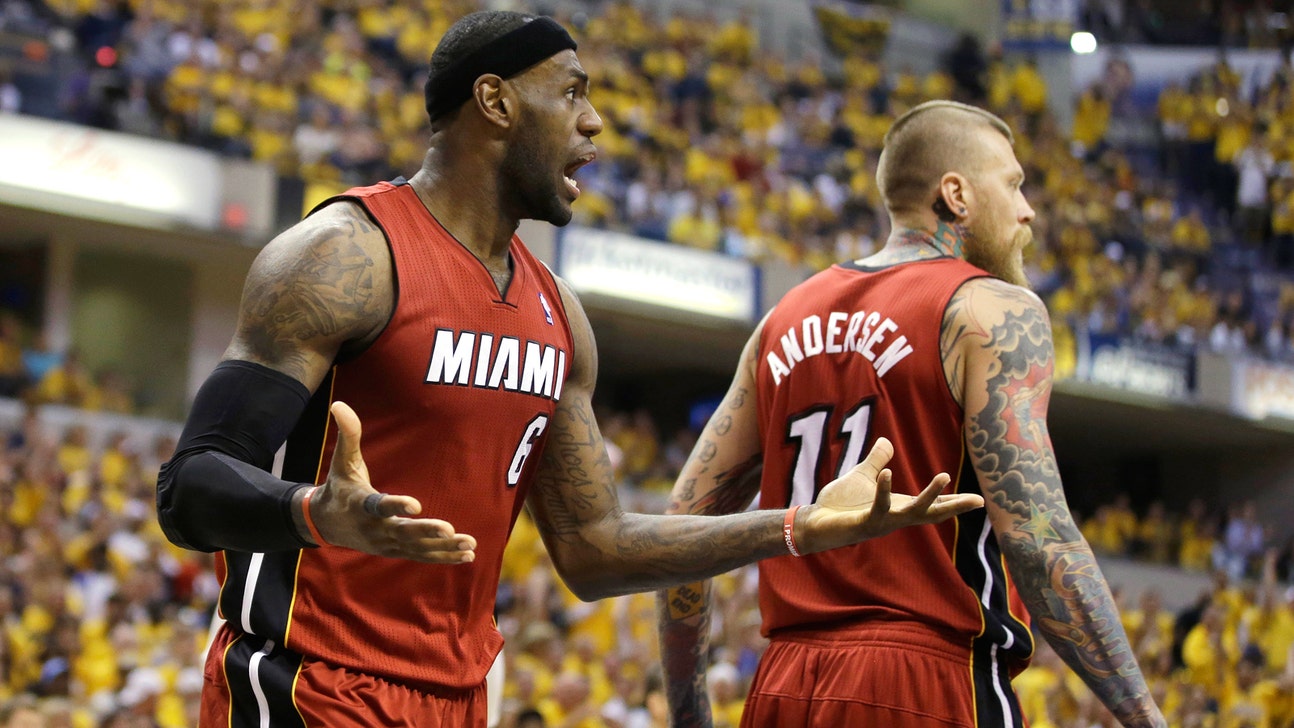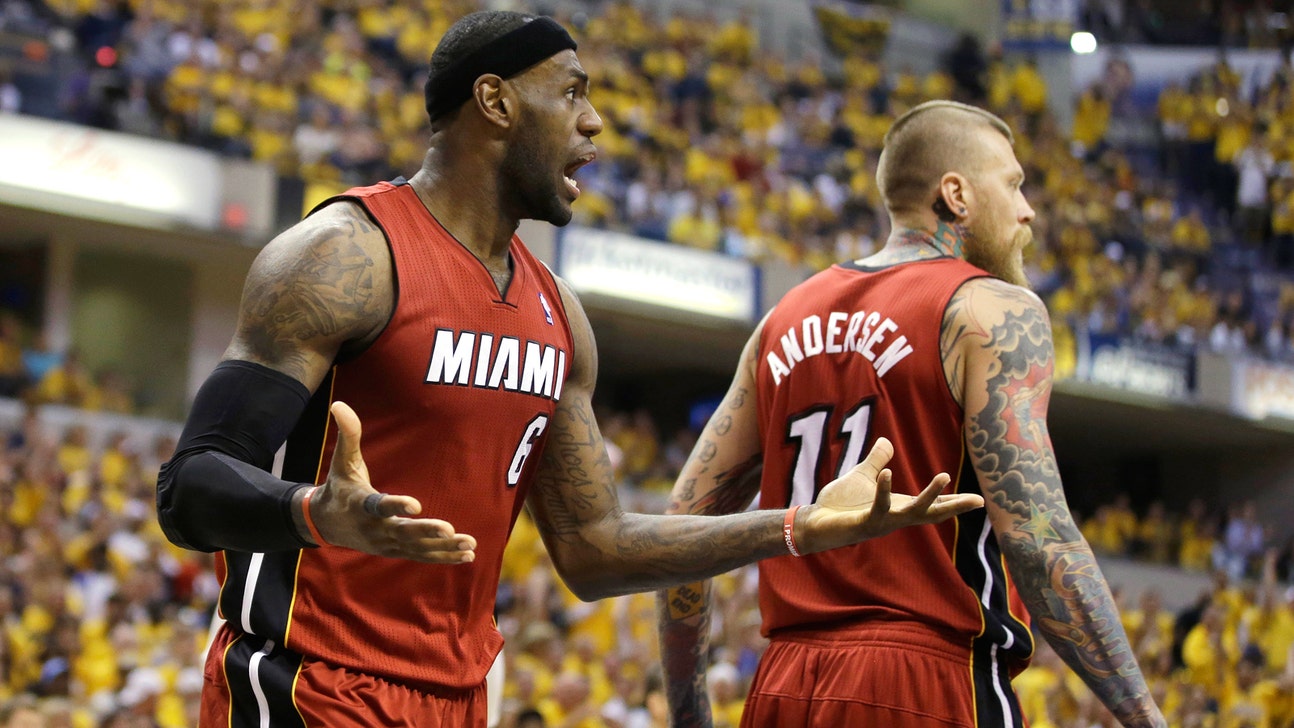 Heat at Pacers game preview
Published
May. 19, 2014 7:00 p.m. ET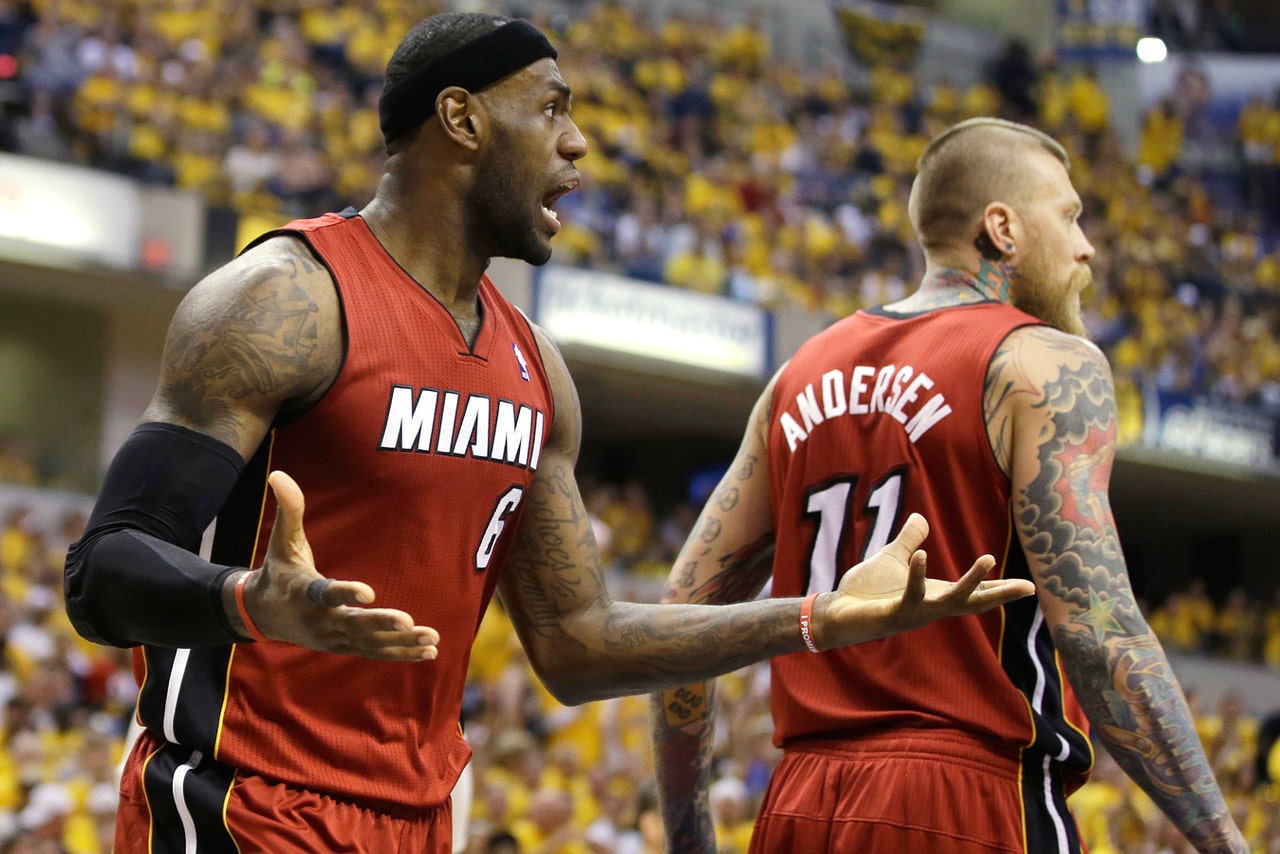 INDIANAPOLIS (AP) -- LeBron James is ready to help the Miami Heat get even against the Indiana Pacers.
After spending Sunday night and Monday morning sifting through Sunday's Game 1 loss, the Heat are ready to start over in Game 2 on Tuesday night. The changes start with James.
''My approach is the same every game, try to put pressure on the defense, try to get to the free-throw line to help us win,'' James said. ''I got to the rim, I got my shots going, but I've got to do a little more, too.''
While Heat coach Erik Spoelstra acknowledged the tape was every bit as bad as it looked in person, he didn't drop any hints about what might change. To the Pacers, that means one thing: Expect James to do even more than he usually does. Nobody understands that better than Paul George.
Over the past two years, these teams have met 15 times with George has usually drawing the seemingly impossible task of defending James. He's seen it happen up close -- as James got past him for the winning shot in Game 1 of last year's conference finals -- and from afar, such as last week when James almost single-handedly sent Miami past Brooklyn with 49 points in Game 4.
''He (James) will shoulder everything. I think he's going to be much more aggressive with the ball,'' George said. ''I think he's going to be looking to make more plays, looking to shoot more shots and really looking to get guys going. It's going to be a tough night for me, but that's part of the league.''
James' ability to do it all is a big reason the Heat haven't lost back-to-back playoff games since the 2012 conference finals against Boston, a span of 39 postseason games, though that wasn't the focus Monday.
The Pacers embrace the challenge of trying to take a 2-0 lead.
If they can protect their home court Tuesday, they'll have a 2-0 lead over the two-time defending champs when the series shifts to Miami for Games 3 and 4.
Miami has a lot to work on.
In Game 1, the Heat made just 6 of 23 3-pointers, allowed the Pacers to shoot 51.5 percent from the field, grabbed just four offensive rebounds and sent the Pacers to the free-throw line 37 times.
All-Star center Roy Hibbert, who had struggled from February through April before waking up against Washington, continued to hurt the Heat inside as he did last year.
The Heat were so bad, they never led and never even had a chance to tie the score after the first 40 seconds.
''We don't really care about what's happened in the past,'' Spoelstra said. ''We understand the urgency of a response for tomorrow night.''
Obviously, James wants to make sure there's no repeat Tuesday night.
''We cleaned a lot of things up today and we're ready for tomorrow,'' James said. ''You just go in with the mindset that it's a must-win and we go at it tomorrow.''
What else can the Heat do?
Spoelstra may have provided a glimpse into one possible adjustment when he replaced Shane Battier with Udonis Haslem to start the second half. That change was intended to give Miami more heft inside against Hibbert, David West and the rest of Indiana's big bodies.
Spoelstra wouldn't say whether he would replace Battier with Haslem in the starting lineup or whether center Greg Oden might be activated in Game 2. Miami, too, is trying to defy recent history.
The home team has eight straight and 13 of the past 15 in this rivalry, which is one reason the Pacers placed such great emphasis on earning the No. 1 seed.
But George knows it's going to take a lot more than home-court advantage to contend with James & Co. after a loss.
''We know we're playing against the champions, the two-time champions,'' George said.
''We know they're going to come out and make adjustments. Everything we did (Sunday) has got to be that much more in Game 2 in order for us to move on.''
---