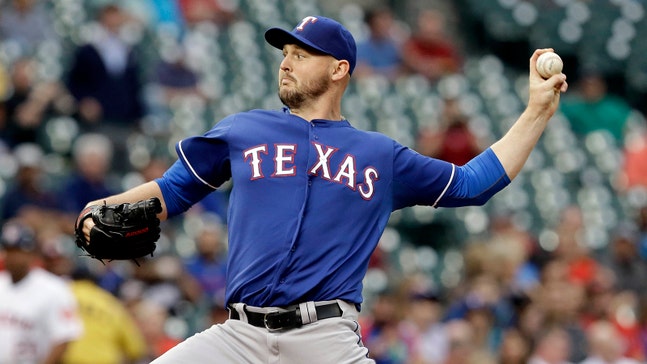 Harrison exits early with injury, Astros thump Rangers
Published
May. 14, 2014 12:36 a.m. ET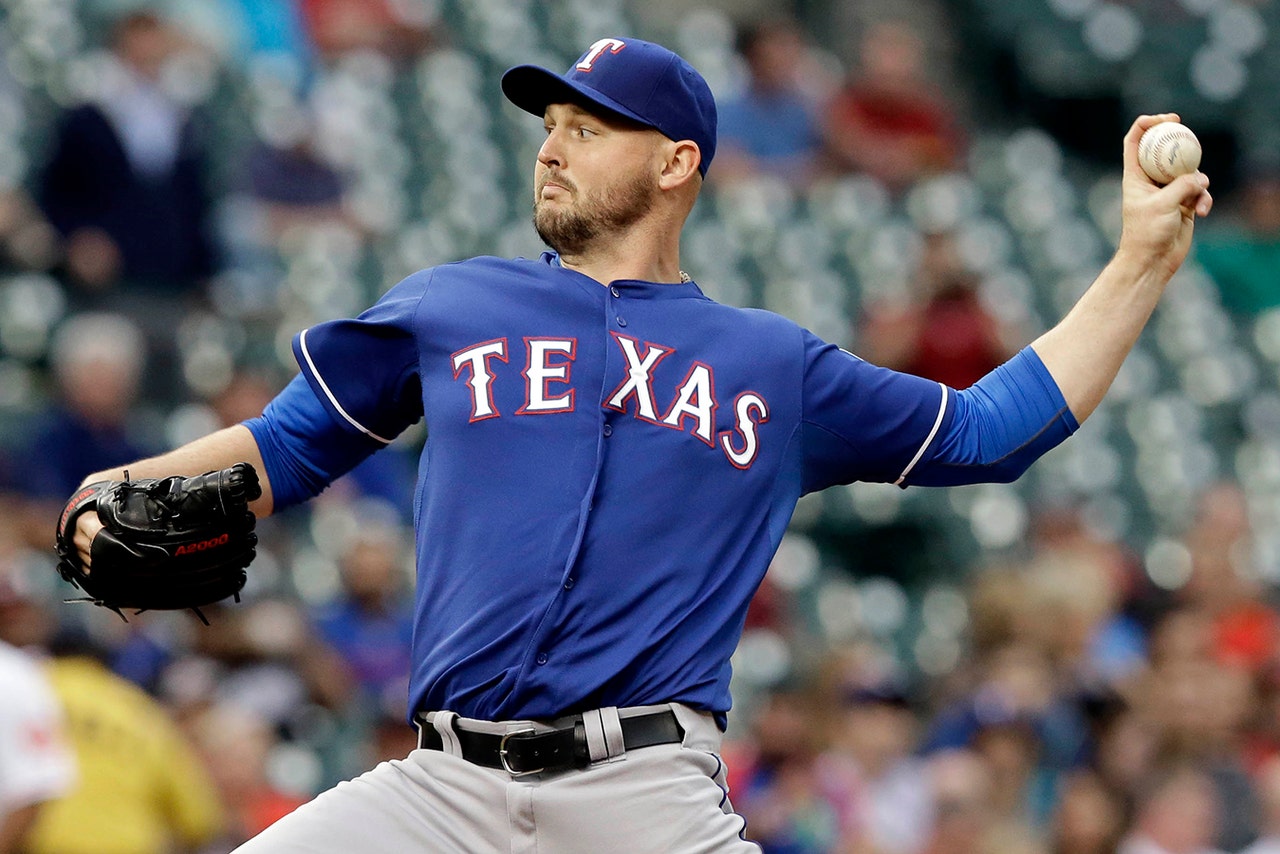 HOUSTON - Just when it looked like things couldn't get any worse for the Texas Rangers and their banged-up pitching rotation, it does.
Making his fourth start of the season, and the 100th of this career, Rangers left-hand pitcher Matt Harrison left Tuesday night's game against the Houston Astros in the second inning after throwing just 55 pitches due to experiencing back stiffness on the mound. Texas lost the game 8-0.
"He just didn't look right, I went on there and he said his back was stiff," manager Ron Washington said. "I haven't had a chance to talk to the medical staff, we'll just evaluate him tomorrow and see how it is."
With the retractable roof at Minute Maid Park open until being shut in the ninth inning due to the threat of rain on an unseasonably cool, breezy night, Harrison looked a bit off his game from the get-go. Walking two batters after collecting one out in the first frame and allowing two singles, a double to Jose Altuve, a walk and a home run to L.J. Hoes in the second inning, Harrison left the game with the Astros leading 3-0 in favor of reliever Justin Germano.
"It was ok, command was a little off," Harrison said of his first inning performance. "Not really stiff at in the beginning of the first innings, and then going up for the second inning warming up, it just got really stiff and it just got stiffer."
Unfortunately Germano wasn't able to contain the Astros giving up six hits over 3 1/3 innings, including a three-run home run to Houston catcher Carlos Corporan in the fifth inning to extend the deficit to what ended up being the final score of 8-0.
"He just threw a lot of pitches in a short period of time," Washington said of Germano. "He threw a fastball to Corporan away from him and he hooked it and he put three runs on the board, next thing you know they had five up there."  
With Harrison's future in jeopardy, the Rangers now are facing the loss of yet another starting pitcher with Martin Perez already possibly heading to the DL due to left elbow inflammation. With to the bullpen being taxed due to the heavy workload during the loss Tuesday night, Texas will likely make a roster move to add another pitcher for Wednesday's rubber match in Houston.
"We'll just get another arm," Washington said. "We got a starter tomorrow, we got help in the bullpen. We'll get another arm here."
Harrison started the season on the DL after missing most of the 2013 season due to back issues that required two surgeries. He is planning on driving back to the Metroplex Wednesday to undergo a medical evaluation.
"There's some concern there obviously, because of what I've had issues with before, last year coming back from that," Harrison said. "So hopefully I'll get good news tomorrow, that's what I'll pray for."
On the other end of the ball, Astros starting pitcher Dallas Keuchel threw a complete-game shutout as the Rangers struggled to get anything going at the plate against the left-hander.
"You gotta give Keuchel credit," Washington said. "He had a good sinker, he changed speeds well, he kept us off balance, we couldn't center very much. The guy pitch a good game, you can't take it from him. "
Not many things went in the Rangers' favor during the game, including Prince Fielder being on the wrong end of a replay in the fourth inning. Fielder was called safe on the field attempting to stretch a single into a double, but after the play was reviewed, the called was overturned resulting in an out.
Washington agreed with the overturned call.
"He was out," Washington said.

Despite the recent string of rough games for the Rangers, Washington is remaining optimistic about his team's chances this season.
"We got to stay focused and keep going, we're a long ways from being out of anything," Washington said. "We just have to keep playing baseball."
Follow Shawn Ramsey on Twitter: @ShawnPRamsey
---