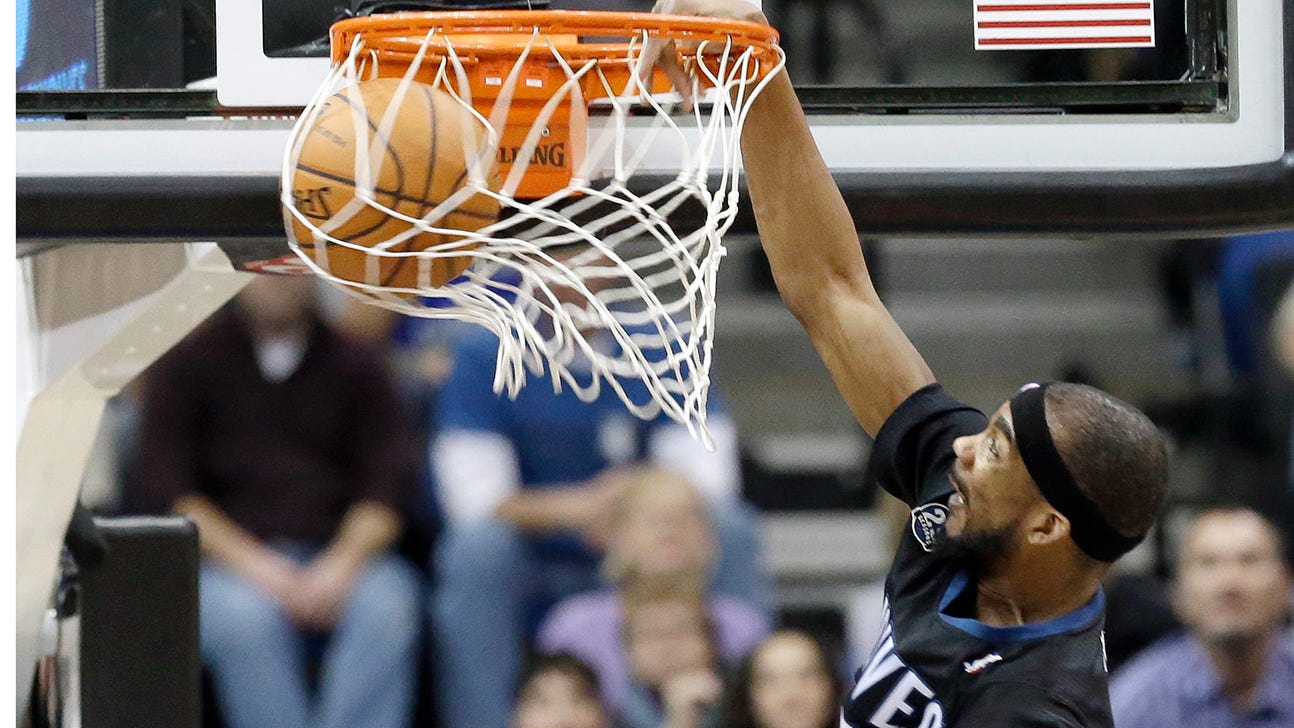 Hardworking defender Brewer does all the little things for Wolves
Published
Dec. 10, 2013 11:30 a.m. ET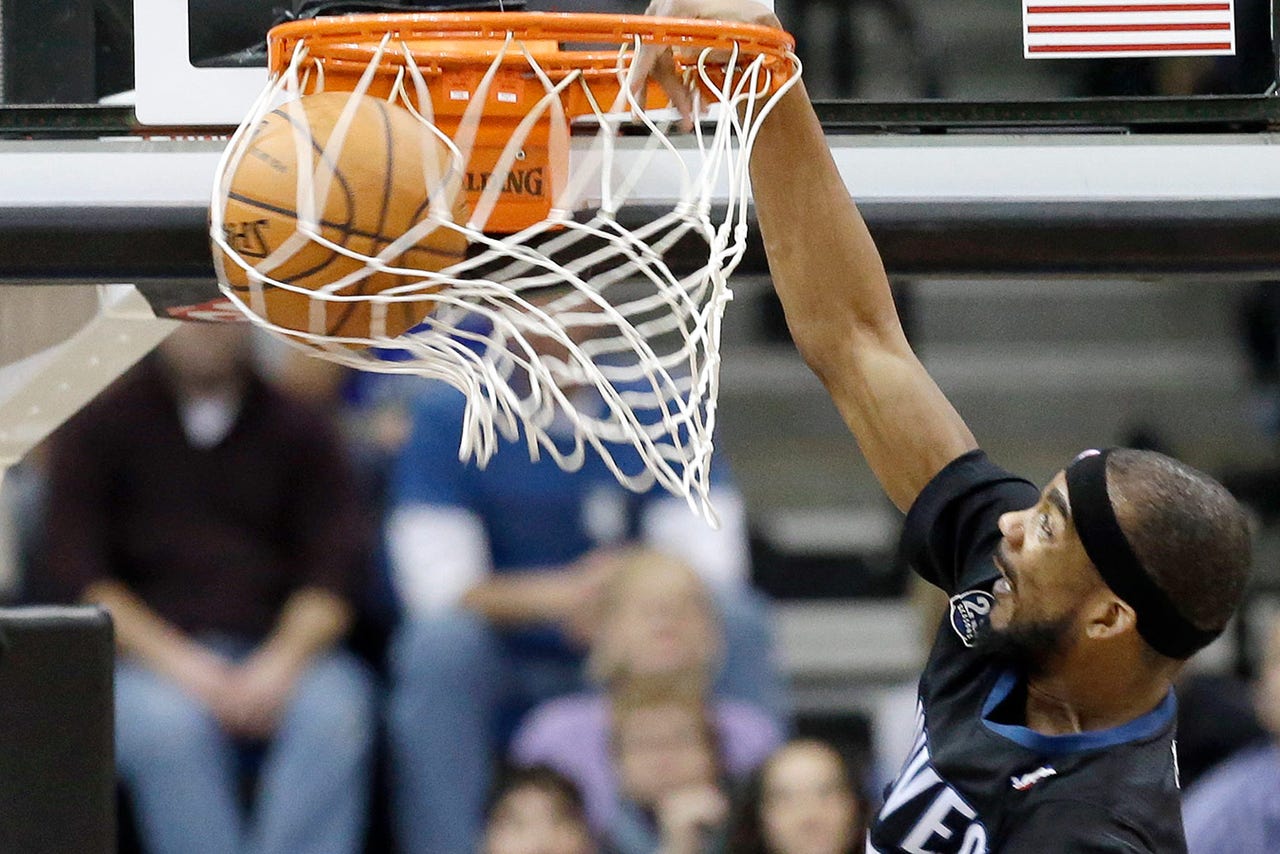 MINNEAPOLIS -- Corey Brewer has never been one to thrive on the conventional.
While many rural-raised kids dream of one day spurning their tiny hometown, the slender Timberwolves forward never stops embracing his. While the majority of college superstars jump at their first chance at a professional paycheck, he stayed in school an extra year in search of a second NCAA crown -- and helped seize it. While the rigors of NBA life harden and distance a lot of the league's highest-profile employees, he carries the same smile-marked, effervescent demeanor you might recall from his first 3 ½ years as a pro, all spent here during some of the franchise's darkest days.
And from Portland, Tenn., to Gainesville, Fla., to the Twin Cities and now back again, Brewer always has maintained that charisma, whether he's starting 82 games or two games, pestering opposing scorers or flying in for a transition jam, soaking up the Minneapolis nightlife or spending a summer afternoon at the trailer home in which he grew up.
With Brewer's efficacious persona, the Timberwolves got a seventh-year veteran coming into his own when they signed him for three years and $15 million this offseason. Coach Rick Adelman expected to bring him off the bench, but when Chase Budinger went down with a preseason knee injury, Brewer stepped in and has been in the starting lineup for all 20 of Minnesota's contests to date.
Regarded as one of the NBA's best perimeter defenders after two pivotal years in Denver, he's living up to that label. In addition, he's producing points at the most efficient rate of his career.
Photos of the Week: 1/19/14-1/26/14
See the best shots of the past week in Minnesota sports.
"He's been a pleasant surprise," Adelman said earlier this season. "He's better, I think, than we had anticipated."
All stemming from a willingness to follow instruction rather than personal desire.
"As long as you love the game," Brewer told FOXSportsNorth.com, "you do whatever you've got to do to play."
It may seem quaintly noble, a small-town Southern kid still applying a small-town Southern work ethic to big-league basketball.
But Brewer says he's never had a choice.
Picking up the garbage
Brewer spent the first several games of his all-everything prep career watching. He wasn't hurt, and he wasn't in trouble off the court.
But until Portland High School coach Tris Kington trusted the middle-school offensive phenom to defend, he wasn't going to see the floor.
"I was all about scoring; you're the man," Brewer said. "I get to my high school, and my coach was like, 'You're not gonna play if you don't play defense.' The only way I could get on the court was play D."
So Brewer did, wrapping his arms around the same pesky style of matchup defense you'll see when Minnesota takes on Detroit on Tuesday night.
"For us, he got a lot of garbage," said Kington, who still teaches at Portland but has since retired from coaching. "He took a lot of charges -- which a lot of superstars won't take a charge -- and led the team in steals, rebounds, the whole deal. He could guard pretty much anyone that we asked him to guard."
By then, Brewer was no stranger to doing dirty work.
He grew up working the tobacco fields and accompanying his father on his backcountry trash route. When he wasn't walking the rows of crop or manning a tractor, he and his older half-brother Jason Rogan -- who went on to play college basketball at the University of Tennessee-Chattanooga -- would beat the snot out of each other on the family's modest, crumbling cement basketball court.
Brewer couldn't help but focus his energy on perfecting undesirable tasks then. He still can't.
"Being in the field, being on the tractor, being in the hot sun -- in Tennessee, it gets hot; people don't understand, the humidity is no joke -- I guess I learned hard work," Brewer said. "You've got to work hard all the time if you want anything."
By the end of his freshman year, he'd crept out of Kington's doghouse and showed off all the tools that attracted Florida coach Billy Donovan's eye. Brewer still got to score -- in one game his freshman year, he notched 50 points, Kington said.
Growing nearly a foot between his eighth grade and sophomore years, Brewer went on to lead Portland to its first state tournament in 2003 and was named the state's Class AA "Mr. Basketball." That and his exploits with the Tennessee Travelers AAU club wrought all kinds of national recruiting attention, including McDonald's All-American recognition and a spot in the Jordan All-American game.
But Kington never made it easy on him -- three-hour workout sessions starting at 6 a.m., four days a week during the summer, increasing asks to round out his game, and so on.
"When I was in high school and coaching, you had to be a pretty dedicated guy to play for me," said Kington, who speaks with the same southern drawl almost everyone from the town of less than 12,000 possesses. "I demanded quite a bit of him. When he wasn't traveling with his AAU team, he always worked extremely hard in the weight room. He was just a joy to coach, really."
Kington wouldn't be the last coach to express that sentiment.
Little things
Despite local and family pressure to attend the University of Tennessee, Brewer took Donovan up on his offer to try and make a championship run at Florida. With Brewer and fellow NBA mainstays Joakim Noah and Al Horford leading the charge, the Gators made two, claiming back-to-back titles in 2006 and 2007.
But not before Brewer had to prove his defensive and detail-oriented worth once again.
"Same thing (as high school)," Brewer said. "I learned if I'm gonna get on the court, you've got to do the little things. I wanted to play; I didn't want to sit on the bench my freshman year."
This time, he didn't have to.
Lauding Brewer's balanced game, Donovan gave him a starting spot right off the bat. Brewer didn't disappoint, finishing his career fifth in program history with 176 steals and first in NCAA tournament scoring. His junior season, the SEC named him its co-defensive player of the year.
Donovan credited Brewer's upbringing, specifically his father Ellis "Pee Wee" Brewer and mother Glenda, for the sinewy small forward's near-instant collegiate blossoming.
"They're great people," Donovan said before his team knocked off Ohio State in the 2007 NCAA championship game. "They're people that have worked very, very hard. They've worked very hard to try to raise Corey in a way about getting his degree, going to school, being a good person, being a good role model." 
Corey Brewer wound up leaving college before completing his studies, but not when most experts thought he should have.
Brewer, Horford and Noah and fellow "Florida '04s" member Taurean Green all decided against testing the NBA Draft waters following their sophomore season together. Brewer recalls being told that he, Horford and Noah were potential lottery picks, but after besting UCLA -- a team that included current Timberwolves forward Luc Mbah a Moute -- in the 2006 title tilt, all four decided to come back and try to do it again.
"We were having too much fun," Brewer said. "Wanted to win it again."
They did, beating Ohio State for the championship in 2007, and the decision to delay the NBA paid off for Noah in Chicago and Horford in Atlanta, while Green was drafted by Portland in the second round but lasted only one year in the NBA.
Early in the 2013-14 season, it looks like Brewer has now found his place in Minnesota.
Just not the way he'd planned.
Staying rooted
Three years of team futility in the Twin Cities after the Timberwolves took him seventh overall in the 2007 draft. A trade to New York as part of the Carmelo Anthony deal and a proverbial pink slip a week later. A short stint in Dallas that brought little playing time but a 2011 championship ring. Two years in Denver where he thrived as a floor-running, wing-defending sixth man in George Karl's high-tempo system.
And now, a chance to finally live up to expectations back in Minneapolis.
"I think the opportunity is to finish what I started, to get better, to win," said Brewer, who played on Minnesota teams that went a combined 61-185 from 2007-2010. "You want to win no matter what team you play on, but for my Timberwolves, the team that drafted me, to help them win means a lot."
Heading into Tuesday's matchup with the Pistons, Minnesota is 9-11 and two games out of a playoff spot (a fact useful for context only 20 games into an 82-contest campaign).
Brewer is doing his part, starting with his never-waning motor, Adelman said.
"Corey's just pretty amazing and never seems to get tired," said the coach, who's not often wont to dole out such high acclaim. "He just keeps playing."
The defensive aptitude that earned Brewer a second chance here has shined through, as his 1.9 steals per game rank 10th in the NBA. He virtually shut down Kevin Durant at home earlier this year, limited Anthony on the road and even found a way to frustrate LeBron James in the first half of Saturday's eventual blowout loss to Miami.
But that phenomenon included a league-ruled flop that cost Brewer $5,000. In addition to limiting the theatrics, Brewer says he's at the point in his career where it's imperative he break down and study his individual defensive foes in hopes of better exploiting their tendencies.
"I've made some strides, but it can get better. It can get a lot better," Brewer said. "For me, I've got to start watching some more film, start focusing on shutting guys down better."
President of basketball operations Flip Saunders brought Brewer back to do just that. His career-high pace of 14 points per game -- 45.4 percent of them on the fast break -- have been an added bonus.
As good as he is defending on the wing, his rail-thin, 6-foot-9, 185-pound frame is sleek enough to jet the other direction for easy transition lay-ins. He's been Kevin Love's favorite outlet target and ranks second in the league in fast-break points behind James.
"He's kind of made for the outlet pass," Love said. "I love having him on the team. He's a guy that helps me look good." 
Brewer's long-mysterious outside game still needs work. He's shooting 29.8 percent from beyond the arc -- right on par for his career -- but continues to thrive from the left corner, where he's made 11 of 26 triples.
It's not the most glorious existence, focusing on simply slowing top offensive threats knowing you'll likely get beat, all while delegating to the likes of Love, Kevin Martin and Nikola Pekovic on offense.
And when Chase Budinger returns from his meniscus injury, Brewer's role may be altered again. Before the season, Adelman suggested his original plan was to start Budinger at the three and bring Brewer off the bench in a manner similar to what Karl did the past two seasons.
A second unit that's second-to-last in the league in scoring could certainly use some added punch. Brewer said he'd be happy to provide it if asked.
Typical.
"If I have to come off the bench for us to win, that's fine," said Brewer, who averaged 10.7 points and 1.3 steals in two years with the Nuggets. "If I have to start for us to win, that's fine. Whatever makes us better.
"To me, it really doesn't matter."
Hasn't for a long time, it would appear.
Brewer still clings to the roots that sparked his whatever-it-takes mentality. Still goes home to visit his mother, brother and pet goat. Still joins Kington for a free kids' basketball clinic every summer.
Pee Wee died in February 2012 at the age of 68. But his influence and the influence of Brewer's early-childhood days haven't faded.
"I think about my dad every day, just because he taught me about hard work," said Brewer, now 27. "He worked his butt off. He worked in the fields every day, he had a trash route, did everything, you know?"
A rather thankless lot in life. But one for which Brewer, his career and his current franchise remain ever thankful.
Follow Phil Ervin on Twitter
---