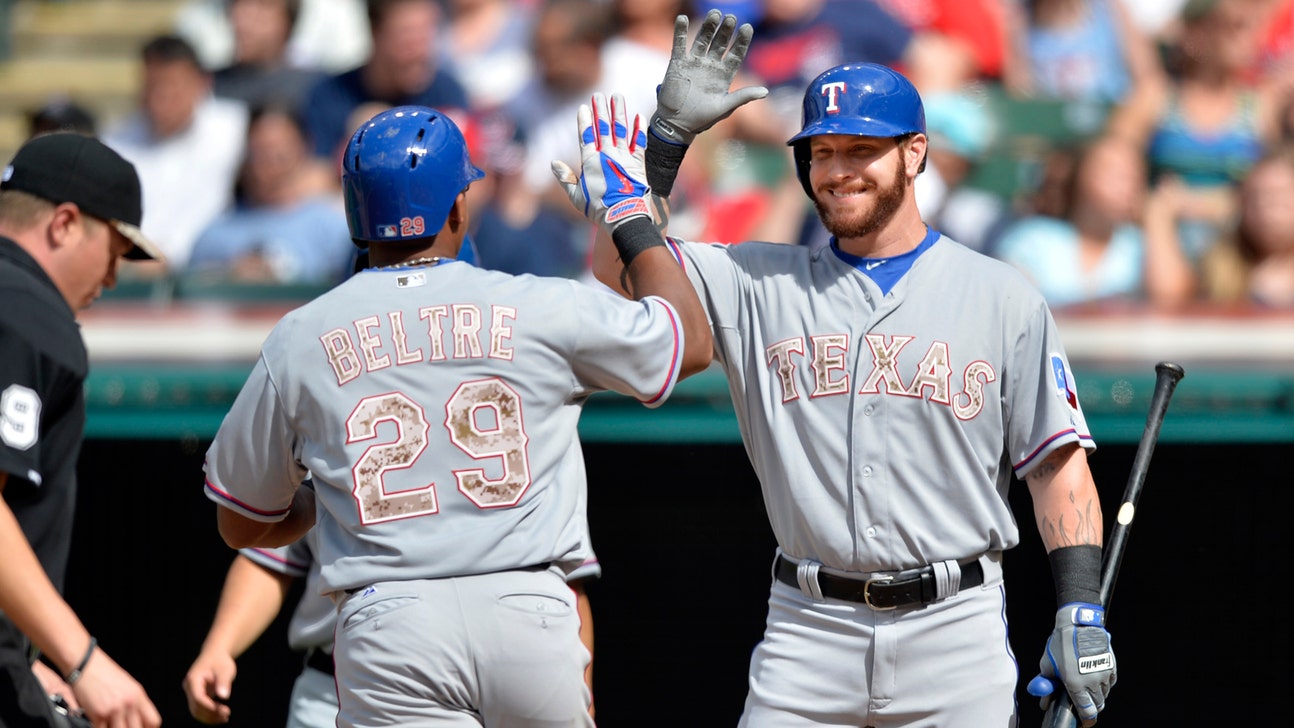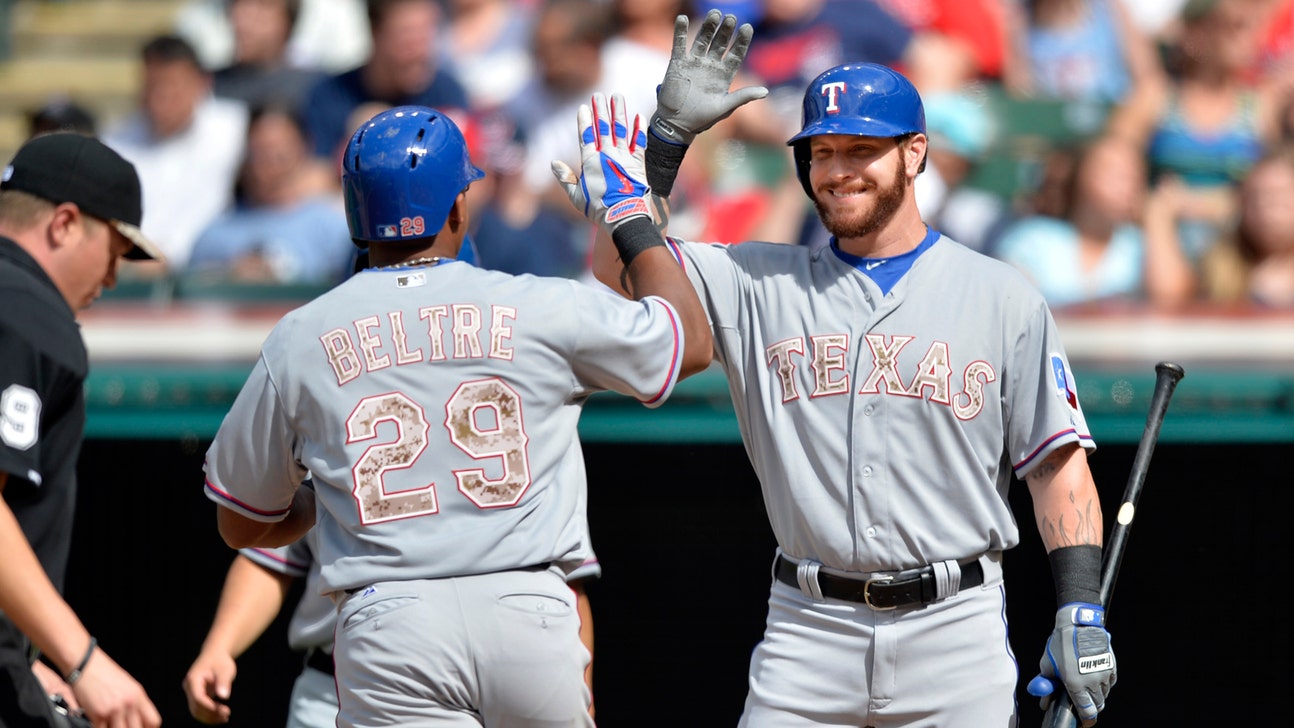 Hamilton hitless in return, Rangers win 6th in a row
Published
May. 25, 2015 7:51 p.m. ET

CLEVELAND (AP) -- Josh Hamilton has played in two World Series, appeared in five All-Star Games and won a Most Valuable Player Award.
Yet he still had to fight off nerves in his return to the majors Monday.
"It was good to get the first at-bat out of the way, I was a little nervous up there," Hamilton said after the Rangers sixth straight win, a 10-8 victory over the Cleveland Indians. "After that, second at-bat I was feeling pretty good. It was just good to be out there. It was good to feel the energy in the dugout."
Hamilton, slowed this season by shoulder surgery, was 0 for 3 with two strikeouts and a walk and scored a run. He also reached on a key error in the seventh inning that led to the winning run.
The 2010 AL MVP came up with runners on first and second and two outs in the seventh inning with the score 8-all. He hit an easy tapper back to pitcher Zach McAllister, whose throw was well over the head of first baseman Carlos Santana for a two-base error. Prince Fielder scored.
Hamilton was traded from the Angels back to Texas in late April. He finished a minor league rehab assignment on Saturday. Hamilton batted fifth and started Monday's game in left field. He was moved to right in the ninth inning.
The Rangers didn't arrive in Cleveland until 4 a.m. after completing a three-game sweep in Yankee Stadium on Sunday night, but they looked like a refreshed bunch in Hamilton's return.
"Mentality's everything," he said. "You start winning some ballgames, guys get a lot of confidence. It goes from hitting to pitching to playing defense, so I like it, man. I like winning and the situation I'm in. Guys are hungry and I want to go out there and fight and play hard and have fun."
Rangers manager Jeff Banister told Hamilton before the game to fit in and play his game.
"First major league game back, looked fine," Banister said. "More than anything else had a great smile on his face, had some energy. He came in and did exactly what we asked him to do, give us what he could give us today and be one of 25."
Hamilton struck out in his first at-bat on four pitches. He walked on a 3-2 pitch to load the bases in the third when Texas scored four times to take a 7-5 lead. Hamilton struck out again in the fifth.
The Indians had won six in a row.
Fielder hit his fourth home run in four games for the Rangers. He hit an RBI single that tied it earlier in the seventh before the costly error.
Elvis Andrus homered and he and Fielder each drove in three runs. Adrian Beltre also connected for Texas.
Santana and Roberto Perez homered for the Indians while Jason Kipnis and Michael Brantley had RBI doubles.
Tanner Scheppers (1-0) pitched 1 1-3 innings for the Rangers. Shawn Tolleson pitched the ninth for his fourth save.
Marc Rzepczynski (1-2) also committed a throwing error in the seventh.
Fielder and Adrian Beltre hit back-to-back home runs in first as Texas took a 3-0 lead.
TOUGH ATTEMPT
Hamilton couldn't come up with a sliding attempt at a catch on Kipnis' line drive that went for an RBI double in the second.
"Haven't had a ball hit to me like that in a long time," he said. "Any other time, you take a little bit better route. Off the bat I thought it was maybe going in the gap. Took a hard left on me, so that's something you work on in batting practice, taking balls off the bat and getting those jumps and those reads."
TRAINER'S ROOM:
Rangers: Texas placed RHP Neftali Feliz on the 15-day disabled list. The right-hander has an abscess on his right side and had surgery in New York on Saturday. Feliz is 1-2 with a 5.09 ERA and six saves.
Indians: C Yan Gomes wasn't in the lineup after playing for the first time Sunday since spraining his right knee April 11. Manager Terry Francona said Gomes will catch every other day for a week or two and could also be used at DH.
UP NEXT
Rangers: LHP Wandy Rodriguez allowed five runs and eight hits, both season highs, in an 8-3 loss to the Indians on May 15 in Texas.
Indians: RHP Danny Salazar was rocked against the Rangers on May 16 in Texas, allowing seven runs, including two homers in a short stint. He ended up with a no-decision in Cleveland's 10-8 win.
---