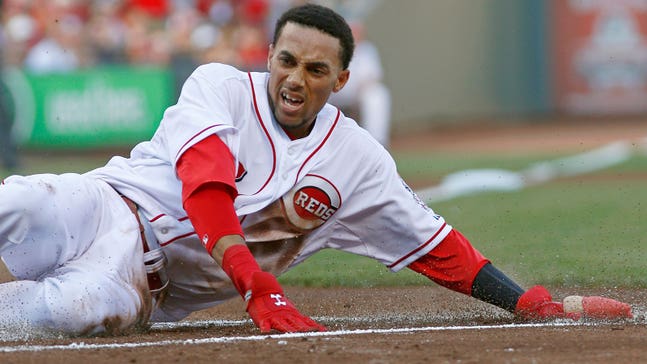 Hamilton evolving on the base paths for Reds
Published
May. 7, 2015 7:32 p.m. ET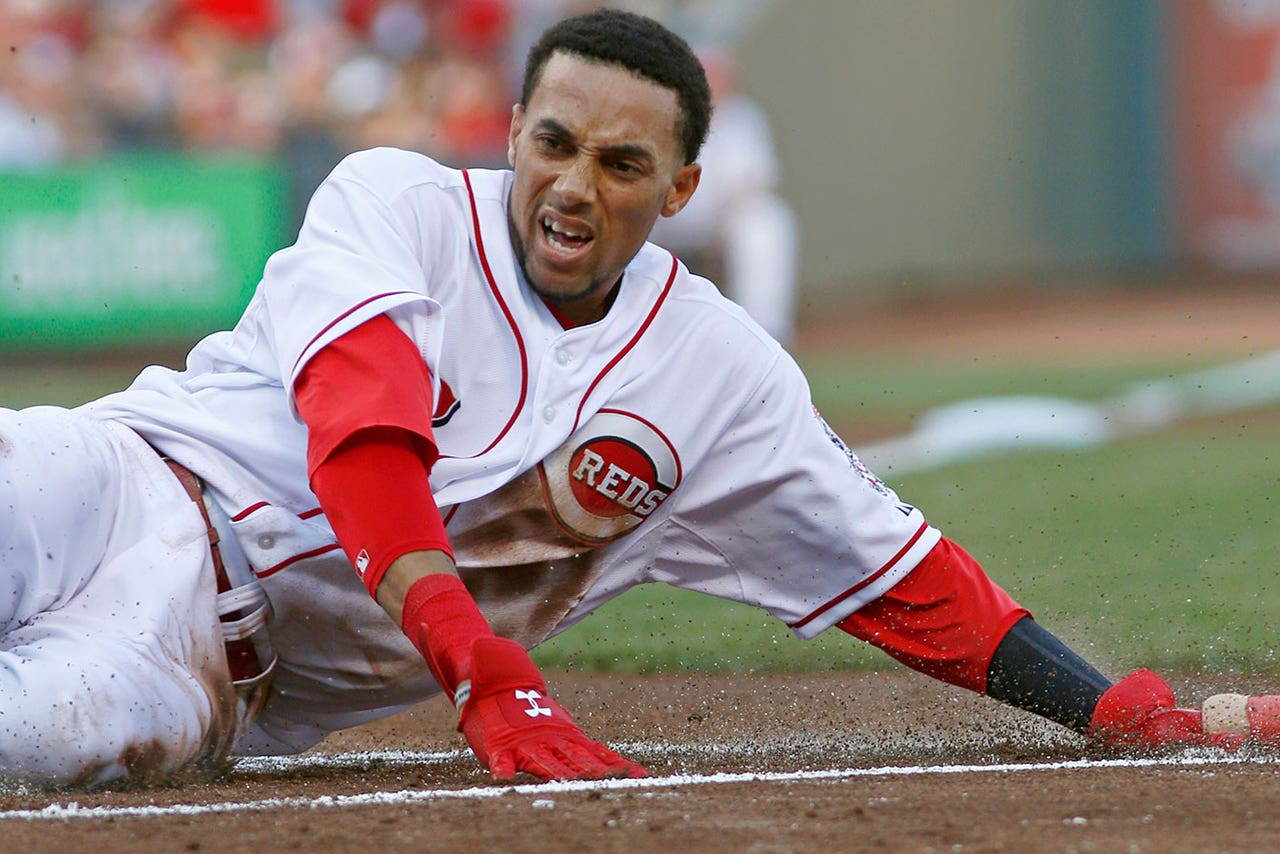 PITTSBURGH -- Jeff Locke was in a bind. The Pittsburgh left-hander had given up a couple of runs on three hits in the second inning of Tuesday night's series between the Reds and Pirates at PNC Park and now he was facing Marlon Byrd with a runner on first base and no one out in the top of the third.
It wasn't your normal base runner on first. Billy Hamilton's normal is not everyone else's normal. Very few people have Hamilton's normal when it comes to running.
Locke was paying close attention to Hamilton, throwing over a couple of times while also missing on a couple of pitches to Byrd.
"He slide-step, slide-step, got me to a two-oh count and at some point he's going to have to pick his foot up, especially if he's not feeling (comfortable), especially if he's trying to throw a strike," said Byrd.
Locke threw Byrd a strike on the next pitch. Byrd sent that 90-mph fastball into the seats in left-center field, the deepest part of PNC, for a 4-1 lead in a game the Reds ended up winning 7-1. Hamilton had decided to run on the pitch. If the ball goes into the gap instead of the seats, Hamilton still would've scored standing up. If Byrd had swung through the pitch, Hamilton had a big enough jump that he's safely into second base and in scoring position.
Hamilton is a unique offensive weapon for the Reds, an offensive weapon who is continuing to develop. He'll be the first one to tell you for all of the wonderful things he can do on the base paths, getting on base consistently and at the rate the Reds need him to be on base is his biggest weakness. It's his biggest focus.
When Hamilton is on base, though, it's clear to see how much of a catalyst he can be for the offense as a whole. Being a better base runner, not just a fast base runner, was one of Hamilton's top priorities when spring training started. So far, so good.
He set a franchise rookie record with 56 steals last season but no one was thrown out more often than the 23 times Hamilton was caught stealing. He leads the majors with 14 steals this season and has been caught just one time. The Reds have stolen 32 of 34 bases as a team.
Knowing when not to run is just as important as knowing when to run. Tuesday night's situation was a prime example.
"The evolution of him as a base stealer has really taken a huge step forward from last year to this year," said manager Bryan Price. "He was actually going on that pitch and Marlon just happened to hit it out of the ballpark. But with Locke you've got a lefty, so now you've to guess with him a little. You've got to see if there's something he's doing in his delivery that would tip if he's coming over to first base or going to the plate.
"It's calculated guesses, (but) he's much better educated."
Hamilton had scored 18 runs going into Thursday's series finale with the Pirates. That tied him for 25th across the major leagues. His on-base percentage of .264 is by far the lowest of any of the top 30 players in runs scored listed by FanGraphs.com. The next closest player on that list is Reds third baseman Todd Frazier, who has a .319 OBP and has scored 20 runs.
Hamilton has scored that many despite having just 34 total bases. Frazier, by comparison, had 56 total bases through Wednesday.
That's why Hamilton, while pleased that his work on being a better base stealer is going well, tempers any enthusiasm.
"It's been good the times I've been getting on base," said Hamilton. "I've just got to get on base more to use it. At the point I'm at now I feel like everything's good on the base paths for me, and for everybody. We feel like we've been running the bases well. But for me to use my abilities to steal bases I've got to get on."
When he does, he's a benefit for those hitting behind him.
"I think last year he was that exciting young player with all of that speed. He wanted to steal as many bags as possible whether it was a bad time or not. I think he's learned a lot from that," said shortstop Zack Cozart, who hit No. 2 in the order behind Hamilton seven times before suffering injuries to his left wrist and right index finger last Sunday in Atlanta that has kept him on the bench this series. "It's not just blindly going all of the time because he's fast."
As far as getting on base, there's no panic from the Reds at this point. As fast as Hamilton is, not everything can be rushed. His offense is still a work in progress.
"Billy wants to be the best at everything he does whether that's playing defense, stealing bases, hitting," said first base coach Billy Hatcher. "He's struggling a little bit right now hitting but that will come, too. The pitchers know him better than he knows them right now. I'll give him another month, month-and-a-half and his total game will be just about where he wants it to be."
---