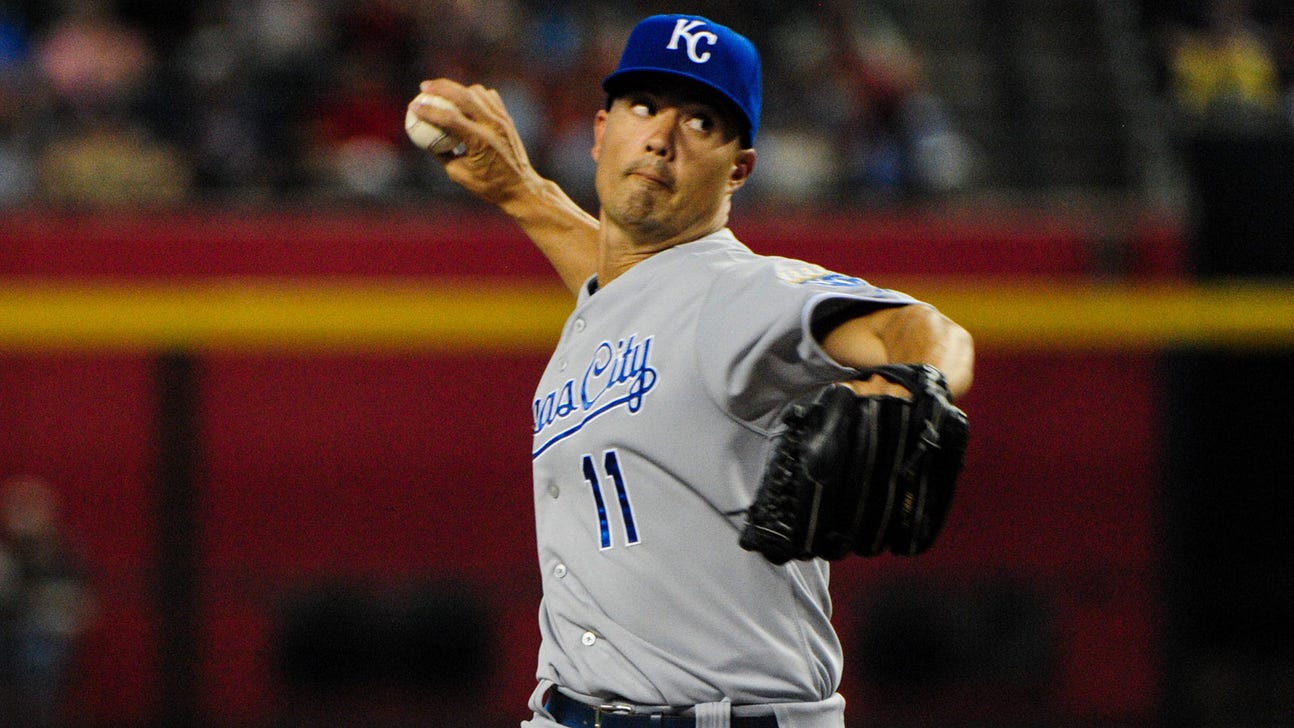 Guthrie pitches CG, KC completes sweep of D-Backs
Published
Aug. 8, 2014 12:25 a.m. ET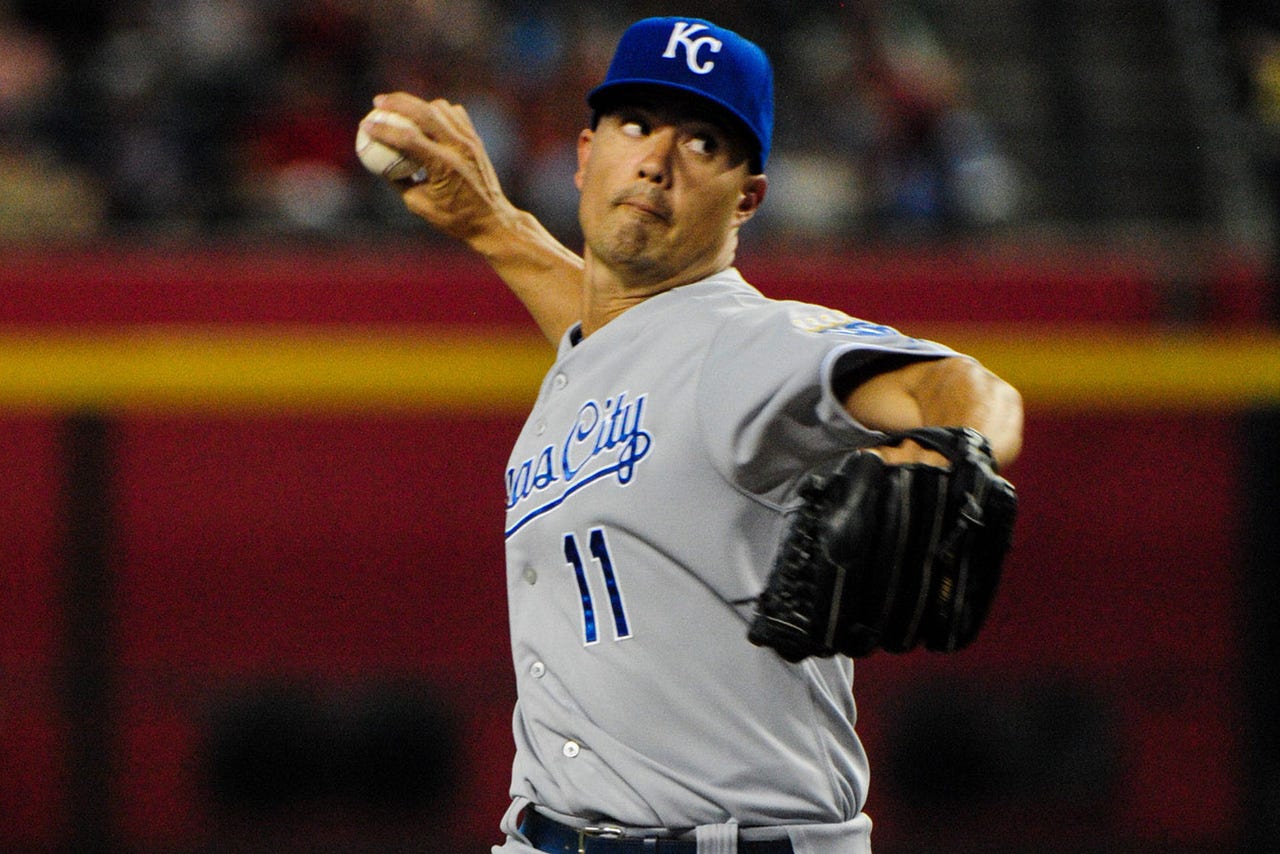 PHOENIX -- Through three innings Thursday night, Jeremy Guthrie looked shaky.
After that, he was perfect.
Guthrie retired the final 19 batters in Kansas City's first complete game of the season, and the Royals beat Arizona 6-2 for a three-game interleague sweep of the Diamondbacks.
Guthrie (8-9) allowed seven hits, struck out four and walked none in his eighth career complete game.
"I think it's the pitcher's goal every time is to get as deep as they can," he said. "I haven't done that very well, especially the last couple of months. So it's nice to have a high pitch count out there early but be able to settle in and get through some quick innings."
As Guthrie finished off one batter after another, manager Ned Yost decided to just ride his starter as far as possible and rest his bullpen.
"We're getting down to the point of the season where you know you've got to try to make sure everybody's strong," Yost said. "When you've got a pitcher that is throwing as good as he is, you try to take advantage of every pitch that he has in his tank."
Alex Gordon hit a two-run homer and Alcides Escobar had a two-run single for the Royals, who have won four in a row and 12 of 15 to pull within 2 1/2 games of first-place Detroit in the AL Central. They were eight games out on July 21.
"Obviously we're playing well and that's all we can control," Gordon said. "We haven't really played Detroit in a while so we're not really concerned where they're at right now. We're just trying to take care of our business and go from there."
Vidal Nuno (2-8) lasted just four innings for Arizona, allowing five runs and seven hits. The left-hander is 0-3 with a 4.05 ERA in six starts since he was acquired in a trade with the Yankees that sent Brandon McCarthy to New York.
Kansas City (60-53) moved seven games above .500, matching its season high. It went 5-1 on a trip to Oakland and Arizona and is 33-26 on the road this season.
The Royals have won five consecutive series.
Jake Lamb, called up from Triple-A Reno earlier in the day, got his first major league hit and RBI when he singled in a run for the Diamondbacks in the third inning. Guthrie retired every batter after that.
"We got him in the beginning but later in the game he was throwing more cutters to the lefties," Arizona's David Peralta said. "He tried to get it in and jam us. We were trying to make an adjustment. It didn't work this time for us, it worked for him."
TRAINING ROOM
Royals: First baseman Eric Hosmer, on the 15-day disabled list since Saturday with a stress fracture of the third finger of his right hand, is to have no baseball activity for two weeks, then be re-evaluated.
Diamondbacks: Outfielder A.J. Pollock, out for two months with a broken right hand, is 2 for 13 (.154) with a double and a run scored in four rehab games with Triple-A Reno. ... Right-hander Daniel Hudson, recovering from a second Tommy John surgery, made his first rehab appearance Tuesday, allowing a run in one inning for the Diamondbacks' Arizona Rookie League team.
ON DECK
Royals: Kansas City opens a seven-game homestand against Bay Area foes, three against San Francisco and four against Oakland. A pair of left-handers go in the opener Friday night, Madison Bumgarner (13-8, 3.21 ERA) for San Francisco, Jason Vargas (8-5, 3.69 ERA) for the Royals.
Diamondbacks: Arizona wraps up a 10-game homestand with a three-game weekend series against Colorado, matching the bottom two teams in the NL West. In Friday night's series opener, the Diamondbacks go with right-hander Chase Anderson (6-4, 3.19 ERA) and the Rockies counter with lefty Tyler Matzek (2-6, 5.31 ERA).
ROLLER COASTER
Guthrie has had a streaky season. Prior to his current three-game winning streak, he dropped three straight, allowing 17 earned runs in 14 innings. Before that, he was 3-0 in four starts with a 2.70 ERA. Guthrie won his first two starts of the season, and then was winless in his next 11.
TRIPLE-A DIAMONDBACKS
The addition of Lamb gives Arizona eight position players who started the season in the minors. Five of them were in the lineup Thursday night.
SLICK PLAY
Escobar made a slick fielding play in the seventh, racing to his left to snag Roger Kieschnick's grounder to shortstop, and then spinning 360 degrees before throwing the runner out at first.
---