Gophers RB Edwards works to be pass-catching threat
Published
Aug. 12, 2014 2:20 p.m. ET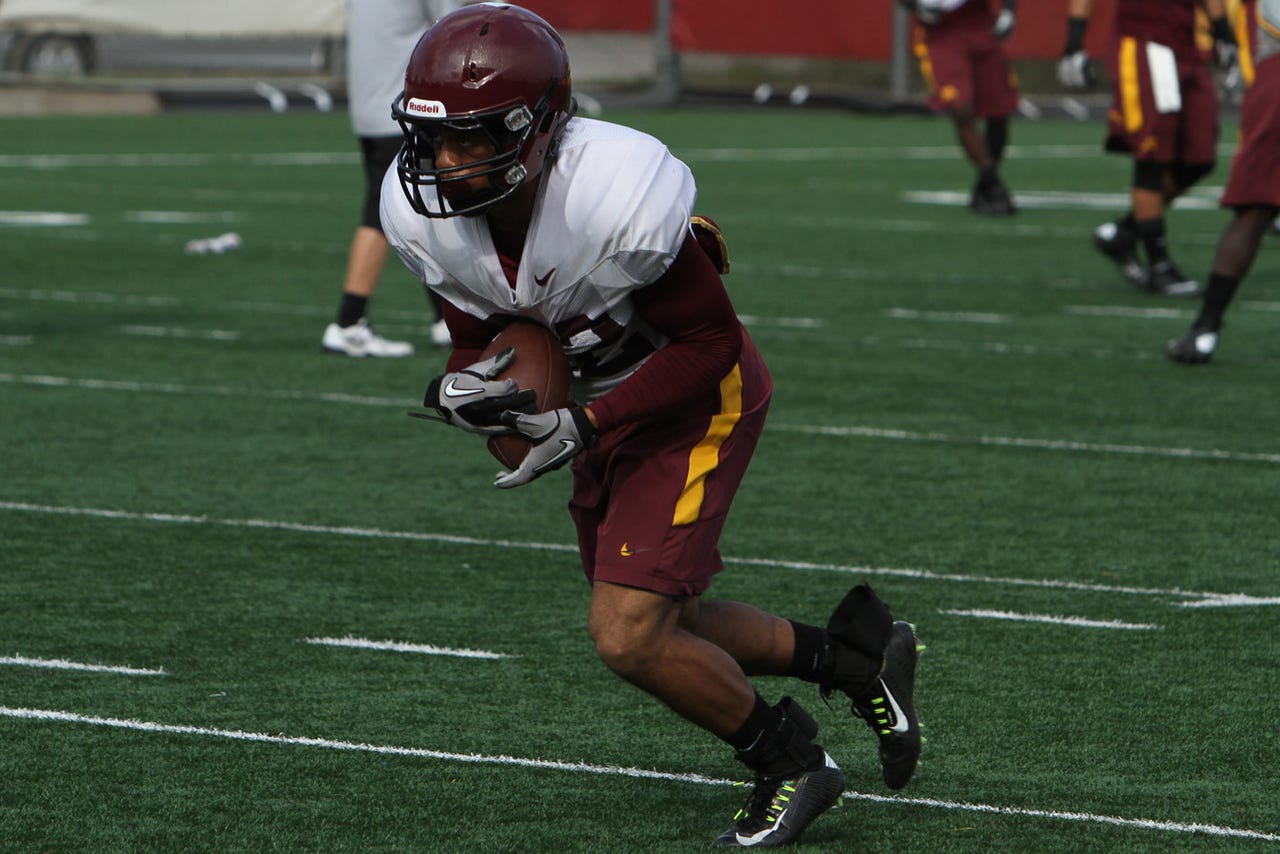 MINNEAPOLIS -- As the rest of his teammates filed into the locker room after practice, Gophers running back Berkley Edwards remained on the field. His work wasn't done yet.
Thwack.
The spiraling ball, fired from a passing machine, hit him in the hands. A coach loaded another football.
Thwack.
Again, Edwards made the catch, paying close attention to how the ball hit him in the gloves.
Thwack.
Edwards did this a total of 50 times. He does this routine after each practice as a way to get better at pass catching. Though a running back by trade -- and a fast one at that -- Edwards knows his best chance to compete for Minnesota this year as a redshirt freshman is to be able to get involved in the passing game.
"This spring they came to me: 'We definitely want to get you the ball more in open space,' because I have the speed and agility and stuff like that," Edwards said. "That's going to be probably most of my role this year. Just catch more balls and get better at catching them."
Edwards admits he didn't really catch many passes until his senior year at Chelsea (Mich.) High School. He was a two-sport star there, as he also was a state champion sprinter. The speed he exhibited on the track translated naturally to the football field, where he rushed for 1,329 yards as a senior. Edwards believed running track also helped him with his stamina in football. It allowed him to take the ball and run play after play after play.
Now the Gophers are hoping to use that track-star speed against opposing defenses. While some of Edwards' opportunities may come on handoffs, there's a good chance he'll see plenty of passes thrown his way.
Once the ball is in his hands, he can let his speed show.
"The biggest thing is trying to get the ball in his hands in space and don't overload his plate with route techniques," said Gophers wide receivers coach Brian Anderson. "You give up a little bit of technique stuff just to get the ball in his hands: 'Here's the depth of the route, this is the formation, this is what you've got to do.' So you don't try to tell him all these different moves and set routes up and that stuff. You just try to get him the concept of it and get the ball in his hands as quick as you can."
If not for a high ankle sprain suffered during fall camp last year, Edwards may have demonstrated his skills last year as a true freshman. But he suffered the injury just a week before the start of the regular season, which forced him to watch the first few games from the sideline.
As the season wore on, and as several other running backs emerged, it made more and more sense for Edwards to take a redshirt. So instead of learning by playing right away, Edwards observed from the sideline and put in extra time in the film room -- at the advice of his older brother, former NFL wide receiver Braylon Edwards.
"As a freshman, everybody wants to play. To have an opportunity to play, and then you get hurt -- it was the week before the first game -- is real bad," Edwards said. "(Braylon) just told me, 'Stay focused, learn a lot in the film room.' Because it's hard to get redshirted. You go into Saturday knowing you're not going to play. 'OK, another Saturday I'm not going to play.' He told me, 'Just stay focused in the room and really take rehab serious, because rehab is really serious. You can get more injuries. You're not invincible.' So I leaned on him."
Now fully healthy, Edwards has the chance to be a playmaker on a Gophers offense in search of one. And while he might not admit it, Edwards likely has Sept. 27 circled on his calendar. That's not only Minnesota's first Big Ten game of the season, but it will also be a homecoming of sorts for Edwards when the Gophers play Michigan -- his brother's alma mater -- in Ann Arbor.
That gives Edwards a bit more time to work on his pass catching before his first Big Ten action. As it turns out, he doesn't need any more time converting Braylon to a Gophers fan.
Said Edwards: "He's one already.
Follow Tyler Mason on Twitter
---