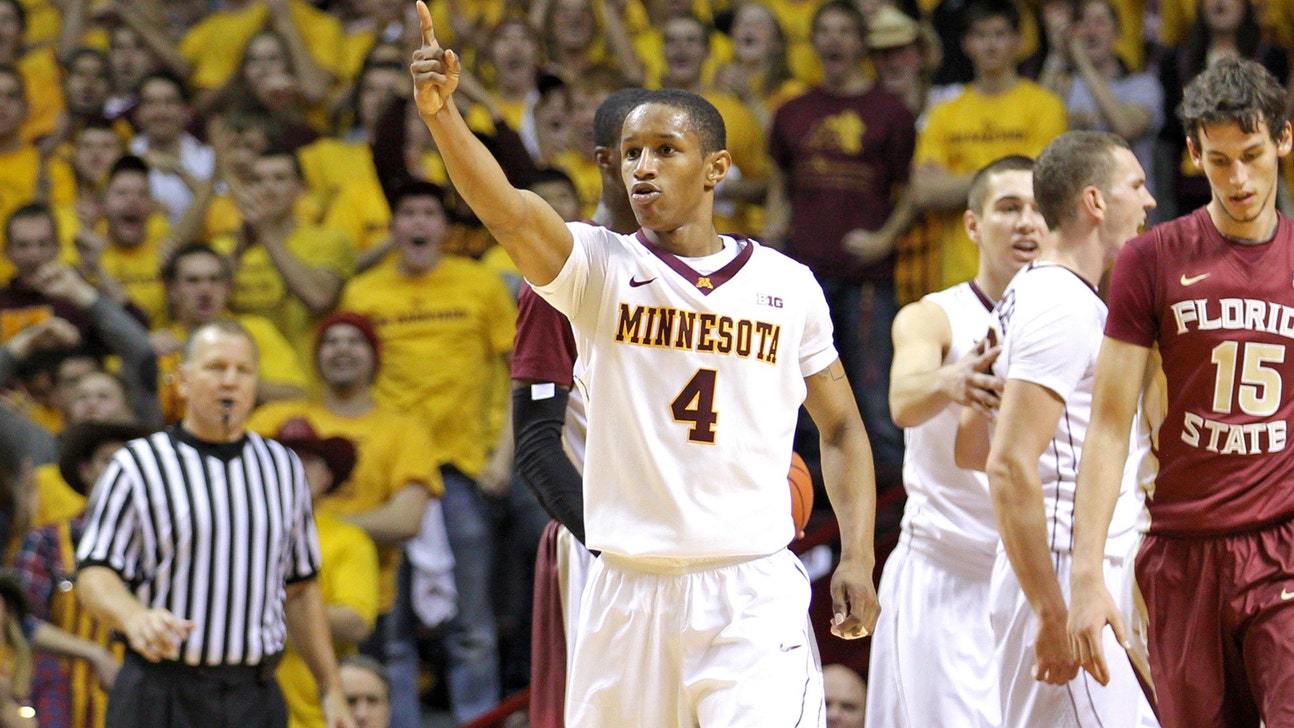 Gophers point guard Mathieu focused on better decisions, fatherhood
Published
Oct. 23, 2014 12:35 p.m. ET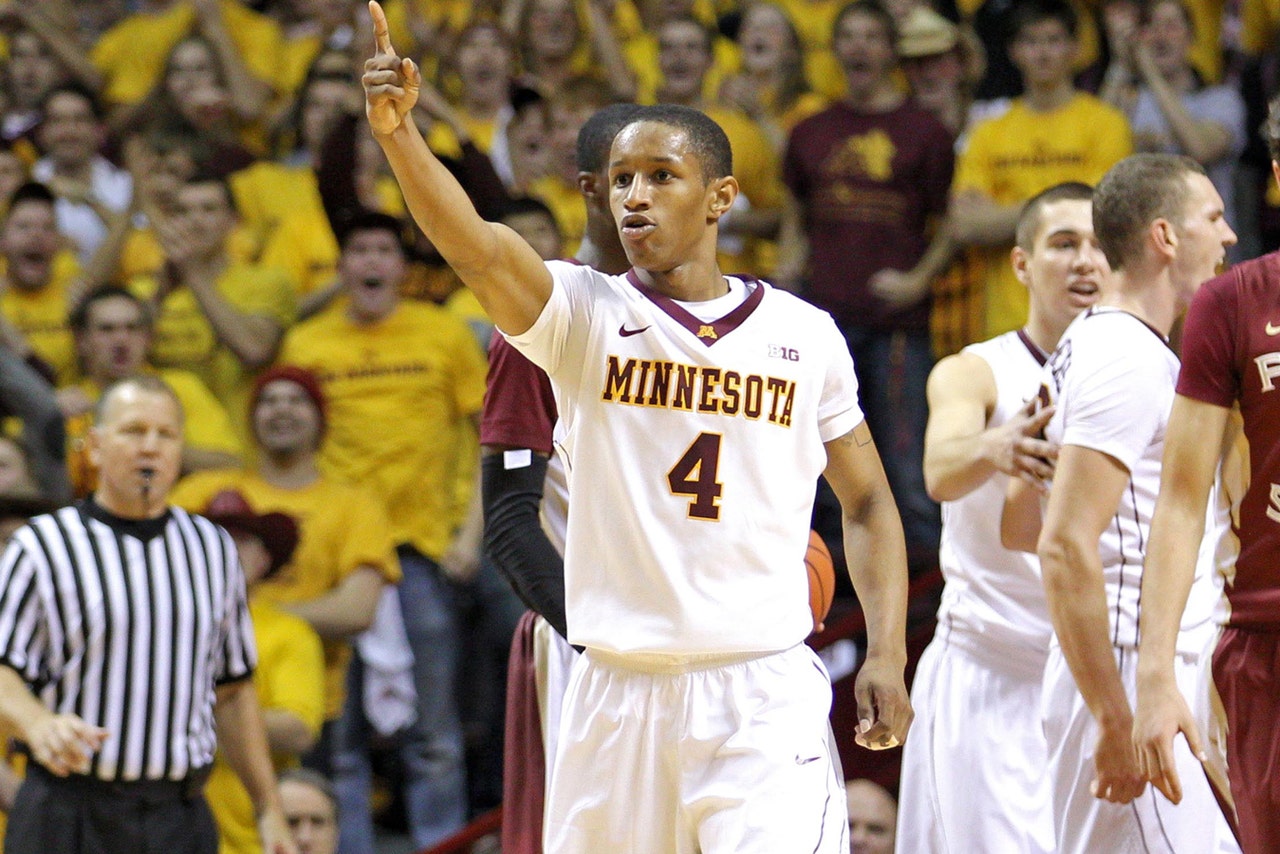 MINNEAPOLIS -- No other player brought an energy to the Gophers men's basketball team last year quite like DeAndre Mathieu.
Though the 5-foot-9 point guard was almost always the smallest player on the court, he played a big game. Mathieu wasn't afraid to go into the lane and put up a shot amid a forest of opposing big men. Sometimes it worked, sometimes it didn't.
There was never any fear in Mathieu's approach to running Minnesota's offense. Occasionally, though, that fearlessness backfired. His 4.2 assists per game led all Gophers players, but so too did his 2.7 turnovers a night.
When Mathieu was home this summer, he studied game film. He thought about himself in those situations in which he'd make mistakes, and he envisioned what he'll do this season to change the outcome.
"I just watched and watched and thought, 'I should have done this different,'" Mathieu said this week at the Gophers' media day. "When we get into practice and they put me in those situations, I tried the things I thought about, and they're starting to work. That's really how I'm trying to improve it."
It's a balancing act of sorts, though, as Minnesota wants Mathieu to maintain that aggressive style while also playing in control as he runs the offense. That balance is something second-year head coach Richard Pitino has tried to figure out through Minnesota's first handful of practices this fall.
A number of reckless plays by Mathieu stick out to Pitino from last year, including when the diminutive guard attempted to dunk on 7-foot-1 Florida State center Michael Ojo. Those are the types of decisions the Gophers are hoping to eliminate.
"That's a silly thing that he tries to do last year. We all get it, you've got passion and you're not scared, but that's just silly," Pitino said. "I think that's part of it. I don't want him looking over at the bench scared to make aggressive decisions, either. So we've talked about it a lot. He's just got to be smart, and try not to make the same mistake twice."
Finding a balance between playing aggressively and making the smart decision isn't the only thing Mathieu will be juggling this season. When he's not practicing or playing in a game, he of course has the rigors of his school work that the rest of his teammates must also endure.
On top of that, though, Mathieu now has to work fatherhood into the mix. He and his girlfriend, Charisma Payne, had a son Elijah three months ago. Mathieu said he's enjoying being a father, and the added responsibility doesn't seem daunting to the Knoxville, Tenn., native.
"It's actually fun. It's really fun," Mathieu said. "My son, he's a crier, but he doesn't cry much when I have him. When his mom has him he'll cry. It's really fun. He's growing so fast. They say it goes by fast, but it really goes by fast. I can't believe I've been a father for three months already. I love it."
Elijah is too young to for a toy basketball just yet, but his dad hopes to get him one soon -- that is, if another sport doesn't come calling first.
"I told coach Kimani (Young), because he's like, 'Whenever he gets big enough, you've got to send him to me.' I'm like, 'It's either you or Les Miles,' because I'm a big LSU football fan," Mathieu said. "'If Les Miles calls, coach, you might be in trouble.'"
Of course, Mathieu isn't thinking that far into the future. Between balancing school, basketball and a family, he takes things as the come, one day at a time.
In Mathieu's short-term future is his senior year of college basketball. After going from Morehead State to Central Arizona College to Minnesota, Mathieu has one more year to play on the Big Ten stage -- one he thrived on last year in his first season with the Gophers. Mathieu started all 38 games and finished third on the Gophers in scoring (12.0 points per game) and was second in steals (1.6) en route to being named All-Big Ten honorable mention.
With an increased focus on decision making, Mathieu hopes to be the leader that can take the Gophers further than last year's NIT championship run.
"I feel like this year, I'm ready. Last year, I wasn't ready," Mathieu said. "I was still trying to learn the different plays and things. I didn't get the summer school work that everybody else did. I got a summer under my belt this year and a school year under my belt to get better. I feel like I'm ready to be a leader on this team."
Follow Tyler Mason on Twitter
---