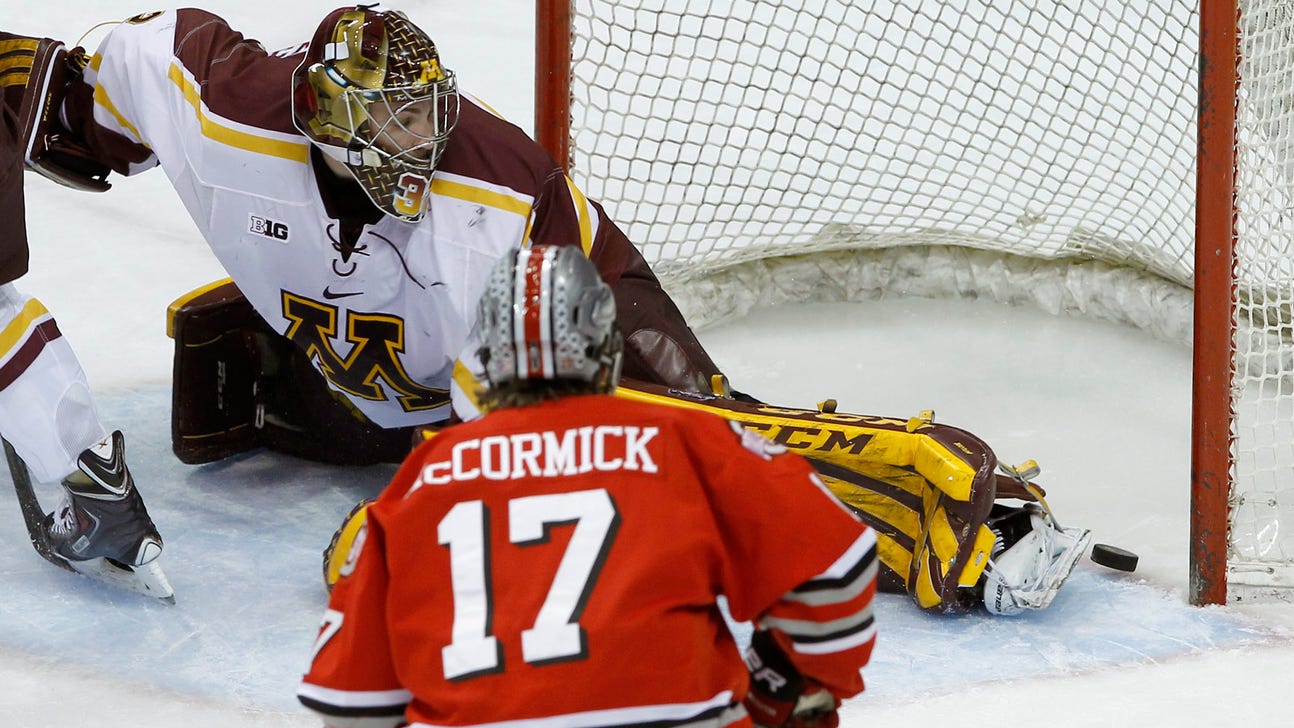 Gophers miss conference final again, should still get No. 1 NCAA seed
Published
Mar. 21, 2014 11:30 p.m. ET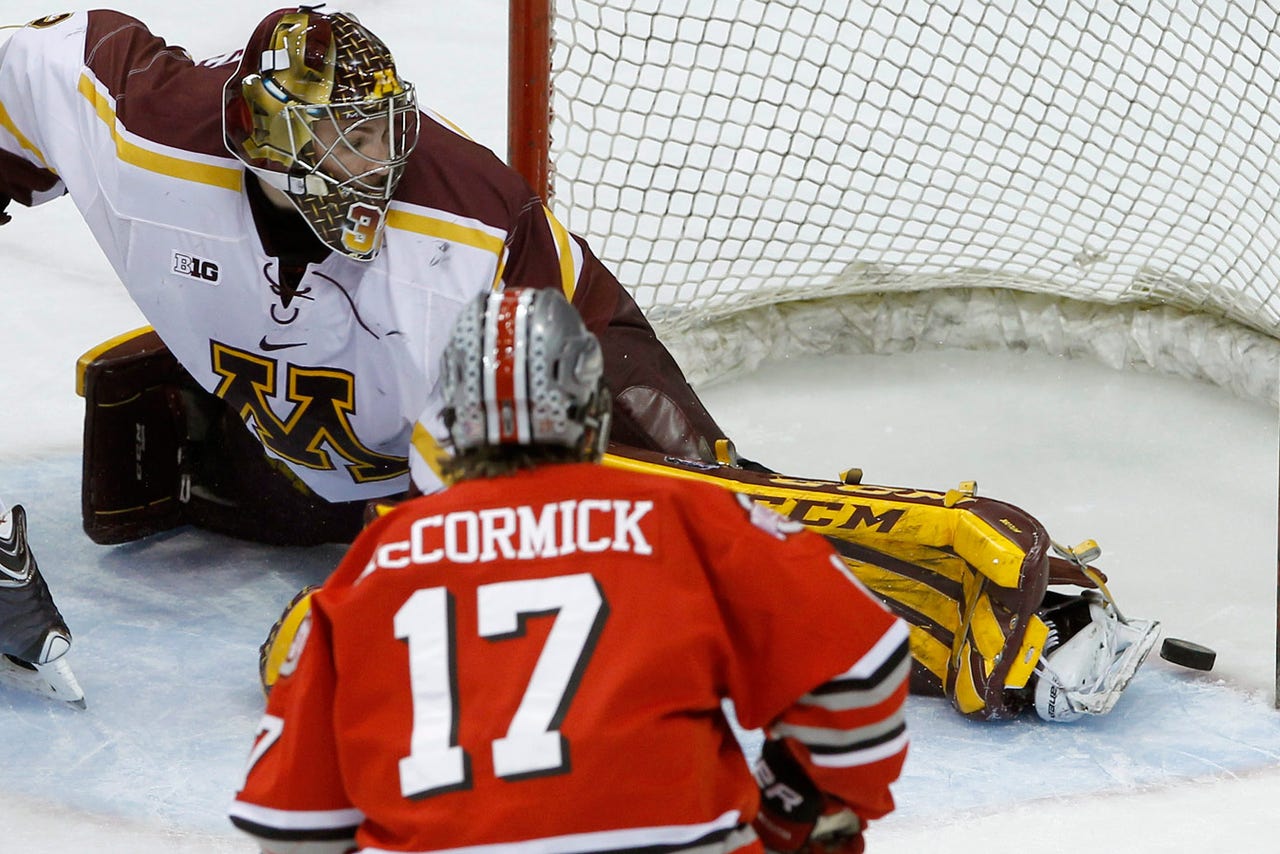 ST. PAUL, Minn. -- Friday nights have not been kind to the Gophers hockey team in the postseason.
For the sixth year in a row, Minnesota failed to advance to the championship game of the conference tournament. The latest postseason stumble came Friday as the Gophers fell 3-1 to Ohio State at the Xcel Energy Center in the semifinals of the Big Ten tournament.
The last time the Gophers won on a Friday night in the conference tournament was back in the 2007-08 season. Scoring just one goal against the Buckeyes wasn't enough to snap that drought.
"Disappointing from our standpoint that obviously something we talked about is trying to get playing on Saturday night and playing for a championship," said Gophers head coach Don Lucia. "But you're not going to win very often scoring one goal."
In fact, Minnesota has yet to win a game this year scoring just one or two goals. Friday's game was the Gophers' sixth loss of the season. In all six of those losses, Minnesota failed to score more than two goals.
When the Gophers reach the three-goal mark, it's a much different story. But junior Kyle Rau's power play tally was Minnesota's only goal of the night. The Gophers certainly had their chances, but Minnesota hit several pipes and also ran into a hot goaltender in freshman Christian Frey, who stopped 30 of 31 shots. Ohio State clung to a 2-1 lead in the third period until Anthony Greco erased all doubts with an empty netter in the final minute.
"It's not easy to score goals, especially this time of year," Lucia said. "Sometimes you have to try to manufacture them. We're going to have to manufacture some goals next weekend."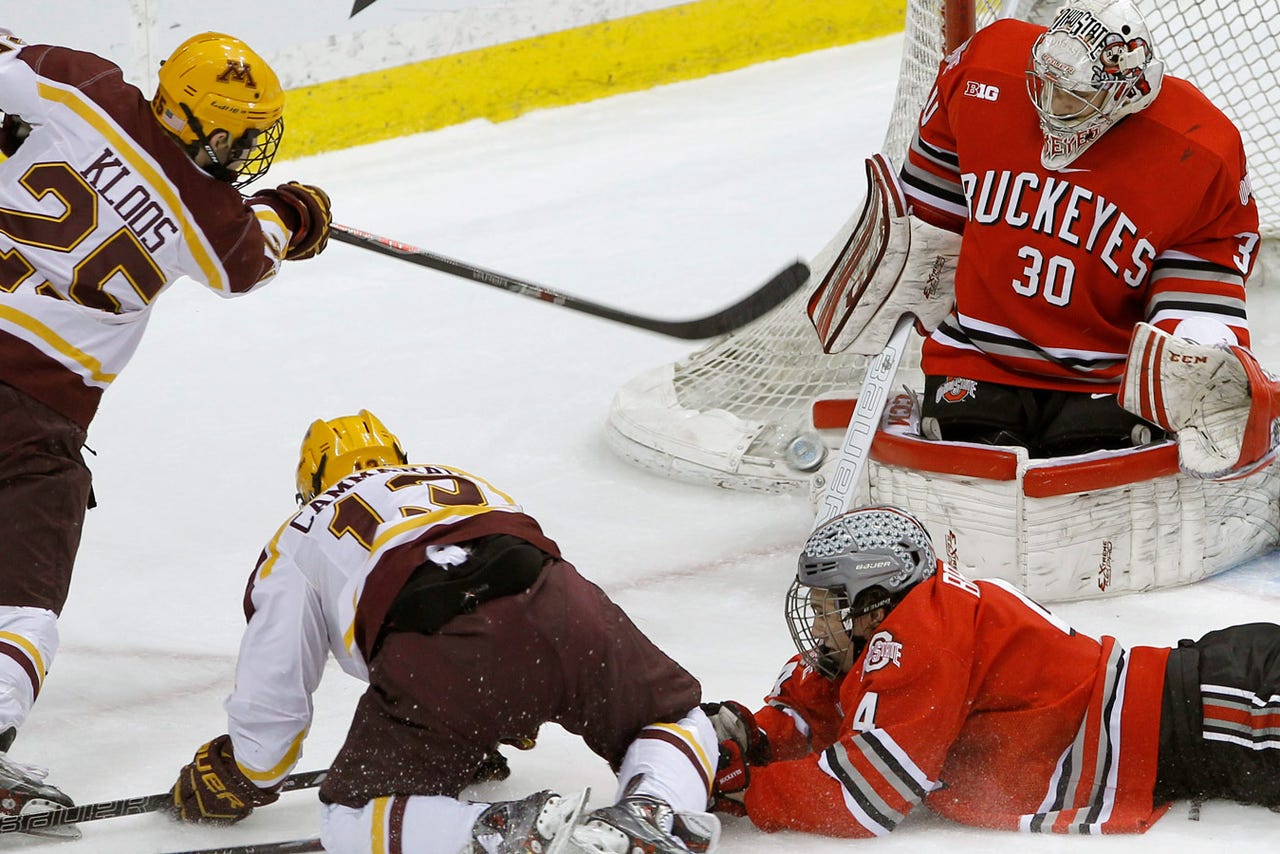 Ohio State goalie Christian Frey deflects a shot by Minnesota forward Justin Kloos (25). Frey stopped 30 of 31 Gophers shots in the Buckeyes' win on Friday.

Friday's loss leaves the Gophers in an all-too-familiar situation: watching a conference championship game from home. Last year Minnesota lost on Friday night to Colorado College, exiting its final WCHA tournament early. Wisconsin -- which will play the Buckeys in Saturday's Big Ten championship -- went on to claim that title, while the Gophers couldn't double up their regular-season WCHA crown with a tournament trophy.
That scenario is almost identical this year as Minnesota won the Big Ten regular-season title but won't have a chance to add more hardware to the trophy case Saturday night.
"Half our team's been through a situation like this where we've lost on Friday night the last two years," said junior forward Travis Boyd. "Going back to my freshman year two years ago, we were able to rebound and ended up winning the regional. I think going forward, we just rely on our upperclassmen to lead the way and get better this week and move on to next week the best we can."
In the grand scheme of things, Friday's loss doesn't have any NCAA tournament implications for the Gophers, who will all but certainly be the No. 1 seed in the West regional next weekend in St. Paul. Ohio State, meanwhile, is a team playing to extend its season -- and that desperation showed in Friday's win.
Buckeyes forward Nick Schilkey scored the game's first goal when he redirected a shot past Gophers goalie and Big Ten Player of the Year Adam Wilcox at the 15:20 mark of the first period. Minnesota didn't respond until 4:47 into the second period when Rau capitalized on a power play, but Ohio State continued to play like a team needing a win.
"We just beat the best team in the country," said Buckeyes head coach Steve Rohlik. "It's a good feeling, but we're not done yet."
It was OSU junior Ryan Dzingel who netted the game winner for the Buckeyes when his shot midway through the third period found its way into the back of the net. While the initial shot appeared to be going wide, it was redirected -- perhaps by a Gophers stick -- past Wilcox for a 2-1 lead.
As Ohio State held on, Minnesota was again left on the outside looking in at a conference championship game.
"Once again, we kind of laid an egg here on Friday night," Boyd said. "We've got to learn from it and get better going into next weekend."
Follow Tyler Mason on Twitter
---