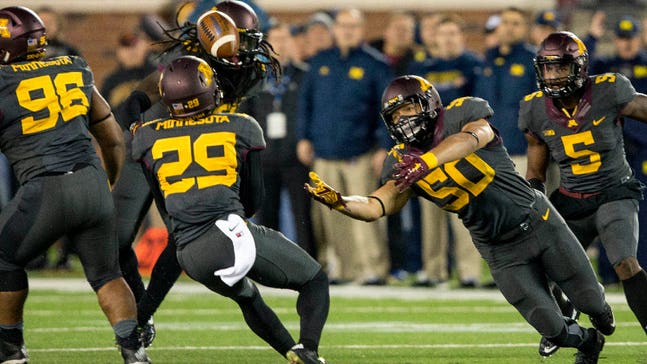 Gophers endure gut-wrenching defeat at hands of Michigan
Published
Oct. 31, 2015 10:54 p.m. ET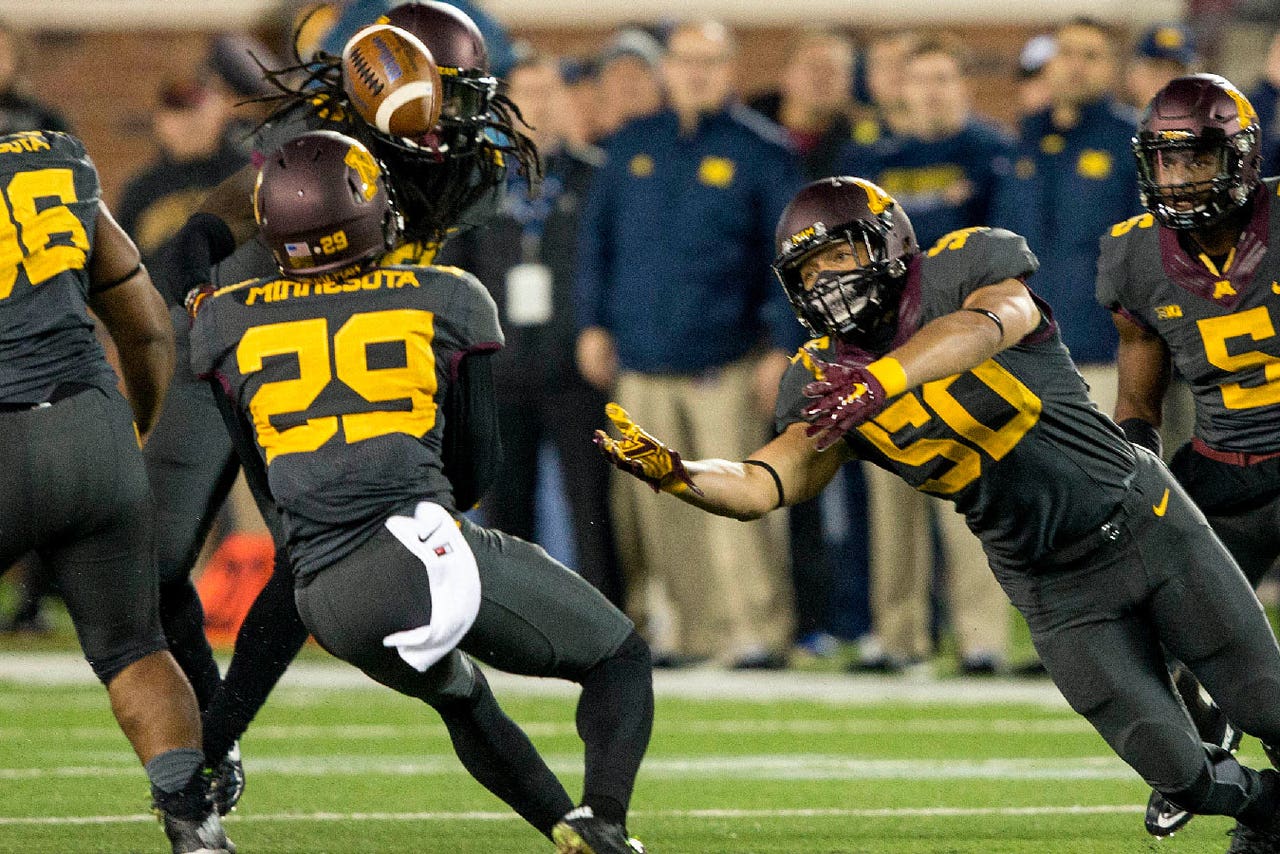 MINNEAPOLIS -- Two weeks after a gut-wrenching loss to rival Michigan State, the Michigan Wolverines found themselves 18 inches away from losing on the final play again.
This time, the Wolverines let their opponent make the big mistake instead of the other way around.
Wilton Speight came off the bench and threw a 12-yard touchdown pass to Jehu Chesson with under 5 minutes to play and No. 15 Michigan stopped Mitch Leidner on a sneak as time expired to escape with a 29-26 victory over Minnesota on Saturday night.
In his first game as interim head coach since Jerry Kill's surprising retirement for health reasons, Minnesota interim coach Tracy Claeys elected to go for the win over a potential tying field goal with the ball inside the 1 and 2 seconds left. But Leidner's plunge was stuffed by Ryan Glasgow and Joe Bolden, allowing Michigan (6-2, 3-1 Big Ten) to take back the Little Brown Jug after losing it in Ann Arbor last year.
"We like to call that giving us a place to stand," said defensive back Jabrill Peppers, who had a scoring run and two big returns. "We got them down at the half-inch line. I don't know how much closer they can get."
Leidner was 16 for 33 for a career-high 317 yards and a touchdown for the Golden Gophers (4-4, 1-3). He was clutch on the final possession, converting a fourth-and-5 with a 12-yard strike to K.J. Maye and hitting Drew Wolitarsky on a 22-yard fade to put the ball at the 1 with 19 seconds to play.
Wolitarsky's catch initially was ruled a touchdown, but replays showed his knee was down inside the 1. The clock started as soon as the ball was placed again, and the Gophers nearly let time expire with a play that included elaborate pre-snap motions and shifting before Leidner's pass to the flat hit the ground with 2 seconds to play.
Gophers kicker Ryan Santoso had already made four field goals, but Claeys decided to roll the dice.
The offensive line got no push against Michigan's stout front and Glasgow and Bolden made sure Leidner made it nowhere near the goal line. After the review confirmed the play, the Wolverines stormed the Minnesota sideline to take back the oldest rivalry trophy in college football.
"I just think in those situations you've got to be able to get half a yard," Claeys said. "If it's outside the 1-yard line, hey, we'll kick it and move on. But in that situation I felt like we could get it. I'd do it all over again and do the same thing."
Speight was 3 for 6 for 29 yards in place of Jake Rudock after the starter was knocked out of the game late in the third quarter when Andrew Stelter knocked his helmet off with a hit. Rudock was 13 of 21 for 140 yards and a touchdown and Michigan coach Jim Harbaugh said he injured his torso, not his head, and could be ready to play next week.
Chesson had three catches for 33 yards and two touchdowns and the Wolverines came out of an off week with a much-needed win after punter Blake O'Neill's fumble on the last play of the game against Michigan State allowed the Spartans to return it for the winning touchdown.
"To be able to win a tough one, it's a great learning experiences because it reinforces everything you tell them about never giving up, fighting to the end," Harbaugh said. "That's the thing I'm most excited about. Our team has learned a very important lesson."
And the Gophers missed a chance to hold the jug for consecutive seasons for the first time since 1962-63.
"It's where it's supposed to be, first and foremost," Speight said about the jug. "To be able to come back in the locker room and celebrate it means a lot."
It was a crushing loss for the Gophers, who came into TCF Bank Stadium overflowing with emotions following Kill's abrupt retirement. The coaching lifer gave a tear-filled press conference Wednesday to announce that his epilepsy would no longer allow him to keep up the grueling work load of a major college coach.
Just before kickoff, Leidner grabbed a maroon and gold flag with the word "Jerrysota" on it and took it to the student section, emphatically waving it to charge up the crowd.
"It's just been an emotional rollercoaster all the way to the end of the game," Gophers defensive lineman Steven Richardson said. "This week has had its ups and downs all the way through."
---
---