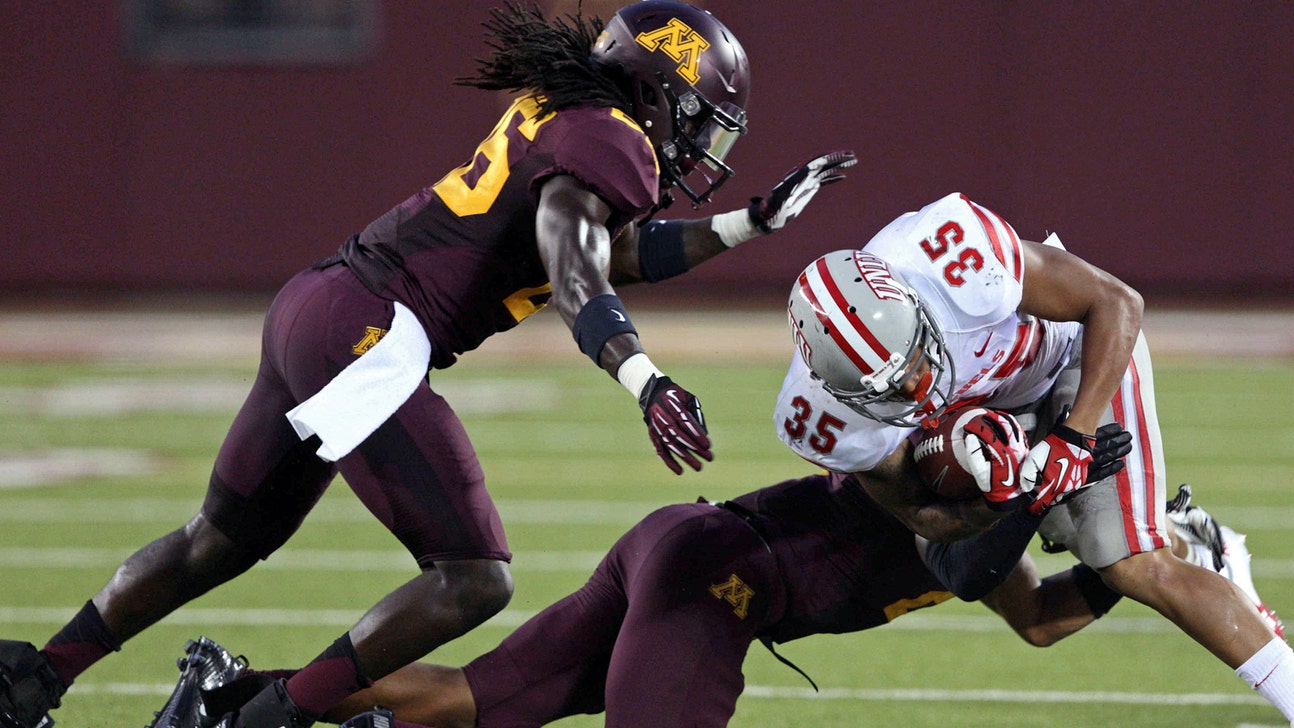 Gophers' Campbell paid dues, proved self at junior college
Published
Aug. 6, 2014 10:35 a.m. ET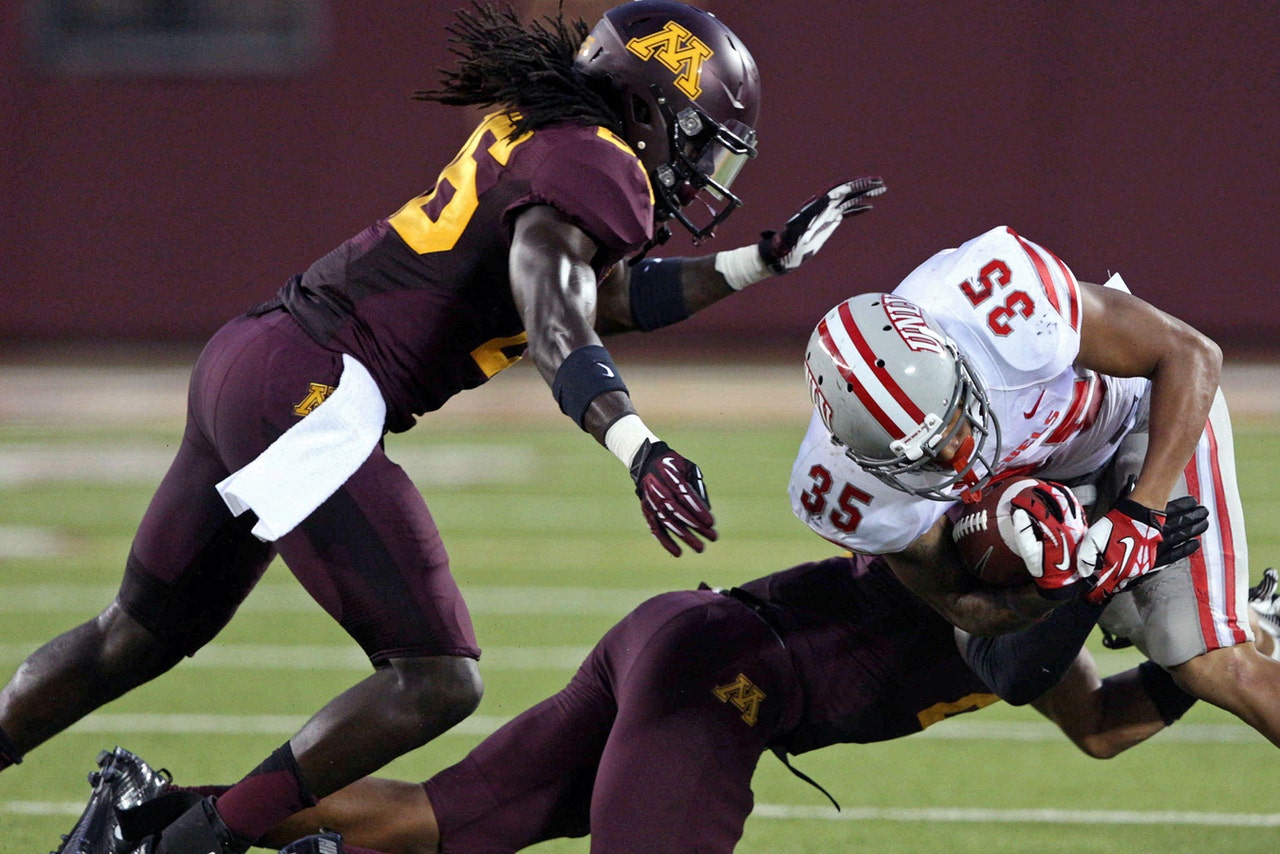 MINNEAPOLIS -- There are more glorious settings in which to jumpstart a football career than Hutchinson Community College.
Located 50 miles northwest of Wichita and about 60 miles away from Interstate 80, 5,000-seat Gowans Stadium looks more like a Minnesota Class 6A Friday-night destination than a collegiate football venue. The weight room on the tiny campus is even dingier. Like the rest of the nails-tough Jayhawk Conference, this is a proving ground, not a pampering zone.
There's not much of a training table to speak of. No state-of-the-art player lounges or iPad playbooks. Full scholarships are hard to come by, too.
Just sweat, the thudding of pads and a rather menial existence in the middle of Kansas. For two years, this was daily life for De'Vondre Campbell.
"It humbled me," said the Gophers linebacker.
But spending 2011 and 2012 -- the first year as a redshirt -- at "Hutch," as the locals call it, also taught the junior athletic specimen the value of dues-paying as opposed to living lavishly right out of high school.
There's a reason Division I football is fraught with junior-college transfers who make an immediate impact once their academic situations or other extenuating circumstances that keep them out of the NCAA are resolved. Take Campbell and close friend and fellow linebacker Damien Wilson, for instance; the two JUCO transfers hopped on the scene last fall and combined to start 15 games and accumulate 119 total tackles.
Campbell spent his first year of junior-college ball ramming his body into teammates and tackling dummies as coach Rion Rhoades looked on, then watching from the sideline on Saturdays. His freshman campaign, he recorded 83 tackles (25 solo, 6.9 per game), eight tackles for loss, 3 1/2 sacks and four broken-up passes.
That caught the attention of Minnesota defensive coordinator Tracy Claeys and a handful of other BCS-level defensive staffs. Campbell settled on Minnesota after committing to Kansas State, Texas and Tennessee.
Wilson, who adjusted more quickly than Campbell and started 12 contests, went through a similar formative gauntlet at Jones County Community College in Mississippi. JUCO players may need a year to adapt to a major-college system, as Campbell did, but they also possess a unique edge that comes with demanding practices and a lifestyle that's not for the faint of heart.
"Junior college, I'm telling you, it's a hard road now," Claeys said Tuesday after Minnesota's fifth fall camp practice -- its first in full pads -- at the Gibson-Nagurski Complex. "We've never had a junior-college kid that's not very appreciative."
So Campbell didn't get down when he started just three games last year, his sophomore season. He didn't gripe about being used mainly on passing downs, his ultra-impressive physique and 4.5-second 40-yard-dash speed conducive primarily to pass rushing.
And when he got roughed up in his inaugural taste of the Big Ten, Campbell didn't hang his head long.
He just realized there were more dues to pay.
"I was struggling that game," Campbell said of the Gophers' 23-7 home loss to Iowa, in which he was brutalized by Hawkeyes fullback Adam Cox and guards Conor Boffeli and Jordan Walsh. "That's when I knew, come the offseason, I was gonna have to have a big offseason, put on a lot of weight."
After playing in all 13 games and registering 41 tackles, including three for loss, the Fort Myers, Fla., native went straight to work. He quit eating fast food and focused on putting more calories into his 6-foot-5 frame and weightlifting workouts aimed at increasing muscle mass.
He came into spring ball noticeably thicker. Tuesday, he checked in at about 240 -- 20 pounds heavier than his 2013 playing weight and 30 more than he carried around Hutchinson. He's had more time to inhale Claeys' playbook, too, and dissect hours of film during the offseason.
"I think I'm gonna be ready this year," Campbell said. "Iowa, Wisconsin, anybody. I'm ready."
He watches his weight meticulously. "Today, I weighed exactly 239.7," he said after practice Tuesday. "I lost about a pound."
The unlimited meals and snacks newly allowed by the NCAA help considerably, Campbell said. He's now able to bring healthy morsels back to his apartment at night and eat before bed, ingesting calories that add to his mass rather than get burned during daytime activity.
Playing up near 245 earlier in camp had him fatigued, he said. But he felt fine flying around the practice field in full gear Tuesday.
It's all in hopes he can survive the wear and tear of the physical Big Ten Conference. He wasn't asked to last year, instead called upon to split time with now-graduated James Manuel.
"That was my biggest focus," said Campbell, who in 2011 at Hutchinson shared a locker room with current Vikings receiver Cordarrelle Patterson. "It all started with the weight room, so when I was lifting and eating, the only thing I was thinking about was '(this) season, I've got to become an every-down player and not just a situational player,' because I knew coming into this year I would have a bigger role."
Claeys believes Campbell's well on his way.
"The good thing is, he's not any shorter, and he still has all the length," Claeys smirked, "so the extra 25-30 pounds has really helped that kid become a really good football player. Any time you get a frame like his, you think you can put a little bit on it. But I give him a lot of credit, because he's done a lot of that work to get where he's at."
And it started in a town of about 42,000 in the middle of rural Kansas -- the same proving ground from which Claeys and Gophers coach Jerry Kill rose to prominence.
Follow Phil Ervin on Twitter
---