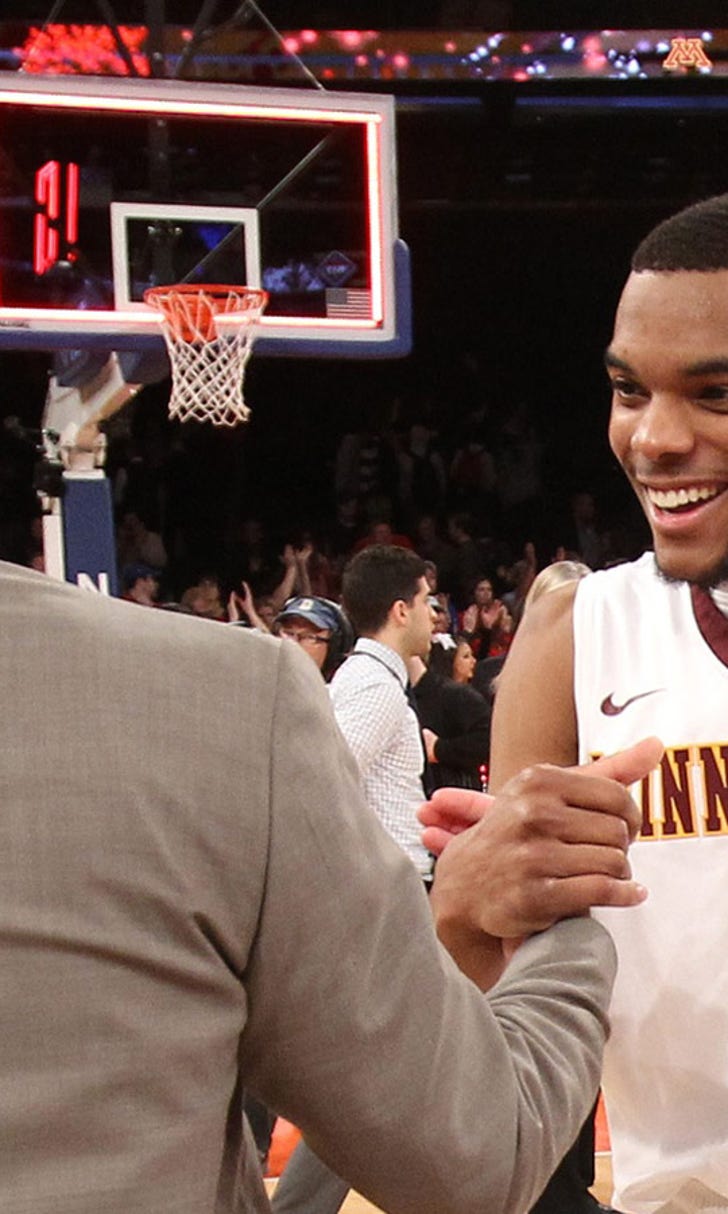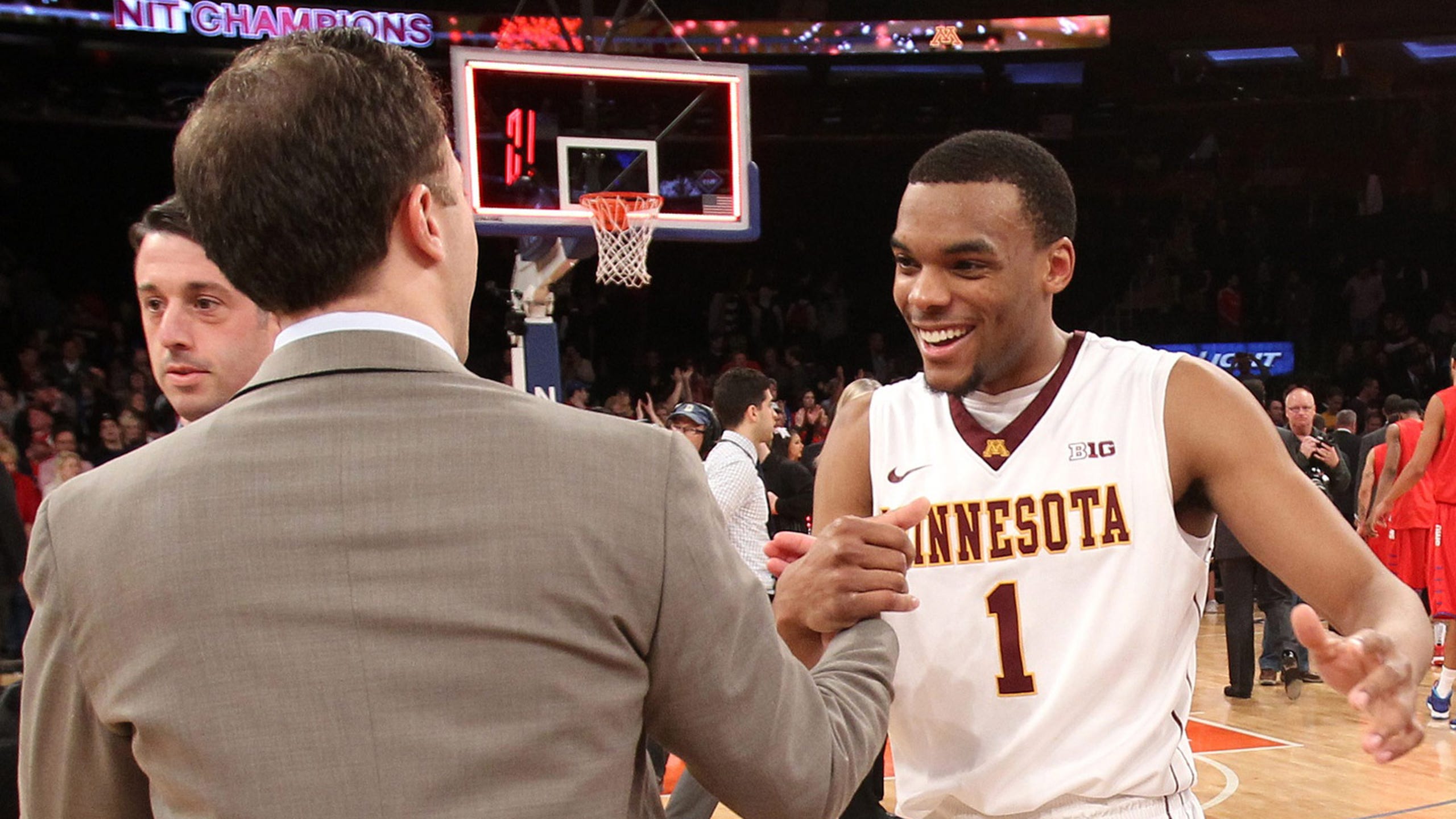 Giving thanks: Gophers excited to return to New York for NIT Tip-Off tourney
BY foxsports • November 24, 2014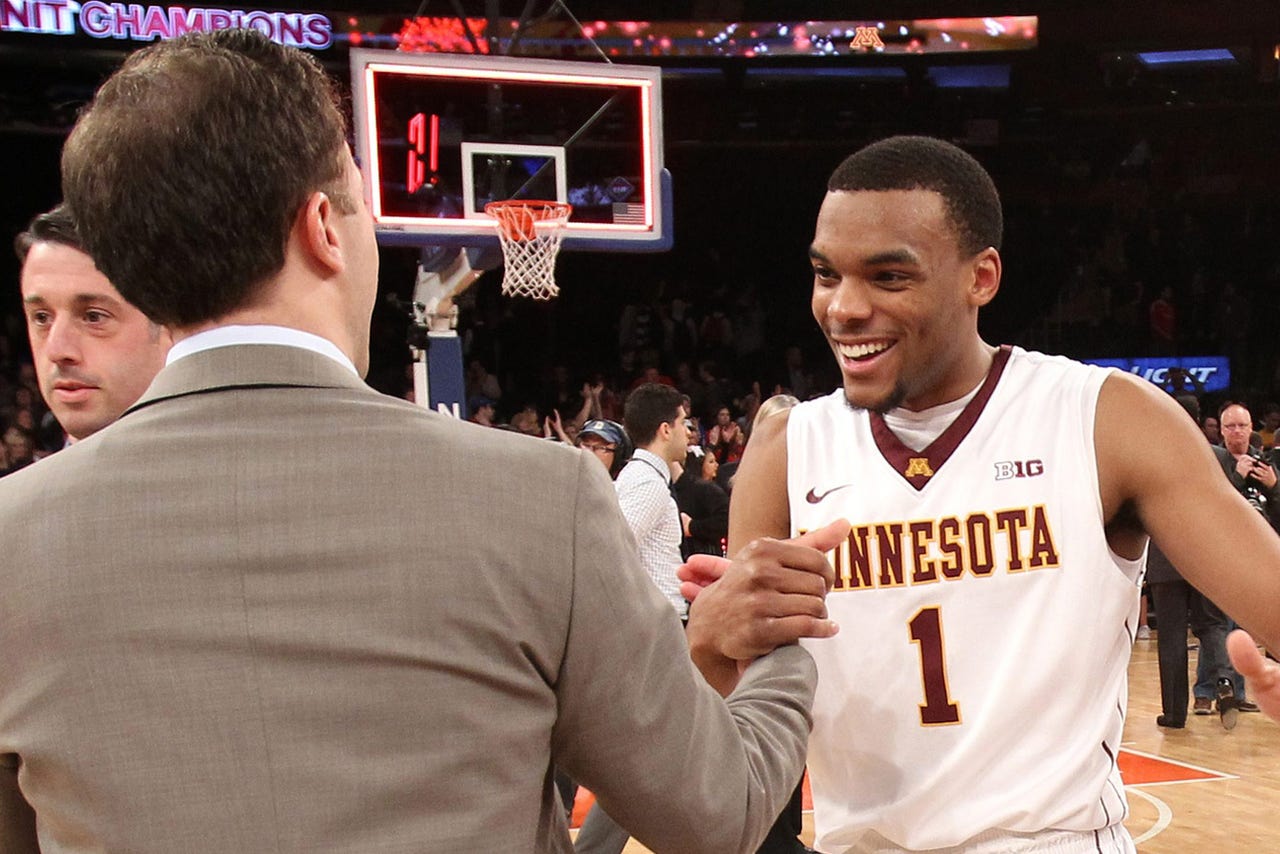 MINNEAPOLIS -- Second-year Gophers basketball coach Richard Pitino felt Minnesota's recent stretch of three games in five days was beneficial for his team early in the season.
The Gophers will find out just how beneficial later this week.
After playing host to Western Kentucky, Franklin Pierce and Maryland-Baltimore County at Williams Arena, Minnesota now travels to New York City for a pair of games at the legendary Madison Square Garden. Awaiting the Gophers at one of basketball's most hallowed venues is an undefeated St. John's team in the first game of the NIT Season Tip-Off on Wednesday.
Minnesota will face either Gonzaga or Georgia two days later -- after spending Thanksgiving at the team hotel, of course. Pitino admitted Monday he hasn't watched film of either potential Friday opponent, but he does know that St. John's will be a tough test for his squad after its recent string of lesser non-conference games.
"They've got guys in their starting five that can play in the NBA," Pitino said of St. John's, which made the NCAA tournament last year. "Their starting five is as talented as any starting five we'll face. We've got to be ready. We're excited to go back to New York and be a part of that tournament."
Non-conference games -- and a team's success or failure in them -- are often a talking point when the NCAA tournament committee is choosing the field of 68 teams for the Big Dance in March. After playing in the Maui Invitational last year (and against some tough competition), Minnesota opened the 2014-15 season with a game in Puerto Rico against Louisville.
The Gophers' out-of-conference schedule hits another challenge this week with two games in New York. With Minnesota hoping to make the leap from the NIT tournament last year to the NCAA tournament this season, these games could hold some significance late in the season.
Pitino isn't too worried about that, though.
"I think if I were to talk about the importance of these games would imply that I don't think we're very good," Pitino said. "Because why would I be talking about (the tournament) bubble right now when our expectations are very, very high?
"We're hoping come February, we're talking great seeds, not bubble. We know that's tough, but that's the way we talk in our locker room."
Pitino added that he feels his team's strength of schedule will be robust enough just by playing in the Big Ten that these non-conference games will not matter too much come selection time. Still, that doesn't mean he and the Gophers are taking this week's tournament lightly.
For many of Minnesota's players, it's a chance to return to the site of last year's NIT title run. The Gophers beat Florida State and SMU in back-to-back games to win the NIT championship at Madison Square Garden last April. Now, less than eight months later, they'll have another shot at playing under the bright lights of New York City and on a national stage.
"You want to play every game like it's big," said senior guard Andre Hollins. "Just prepare for it and don't take any opponent lightly. I think we're ready to step up. I think we've improved since our first game. I think we've improved every game. We're ready to go to New York and take care of business."
The Gophers won their three recent home games by an average of 30.7 points, a number that is inflated by a 109-57 rout over Division II Franklin Pierce on Thursday. Minnesota's one game away from Williams Arena this year against Louisville was played in Puerto Rico, so it wasn't a true road test. St. John's plays about half of their home games this year at the Garden, meaning Wednesday will finally be a road game for the Gophers.
Pitino cited mental toughness as a key for winning on the road, and used the example of Minnesota's football team winning at Nebraska this past Saturday. Mental toughness can take a while for a team to develop, but the Gophers seem ready for a few games on the road.
"With five seniors coming back, we know what to expect," Hollins said. "We're just going to have to relay that message to the newcomers just to calm their nerves down. I think it's a little bit easier to play away than at home, because it's just your team. It's more of a togetherness type of thing. It's easier to kind of band together in those types of situations."
The Gophers will have some together time on Thanksgiving, which they'll also be spending away from home. Pitino gave his players the option of going out to eat for dinner or staying at the hotel -- which is located not far from the famous Macy's Thanksgiving Day Parade.
The Gophers' players chose to stay put. They'd rather focus on the reason they're making the trip.
"If we win, it'll be a great Thanksgiving. If we lose, it'll be a bad Thanksgiving," Pitino said. "It's probably better we just stay there, get our work done and go from there."
Follow Tyler Mason on Twitter
---