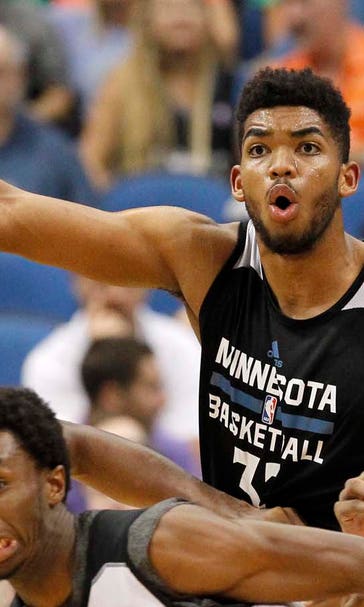 Get to know the Wolves summer league team
July 10, 2015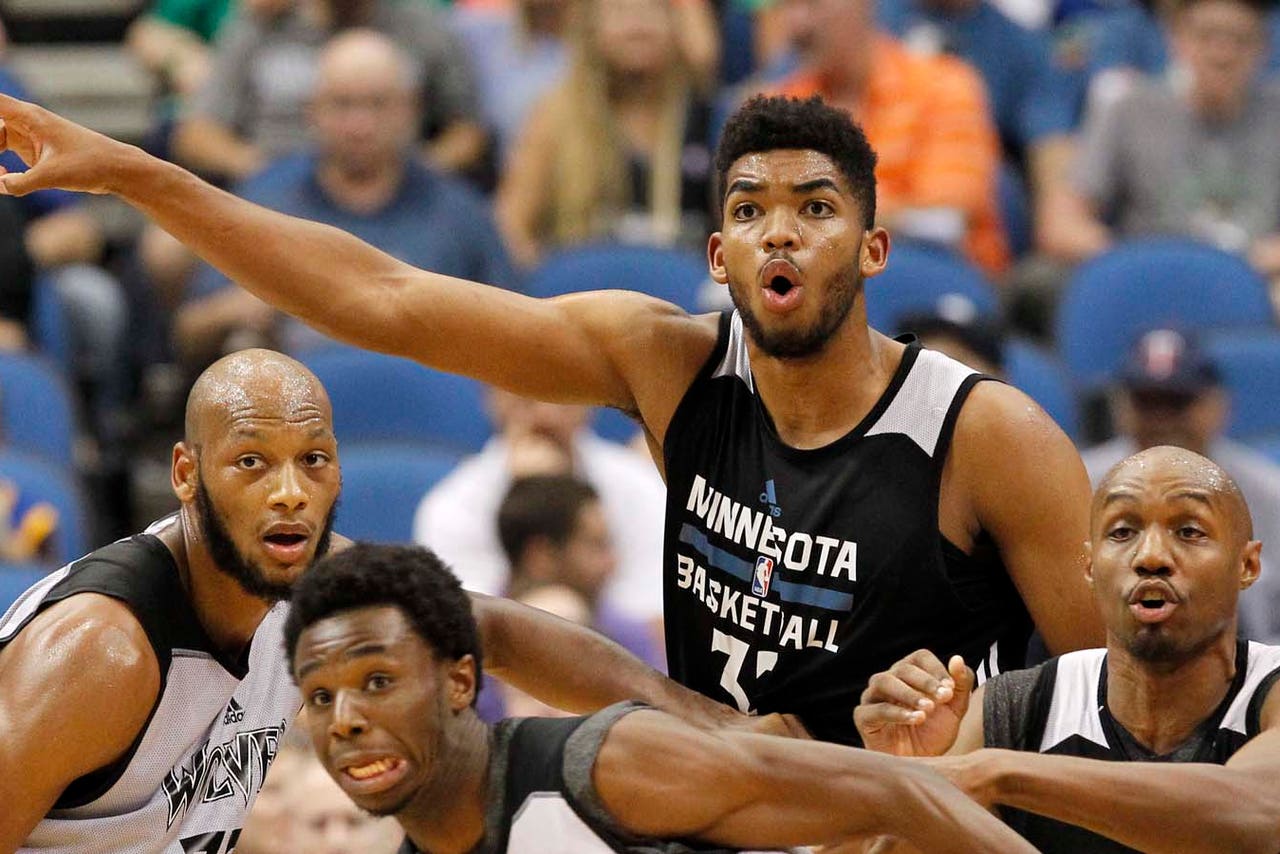 If last week's open practice is any indication, interest in the Timberwolves is high right now. Very high.
Over 15,000 people turned out just to watch a pseudo-scrimmage at the Target Center. So it won't be a surprise if people are keeping their eyes on Minnesota's entry in the Las Vegas NBA Summer League.
Here's a quick breakdown of the players (in alphabetical order) on the Wolves' roster (alas, unlike the scrimmage, Andrew Wiggins won't play):
IVAN ASKA, F, 6-foot-7, 230 pounds: Has played professionally in Puerto Rico, Greece, Belgium and, most recently, Israel, where he started for Maccabi Ashdod and averaged 16.5 points and 7.8 rebounds. Played four seasons at Murray State. He averaged 10.5 points and 6.0 rebounds as a senior in 2011-12. Played for Miami in last year's summer league and showed he can play on both ends of the court.
KYLE BARONE, F/C, 6-10, 220: Has played professionally in Hungary, Poland, Italy and, most recently, Japan, where he averaged 10.4 points and 8.0 rebounds for Tochigi Brex. Averaged 11.4 points and 6.9 rebounds at Idaho State, including 17.3 and 9.7 as a senior in 2012-13, when he was named Western Athletic Conference Player of the Year. Played for Denver in the summer league in 2014.
LORENZO BROWN, G, 6-2, 175: A second-round pick of the Wolves in 2013. Played in 26 games for the 76ers in 2013-14 and 29 games for the Wolves last season, averaging 4.2 points, 3.1 assists and 2.4 rebounds. Has summer league experience with the Wolves and Clippers. Signed a multiyear contract with Minnesota in February.
BRADY HESLIP, G, 6-2, 180: Finished last season with Bosnia's KK Igokea, averaging 18.3 points, after burning up the D-League with Reno, where he averaged 24.5 points and 5.7 made 3-pointers per game. He also made 44.3 percent of his 3s. The former Baylor star played for the Wolves in last year's summer league as well as three preseason games.
OTHYUS JEFFERS, G, 6-5, 210: Has extensive professional experience, including 37 NBA games since the 2009-10 season with Utah, San Antonio (twice), Washington and Minnesota (in 2013-14). Was the D-League co-MVP in 2013-14 after averaging 20.9 points, 9.9 rebounds, 3.6 assists and 2.2 steals with Iowa.
TYUS JONES, G, 6-2, 180: For the second straight season, the Wolves traded for Cleveland's first-round pick. Unlike last year, though, that pick will play for the Wolves' summer league team. Jones was taken at No. 24 overall and dealt to the Wolves for second-round picks. In his one season at Duke, Jones averaged 11.8 points, 5.6 assists, 3.5 rebounds and 1.5 steals. At 19 years old, Jones is the youngest player on the Wolves' roster.
ZACH LAVINE, G, 6-5, 180: Last year's No. 13 overall pick averaged 10.1 points and 3.6 assists in his rookie season. And he has definitely been working on his game this offseason. He played on last year's summer league team and averaged 31.4 minutes per game, as well as 15.4 points, 4.0 rebounds and 2.7 assists.
JORDAN MORGAN, F, 6-8, 249: The former Michigan star played for Italy's Virtus Acea this past season, averaging 7.9 points and 6.0 rebounds per game. Morgan played for the Wolves in last year's summer league and has already participated in the Orlando league this year for Miami, averaging 15.4 minutes, 4.5 points and 4.3 rebounds in four games.
ADREIAN PAYNE, F/C, 6-10, 245: After being acquired from Atlanta in a trade, Payne averaged 7.2 points and 5.4 rebounds for Minnesota in 29 games, including 22 starts. He played for the Hawks in last year's summer league.
TYLER STONE, F, 6-8, 230: Played in Turkey for Denizli last season, averaging 14.5 points and 7.6 rebounds. Transferred from Missouri to Southeast Missouri State, where he played three seasons. Averaged 19.2 points and 9.4 rebounds as a senior in 2013-14. Earned an invite to the Portsmouth Invitational Tournament, where he averaged 13.7 points and 6.0 rebounds. Played for Indiana in last year's summer league.
SAM THOMPSON, F, 6-7, 200: Undrafted out of Ohio State this past year. Averaged 10.3 points and 3.8 rebounds as a senior. DraftExpress.com labeled him as "arguably the most explosive leaper in all of college basketball."
KARL-ANTHONY TOWNS, F/C, 6-11, 250: Yeah, this is the guy everyone wants to see. Last year, Wiggins played on the Cavs' summer team. This year, the Wolves have the No. 1 pick on their roster. In his one year at Kentucky, Towns averaged 10.2 points and 6.7 rebounds while playing just 21.1 minutes per game. Have a feeling those minutes will increase. Oh, and thankfully, Karlito Towns in in Vegas, too.
C.J. WILLIAMS, G, 6-6, 225: Has professional experience overseas with Etha in Cyprus and Italy's Giorgo Tesi Pistioa (where he played last season, averaging 14.5 points, 4.4 rebounds and 2.1 steals), as well as in the D-League. Was on Milwaukee's summer league roster last year. Played at North Carolina State from 2008-12.
Follow Dave Heller on Twitter
---
---