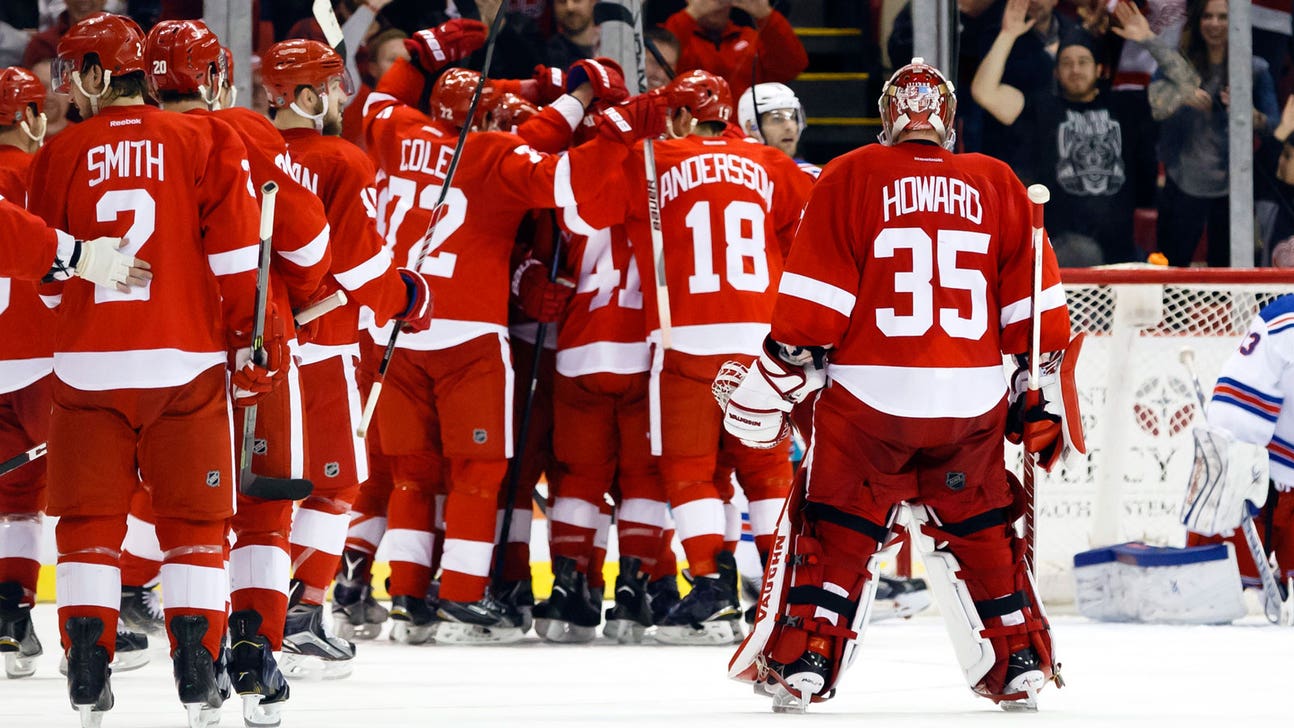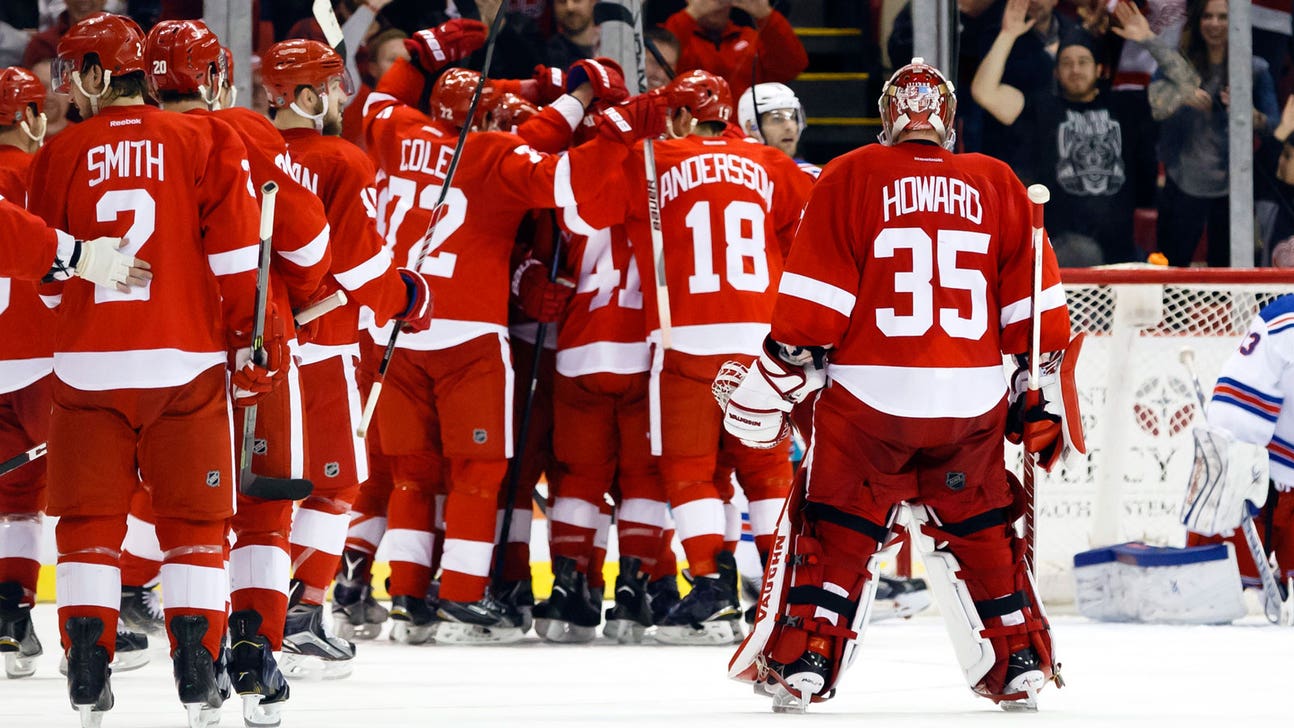 Gave: Wings ride wave of remarkable consistency toward 24th straight postseason
Published
Mar. 5, 2015 2:55 p.m. ET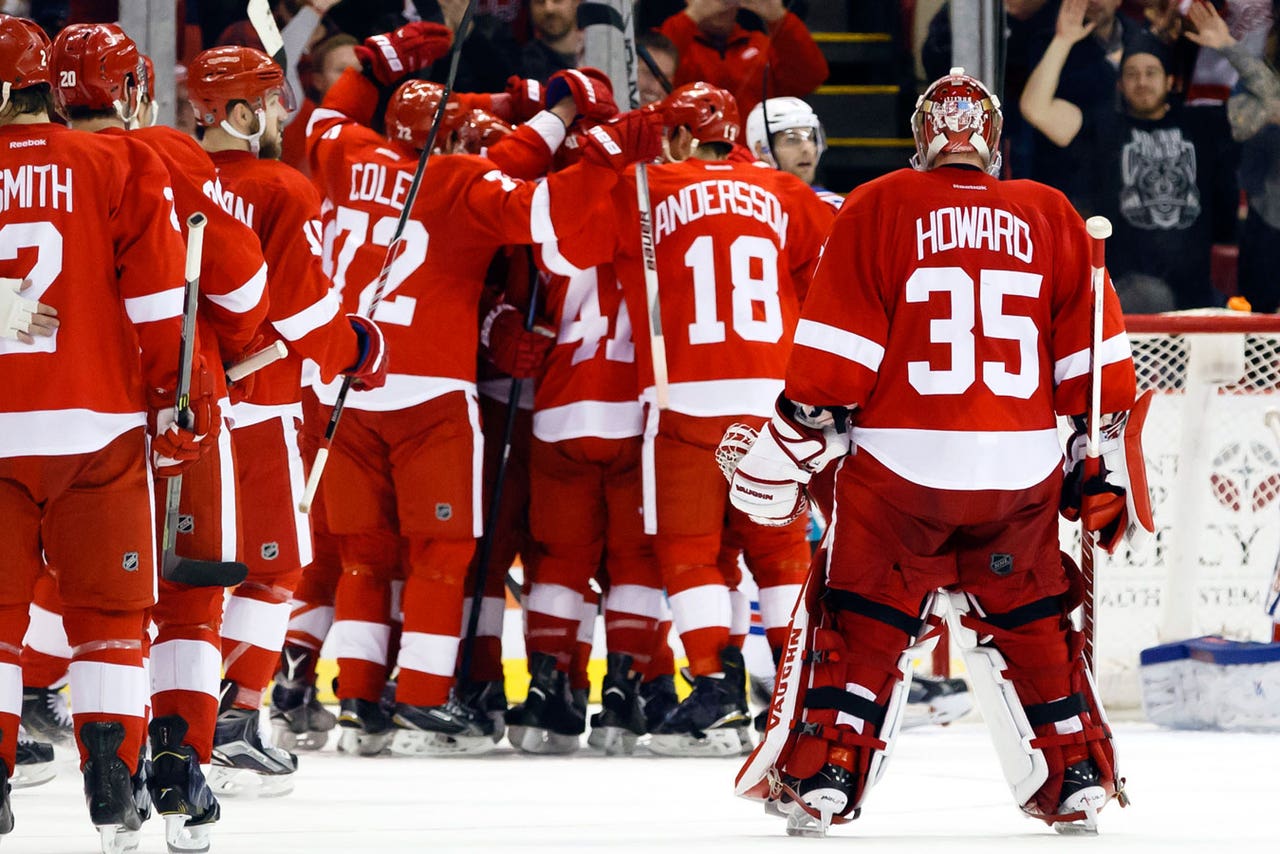 In a move that would be described as highly out-of-character by all who know him, Ken Holland reached across his chest with his left hand and tapped it a few times behind his right shoulder.
It was meant as a nothing more than a symbolic response to an oft-asked question the Red Wings' general manager gets about how his team has been able to achieve such remarkable consistency. With 20 games remaining in the season -- continuing Friday night against visiting Calgary -- the Wings are about to have their postseason passport stamped for the 24th consecutive year.
They are the NHL's model franchise, the most imitated, but rarely duplicated franchise in the league. Holland hears that frequently from other executives around the league. He sees how Detroit's build-through-the-draft mentality has been taking hold around the NHL in places like Tampa Bay, where GM Steve Yzerman, the former Wings captain, learned at the knee of Holland for several years in Detroit's front office after retiring as a player. Dallas GM Jim Nill, Holland's assistant for 19 years, is rebuilding the Stars in the same fashion.
The New York Islanders and Winnipeg have used the formula to build teams that will be dangerous in the playoffs. Toronto, under Maple Leafs President Brendan Shanahan, the former Wings star, is blowing up its roster, promising to rebuild the team through the draft-and-development process the Leafs say will take 3-5 years.
If they're lucky. But as bad as they are, the Leafs aren't nearly as bad as the Wings were when the process began to build the franchise it is today. Before the first NHL Entry Draft in the Ilitch ownership era in 1983, then GM Jimmy Devellano told Detroit fans it would take eight years to build a club that could win consistently and begin to challenge for the Stanley Cup.
It took every bit of that -- and it was a lot easier then without a salary cap and before free agency. But here we are -- four Stanley Cups, six trips to the Finals and a soon-to-be 24th straight spring in the postseason tournament.
With Wednesday's 2-1 overtime victory over the New York Rangers, the Wings (36-15-1, 83 points) built a 14-point cushion over ninth-place Florida in the Eastern Conference. In other words, they're a virtual lock to make the playoffs again, though they have bigger plans than that for their upcoming spring.
The keys to such phenomenal success? Holland pauses before speaking. Then he gives the entire franchise that symbolic pat on the back.
"Consistency has a lot to do with it," Holland said, noting that the first hire Mike and Marian Ilitch made when they bought the team in 1982 was Devellano -- who remains with the team as senior vice president.
Among Devellano's first wave of hires was a journeyman goalie drafted in the 12th round (188th overall) in 1975, but Ken Holland would never make it to the NHL. He was wrapping up his playing career in Detroit's farm system when Devellano offered him a scouting gig, and he wore out cars covering junior hockey in Western Canada. That was in 1985 -- 30 years ago.
When Neil Smith, then Devellano's assistant in Detroit, left in 1989 to run the New York Rangers, Holland was elevated to assistant GM. Smith stole Detroit's top European scout, Christer Rockstrom, and the Wings replace him with Hakan Andersson, who remains with the club.
"Hakan's been with us 25 years. (Goaltending coach) Jim Bedard is in his 17th year with us. Jim Nill was with us almost 20 years. Babs (coach Mike Babcock) is in his 10th year with us," Holland says, rattling off names of others who deserve much credit for the organization's remarkable run that seems to truly baffle -- and impress -- others around the NHL.
"I am continually amazed at the number of guys they pull out of hat," NBC hockey analyst Mike Milbury told a national TV audience last month. Milbury is a former Boston Bruins star who coached and served as a general manager before retiring to the studio.
"Guys like (Tomas) Tatar, (Gus) Nyquist. And (Petr) Mrazek. Where'd he come from? Now all of a sudden, it looks like he could be a star," Milbury said before Mrazek was returned to the minors because the Wings are so deep in goal -- and every other position. "It's just great to see an organization with that kind of sustained success. And that's because of all their hard work."
Jonas Siegel, a columnist for TSN.ca, explains it in greater depth in giving advice to Shanahan about how to restore the Leafs to competitiveness.
"The Red Wings remain the picture of sustainability in the NHL, always just a step (and sometimes two) ahead of the curve," Siegel writes. "If there's a model for Shanahan to follow in rebuilding the Leafs, it's that of his former team, the most successful and professional organization in hockey -- one that prides itself on draft and development. No team plays the system in that regard quite like the Red Wings."
Many people throughout the organization deserve credit for that, from the very top down, as Holland is quick to point out. And they all deserve a pat on the back.
WINGS HOPE TO COLLECT SUPPLIES FOR AT-RISK STUDENT
The Red Wings are asking fans attending Friday night's game against visiting Calgary to bring new school supplies in support of Operation: Kid Equip, which helps children in low-income households throughout Metro Detroit.
Items most in need are pencils, markers, crayons and glue sticks. Volunteers from Operation: Kid Equip, which serves 70,000 at-risk students -- including 6,000 who are homeless -- will be on hand at each entrance of Joe Louis Arena when doors open at 6 p.m.
Face-off is 7:30 p.m. on FOX Sports Detroit.
NOTABLE: Defenseman Jonathan Ericsson didn't skate in practice Thursday because of an undisclosed injury. "He's a little banged up," is how Babcock described it, without elaborating. . . Defenseman Alexey Marchenko reported feeling much better after the practice. He was able to shoot the puck, at least. The day before, he couldn't. He missed Wednesday's 2-1 overtime victory over the New York Rangers with an oblique muscle strain. He's day-to-day but will probably miss a week or so more. . .  If Ericsson is unable to play Friday against Calgary, Jakub Kindl would be the next man up. He was a healthy scratch Wednesday. . .
---