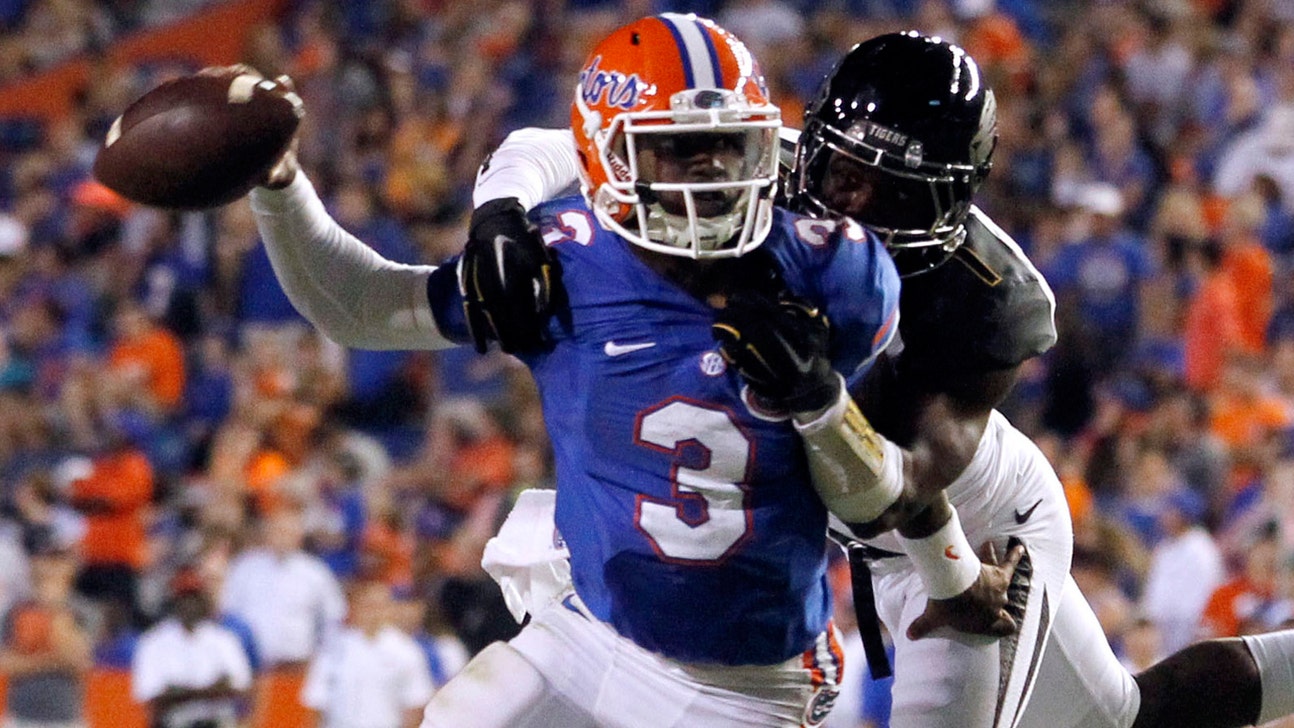 Gators turn to Treon Harris to turn around season
Published
Oct. 30, 2014 3:29 p.m. ET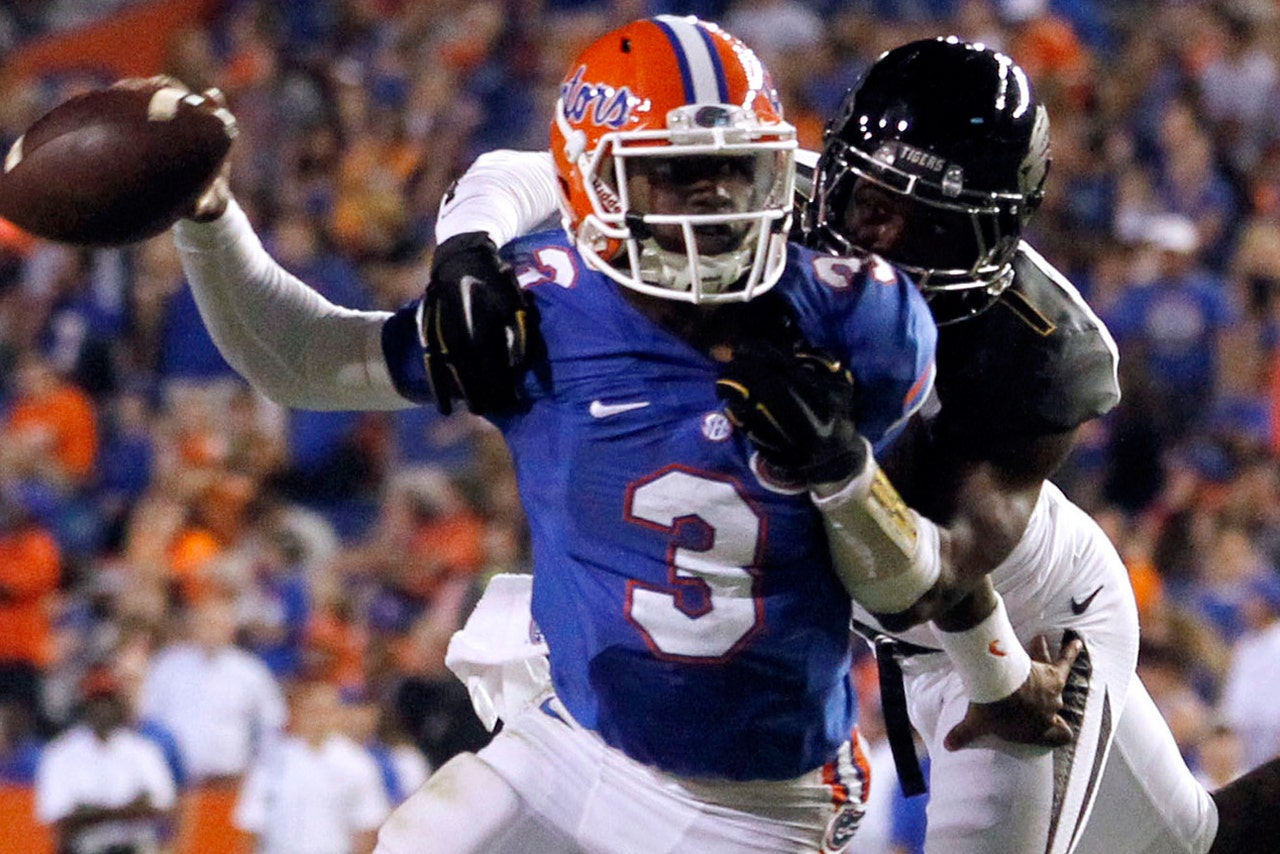 GAINESVILLE, Fla. -- Max Garcia and D.J. Humphries both looked Treon Harris in the eye. They could since they were in the same huddle.
The pair of Florida offensive linemen liked what they saw from behind the clear shield on Harris' facemask as the true freshman quarterback stared back.
Harris had just entered the game near the end of the third quarter with the Gators trailing Tennessee by nine points. More than 100,000 at Neyland Stadium sensed the Vols' nine-year losing streak to the Gators was about to end.
Many Florida fans did, too.
Garcia and Humphries maintained hope.
''He has total confidence when he's back there,'' said Garcia, Florida's starting center. ''I don't see any lack of it. As an offensive lineman, you love to see that.''
Humphries detected the same quality in Harris that Garcia did.
''It was like to him, nothing,'' Humphries said. ''That's why it was so hard to notice kind of a change when he came in because he didn't come in looking scared and all that.
''He was just like, 'All right. Let's go. Next play ... da, da, da.' It was fun to watch.''
In many ways it was the last time the Gators were fun to watch for their most faithful supporters. That's because it's the last time they won.
Harris engineered a pair of fourth-quarter scoring drives in relief of a struggling Jeff Driskel to lead the Gators to a 10-9 victory in Knoxville. Since that victory, Florida has dropped two in a row to fall to 3-3 overall, 2-3 in the Southeastern Conference entering Saturday's game against Georgia.
With Florida's season trending downward and the future of coach Will Muschamp the hottest storyline surrounding the annual showdown in Jacksonville, Florida, the Gators hope Harris can reverse their fortunes.
A 5-foot-11, 190-pound dual-threat quarterback out of Booker T. Washington High in Miami, Harris has thrown a grand total of 18 passes in his brief college career. He will be Florida's fourth different quarterback to start against the Bulldogs since Muschamp arrived, joining John Brantley (2011), Driskel (2012) and Tyler Murphy (2013).
He will try to become the first of the four to defeat Georgia.
The guy who made ''Tebow Time'' a national catchphrase is as interested as everyone else in how ''Treon Time'' works out for his alma mater. Former UF quarterback Tim Tebow spoke to hometown radio station 1010 XL in Jacksonville this week about Harris making his first career start.
''If I'm him, I'm loving it,'' Tebow said. ''I don't want my first start to be against one of the schools that you get to open the season up against. You want it to be against a team like Georgia. I think we'll see a lot of what he's made of. From everything I've heard and seen, he's been a winner in the past.''
In high school Harris won a pair of state championships playing for his brother, Booker T. Washington head coach Tim Harris, and his father, current Miami running backs coach Tim Harris Sr.
Harris developed a reputation as a clutch player with innate playmaking ability and a calm demeanor.
While he arrived at UF over the summer potentially fourth on the depth chart behind Driskel, redshirt sophomore Skyler Mornhinweg and fellow true freshman Will Grier, Harris earned the No. 2 spot behind Driskel in fall camp.
He made his debut in the season opener against Eastern Michigan and threw touchdown passes of 78 and 70 yards on his only two throws. He reappeared in the Tennessee win and then replaced Driskel for good in a 42-13 loss to Missouri two weeks ago and led the Gators to a pair of touchdowns.
Muschamp named Harris the starter against Georgia during Florida's bye week.
''I'm excited for him and what he's going to be able to do,'' Muschamp said. ''We won't pare things down as much as you might think with a freshman quarterback. He's an extremely bright young man; he's able to handle a lot of things on his plate.''
The primary message to Harris has been to play loose but play smart. Florida has 15 turnovers in its last four games, contributing to three losses over that span.
''The whole thought process is to not turn it over,'' offensive coordinator Kurt Roper said. ''I think he's got a really good understanding of what our base is. And what I've been saying all along is it's really not that complicated once you get the grasp of the overall scheme. I think he has a pretty good feel of that.''
Harris' teammates have been supportive of his new role.
They have faith after what he did at Tennessee.
''He makes tons of plays in practice, unbelievable plays,'' Humphries said. ''I'm like, 'Man, this guy is a special player.' I really just want to see him transition what he does on the practice field to the game because he can make those plays and give us that excitement I guess.''
Running back Kelvin Taylor, one of Harris' closest friends on the team, is confident better days are ahead. Bigger plays, too.
''He's going to go out there with a lot of passion,'' Taylor said. ''He's just going to play his heart out. The guy is smart. For him to be a freshman and play quarterback and really pick on the system, you have to be smart.
''He makes good decisions on the field and I believe he is really good at taking over the huddle and being the playmaker on the field.''
---