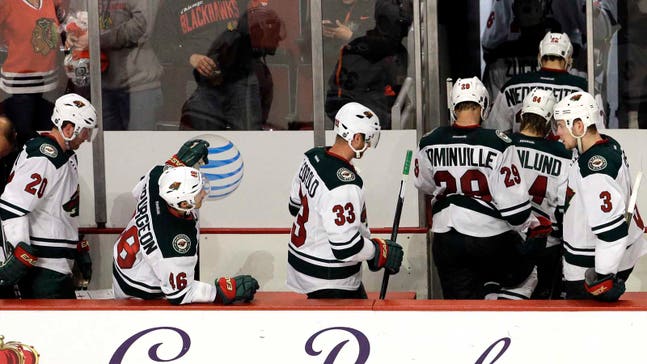 Game 2 Road Reaction: Blackhawks 4, Wild 1
Published
May. 4, 2015 12:52 a.m. ET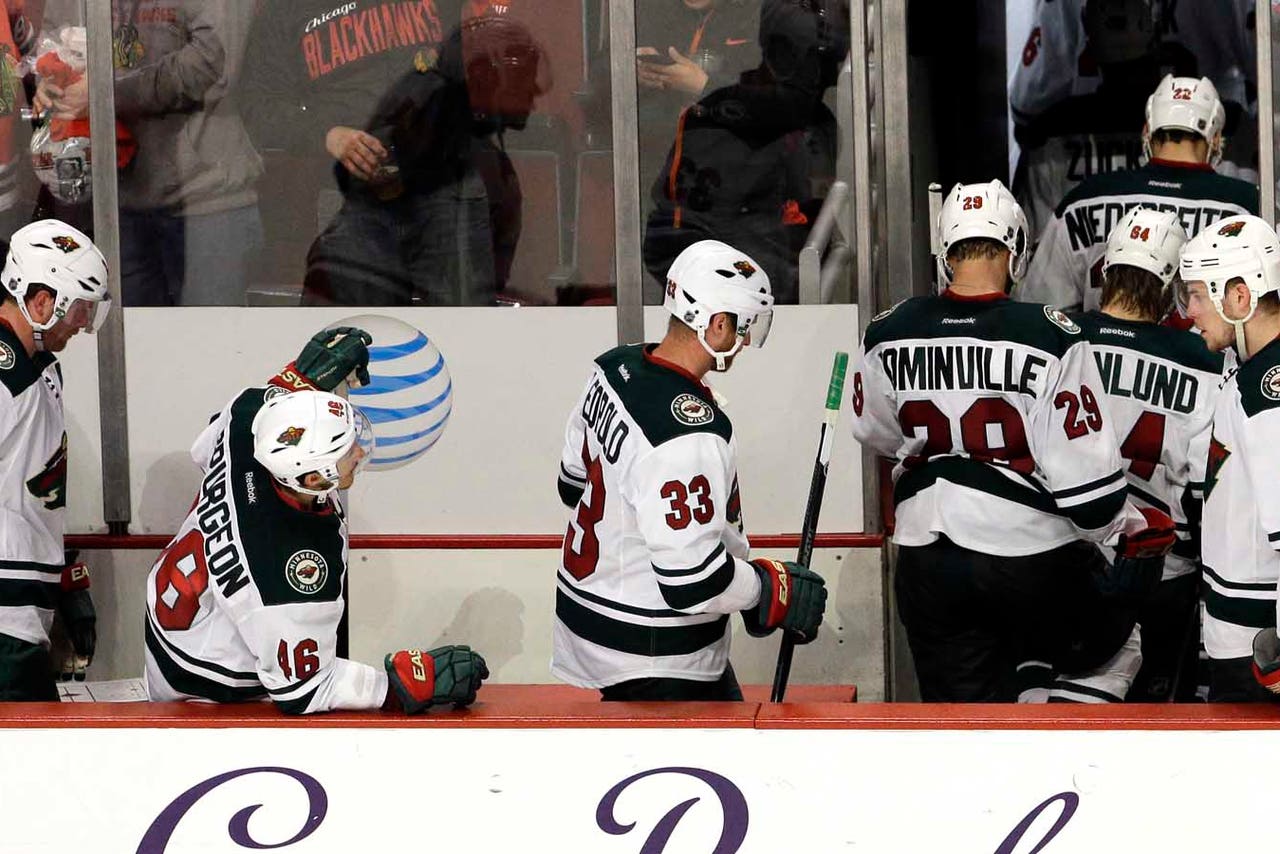 Nothing is different for the Minnesota Wild yet against the Chicago Blackhawks.
Minnesota returns home to the Xcel Energy Center facing a 2-0 deficit in the best-of-seven series against Chicago, again.
Done in by mistakes against the opportunistic Blackhawks, the Wild lost 4-1 on Sunday in Chicago. Minnesota lost back-to-back games in regulation for the first time since trading for Devan Dubnyk in January. Matt Dumba scored a power-play goal for the Wild and Dubnyk stopped 27 of the 30 shots he faced.
Uncharacteristic mistakes even had Minnesota head coach Mike Yeo not recognizing his team.
"We didn't make the mistakes," Yeo said. "I don't know what team played that game but it wasn't us tonight."
Yeo later added: "It was not a personnel thing. It was a between-the-ears thing tonight."
Entering the series, the question was how this year would be different for the Wild, who lost to the Blackhawks the past two years in the playoffs.
Dubnyk provided a steady presence in goal and Minnesota's young players had gained experience the past two years. But as Yeo mentioned before the series started, the Wild had to prove things would be different this time around.
Instead, Minnesota is coming home facing a two-game deficit. The Wild are 0-8 in Chicago in the playoffs the last three years.
"Well, we've talked about, positive or negative, years past don't mean anything," Minnesota forward Zach Parise said. "We have to play better. It doesn't matter what happened last year or the year before. It doesn't matter. We've got to play a lot better than we did tonight."
THREE STARS
1. Patrick Kane, F, Blackhawks: Kane demonstrated what happens when mistakes come against the talented Blackhawks. Kane scored twice, including a goal with 20 seconds left in the second period following a turnover. He later added an empty-net goal.
Chicago takes advantage of any chances. One mistake is often capitalized on by the Blackhawks because of players like Kane, Jonathan Toews, Marian Hossa and others. The Wild simply had too many miscues. Toews scored on a power-play, on a 2-on-0 break after Minnesota couldn't keep the puck in the offensive zone.
Kane, who has returned strong from a broken clavicle, had four shots on goal in 17 minutes, 46 seconds of ice time.
2. Duncan Keith, D, Blackhawks: Keith helped spring Kane for his second-period goal. Following a turnover by the Wild in the offensive zone, Keith found Kane and sent a long pass to help Kane get past the defense. He added three shots.
Keith is also the leader of Chicago's defense and he skated a game-high 30:12, playing a big role in slowing Minnesota's offense.
3. Corey Crawford, G, Blackhawks: Take away the Dumba goal and Crawford was strong in net for Chicago. He made 30 saves, including a few from close range.
Crawford stopped Wild forward Kyle Brodziak on a breakaway. He stoned Zach Parise a few times from right in front of the net. He also took a shot off his mask at one point. Crawford has long flummoxed Minnesota and he did so again on Sunday.
Seen: Toews' goal, which opened the scoring, might have been a bit unlucky for Dubnyk. The Wild goaltender was facing Toews and Hossa coming in alone without any Minnesota defender in front of them.
Wild defenseman Ryan Suter had a turnover at center ice which Hossa picked up and sped into the offensive zone. Hossa took the play wide and then sent a cross-ice pass to Toews, who put a quick shot on net.
Dubnyk made the initial save, but the puck squeezed through and floated in the air as the knob of Dubnyk's stick came back and knocked the puck into the net. The puck barely crossed the goal line before it was swept away by Suter.
Said: "That's what they do best. We knew coming into this series that they're a team that's so good off the rush. You're right, you look at their goals tonight and most of them are off the rush. We got to find a way to limit those rush opportunities. We did have some looks. We weren't able to score. Their goalie made some big saves. But it falls on us not giving up those rush opportunities." -- Minnesota forward Jason Pominville
Next: The Wild did tie the series last year in Minnesota after losing twice in Chicago. The series shifts again and the Wild will try to do the same this time around -- a case where they hope nothing is different. Game 3 is Tuesday at the Xcel Energy Center at 7 p.m.
Follow Brian Hall on Twitter
---