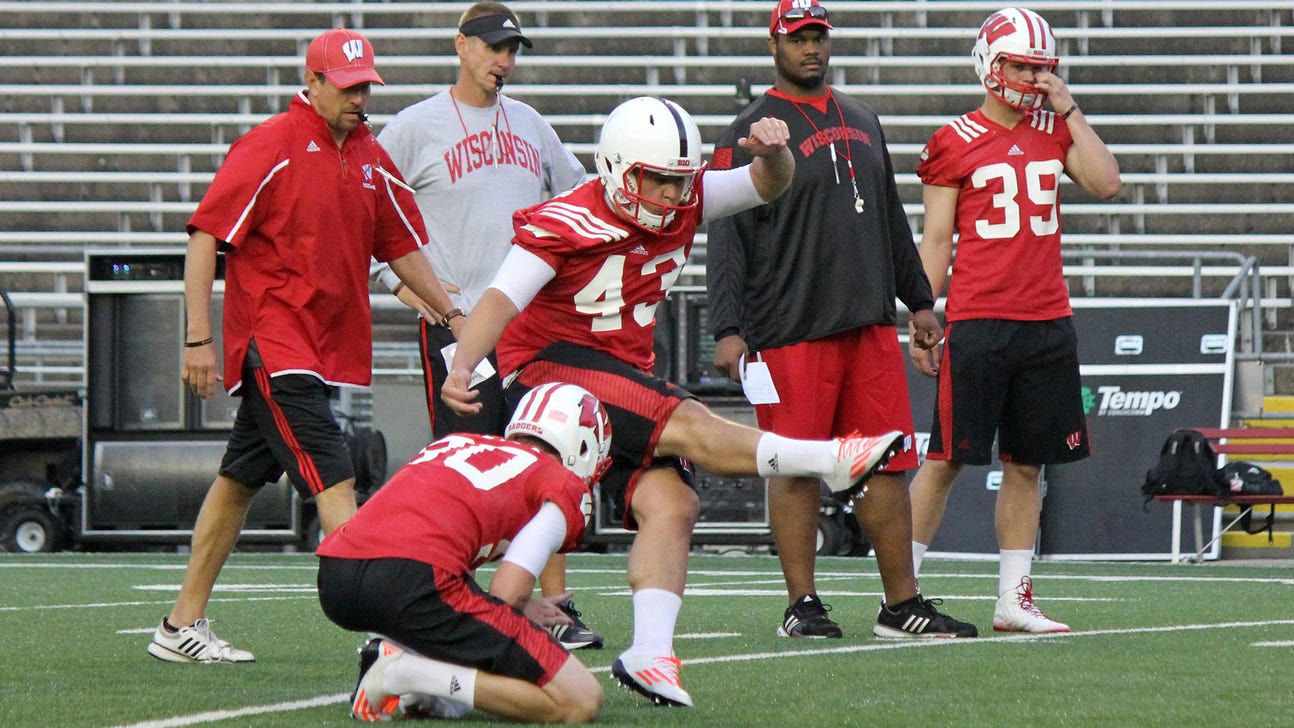 Freshman kicker Gaglianone impresses in first Badgers practice
Published
Aug. 4, 2014 5:23 p.m. ET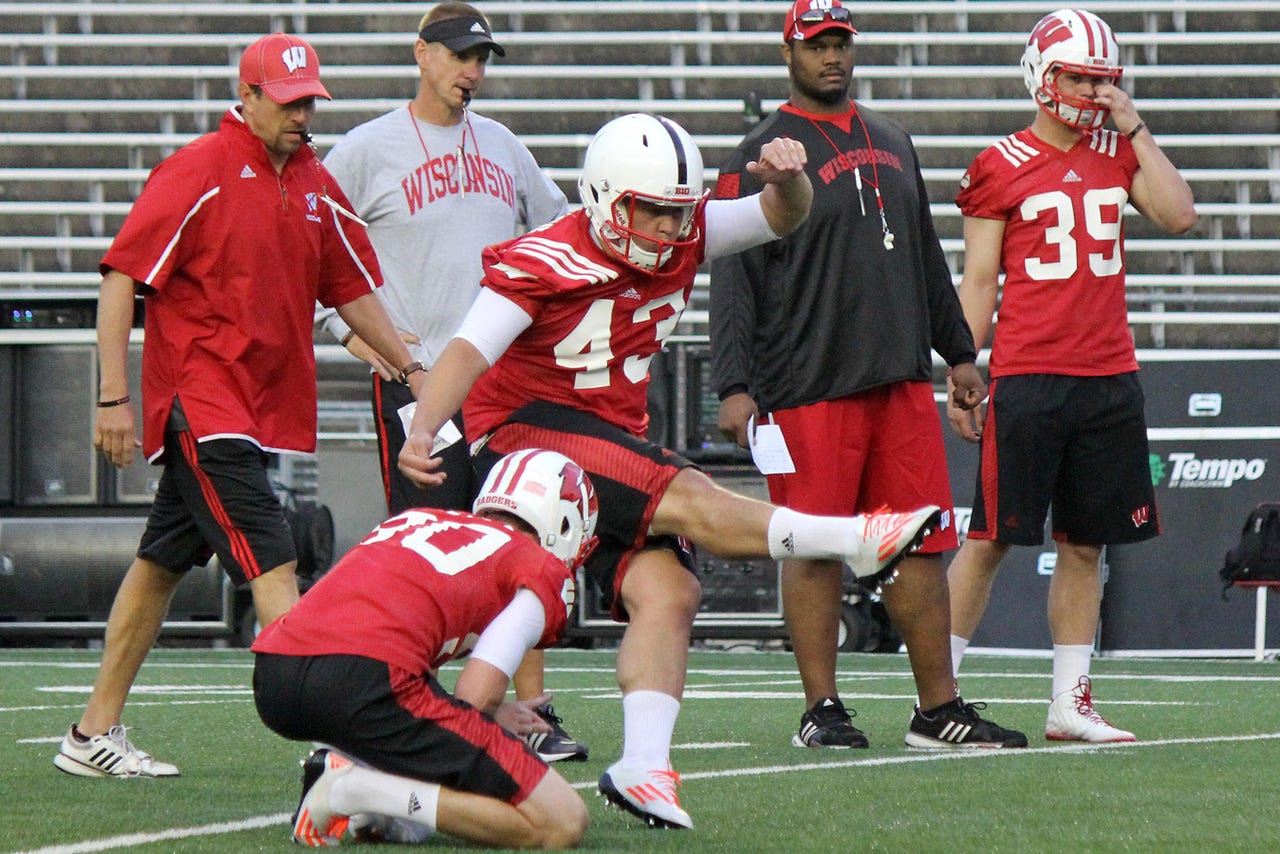 MADISON, Wis. -- You can only draw so much from a practice that features no pads, no fans in the stands and lacks actual defined teams while the entire group is split into two separate practices. So let's start with that baseline when we examine the performance of Wisconsin freshman kicker Rafael Gaglianone on the opening day of the Badgers' fall camp.
Even Badgers coach Gary Andersen, when asked to discuss Gaglianone's morning session, drew laughter from the assembled media by declaring: "You're going to make me comment on a kicker after one day?"
Still, there was something to be said for finishing 5 for 5 on field goal attempts, including tries from 39, 44 and 49 yards, as Gaglianone coolly did. Gaglianone, the 5-foot-11, 231-pound Brazilian with a soccer background, showed he's here to vie for the starting kicker job right out of the chute.
"He hit them all and he was very confident," Andersen said. "He told everybody he was going to put them through there. The ball came off his leg like we thought it would, like when we recruited him and saw on film, which is very encouraging. That's going to be fun to watch that continue to develop. The snaps were good. The holds were good. Apparently, those kids worked together during the summer. It's easier said than done to get that timing down, especially with a new kicker."
The juice added to the kicking competition is notable because it is an area in which Wisconsin has struggled the past two seasons. Junior Jack Russell, the current starter, made 9 of 13 field-goal tries but has fought consistency issues, including during the team's spring game in April. Wisconsin ranked 10th out of 12 Big Ten teams a year ago in field goal accuracy rate, hitting 14 of 21 tries (66.7 percent). In 2012, the Badgers ranked dead last in the conference, making only 10 of 18 attempts (55.6 percent).
Gaglianone made 10 of his 14 field goal attempts last season as an exchange student at Baylor School in Tennessee, with a long of 57 yards. He also sent 42 of 44 kickoff attempts through the end zone for touchbacks.
"I challenged him today," Andersen said. "He said, 'Don't worry, coach, I'll make them all.' It was good. I like it. It's better than saying, 'Coach, I plan on missing three today.'"
Russell, for his part, made it clear the battle for the starting kicker role will be one that should last deep into fall camp. He made all three of his field goal attempts during the day's second practice, hitting from 21, 39 and 49 yards. Backup Andrew Endicott also made all three of his tries from the same distances.
Russell acknowledged after the spring game that he didn't know much about Gaglianone. But he's likely finding out rather quickly now.
"I've seen a little bit of his film, I think from maybe Kohl's kicking camp," Russell said then. "I know he's a good kicker. They're not going to bring in some kid that's not that great for this program. The kid is definitely going to help up the competition and I think make all three of the kickers better."
Serge Trezy update: Andersen said Wisconsin is continuing to wait on whether safety Serge Trezy, a junior-college transfer, will be academically cleared to compete this season.
Trezy, a junior from Eastern Arizona College, is listed on the team's roster but was not at either of Wisconsin's first two practices Monday.
"We should know for sure the next couple days," Andersen said. "It looks like he's got himself in position, from what we understand at this point, to have everything done we've asked him to do academically in the offseason. He's got to go through the process of seeing where it all sits."
Andersen said the school was waiting on the final transcripts from his junior college and acknowledged there was a possibility Trezy could miss the season.
"The agreement at the very beginning when we recruited him was if he was going to be here, he was going to get here very early in camp," Andersen said. "If not, he would use this as his redshirt year and (he'd) join us in January. That was the plan all the way through. But we're still hoping it'll be this year. Obviously we'd like to have him here. Redshirts, we like to have them here going to school for the semester."
Rushing moving up? Wisconsin's coaching staff has said all offseason that one of the team's incoming freshmen needed to emerge to provide relief for the receiving corps. That player could be George Rushing, who appeared to have the best day of the Badgers' three newcomers.
"George made some nice catches, did some nice things," Andersen said. "Caught some contested balls, which was nice to see. And he ground through the whole practice and didn't show any signs of fading at all, which was good to see some mental toughness out of him, too."
Rushing, from Miramar, Fla., was a third-team all-state pick as a senior after catching 49 passes for 670 yards and 18 touchdowns.
Split practices: Wisconsin has set up its first four days of practice in a unique way, splitting the team in half with a mix of veterans and newcomers in each session. As a result, players practice only once each day for 16 periods rather than a more traditional 25-period practice.
The first practice took place from 6:20-8 a.m., while the afternoon session lasted from 1-2:40 p.m. Eighteen players from the morning practice showed up to watch their teammates in the afternoon.
Andersen noted players decided to watch those practices on their own.
"If they think that they can gain something out of a practice, then they can come in and watch it," Andersen said. "They've got to stay in the stands and follow the rules, but they can come in and sit and watch the practice. If I was fighting for a spot, (there's a) pretty good chance I'd be sitting in those stands, especially for the team stuff.
"They've got lifts to do. A lot of kids are in school right now all the way up until 3:30. Just a mixture of where they're at. I like the schedule. I think it's great. The reps were fantastic."
The morning session featured many of the first-stringers, including the entire first-team offensive line: left tackle Tyler Marz, left guard Dallas Lewallen, center Dan Voltz, right guard Kyle Costigan and right tackle Rob Havenstein. The quarterbacks were Joel Stave, D.J. Gillins and Thad Armstrong, while the running backs included Corey Clement and Melvin Gordon.
In the afternoon, quarterbacks Tanner McEvoy, Bart Houston and Connor Senger participated but did so with several of the younger wide receivers, including freshmen Natrell Jamerson and Krenwick Sanders. They also played with the second-team offensive line.
Andersen said Stave and McEvoy, who are battling for the starting quarterback spot, would switch which session each player practices in to create a more fair competition.
"I just like that they have to fight through in those practices," Andersen said. "Tanner didn't have the ideal environment today, and quite frankly neither did Joel at the end of the day. But they've got to deal with what they've got to deal with and keep fighting, get the scheme in there and we'll keep on going. So it'll even out as we go."
Follow Jesse Temple on Twitter
---