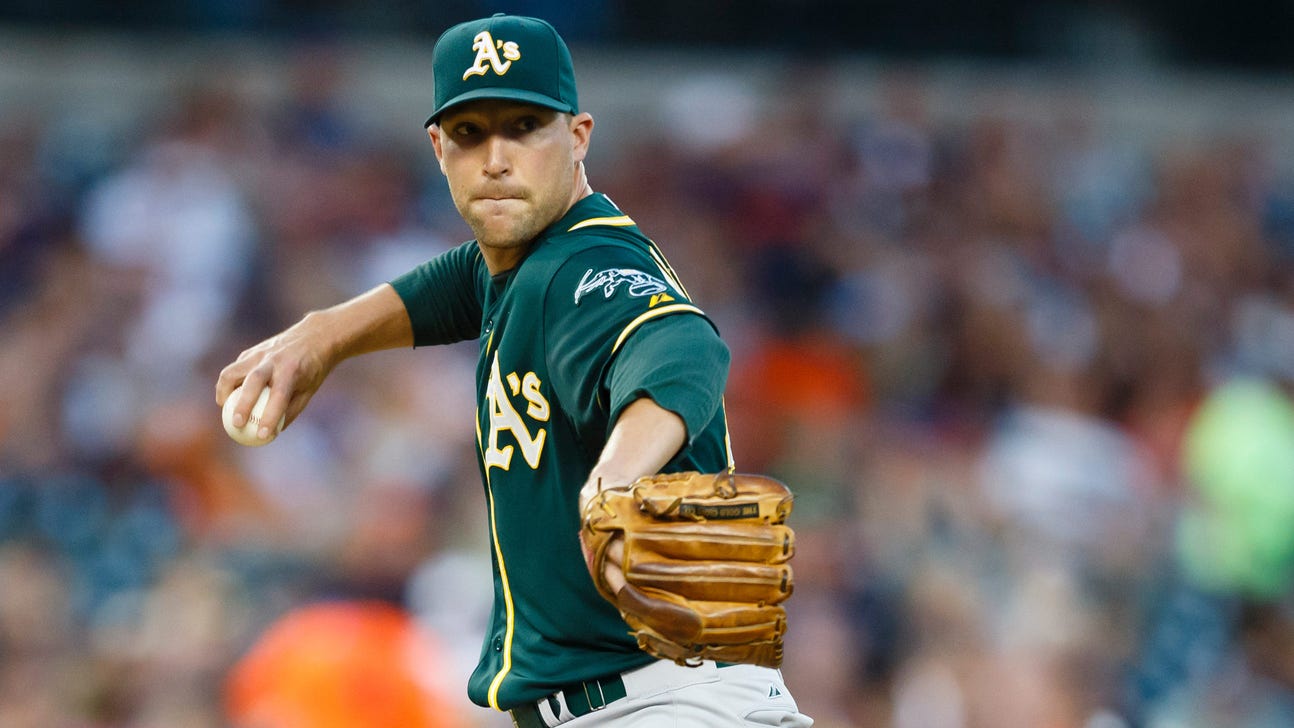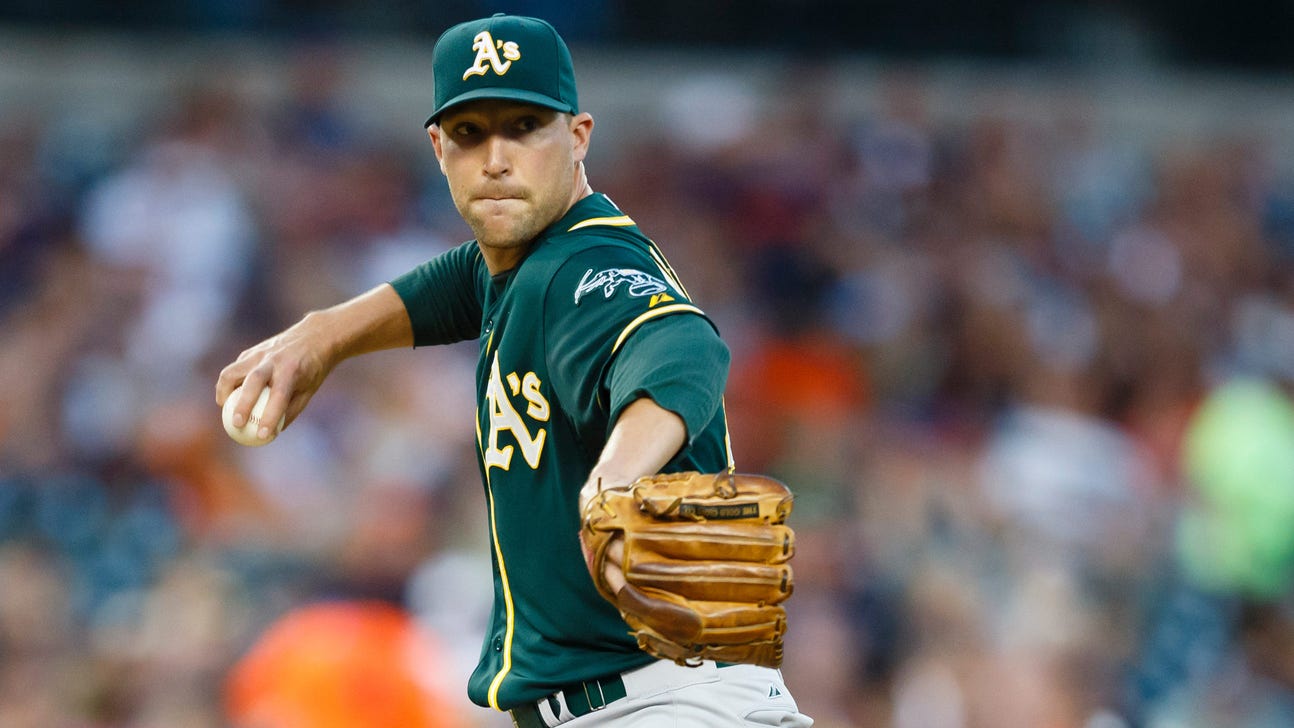 Former 50-save closer Johnson hoping to get it together in Toledo for Tigers
Published
Aug. 8, 2014 11:24 p.m. ET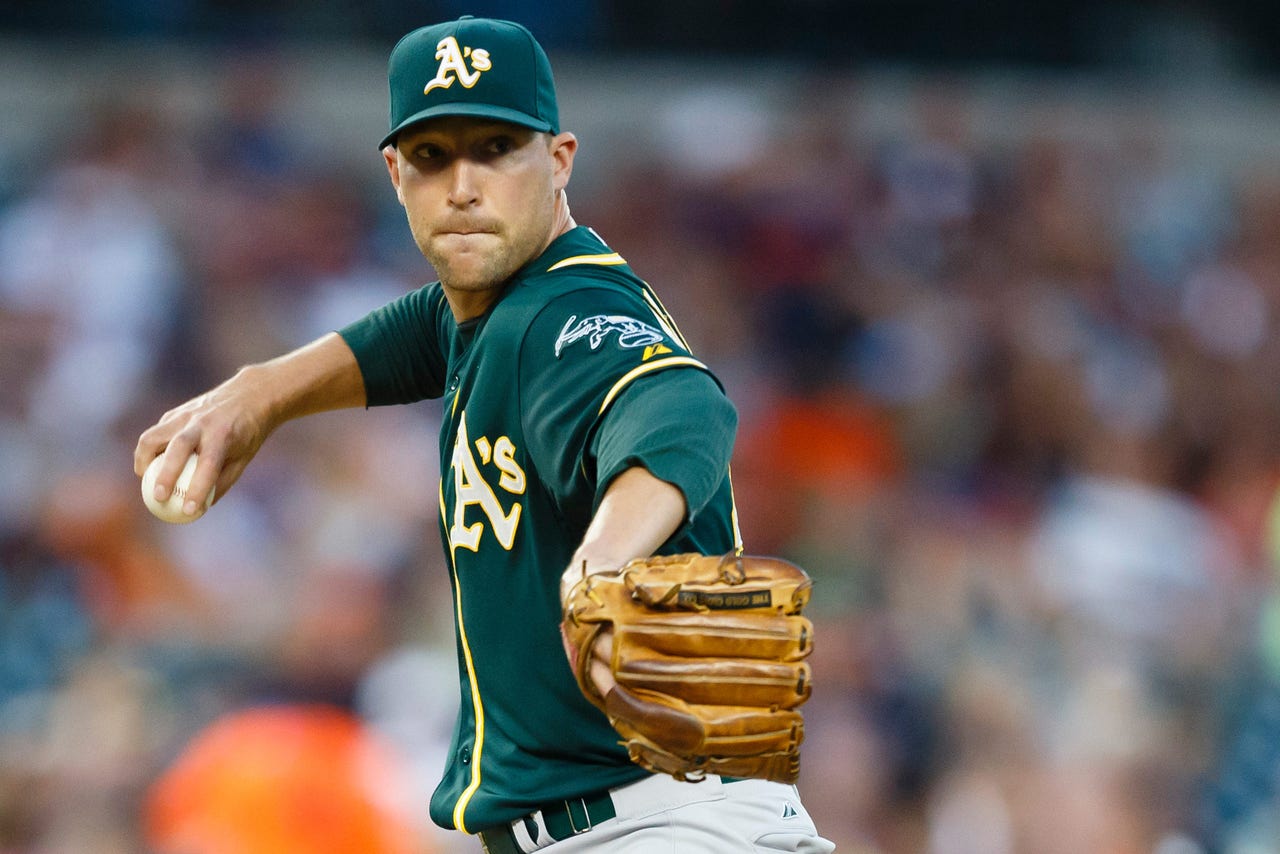 TOLEDO, Ohio -- The stuff is there. Jim Johnson still has the velocity and repertoire to dominate like he did for the Baltimore Orioles in 2012 and 2013, when he registered 101 saves -- the third-highest two-year total in major league history.
Johnson's command went AWOL, though. And it got so bad that the Oakland A's released him and ate his $10 million contract for 2014. His 7.14 ERA and .353 opponent batting average was the worst of any reliever in the majors, and he walked over five batters per nine innings.
But he's only 31, and teams lined up to sign Johnson. He chose the Detroit Tigers, and made the first of three scheduled appearances for their Triple-A affiliate, the Toledo Mud Hens, on Friday night and took the 2-1 loss against the Lehigh Valley IronPigs.
The good news: 15 of his 22 pitches were strikes and he didn't walk anybody.
The bad news: two runs (one earned) on two hits in 2/3 of an inning.
Cameron Rupp, who was up with the Philadelphia Phillies earlier this season, led off the eighth inning against Johnson with an opposite-field single. Then Johnson fielded a sacrifice bunt attempt by ex-Tiger Clete Johnson and committed a throwing error in an attempt to get Rupp at second base. After getting a fielder's choice ground-out, ex-Phillie Freddy Galvis lined a double into the gap to score two runs. Maikel Franco grounded out, and Johnson was removed because he was on a 25-pitch limit that Parrish did not want to exceed.
"I thought he was fine," Parrish said. "He had sink and a good changeup."
Johnson's fastball clocked at between 91 and 94 mph with most registering at 93 mph. So, he was just a tick below the 95 mph he averaged last season, while totaling 50 saves.
"I didn't feel too bad," said Johnson, who last pitched for Oakland on July 23. "I just didn't make a couple pitches when I needed to. It's been awhile, so I'll take it for what it is. It's not like I'm happy about it, but there were encouraging things. I was trying to knock the rust off, make some good pitches.
"I want to make the adjustment the next time."
He's scheduled to pitch again on Sunday and then two innings on Wednesday for Toledo.
Prior to the game, Johnson spoke about his challenging season in the dugout at Fifth Third Field.
"It's been a (crappy) couple of months," said Johnson, shaking his head and smiling. "I just want to have fun...I have not had much fun the last couple months."
When a pitcher can't find the strike zone, everyone he meets seems to have a solution. The valet parker, team video guy and an assortment of coaches weigh in on a daily basis.
"Forget the videos and stupid stats," Johnson said. "You need guys who understand and have real world experiences."
It was mentioned that listening to so many suggestions can tie a pitcher in knots.
"Yeah," Johnson said, "exactly."
And a change of scenery can't hurt, right?
Johnson forced a smile and said, "That's another 'Bull Durham' line."
Like Nuke LaLoosh being told to breathe through his eyelids like the lava lizards and Fernando Valenzuela by groupie Annie Savoy in that classic baseball movie?
"Yeah," said Johnson, who has heard all the crazy ideas.
However, before coming to Toledo, Johnson made a one-day excursion to New York to throw for Tigers pitching coach Jeff Jones, one of those "guys who understand and have real world experiences" in correcting pitching flaws.
"He didn't want me to do anything but be myself," Johnson said of Jones. "He noticed some small things like keeping my head still and having a good starting position...He said, 'If you want to throw in a good position, you've got to get in a good position to throw in.' "
Johnson said extra head movement was something Jones spotted.
Johnson said he had "fair interest from a lot of teams" before choosing the Tigers.
"I narrowed it to four teams," said Johnson, noting that they were all contenders. "But this is where I feel I need to be. It is a good team with good people and a place for me to help them."
I mentioned to Johnson that current Tigers closer Joe Nathan, who appears to have righted his ship after blowing five saves, Johnson, recent Detroit acquisition Joakim Soria and Tigers property Joel Hanrahan (still physically unable to pitch) total 766 career saves.
"Joe's got a lot of those," noted Johnson with a wry smile.
And that is true. But Detroit has something very unusual. It has four pitchers under contract with at least 100 saves in Nathan (365), Soria (177), Johnson (124) and Hanrahan (100).
However, Johnson is the only one in the group to save as many as 50 games in one season. Only 11 pitchers have reached that total, and career saves leader Mariano Rivera and Cy Young Award winner Eric Gagne are the only ones beside Johnson to do it twice.
Gagne (107 saves, 2002-03) and Francisco "K-Rod" Rodriguez (102, 2007-08) are the only two closers with more saves in successive seasons than Johnson's 101.
"I haven't really reflected on it too much," Johnson said of his accomplishments. "Maybe 10 years from now I will reflect on it more.
"But now my focus is short-term to help here."
And reach Detroit as soon as possible to get on with his career, while putting those lava lizards in his rearview mirror.
---