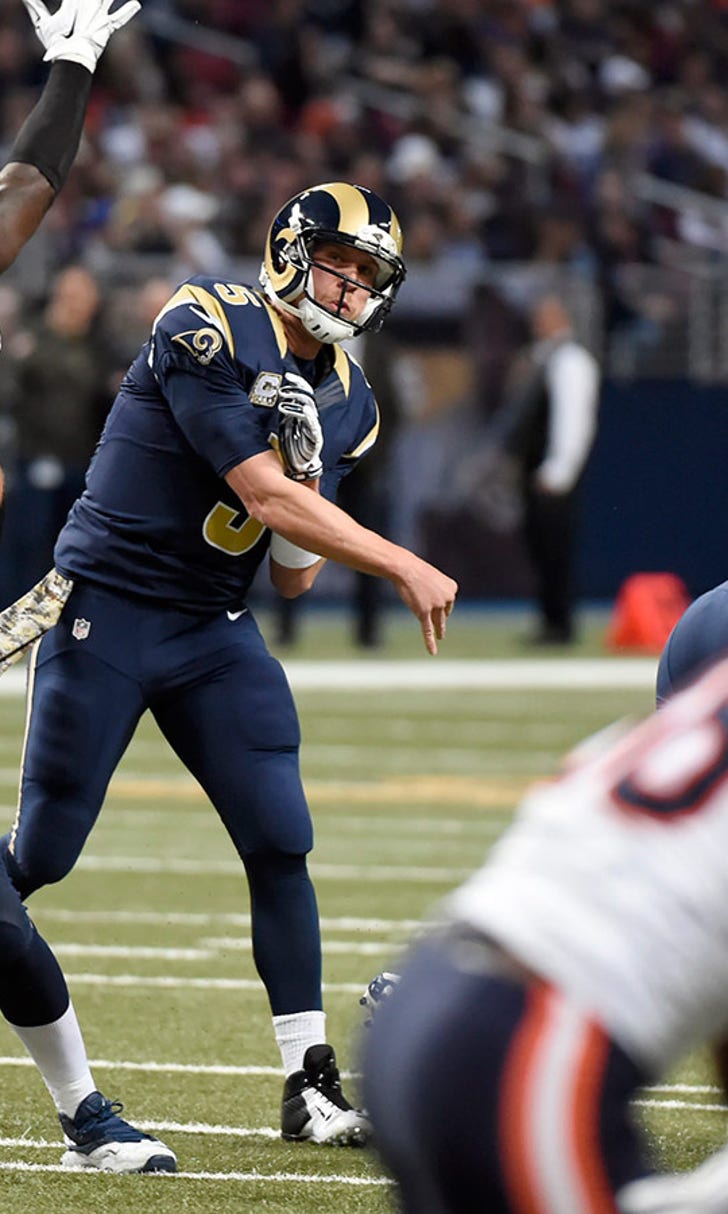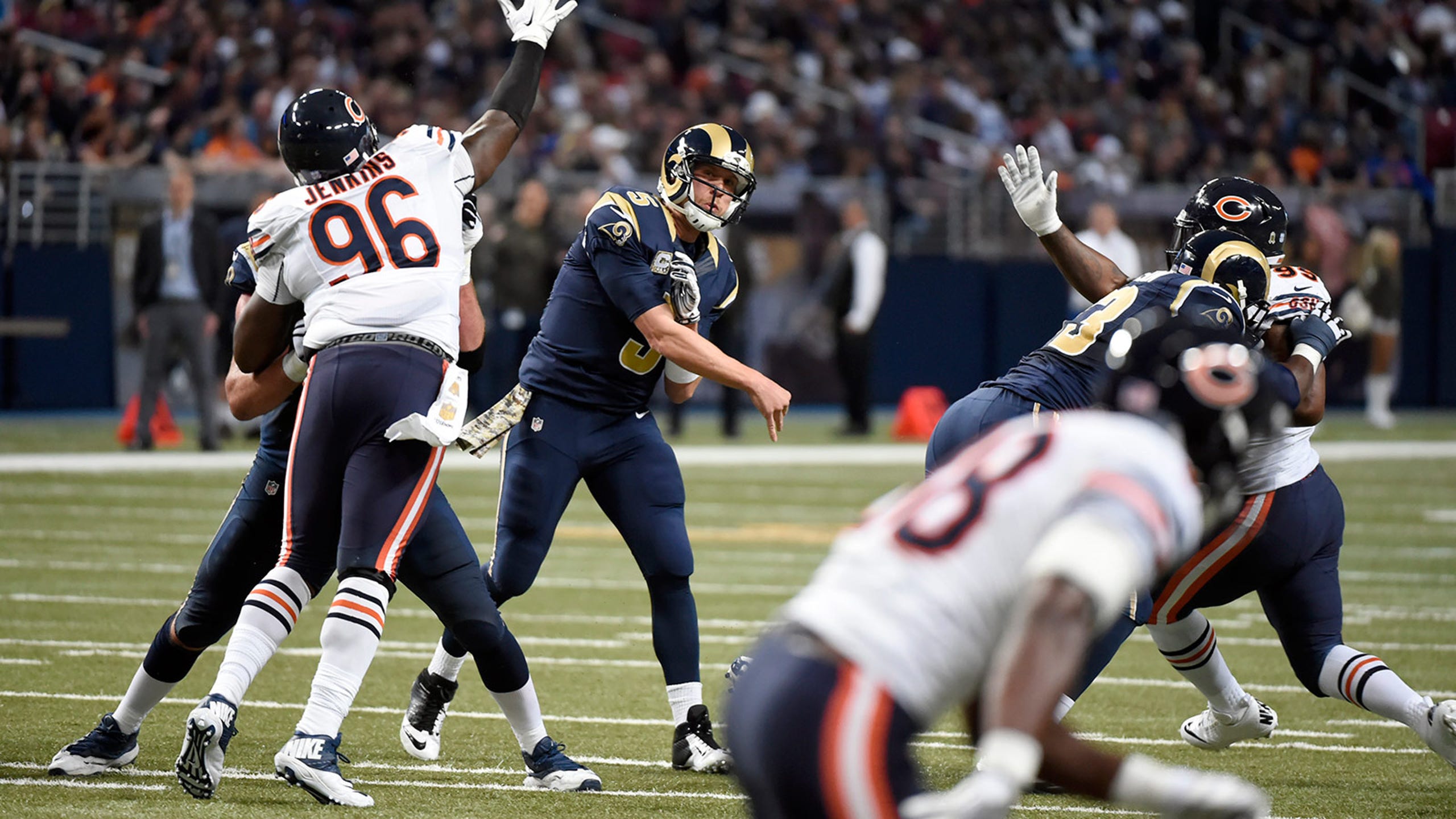 Foles under fire after Rams lose to Bears 37-13
BY foxsports • November 15, 2015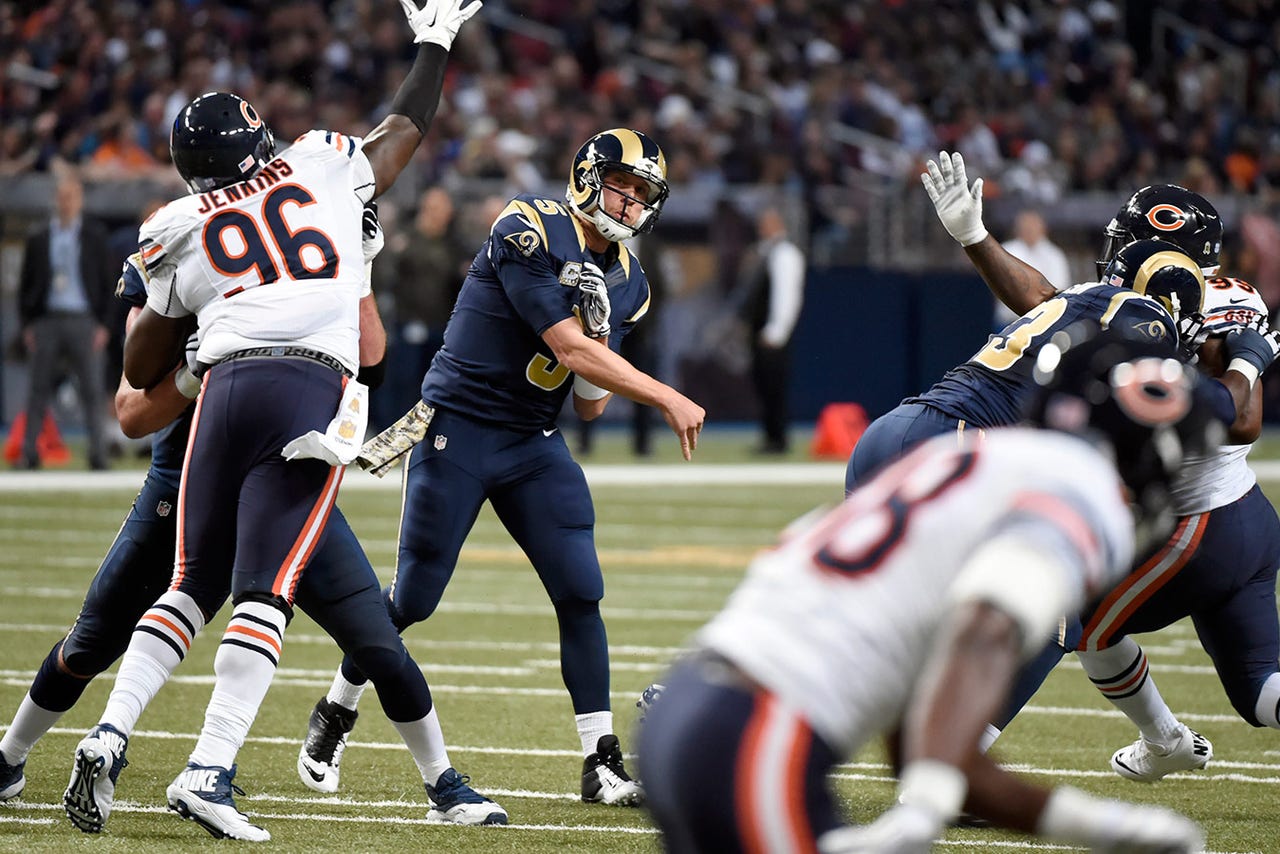 ST. LOUIS -- Coach Jeff Fisher says he hasn't lost confidence in Nick Foles, preferring to spread the blame around the St. Louis Rams' offense.
The quarterback, who has been held to a single touchdown pass the last four games, remained optimistic that better days are just ahead. After Sunday's 37-13 loss to the Chicago Bears, he also knows he's part of the problem.
"Part of playing quarterback is making the players around you better," Foles said. "I've just got to be more accurate."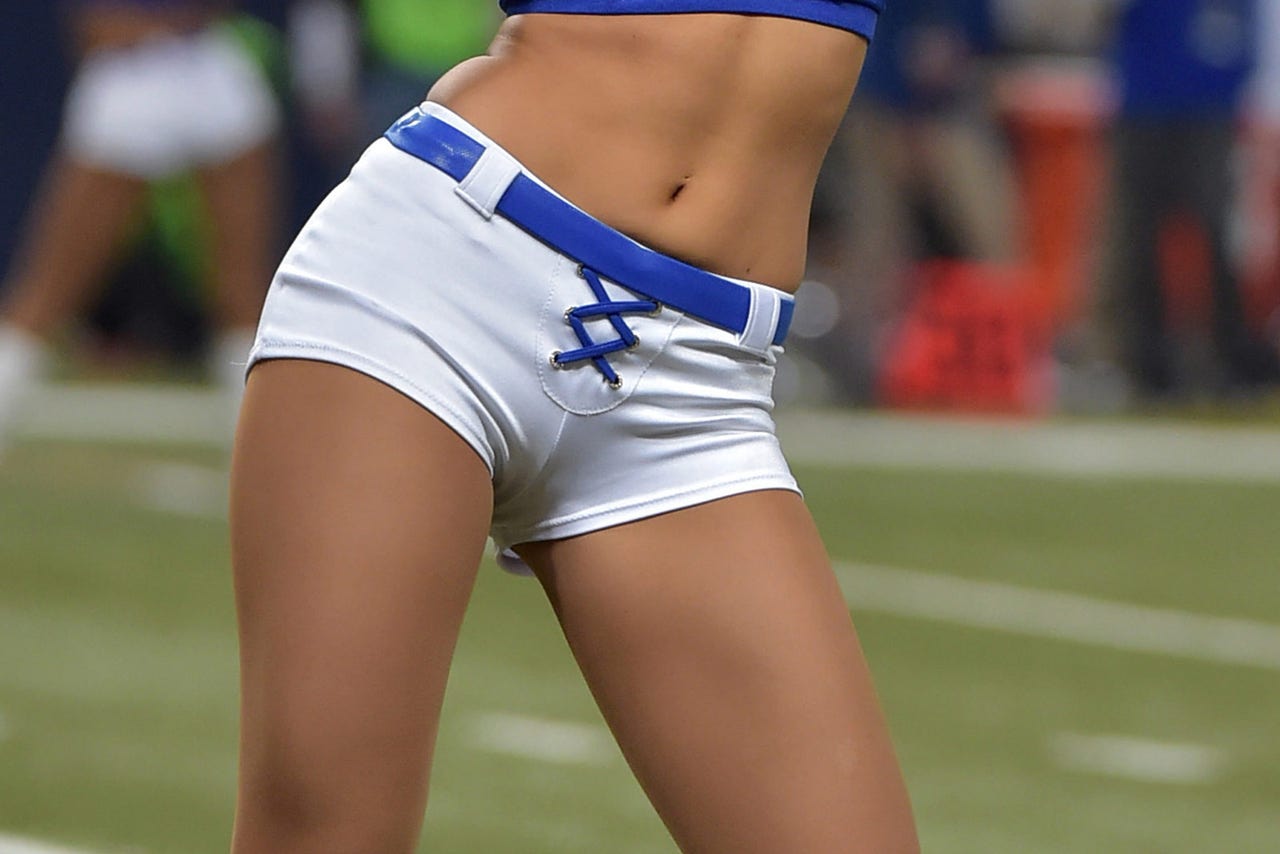 Lookin' good! Flip through our photo album of NFL cheerleaders.
Backup Case Keenum made his first appearance of the season in mop-up duty, but Fisher said Foles will remain the starter next week at Baltimore.
The Rams acquired Foles from Philadelphia in the offseason for former No. 1 overall pick Sam Bradford. And, so far, Foles has not lived up to the two-year contract extension he signed before the preseason.
"That's my choice, but I'm just going to look at it," Fisher said. "We've got to play better around him. He missed a couple throws and had a couple drops."
Foles was 17 for 36 for 200 yards with no TDs and an interception Sunday. On the year, he has completed 52.7 percent of his passes for seven touchdowns with six interceptions.
"He's a confident, competitive person," Fisher said. "He thought with seven minutes left we were going to put together two drives and score. It's got some realness to it."
Echoing past weeks, Foles called it a group failure.
"It's easy to point fingers," Foles said. "It's on all of us."
Zach Miller caught two touchdown passes, including an 87-yard score that was Chicago's longest play since 2010, and Jeremy Langford also had two TDs for Chicago.
The Bears (4-5) improved to 3-1 on the road. They brought thousands of fans to the Edward Jones Dome, which had a season-best 58,663 tickets distributed, about 8,000 shy of capacity.
Langford was untouched on an 83-yard TD on a screen caught behind the line of scrimmage and also had a 6-yard scoring run. The running back, filling in for the injured Matt Forte, had seven catches for 109 yards and 73 yards on 20 carries.
Todd Gurley had a 6-yard scoring run on the opening drive for the Rams (4-5), who have lost two straight since entering November with a winning record for the first time since 2006. Their defense entered ranked fifth overall.
Jay Cutler added a 26-yard scramble, the quarterback's longest since 2009, for Chicago. He could have had more had he not made a safety-first slide in the third quarter.
Gurley was bottled up, rushing for 45 yards on 12 carries with a long of 9 yards, and led St. Louis with three catches for 44 yards.
Wes Welker had three catches for 32 yards, one for a first down, in his 2015 debut six days after signing with St. Louis. The Rams were 4 for 14 on third down, slightly improved from 4 for 37 the previous three games.
"I think he's probably even a little bit too hyped up for this game, and I think he'll learn as he goes on," Welker said of Foles. "We'll get a lot of these things ironed out and get ready for next week."
The Rams clicked on their opening 80-yard drive, which featured passes of 29 yards to Jared Cook and 31 yards to Gurley, setting up Gurley's 6-yard scoring run. They mustered 205 yards the rest of the way.
NOTES: The Edward Jones Dome installed a thick rubberized surface near the stands on both sides of the field after two players slipped on bare concrete the previous two home games. No players came close to decelerating on the surface Sunday. San Francisco 49ers running back Reggie Bush injured his left knee when he slipped at the end of a punt return last week and is out for the season. ... Rams rookie G Jamon Brown (broken right foot) was carted off after Willie Young's' interception late in the fourth and is likely out for the season. Fellow rookie OL Rob Havenstein (calf) was sidelined in the third quarter. ... Rams LT Greg Robinson was whistled for holding three times. Robinson was the second overall pick in 2014. ...... An extremely risky fake punt by the Rams fizzled in the fourth, setting up Robbie Gould's third field goal.
---
---