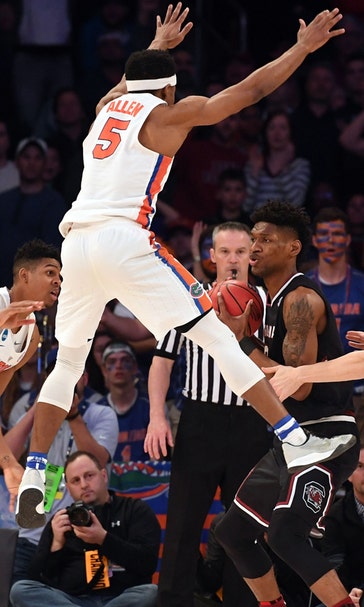 Florida sees bright future after falling short of Final Four berth
March 26, 2017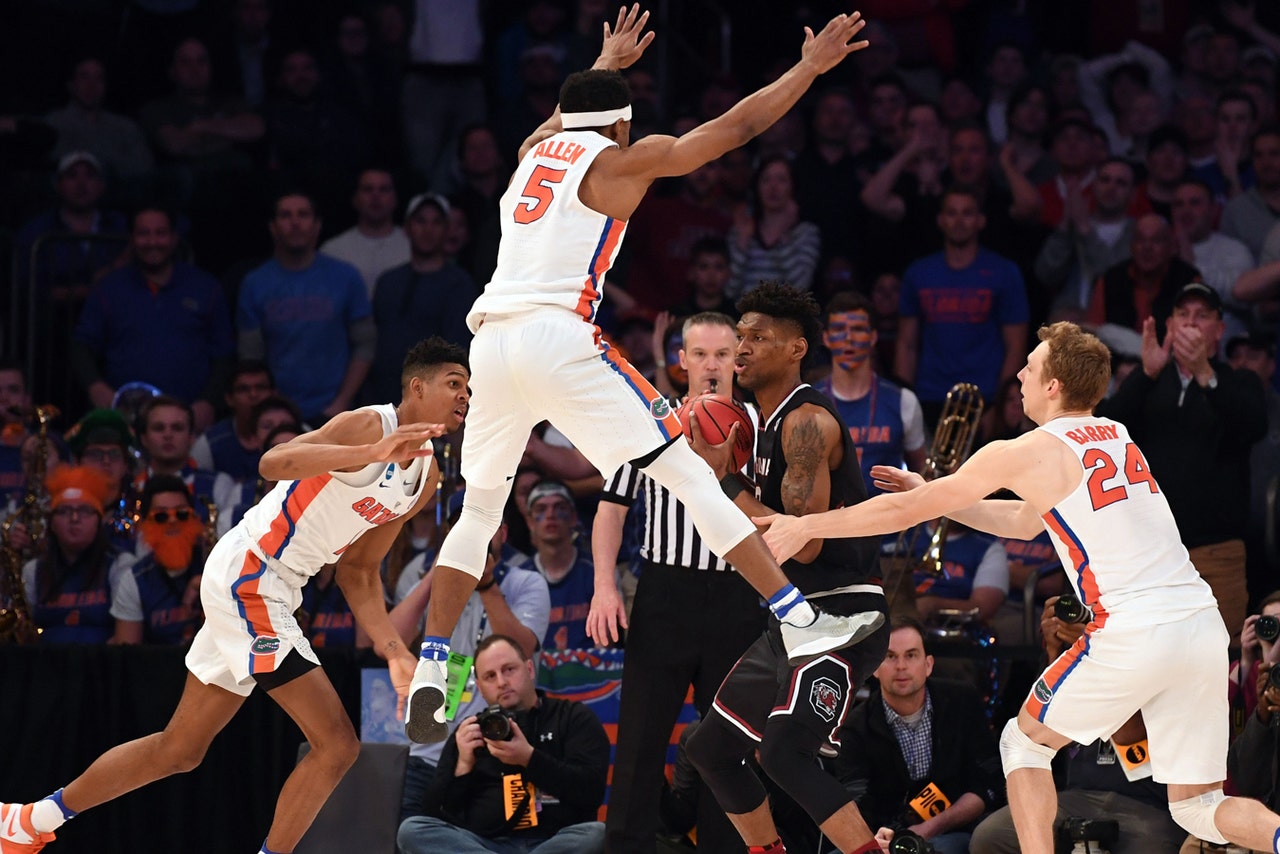 South Carolina Gamecocks forward Chris Silva (30) handles the ball against Florida Gators forward Devin Robinson (1), guard KeVaughn Allen (5) and guard Canyon Barry (24) during the second half.
NEW YORK (AP) -- The first NCAA Tournament in which Florida's Mike White has ever coached provided plenty of hope for the future of Gators basketball in the post-Billy Donovan era.

After coming up a victory short of the Final Four, though, it was difficult for White to look toward the future when the present was so painful.

"Obviously very, very heartbreaking," he said. Not the journey. Just the finish.

https://youtu.be/Pzx3IVOv-Nw?t=14m21s

The fourth-seeded Gators went stone cold from 3-point range in the second half, missing all 14 of their attempts, and South Carolina rallied to win the East Regional 77-70 on Sunday and earn the school's first trip to the Final Four.

"We definitely made a statement that the Gators are no joke and they're definitely coming back and they're building their program back to where it used to be," forward Devin Robinson said. "To be THE Florida Gators."

White left Louisiana Tech and took over Florida in 2015 when Donovan, who led the Gators to two national championships and four Final Fours, left for the NBA. The Gators missed the NCAA Tournament in Donovan's last season and White's first and it was easy to start wondering if the glory days of Florida basketball were gone.

Even this season, the Gators were no lock to get back to the NCAAs until they ripped off nine straight victories, starting in late January. In the middle of their streak, 6-foot-11 John Egbunu was lost to a torn knee ligament. This team without a true star always seemed to perform greater than the sum of its parts.

"These guys, there's just been no drama this year," White said. "And I've never been a part of that. In 17 years not to get one call at midnight that your guys did something crazy or not to have to break up a fight in the locker room or deal with man, I'm going to transfer if I don't play more. You know, we just, our culture is back to where it needs to be to just to give us a chance."

The Gators built a 7-point halftime lead against South Carolina on the strength of 7 for 12 3-point shooting. Senior Justin Leon led the way, going 3 for 5 from long range and scoring 13 points. It didn't last.

https://youtu.be/KEW6_d-cdgo

Leon, a junior college transfer, was the first player White recruited to Florida when he got the job.

"He's shown signs of a lot of toughness, that's one of the things Coach White preaches," Leon said. "And I guess with him recruiting me, it shows that he likes tough players and he just wants the program to be known as a good hard-nosed program."

White, who played guard at Ole Miss, spent 11 seasons as an assistant and four as head coach of Louisiana Tech, but never made the NCAA Tournament. That had at least a few Florida fans skeptical when he was hired by former athletic director Jeremy Foley.

"I remember when he played in this league," Foley said Sunday. "He hadn't been in the NCAA Tournament, but he had been a head coach for four years and won over a hundred games, Been coach of the year (in Conference USA) three times.

"I know what type of character he has. Obviously, Billy Donovan, you know what type of guy Billy was. We wanted to replace that in the building."

White also got Donovan's endorsement.



"I talked to Coach D and Coach D was like you can trust this man," Robinson said. "I'm not going to put you in a positon that you won't be successful and he didn't lie."

White has a long way to go to even come close to matching Donovan's record at Florida, but 48 victories in his first two seasons is the best for any Gators coach.

Next might be even more challenging. Florida will have to replace seniors Leon, Kasey Hill and Canyon Barry. Robinson said he has to talk with his parents and coaches before deciding whether to return for his senior season or go pro. Egbunu might leave early, too.

White will rebuild around a dynamic backcourt of KeVaughn Allen and Chris Chiozza, whose OT 3-pointer at the buzzer beat Wisconsin and put the Gators in the Elite Eight during a season where just getting back to the NCAA Tournament was a big step.

"It was fun to be a part of," White said. '"I'll feel better about it in a couple days."
---
---