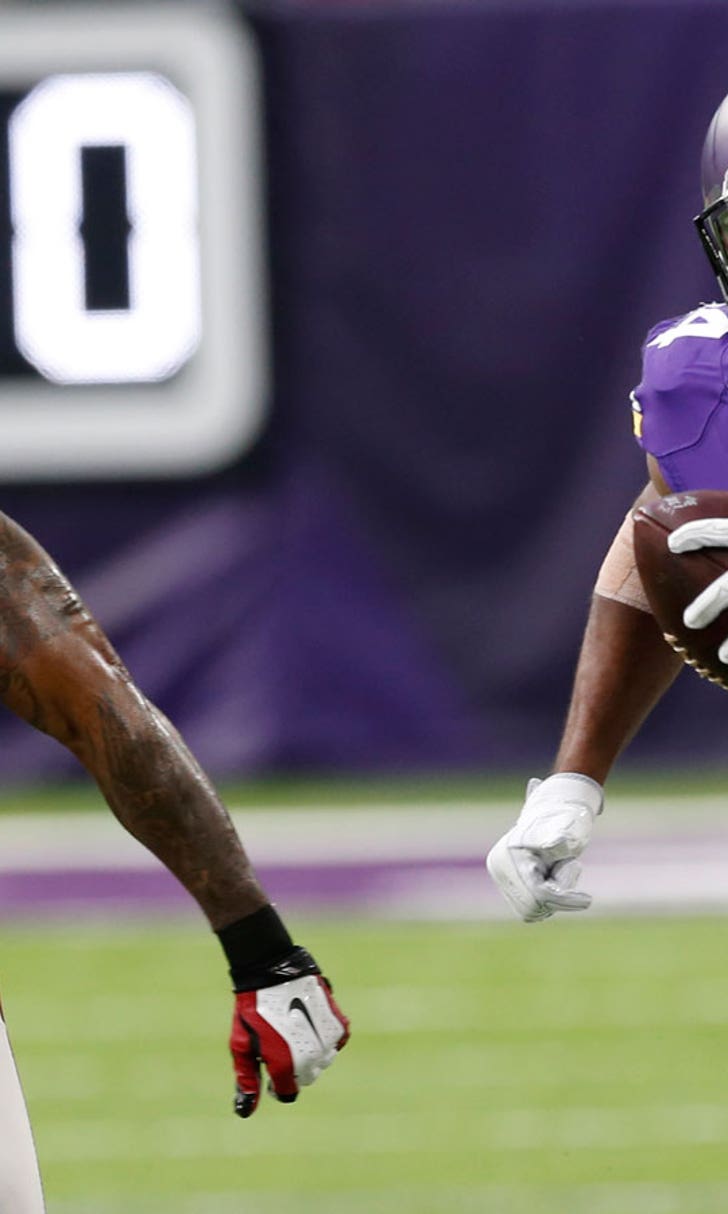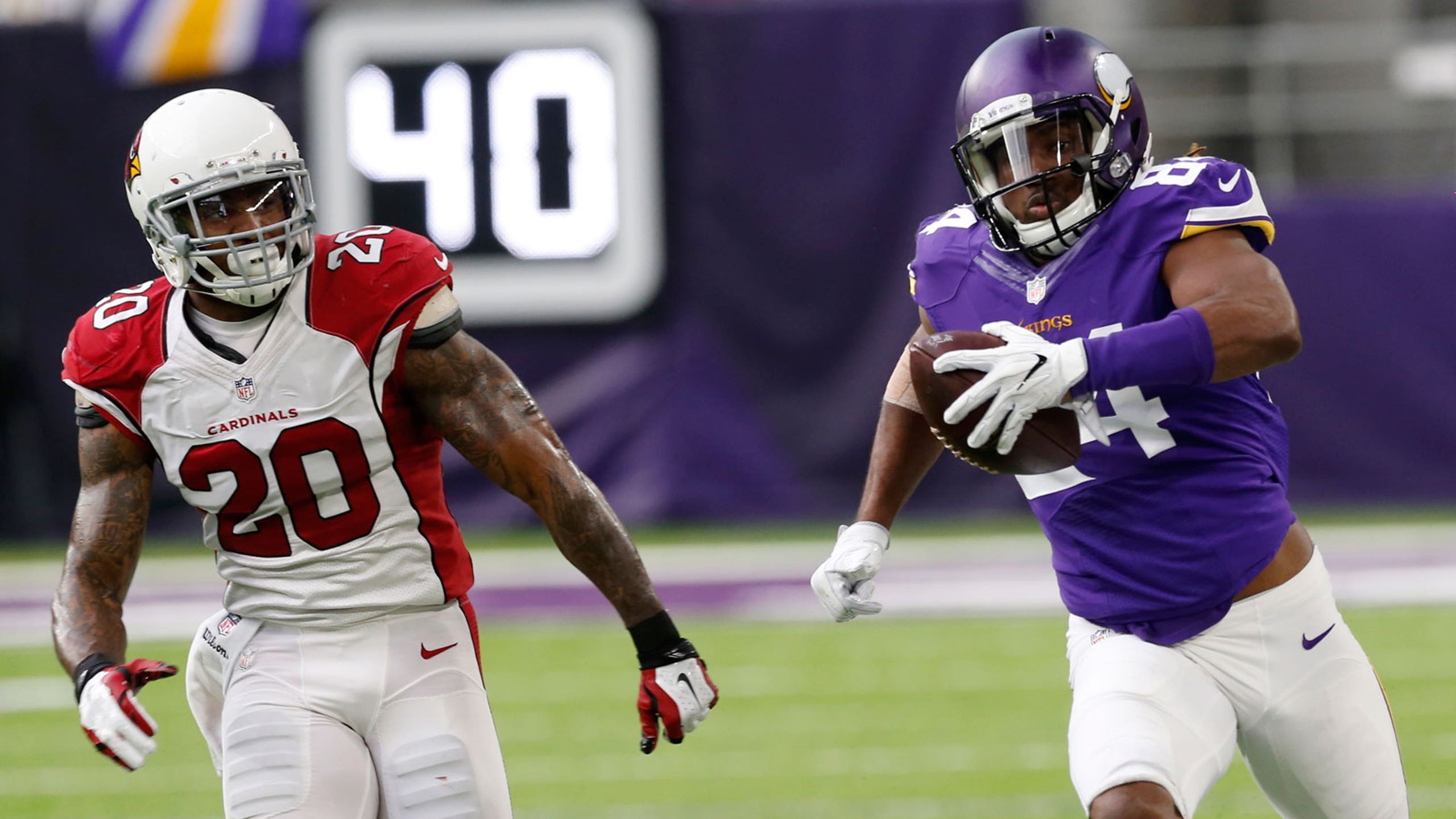 First place on the line when Vikings face Lions on Thanksgiving
BY foxsports • November 23, 2016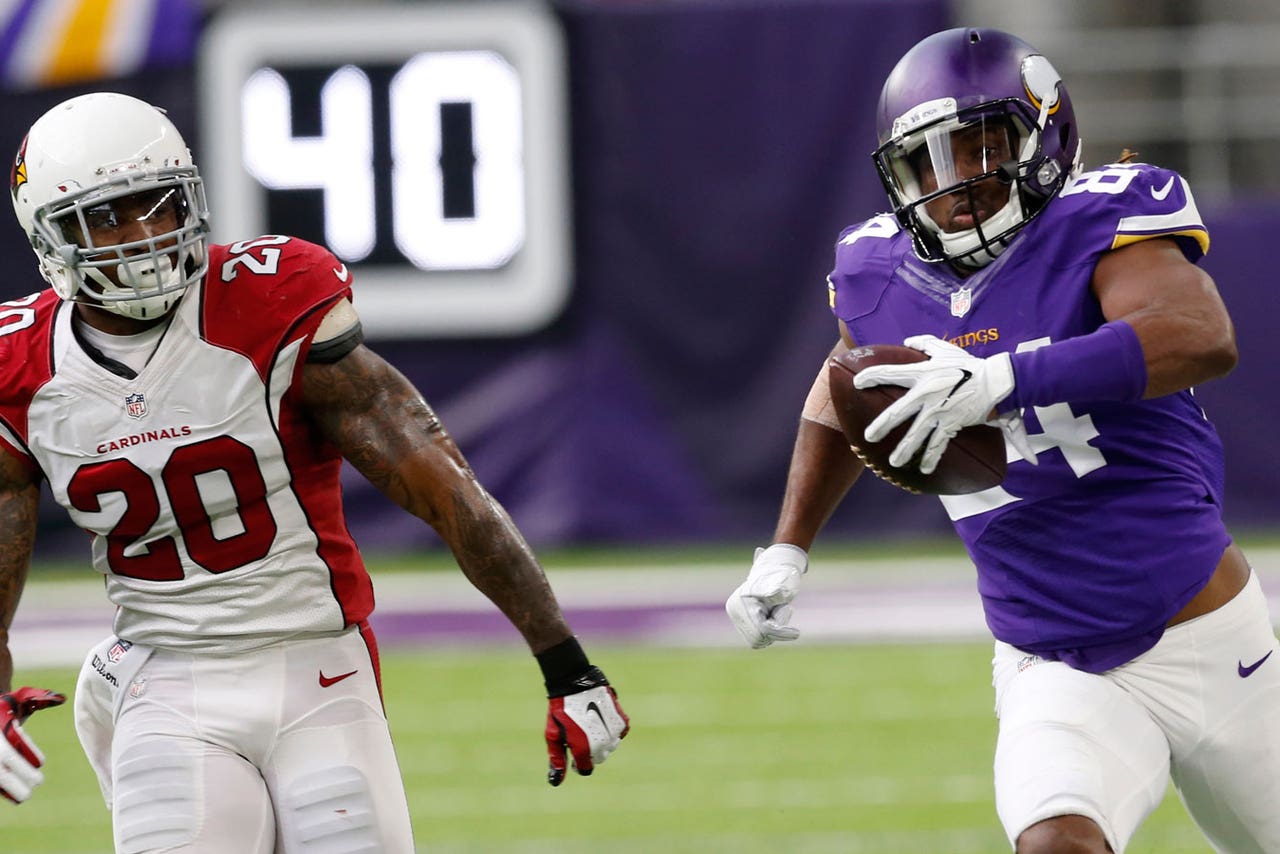 DETROIT -- Darius Slay smiled, ear to ear, and his eyes lit up while he sat on the stool in front of his stall.
Detroit's standout cornerback can't wait to play on Thanksgiving with a lot at stake for a change.
The Lions will have a featured game on the holiday as usual, continuing a tradition that dates to 1934, but it will be very significant to them in the standings unlike many matchups over the past two-plus decades.
Detroit (6-4) hosts the Minnesota Vikings (6-4) in a matchup of first-place teams in the NFC North. It will be the first time the Lions are in first place on the holiday since 1993, which is also the most recent year the franchise won a division title.
"I love it," Slay said. "We know the risks, and the stakes."
If the Lions beat Minnesota for the second time this month and sweep the season series, they would win the head-to-head tiebreaker if both teams are tied at the end of the regular season.
"You can't help but think about that," said Detroit receiver Golden Tate, who flipped into the end zone for a game-winning touchdown in overtime at Minnesota in Week 9.
"The winner of the game will definitely have an advantage in the division and will be in the driver's seat down the stretch."
If the Vikings win, they will move into first place with a favorable schedule that includes only one team that currently has a winning record.
"I don't necessarily think this is necessarily for the division championship," Minnesota coach Mike Zimmer said. "It's not like it's the last game of the season."
Here are some things to watch when Detroit and Minnesota kick off the NFL's holiday tripleheader:
DIGGING IT: The Lions limited receiver Stefon Diggs to a season-low 6.15 yards per catch in the previous meeting, but he set a career high with 13 receptions.
"You let him catch too many and at some point in time he's going to burn you because he's explosive," Lions coach Jim Caldwell said.
"That's an area where we've just got to continue to get better. There's not a point in time where you say, `Hey, we'll let that guy catch as many balls as he'd like."
ROLLING ROBERTS: When the Lions signed Andre Roberts in June, a month after Washington cut him, they were hoping he would compete to be their returner and possibly provide depth at receiver.
Roberts has surpassed expectations, becoming the first Detroit player to return two punts for a touchdown in a season since 2005. He has also made some clutch catches, including a 27-yard reception that set up Matt Prater's game-tying kick as time expired at Minnesota.
BERGER THE BULWARK: One bright spot on Minnesota's depleted offensive line has been veteran center Joe Berger, who will make his 36th straight start.
The native of Newaygo, Michigan, played at NCAA Division II Michigan Tech and went undrafted before stints with the Miami Dolphins and Dallas Cowboys.
"He's a really smart guy," quarterback Sam Bradford said. "He's really helped me with protections. I think that's one of the first things when you learn a new offense as a quarterback. You want to know, `How am I being protected? What are the calls?' And he's been awesome."
MAKING HISTORY: Detroit, which has trailed in the fourth quarter of every game, is the first NFL team to have the first 10 games decided by seven points or fewer.
SPECIAL SPECIALISTS: Detroit's Sam Martin and Minnesota's Jeff Locke are two of the top punters in the NFL. Martin leads the league with a net average of 45.8 yards. Locke ranks second in the NFL with 25 punts pinned inside the 20.
Last week when Minnesota was clinging to a six-point lead over Arizona late in the fourth quarter, Locke had a 72-yard punt with a friendly roll to push the Cardinals deep into their territory.
What Locke has learned to do, perhaps unlike former Minnesota kicker Blair Walsh and some of his struggling peers, is forget about mistakes.
"In the past, I might've been sitting on a bad punt and letting it affect the next punts," he said. "But now I've learned especially this year just to clear it."
Soon after Walsh missed an extra point and had a field goal blocked in the loss to Detroit, the Vikings released the former All-Pro kicker and signed Kai Forbath to replace him.
Forbath and Prater both had an extra point blocked last week. They contributed to the total of 12 extra points missed , the most in one week since the NFL merger in 1970.
Prater has been an asset for the Lions. He made a season-long, 58-yard field goal at Minnesota before the Lions won 22-16. He has also made three game-winning field goals this season with 1:29, 1:28 and 4 seconds remaining in games.
MINNESOTA (6-4) at DETROIT (6-4) Capsule
Thursday, 12:30 p.m. ET, CBS
OPENING LINE -- Lions by 2 1/2
RECORD VS. SPREAD -- Vikings 6-4, Lions 5-4-1
SERIES RECORD -- Vikings lead 71-37-2
LAST MEETING -- Lions beat Vikings 22-16, OT, Nov. 6,
LAST WEEK -- Vikings beat Cardinals 30-24, Lions beat Jaguars 26-19
AP PRO32 RANKING --Vikings No. 11, Lions No. 10
VIKINGS OFFENSE -- OVERALL (32), RUSH (32), PASS (24).
VIKINGS DEFENSE -- OVERALL (3), RUSH (13) PASS (3).
LIONS OFFENSE -- OVERALL (25), RUSH (30), PASS (16).
LIONS DEFENSE -- OVERALL (19), RUSH (18), PASS (17).
STREAKS, STATS AND NOTES -- Lions and Vikings tied atop NFC North. ... Minnesota blew three-point lead with 23 seconds left last game against Lions, allowing them to set up Matt Prater's 58-yard FG as time expired in regulation. QB Matthew Stafford's 28-yard pass TD to WR Golden Tate in OT won it. ... Vikings' win over Arizona ended four-game losing streak. ... Minnesota hasn't won NFC North game since beating Green Bay in Week 2. ... WR Stefon Diggs ranks third in NFL with 67 receptions, including career-high 13 catches against Detroit and Washington this month. ... Minnesota KR-WR Cordarrelle Patterson became NFL's first player with four TDs of 100-plus yards last week, returning kickoff 104 yards. ... With CB Xavier Rhodes' 100-yard interception return against Arizona, Minnesota became first team since Dallas in 1962 to score on interception and kickoff returns of 100-plus yards in game. ... Vikings only team with five-plus sacks from three DEs: Danielle Hunter (seven), Everson Griffen (six) and Brian Robison (five). ... Detroit in first place on Thanksgiving for first time since 1993, last time franchise won division title. ... Lions have won five of six. ... Stafford has thrown only one INT in last six games. ... Theo Riddick had eight receptions for Lions last week, matching season high, leads NFL RBs with 123 catches since 2015. ... Tate had 11 receptions against Vikings in Week 9, equaling career high from 2014. ... DE Ezekiel Ansah, who does not have sack in injury-stunted season, has 4 sacks and two fumbles in last five games against Vikings. ... Lions first NFL team to have first 10 games decided by seven or fewer points. Detroit has trailed in fourth quarter of every game. ... Fantasy Tip: Minnesota's Kyle Rudolph has scored in three straight games against Lions, who have struggled to slow down tight ends this season. Rudolph leads Vikings with five TDs this season.
---
---