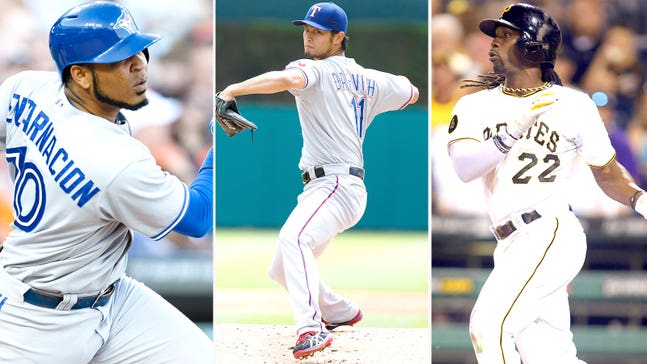 Fantasy Fox: Mock-draft simulation for the No. 7 slot
Published
Mar. 4, 2015 11:50 a.m. EST

Here's the first dry run of expectations when holding the No. 7 slot in 12-team, mixed roto-league drafts (homers, RBI, runs, batting average, steals), specifically working off a 25-round mock draft from Tuesday afternoon.
For the sake of brevity, we'll limit the pick-by-pick analysis to the first 15 rounds:
Round 1, Pick 7 overall: Motive -- Best overall player

1st option: OF Andrew McCutchen, Pirates
2nd option: SP Felix Hernandez, Mariners
3rd option: OF Jose Bautista, Blue Jays

BREAKDOWN: McCutchen currently stands as my No. 2 outfielder (behind Mike Trout) and No. 2 overall fantasy asset (also behind Trout). So, the value of him sliding to No. 7 was a welcome sight ... but probably not likely once the real drafts commence.
That aside ...
From a splits perspective last year, A-Mac posted elite-level stats in June (8 HR/25 RBI/19 runs/5 steals/.343 batting) and September (5 HR/12 RBi/19 runs/.347 batting/.452 on-base). Plus, his OBP never fell below .360 for any month; and his slugging rate held strong at .540 or higher five times (with May as the lone exception).
In other words, McCutchen remains a good bet for 20-plus homers, 80-plus RBI, 95 runs, 20-plus steals, 35-plus doubles, six triples and a batting average north of .310 for the foreseeable future.

Round 2, Pick 18 overall: Motive -- Best overall player

1st option: 1B/DH Edwin Encarnacion, Blue Jays
2nd option: OF Michael Brantley, Indians
3rd option: SS Hanley Ramirez, Dodgers

BREAKDOWN: Hat tip to Rotowire's Derek Van Riper for the following nugget:
Since 2012, only Miguel Cabrera has raked more homers (113) than Encarnacion and Orioles slugger Chris Davis (112). And of that trio, Encarnacion has the lowest strikeout rate during that span (13.2 percent).
Plus, of the 20 players to belt 75 or more homers from 2012-14, only Adrian Beltre has a lower strikeout rate than Encarnacion (three-year averages: 37 homers, 104 RBI, 86 runs, .370 on-base percentage).

Round 3, Pick 31 overall: Motive -- Best starting pitcher or outfielder

1st option: SP Yu Darvish, Rangers
2nd option: SP Johnny Cueto, Reds
3rd option: OF Justin Upton, Padres

BREAKDOWN: There was some trepidation with this choice, since I haven't yet formulated my starting pitching rankings for the preseason. But pick 31 represents good value for Darvish, who amassed 182 strikeouts before mid-August last year, while also dealing with a (hopefully) minor bout of elbow inflammation.
Plus, this selection should help my squad claim the overall strikeouts title.
Prior to shutting it down last summer, Darvish was enjoying an 11.0-plus strikeout/per 9 innings rate ... and a career-best strikeout/walk ratio (3.71). And of his 22 starts, Yu surrendered two or fewer runs 13 times and registered five outings of double-digit strikeouts.
Along those lines, Darvish (3.27 career ERA) was on the short list of 2014 pitchers to rack up double- digit strikeouts in back-to-back starts.

Round 4, Pick 42 overall: Motive -- Best overall player

1st option: DH Victor Martinez, Tigers
2nd option: OF Carlos Gonzalez, Rockies
3rd option: OF Corey Dickerson, Rockies

BREAKDOWN: For this pick, the ESPN computer momentarily booted me from the system; but Martinez still serves as a good default selection.
Martinez was the best strike-2 hitter in baseball last year, absurdly going north of .300 in that realm. Plus, of his last four healthy seasons (2010-11, 2013-14), V-Mart holds sterling averages of 20 homers, 92 RBI, 74 runs, .317 batting and a .374 on-base percentage.
On the down side, I'm not expecting Martinez (offseason knee injury) to replicate the 32 homers, 103 RBI, .335 batting average or .409 OBP from last year. But a substantial drop-off doesn't loom large, either.

Round 5, Pick 55 overall: Motive -- Best outfielder or corner infielder

1st option: OF Matt Kemp, Padres
2nd option: 1B/3B Chris Davis, Orioles
3rd option: 1B Adrian Gonzalez, Dodgers

BREAKDOWN: Never underestimate the power of a highly motivated All-Star, who feels scorned by his former club.
Speaking of the Dodgers, let's recall Kemp's absurd splits from September/October: Nine homers, 25 RBI, 21 runs, a .322 batting average, .700 slugging rate and otherworldly OPS of 1.047.
Bottom line: That's all the motivation I need to splurge for Kemp (age 30) in Round 5.

Round 6, Pick 66 overall: Motive -- Best corner infielder

1st option: 1B/3B Chris Davis, Orioles
2nd option: 3B Kyle Seager, Mariners
3rd option: 1B Prince Fielder, Rangers

BREAKDOWN: There are two schools of thought with landing Davis at the low, low slot of No. 66 overall:
a) Fantasy experts and prospective GMs attribute Davis's 53-homer, 138-RBI demolition from 2013 to performance-enhancing drugs, or whatever role Adderrall played with the slugger's numbers.
As such, maybe that skepticism spilled over to 2012, when Davis clubbed 33 dingers.
b) ESPN's bias toward Davis (mid-70s ADP) caused the other 11 owners in this mock draft to forget about Davis in the early rounds. I say that because ... generally, Davis has a top-30 ranking on the various Web sites.

Round 7, Pick 79 overall: Motive -- Best overall player

1st option: 3B Matt Carpenter, Cardinals
2nd option: 1B Joey Votto, Reds
3rd option: OF Christian Yelich, Marlins

BREAKDOWN: Truth be told, I would probably side with Votto or Yelich over Matt Carpenter in a live-draft setting.
But therein lies the greatness of this round ... as in, can you believe that Votto (five straight seasons of a .390-plus OBP), Yelich (stealth All-Star pick for 2015) and Carpenter (MLB-high 126 runs in 2013) were all available at the No. 79 slot?

Round 8, Pick 90 overall: Motive -- Best starting pitcher or infielder

1st option: SP Masahiro Tanaka, Yankees
2nd option: 2B Dee Gordon, Marlins
3rd option: C Evan Gattis, Astros

BREAKDOWN: We're talking incredible value for Tanaka, who rolled for 13 wins, a 2.77 ERA, 1.06 WHIP and absurd K-BB rate (121/41) as an MLB rookie last year.
As such, it's fair to wonder if the majority of fantasy owners doubt Tanaka (elbow soreness at the end of last season) will make it through the entire 2015 season -- unscathed on the injury front.

Round 9, Pick 103 overall: Motive -- Best closer or overall hitter

1st option: RP Dellin Betances, Yankees
2nd option: OF Marcell Ozuna, Marlins
3rd option: RP Trevor Rosenthal, Cardinals

BREAKDOWN: Betances' rookie numbers from last year (5-0, 1.40 ERA, 0.78 WHIP) were off the charts; and now, fantasy owners get the added bonus of 40-plus saves in 2015 -- the result of David Robertson signing with the White Sox.

Round 10, Pick 114 overall: Motive -- Best starting pitcher

1st option: SP Justin Verlander, Tigers
2nd option: SP Zack Wheeler, Mets
3rd option: SP Hisashi Iwakuma, Mariners

BREAKDOWN: At the minimum, Verlander (six-year average: 226 strikeouts) will help my high-powered pitching rotation capture the "strikeouts" title.
At the maximum, we'll see substantial, across-the-board improvement from Verlander, who re-committed himself to working out during the offseason ... which isn't easy, when you're globetrotting with supermodel Kate Upton.

Round 11, Pick 127 overall: Motive -- Best starting pitcher or outfielder

1st option: SS Zack Wheeler, Mets
2nd option: OF Lenoys Martin, Rangers
3rd option: OF J.D. Martinez, Tigers

BREAKDOWN: I'm forecasting Wheeler (11-11, 3.54 ERA, 187/79 K-BB) to make another leap forward this season, flirting with 15 wins, a 3.20 ERA and 210 strikeouts.
Of his final 16 starts last year, the kid surrendered three or fewer runs 15 times. In that span, Wheeler (9.1 K/9 rate) also racked up seven-plus strikeouts seven times.
All told, the 24-year-old righty should rival fellow Mets pitcher Matt Harvey for the unofficial, but prestigious baseball title of King Of New York ... now that Derek Jeter has retired from the game.

Round 12, Pick 138 overall: Motive -- Best outfielder

1st option: OF Shin-Soo Choo, Rangers
2nd option: OF Gregory Polanco, Pirates
3rd option: OF Rusney Castillo, Red Sox

BREAKDOWN: This might have been a reach for Choo (three-year averages: 17 HR, 54 RBI, 84 runs, 15 steals, .272 batting), when compared to the unlimited fantasy ceiling of Pittsburgh's Gregory Polanco (a purported Mike Trout-in-waiting).
But for now, we'll maintain hope that Choo -- heading into his age-32 season -- hasn't already hit the proverbial wall, production-wise.
A telltale sign for spring training: How about keeping that OBP above .370 for all of March?

Round 13, Pick 151 overall: Motive -- Best starting pitcher

1st option: SP Jose Fernandez, Marlins
2nd option: SP Anibal Sanchez, Tigers
3rd option: SP Marcus Stroman, Blue Jays

BREAKDOWN: In a live-draft setting, I would probably wait until Round 14 or 15 to draft Fernandez (2014 elbow surgery), who will likely miss April, May and June this season.
On the flip side, Fernandez (career tallies: 2.25 ERA, 0.97 WHIP, 257/71 K-BB rate) might be the difference-maker for a pennant chase in August and September.
Of course, I would only recommend taking Fernandez this high, IF you're markedly pleased with starting pitching at this point of a draft.

Round 14, Pick 162 overall: Motive -- Best overall player

1st option: 2B Neil Walker, Pirates
2nd option: OF Wil Myers, Padres
3rd option: SS Jean Segura, Brewers

BREAKDOWN: Walker (23 HR, 76 RBI, 74 runs, .342 OBP) currently holds my No. 7 ranking among second basemen.
In other words, pick 162 represents superb value for a position that should always be filled during the middle rounds -- unless Robinson Cano is involved.

Round 15, Pick 175 overall: Motive -- Best middle infielder or pitcher

1st option: SS Jean Segura, Brewers
2nd option: SS Xander Bogaerts, Red Sox
3rd option: SP Yordano Ventura, Royals

BREAKDOWN: In my mind, Segura gets a free pass for last year's declining numbers (5 HR, 61 runs, 20 steals, .246 batting), based on the unspeakable family tragedy of losing an infant.
His quality September splits also merit a Round 15 look: 11 runs, .319 batting, .364 OBP and four steals.
BEST OF THE REST
Round 16: SS/OF Danny Santana, Twins
Round 17: OF Khris Davis, Brewers
Round 18: RP Hector Rondon, Cubs
Round 19: RP Neftali Feliz, Rangers
Round 20: SP Drew Hutchison, Blue Jays
Round 21: C Wilson Ramos, Nationals
Round 22: OF Avisail Garcia, White Sox
Round 23: SP Taijuan Walker, Mariners
Round 24: SP Brandon McCarthy, Dodgers
Round 25: OF Jake Marisnick, Astros
Jay Clemons, the 2008 Fantasy Football Writer of the Year (Fantasy Sports Writers Association), can be reached via Twitter, day or night, at @ATL_JayClemons.
---