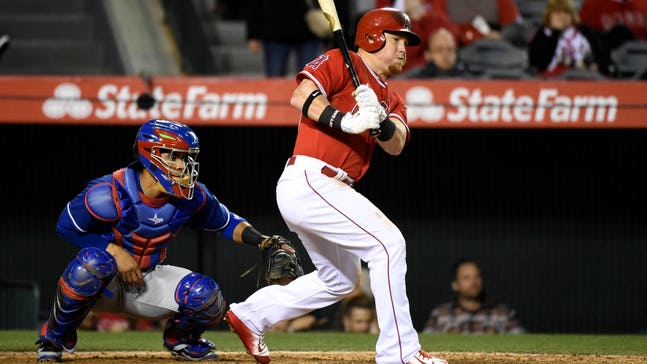 Fantasy baseball depth chart and batting order analysis
Updated
Mar. 4, 2020 2:04 p.m. ET

Another week, another In Some Depth and a tour of the league's depth charts. With May upon us, we might start hearing more about how X prospect deserves to be called up because of Y's slow start, and how Z deserves to stick in the lineup even after A returns from the DL. Some of these issues are considered below, and will be further thought out as the season continues.
DEPTH CHARTS
Indians SS
The Indians' shortstop situation has already been covered elsewhere on Rotowire.com, but it is an important topic for In Some Depth as well. Jose Ramirez faced little competition. In the short-term, this should mean more playing time for Mike Aviles, who has thus far served in a utility role. Longer term, it could put uber-prospect Francisco Lindor in the conversation for a promotion in the coming weeks/months. If the Indians want Lindor to continue to season in the upper minors, then Zach Walters may be an under-discussed commodity. He primarily served as a DH for Cleveland in 2014 after coming over in a trade from Washington, but Walters saw heavy action as a shortstop in the minor leagues, and he possesses some intriguing power from the middle infield. Sponsored Note – Compete against 50 experts in the RotoWire Baseball Championship presented by FanDuel. Play in a weekly qualifier each Friday to earn a seat in the $15,000 Final on July 10th. Sign up now!
Athletics CF
The A's began the season with a platoon of Sam Fuld and Craig Gentry, but the team called up Billy Burns over the weekend, and he has sped by both for the starting center field gig. However, his reign may not last for long, as Coco Crisp has begun his minor league rehab assignment, and he could be back with the A's as soon as this week. Then the A's will have to decide whether to keep Burns around in a reserve outfielder/pinch runner role, or allow him to play every day at Triple-A Nashville. If it is the latter case, then Burns is still monitor-worthy, as the odds of Crisp persevering for the remainder of the season without a DL stint are slim.
Rangers 1B
It looked like Mitch Moreland's placement on the disabled list to have a bone chip removed might have forced Prince Fielder to play first base on a full-time basis. Instead, the Rangers used the extra roster spot to recall Kyle Blanks, and Blanks has started every game since he has been up. Blanks earned something of a Quad-A label in his six seasons in San Diego, but some of that was likely a function of his inability to stay healthy and the home park of Petco. He already has two home runs in his first five games with the Rangers, and it would be interesting to see what he could do in a summer in Arlington. Moreland should be back from surgery within the next few weeks, but Blanks could stick around as a reserve corner infield/corner outfield bat.
Braves 2B
A week ago, manager Fredi Gonzalez said that Jace Peterson was still a "part timer" at second base. Of course Peterson has started every game at second base since that Atlanta Journal-Constitution article was published, and he has made 10 consecutive starts at the position overall. Neither of the Braves' alternatives at second base - Alberto Callaspo and Phil Gosselin - are all that attractive, so Peterson should continue to be fed starts at the keystone... at least until Jose Peraza footsteps grow louder. Peraza was in the second base mix during spring training, and he has seven steals and a .347 OBP in 23 games for Triple-A Gwinnett. Those 23 games are Peraza's only experience above Double-A, so rumors of his promotion may not come until later in the summer.
Diamondbacks 3b
The Diamondbacks pulled the plug on the Yasmany Tomas-to-third base conversation during spring training. He then proceeded to play five games in the outfield at Triple-A Reno before getting called back up, sitting on the bench, and then subsequently taking over as the team's starting third baseman. He started eight straight games at third base entering Tuesday, and while his defense isn't beautiful, he appears to be the preferred option over the suddenly-aged Aaron Hill. Jake Lamb was slated to have his walking boot removed Tuesday, and he could be back from the disabled list by mid-month, but it remains to be seen if he will re-take the third base slot if Tomas can capably play the position.
BATTING ORDERS
Dodgers No. 1
Joc Pederson
Jimmy Rollins was the Dodgers' primary leadoff hitter for the team's first 20 games, but Joc Pederson took over for game No. 21. He is only 4-for-20 in those five games as the leadoff man, but all four of those hits have gone over the wall. I am not sure if he will stick at leadoff, but he shall definitely stick higher than the No. 8 spot that he previously occupied. Rollins, meanwhile, has slid to No. 2, and he could fall farther if he cannot pick himself out of his season-starting funk.
Pirates No. 1
Gregory Polanco
Like Rollins above, Josh Harrison hit leadoff for the Pirates for the first 20-ish games of the season. Also like Rollins, Harrison has been unable to pull off an OPS of .600 through the first month of the season. So like Rollins, Harrison has been pulled from said leadoff spot, in favor of Gregory Polanco. Polanco was probably destined for the leadoff at some point this season anyway, and his .391 OBP over the past two weeks and 8-0 record on the basepaths should play well there.
Reds No. 2
Zack Cozart
The Reds have rewarded Zack Cozart for his breakout month by moving him from the eighth spot of the lineup to the second. The move was part of an slight remaking of the lineup that saw many men move down a spot, while Cozart has slotted at two, Joey Votto at three, and Todd Frazier at four. The change in lineup position should be substantial enough to result in a notable change in number of plate appearances, and there is an obvious advantage to hitting in front of Votto rather than the pitcher spot.
Angels No. 4
Kole Calhoun
Kole Calhoun began the year as the Angels' leadoff man, but he transitioned to the team's cleanup role before the end of April. He made the move when Albert Pujols was out of the lineup for a few days, and he has stuck in the spot, at least for a few days. There may be few things better than hitting in front of Mike Trout, but hitting two slots behind Trout isn't terrible.
Royals No. 1
Alex Gordon
With Alcides Escobar on the 7-day DL with a concussion, the Royals have moved Alex Gordon into their leadoff spot for the past four games. Gordon is currently riding a career-high .380 OBP, and the elevation in the lineup, from six to one, should afford him a few additional plate appearances per game. Gordon last served as a leadoff guy in 2013, when he filled the role 119 times.
Orioles No. 1
Manny Machado
Entering this past weekend, Manny Machado had hit leadoff twice in his MLB career (both times in 2013). After this past weekend, Machado has hit leadoff twice in 2015. The decision was a move away from traditional speedsters like Alejandro De Aza, Everth Cabrera, and David Lough. Those three guys all have wheels, but all three have hit poorly to start 2015. Also an interesting facet of the Orioles' lineup is the fact that manager Buck Showalter quickly bought shares of Jimmy Paredes and has moved him into the No. 2 spot of the lineup.
Get a FREE RotoWire 10-day trial (no credit card required) at RotoWire.com
---