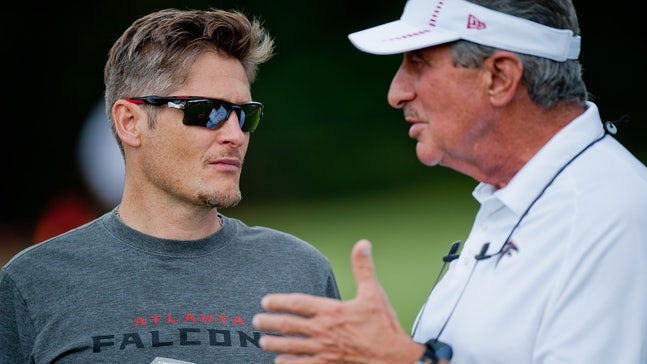 Falcons focused on offensive line, pass rush as draft nears
Published
May. 7, 2014 11:36 a.m. ET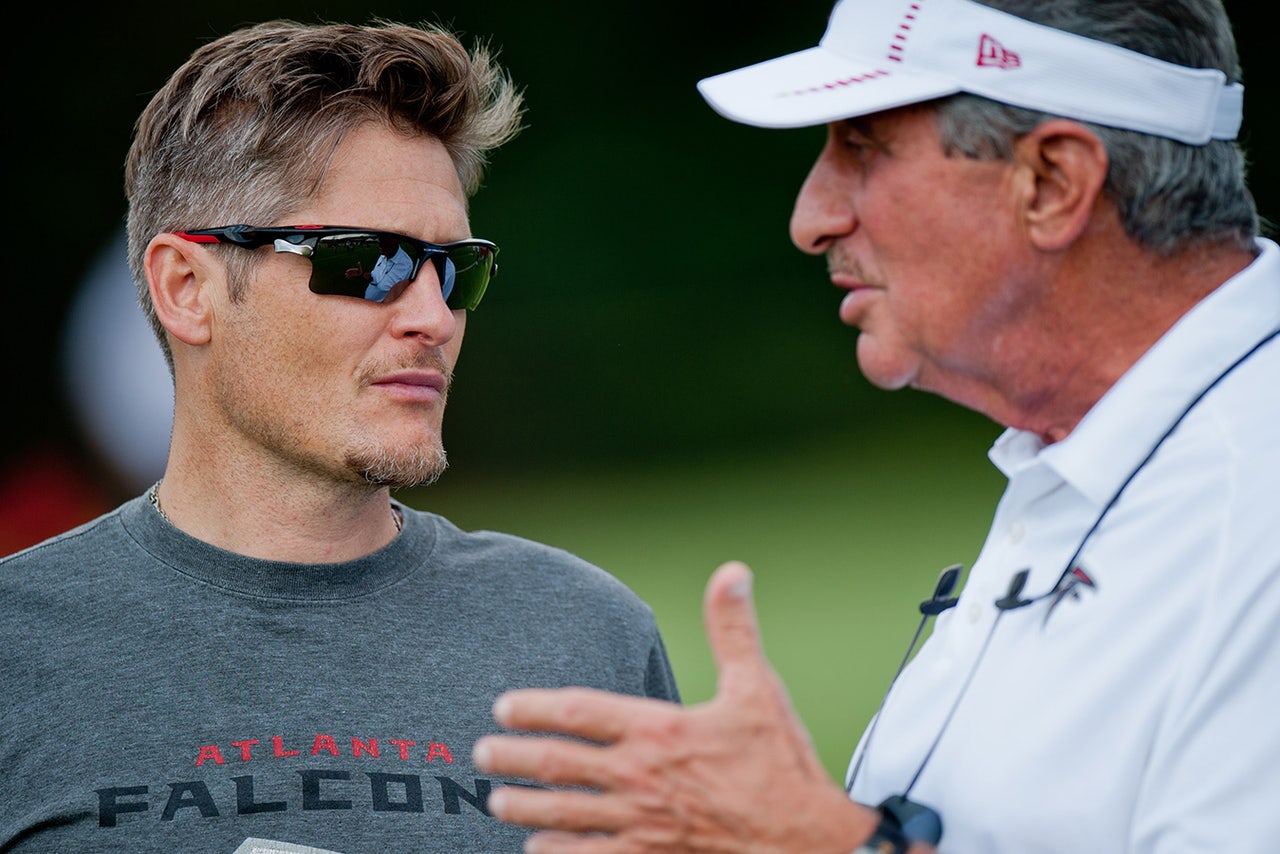 The interminable wait is almost over.
In a little more than 24 hours, the drama will finally end. Will the Falcons, with the sixth overall pick in the NFL Draft, make the dramatic move to trade up and select South Carolina defensive end Jadeveon Clowney or will they stand pat and draft an offensive lineman? In another potential scenario, might they trade up to make sure they get the offensive lineman that they covet?
Only general manager Thomas Dimitroff has the answers and he's not telling. Here is a look at some of the Falcons' needs and some players they could potentially pick:
Last July the Falcons awarded franchise quarterback Matt Ryan a $120-million contract, then they put one of the worst offensive lines in the NFL in front of him. The result was disastrous in terms of wins (the Falcons went 4-12 after playing in the NFC Championship Game one season earlier) but the Falcons also were lucky that Ryan escaped the season without a serious injury. Ryan was sacked 44 times last season, including nine in the season finale against Carolina.
As attractive as it might be to try and trade up to get Clowney, the Falcons simply cannot afford it in too many ways. They cannot afford it in terms of picks as they are in somewhat of a rebuild-on-the-fly mode -- Dimitroff has said it would probably require a future first-round pick -- but mostly they cannot afford it in terms of opportunity cost. That is, the kind of left tackle they need in terms of quality simply will not be available in the second round.
The Falcons gave left tackle Sam Baker a six-year, $41-million contract last year and when he's healthy, he's up to the job. The problem is that Baker has missed too many games in his career for the Falcons to be able to rely upon him anymore to play such a pivotal function in their offense. Baker has only played all 16 games twice in his six-year career. Last year, he played in three.
The best move here is for the Falcons to get a younger, more dominant athlete to protect Ryan's blind side and move Baker to the right side, which would have the added benefit of shoring up another problem area.
Potential picks: A number of of mock drafts indicate a belief that Auburn left tackle Greg Robinson will not be available for the Falcons because St. Louis will draft him at No. 2. If Robinson is the player that the Rams want, then the Falcons have no chance at him. However, if St. Louis prefers Texas A&M quarterback Johnny Manziel or Clemson wide receiver Sammy Watkins, then that could open the door for a deal between the Falcons and Rams general manager Les Snead, who formerly worked under Dimitroff in Atlanta.
If Robinson is not available, then Texas A&M left tackle Jake Matthews would be the preferred pick. Matthews has the blood lines, as his father Bruce was a Hall of Fame lineman and the former offensive line coach of the Tennessee Titans. The Falcons have opted for players of such a pedigree in the past. Last season when they took cornerback Desmond Trufant in the first round, they made a point of saying that Trufant had two brothers who played in the NFL and the Falcons thought that would contribute to his success. (To their credit, that dynamic played out.)
In terms of the other highly rated first-round tackle, Michigan's Taylor Lewan, Dimitroff generally has preferred not to pick players out of the Big Ten. His last offensive line pick from that conference, Peter Konz, who was taken in the second round in 2012 out of Wisconsin, has not worked out so great thus far. Maybe the Falcons steer clear of Lewan.
If the Falcons fear that neither Robinson nor Matthews will be available by the time they pick, then they need to seriously consider trading up.
Potential picks: The transcendent Clowney is the obvious one. With a ridiculous 40 time at the NFL Scouting Combine and YouTube highlights that have awed, he could be the best defensive player in a generation. But the cost to get him could prevent the Falcons from doing so.
If the Falcons prefer to upgrade their pass rush as their top priority, then the University of Buffalo's Khalil Mack is a possibility. Some have suggested that the 6-foot-3, 251-pound outside linebacker might be as good as Clowney. With the signing of nose tackle Paul Soliai and 3-4-type defensive end Tyson Jackson, the addition of a 3-4 outside linebacker like Mack would fit nicely into their scheme.
The Falcons' stated offseason goal was to improve in their ability to control both side of the line of scrimmage. By signing Soliai, Jackson and re-signing defensive tackle Jonathan Babineaux, who can play the 3-4 end, the Falcons appear as if their goal is to stop the run on first and second downs and force opponents into third-and-long situations.
If they can do that, then they can rely on defensive coordinator Mike Nolan's scheme, rather than personnel, to generate a pass rush. This was the route the Falcons took two years ago when they went 13-3 and advanced to the Championship Game.
One possibility is that the Falcons attempt to fill this need with their second-round pick. If they do, a great fit would be Auburn defensive end Dee Ford. Ford's stock has risen and some are projecting him to go late in the first round. Missouri defensive end Kony Ealy is another possibility.
It would make more sense for Dimitroff to save his ammunition to trade up and take Ford or Ealy late in the first round than to use it early in the first, where the price to move up is much, much more costly. They did this last year to move up to No. 22 to take Trufant and they also did almost exactly the same thing in 2008 to go back in the first round and select Baker at 21st overall after taking Ryan third overall.
History could repeat itself.
With the decision to cut Thomas DeCoud after his precipitous drop-off following his Pro-Bowl season of two years ago, the Falcons have a need next to William Moore at the free safety position. They have signed veteran Dwight Lowery; however, Lowery is one of those players, somewhat like Baker, who has shown he can play at a high level but has struggled to remain healthy and on the field. He played three games for Jacksonville last season and nine the year before for the Jaguars. However, in his first four seasons he registered an impressive 40 passes defensed.
The Falcons plan here might be what they formerly did with the nickel position: sign a veteran, let him compete with a young player and when or if the veteran gets hurt, throw the young player into the fire. They did this with veterans Brian Williams and Kelvin Hayden, who had health issues, and replaced them with the likes of Christopher Owens. (It also appears to be the plan on the offensive line with Gabe Carimi, who will compete with Konz, Mike Johnson and Lamar Holmes.)
Potential picks: If the Falcons are looking in the third round for a safety, then one possibility is Minnesota's Brock Vereen, who is said to have a high football IQ, which the Falcons tend to like and which is important for a safety. Other possibilities are Washington State's Deone Buannon and USC's Dion Bailey. Don't forget Dimitroff's preference for Pac-12 players.
With the retirement of Jason Snelling, the Falcons could use some depth at running back, especially in that hybrid fullback/running back role with pass-catching skills. Also expect them to pick more offensive and defensive linemen in the later rounds to try and develop the depth at those positions that has hindered them recently. Perhaps the addition to the front office of Scott Pioli, the former Kansas City Chiefs general manager, will help in that respect.
Potential picks: Perhaps they give former Georgia flameout Isaiah Crowell, the running back, a try in the late rounds, although the Falcons generally have avoided players with character flaws. A player more in their profile could be Stanford running back Tyler Gaffney, who has excellent size at 6-0, 220.
An intriguing player in the later rounds for the Falcons on the defensive line could be Missouri's Michael Sam, who has announced he is gay. The Falcons, as an organization, have the kind of progressive mindset that could be a fit with Sam. On the offensive line, a late-round possibility is another Missouri Tiger, Justin Britt (6-6, 325), who brings size, a trait that the Falcons increasingly are turning back to. For that reason, Miami's Seantrel Henderson (6-7, 331) could be another project-type of player.
---