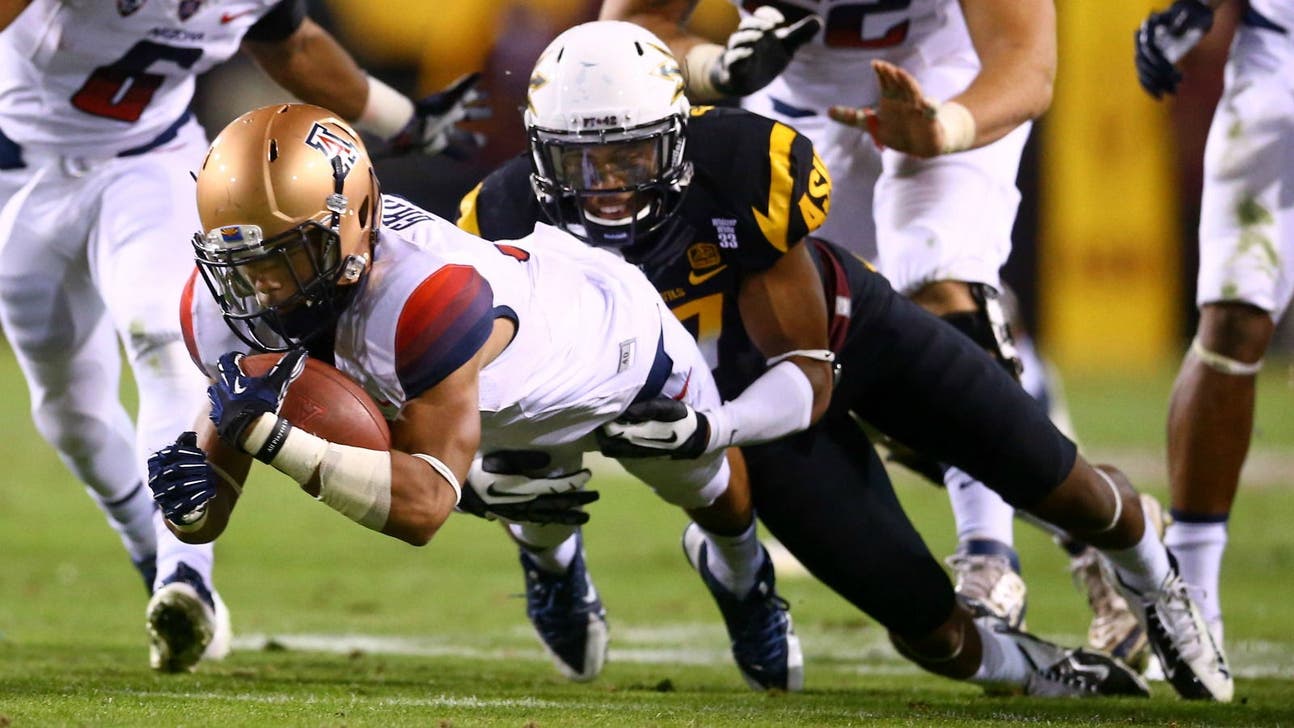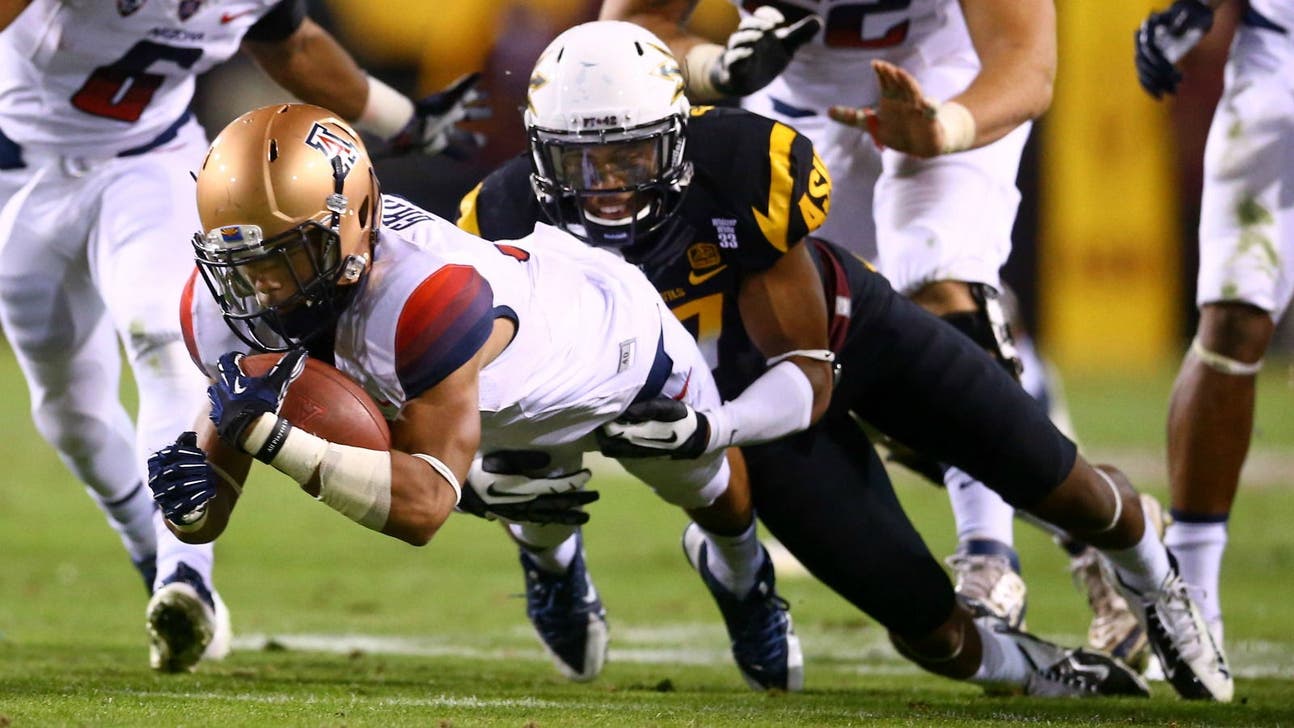 Experienced Carrington helps solidify ASU defense
Published
Aug. 6, 2014 7:43 p.m. ET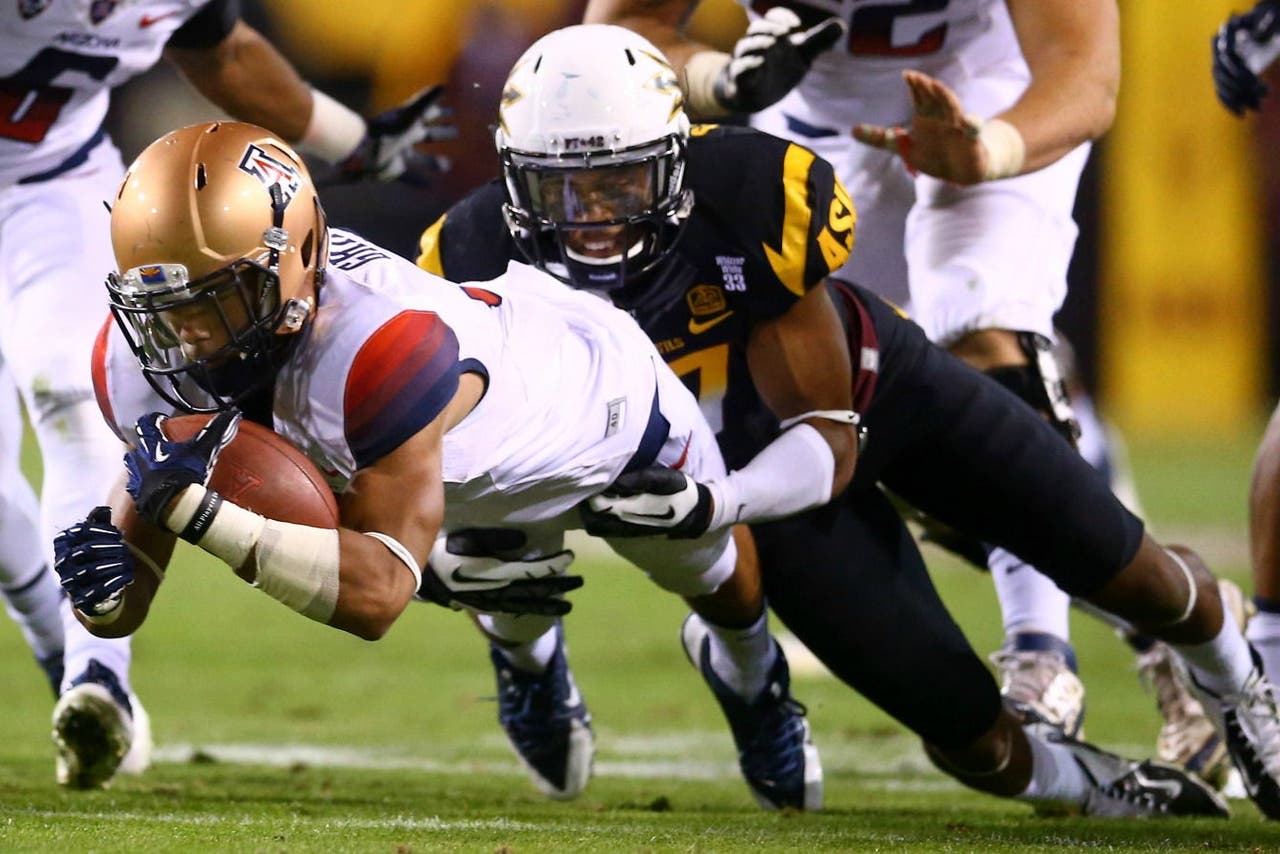 TEMPE, Ariz. -- It's been well documented Arizona State must replace nine starters from the defense that helped it win the Pac-12 South last season. But if you ask coach Todd Graham, the number is more like eight, at the most.
Graham said he sees cornerback Lloyd Carrington like a returning starter after the third-year Sun Devil competed for a starting spot last season and logged significant playing time.
"Lloyd's definitely a guy where I don't worry about his experience at all," Graham said. "He is a very seasoned veteran. He never gets too high, never gets too low, never really responds to negative plays with great emotion."
Graham joked that it feels like Carrington has been with him for about 10 years. This will actually be the pair's fourth year together, meaning Carrington has spent more time in Graham's defense than anyone on the roster.
Carrington played in seven games as a true freshman under Graham at Pittsburgh in 2011. When Graham left for ASU, Carrington wasn't far behind, arriving during the 2012 season. Last season, Carrington ran with the first team in fall camp before moving to second team during the season. He started two games, once at field corner and once as a nickel back.
Now, field corner belongs to Carrington, who has impressed early in camp and essentially settled one of those positions that needed a new starter.
"I know I'm an important part of the defense, especially this year," Carrington said. "I'm just taking it and running with it."
Carrington sees himself as a returning starter, too. He played in all 14 games last season. Add that to his playing time at Pitt, and Carrington has a solid collection of meaningful reps.
"It allows me to come in and play with a lot of confidence and understand different game situations," Carrington said. "Being able to come here and step in and earn the job at a big-time school like this is a big achievement, but you also have to understand you have to come in and work hard each and every day."
ASU has made it clear junior D.J. Foster is the team's featured running back, but with such a deep and diverse field at the position, others are certain to get touches.
"We're never going to be a one-dimensional team," Graham said. "We're not going to sit there and hand it to him every play. We've got a lot of guys."
Graham said he'd like to get Foster 20-30 offensive touches per game -- some as a receiver -- which leaves at least 50 or 60 touches for others on an ideal day for ASU's offense. Plenty of those will go to receivers, and quarterback Taylor Kelly will keep some balls, but other running backs are going to contribute.
"I can't imagine with all the talent we have they're not getting those guys on the field," Graham said.
After Wednesday's practice, Graham raved about the group's varied skills and ran through each back's ability. Here's what he had to say:
-- Foster: "Dynamic in just about everything. Big home run hitter."
-- Senior Deantre Lewis: "A slasher, and (he) is really, I think, having a good camp."
-- Freshman Kalen Ballage: "Kalen Ballage is a big, powerful, dynamic guy."
-- Freshman Demario Richard: "Demario Richard is an unbelievable inside zone (back). He reminds me of a Ray Rice kind of runner."
-- Senior Kyle Middlebrooks: "You don't even think about him, but I was watching him today inside and going 'Dang.' Him and Demario are real similar -- exact kind of inside zone (backs)."
Foster dressed for practice Wednesday but did not participate. Graham didn't disclose why Foster was held out but said it was a precautionary move.
Graham provided updates Wednesday on a few players yet to practice in fall camp. He said defensive tackle Jaxon Hood, who has not been present at any practices yet as he takes care of what Graham has described as "personal issues," is expected back early next week.
"When we get Jaxon back -- we should get him back the first part of next week -- he's definitely going to be part of the equation on the inside," Graham said.
Redshirt freshman safety Marcus Ball won't be back quite as soon. Graham said he's been told Ball, who has an undisclosed medical issue, needs about three more weeks and won't practice until ASU returns from Camp Tontozona at the earliest.
Ball did not attend practice Tuesday or Wednesday. A three-week timeline would have him returning the week of ASU's season opener, putting his availability in jeopardy.
Graham also expects to have Purdue postgraduate transfer Ruben Ibarra in a few days. Ibarra, 6-foot-1 and 234 pounds, spent the past two seasons at Purdue after transferring from junior college. He started twice last season and played in seven games. He will compete at strong-side and weak-side linebacker.
-- Freshman defensive tackle Emanuel Dayries has been present but still hasn't practiced due to an eligibility issue. Junior college running back De'Chavon Hayes and freshman linebacker Ismael Murphy-Richardson remain absent with eligibility issues.
-- Wearing green no-contact jerseys Wednesday for minor injuries: sophomore receiver Cameron Smith, redshirt freshman safety Jayme Otomewo, freshman tight end Brendan Landman.
-- Freshman defensive tackle Tashon Smallwood got first-team reps Wednesday, and Graham said after practice he's been impressed: "He's able to get (tackles for loss). He's starting to see how the scheme works for him, and we're obviously figuring out how to move him around the ball."
-- Graham said redshirt junior Antonio Longino has "found a home" at Devil-backer after initially playing will linebacker. Redshirt senior De'Marieya Nelson continues to get first-team reps at Devil-backer, while redshirt sophomore Carlos Mendoza has spent the last two days at first-team will linebacker.
-- Other personnel notes: Freshman D.J. Calhoun practiced Wednesday at spur linebacker behind Laiu Moeakiola after practicing previously at will linebacker. ... Freshman Christian Sam took Calhoun's spot on the depth chart at will after practicing previously at spur. ... Ballage and junior college transfer Kweishi Brown took first-team reps as kick returners Wednesday. Richard and senior receiver Jaelen Strong took second reps.
-- While there are still many moving pieces on the defense, Graham said he's getting close to determining the two-deep depth chart.
Follow Tyler Lockman on Twitter
---