Ex-KU coach Williams hopes Jayhawk fans can eventually flush any hard feelings
Published
Oct. 27, 2014 8:57 p.m. ET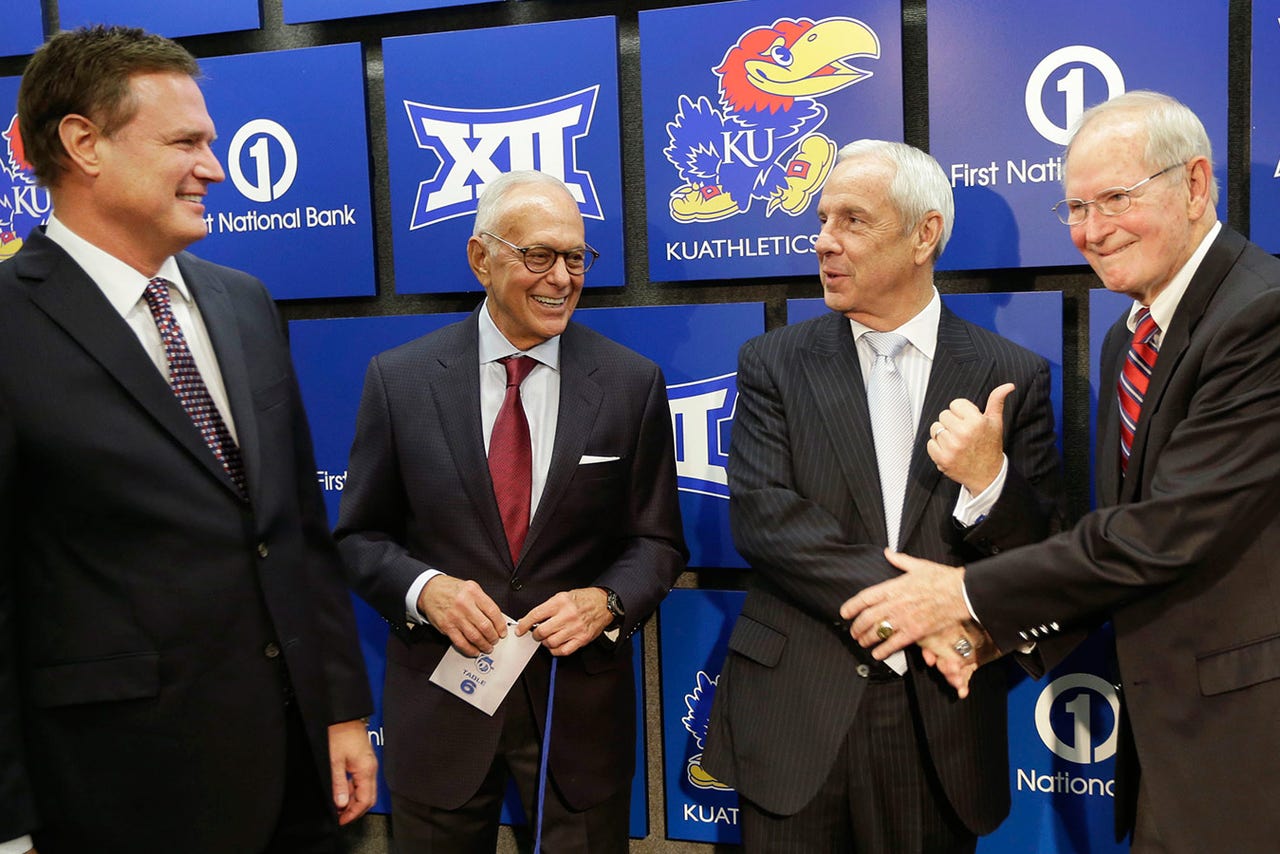 LAWRENCE, Kan. -- Roy Williams gets it. He's hated so deeply -- still, even more than a decade after the fact -- in some Kansas Jayhawks circles because he had been loved so damn deeply first.
The marriage was passionate and rapturous and delightful. The divorce was quick, final and stunning. Williams made it hard to love again, to trust again, and that's the sort of thing that tends to leave a scar.
"I had a guy in the airport, it's the neatest deal," the North Carolina men's basketball coach said during a news conference late Monday afternoon at Allen Fieldhouse, a building he called home for 15 years until departing KU for Chapel Hill in the spring of 2003. "He walked by and he said, 'Rock Chalk, Jayhawk.'
"And I said, 'Go KU.'
"And he walked down about two, three gates down and he comes back and he said, 'Coach, ya know, I'm a Kansas fan.'
"And I said, 'So am I.'
"And he said, 'Ya know, Coach, I'm really struggling with what to say next.'"
And that's the rub with Williams, now 64 and juggling his own set of knives right now in the Triangle: His Tar Heels are among those at the center of a report by a former member of the U.S. Justice Department that alleges widespread academic fraud at North Carolina over a period of 18 years and involving more than 1,000 student-athletes.
"I always worried about coming back, to be honest with you," said Williams, one of four current or former KU basketball coaches taking part in a ceremony celebrating the 60th anniversary of Allen Fieldhouse. "I really did. Because I love the place."
From 1988-2003, Dadgum Roy won 418 of 529 games as the Jayhawks' head coach, a remarkable percentage of .805, navigating KU to four Final Fours and two NCAA Tournament title games along the way -- winning just about everything but the big one.
Lookin' good! Check out our gallery of Big 12 cheerleaders.
And then he was gone, serving the divorce papers in an envelope of Carolina blue. So far gone, in fact, that the longtime coach said that before Monday, he hadn't appeared publicly inside the Fieldhouse since his final practice there some 11 years earlier.
"For 15 years, I gave my heart, my body and my soul," Williams said. "I loved it."
It loved him back, which made the inevitable parting more about sorrow than it was sweet. Lawrence's Downtown Barber Shop on Massachusetts Street famously took a picture of Williams that had rested proudly on a wall, moved it into a restroom and hung it above the toilet. The owners reportedly referred to the area henceforth as "Roy's Room."
Again, scars. Very, very, very deep scars.
"When people put your picture over the commode," Williams cracked Monday, "it's not the best feeling in the world."
Monday's feelings were better, although the North Carolina native admitted he'd risen as early as 4 a.m. because of mounting nerves.
Anticipating that apprehension, the Jayhawks' current coach, Bill Self, Williams' equally successful successor, said he'd thought it wise to pitch the idea of a coaching reunion in Lawrence to Williams and another former KU coach, Larry Brown, personally.
"I think it's harder to say 'no' in person," Self reasoned.
Neither did.
"I knew for the event to work, we'd (have) to be able to get all of them here," said Self, who corralled each of his three predecessors -- Williams, Brown and Ted Owens -- to join him for Monday's celebration. "Coach Williams actually committed (verbally) and then I tried to run him down for about a week and he was on vacation. And I'm like going, 'What's going on here?'
"And then I saw him on the road the next week and he said, 'Bill, I told you, I'm in, we're good.' So all the coaches didn't hesitate at all to come do this."
Love, as they say, is a two-way street. Plus, in life and hoops, the best revenge is living well: Roy is 0-3, head to head, with the Tar Heels against KU in the NCAA Tournament, while Self steered the Jayhawks to a long-awaited national title in 2008.
"You know, time heals all wounds," Williams said. "It really does. And I really think that you can't change somebody's opinions, but over time, people understand things better."
Some will. Some won't. Either way, you flush it and move on.
You can follow Sean Keeler on Twitter at @SeanKeeler or email him at seanmkeeler@gmail.com.
---