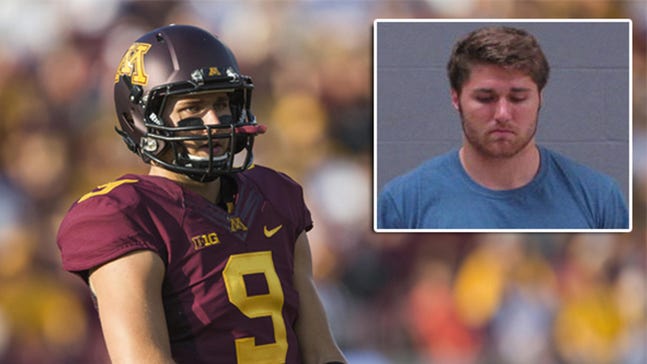 Ex-Gophers QB Nelson charged with felony assault, victim 'fighting for his life'
Published
May. 11, 2014 4:43 p.m. EDT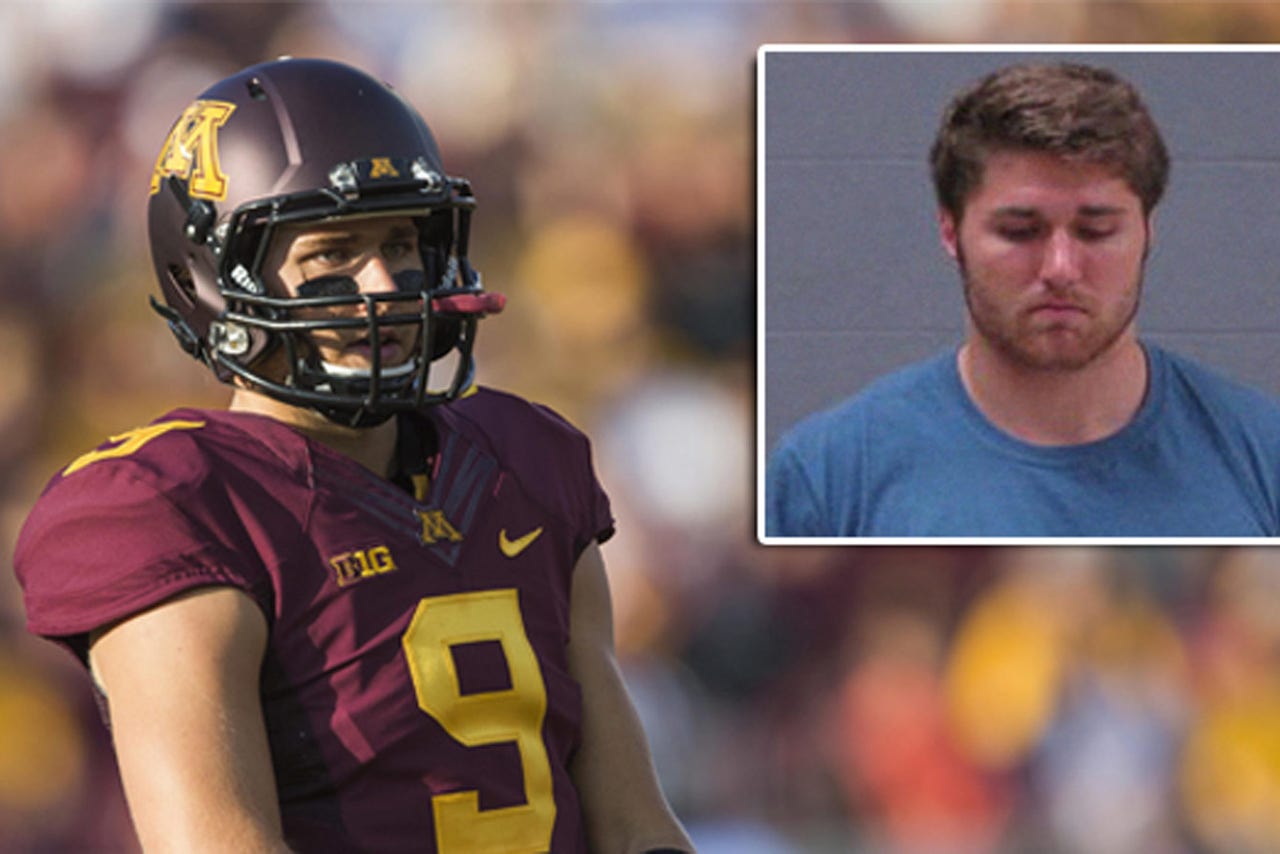 Former Gophers quarterback Philip Nelson has been charged with two counts of felony assault after being arrested early Sunday morning in Mankato, Minn.
He is accused of kicking Isaac Kolstad as the former Minnesota State linebacker lay unconscious. Kolstad is "fighting for his life," according to his father.
Nelson, who transferred to Rutgers this offseason (UPDATE: Rutgers dimissed Nelson from the team Tuesday), was charged with first- and third-degree assault -- both felonies -- Monday afternoon. A criminal complaint obtained by FOXSportsNorth.com cites surveillance video that shows Nelson delivering "at least one kick" to the left side of Kolstad's head after an unidentified male had struck Kolstad to the ground.
According to a caringbridge.org journal entry from Blaine Kolstad, Isaac's father, his son sustained irreparable brain damage and underwent an operation to place a pressure gauge in his skull.
"He is currently in critical condition and fighting for his life," Blaine Kolstad posted. "He is young and strong, but the battle he has in front of him is enormous. ... We do know that his brain did sustain permanent damage. We do not yet know to what extent and won't for many days. He is very sick. Please pray for Isaac and all of those involved."
A candlelight vigil for Kolstad was held at Minnesota State in Mankato on Sunday night, according to The Free Press of Mankato.
Per the complaint, police found Kolstad at about 2:10 a.m. in Mankato's downtown entertainment district, in front of a local establishment called Blue Bricks Bar and Eatery. He lay on the ground unconscious with a crowd around him.
Police took Nelson, 20, into custody on probable cause for assault and booked him into the county jail at 2:45 a.m. Sunday, a jail spokeswoman told FOXSportsNorth.com. Kolstad was immediately taken away via ambulance to Mayo Clinic Health System in Mankato. The complaint says he suffered "severe injuries consisting of bleeding of the brain, a skull fracture, brain swelling, brain shifting and deterioration of the lungs from lack of oxygen."
Police said "the video clearly shows that (Kolstad) was defenseless as Nelson delivers the kick or kicks to the head." The video also shows Kolstad running up behind Nelson and punching him in the back area as Nelson talked with two people, one male and one female.
That's when the unidentified second suspect tracked down Kolstad and punched him in the head or face area, causing him to collapse to the pavement. With the aforementioned female trying to hold him back, Nelson pushed through a crowd and kicked Kolstad in the head.
A Mayo Clinic doctor treating Kolstad told police Sunday night "he was not at all optimistic" Kolstad would survive what the doctor called a "severe head injury and a severe pulmonary injury."
Former Minnesota State and current Vikings scout team receiver Adam Thielen reacted to the news on Twitter, asking his followers to keep Kolstad in their prayers.
"Please everyone keep @IsaacKolstad22 in your prayers!" Thielen posted Sunday from his @athielen19 handle. "He is an amazing person and is a fighter and will get through this! Love ya bud"
Police are still looking for the suspect who originally hit Kolstad.
If convicted, Nelson faces up to 20 years and/or a $30,000 fine for the first-degree charge. The third-degree count carries a maximum sentence of five years and/or a $10,000 fine.
Nelson started nine games at quarterback for Minnesota last season, throwing for 1,306 yards and nine touchdowns and rushing for 364 additional yards. The former Mankato West star, Minnesota Mr. Football award recipient and ESPN Gatorade Minnesota player of the year transferred to pending new Big Ten member Rutgers after the season, citing a desire to play in a more passing-centric scheme.
Nelson had taken over under center for the final seven games of the 2012 campaign, his redshirt freshman season. He split time at quarterback with projected 2014 Gophers starter Mitch Leidner last year.
Kolstad played linebacker at Minnesota State for two three seasons and graduated in December 2013. The Mankato East graduate transferred to his home city after spending his first two collegiate campaigns at North Dakota State, including a redshirt year in 2008.
Information from the Associated Press was used in this report.
Follow Phil Ervin on Twitter
---