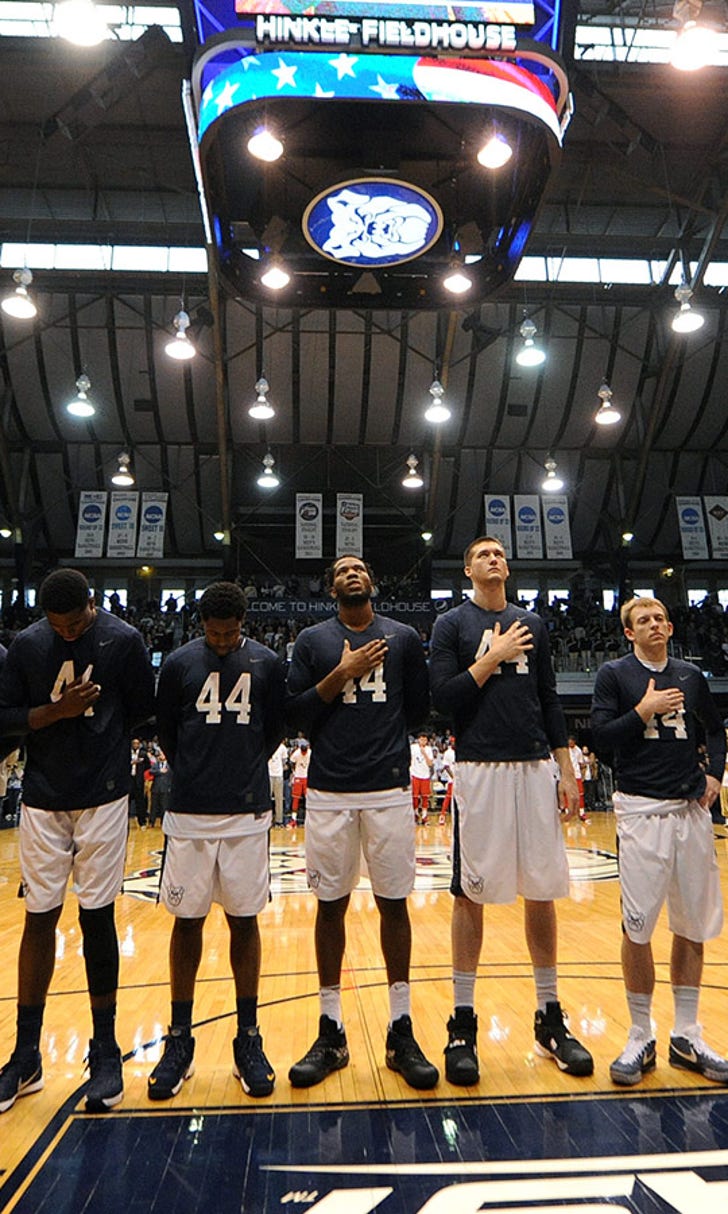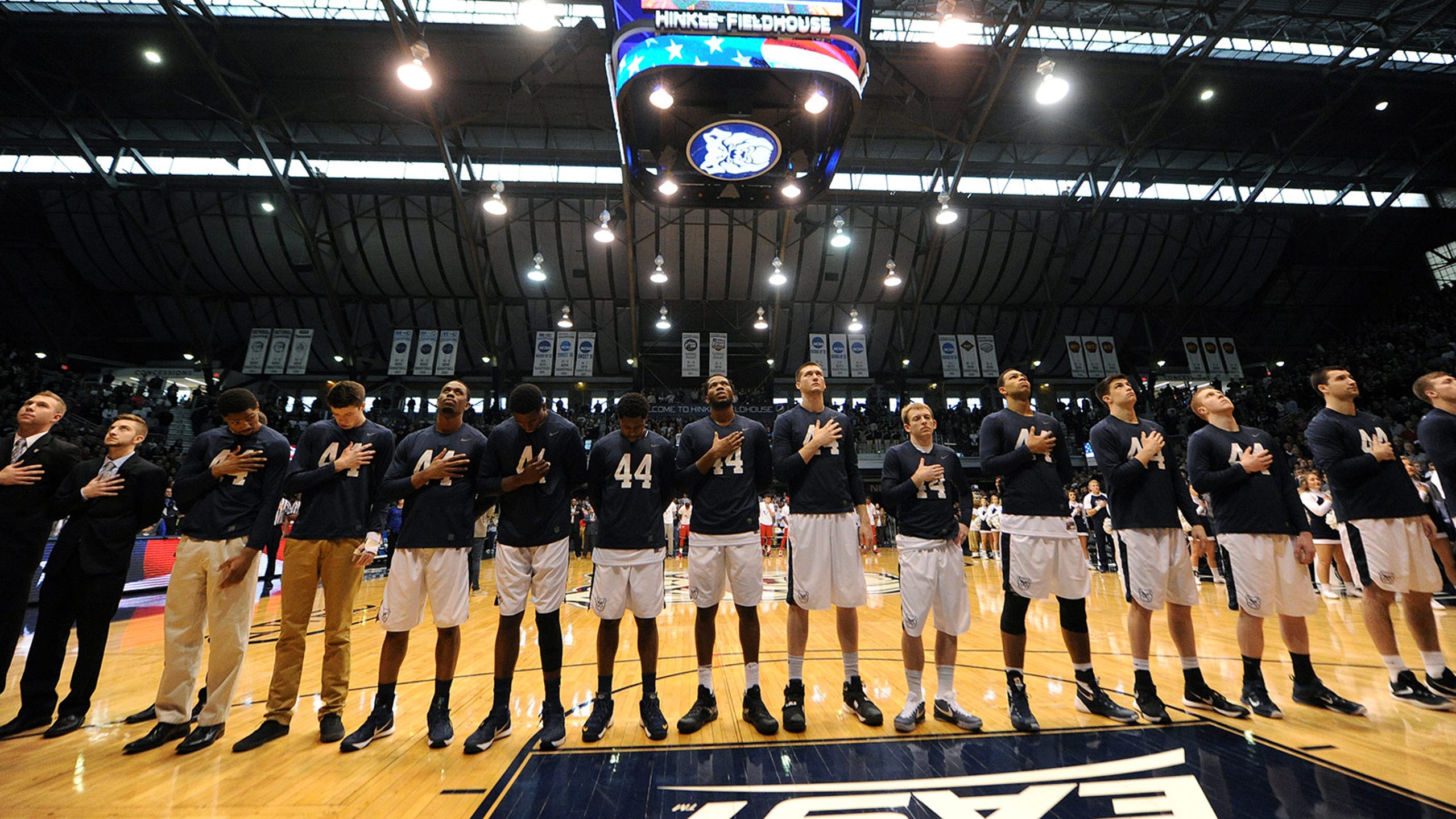 Emotional Bulldogs honor Smith in 78-58 win over St. John's
BY foxsports • January 16, 2016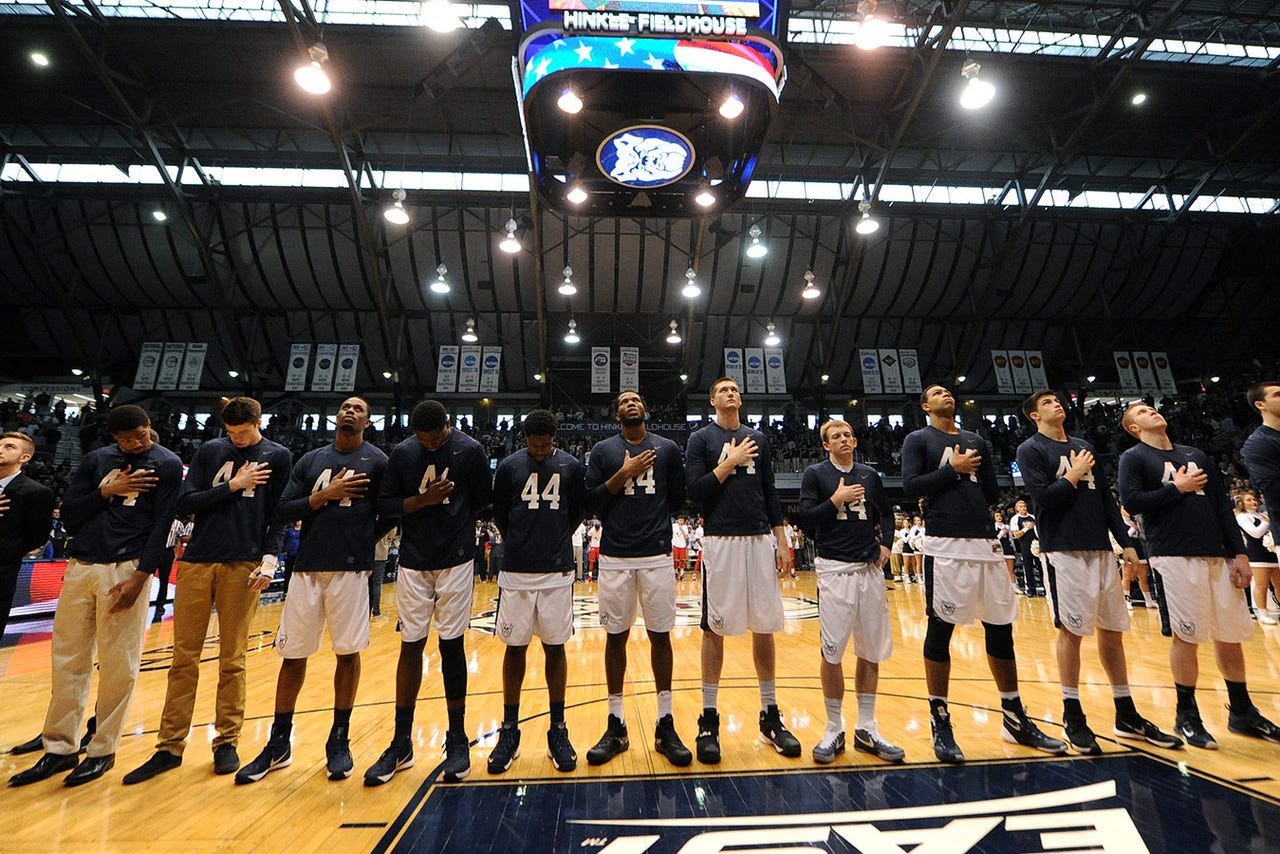 INDIANAPOLIS -- Butler found a fitting way to honor Andrew Smith on Saturday. The Bulldogs played with the passion and grit that was a trademark of their former center.
Kellen Dunham scored 24 points, Kelan Martin added 22 and No. 23 Butler overcame a ragged start to pull away from St. John's 78-58. But this game was about a lot more than basketball.
An unusually subdued sold-out crowd honored Smith, the 25-year-old former Bulldogs center, who died Tuesday after a two-year battle with cancer. Fourteen members of his family, including his young widow, Samantha, attended the game and Butler made sure it was a fitting tribute.
"Whatever we did today, we wanted it to be about Andrew and his family," coach Chris Holtmann said, pausing to stay composed. "That was our only objective."
The Bulldogs (13-4, 2-3 Big East) succeeded largely because of the contributions of the last two of Smith's ex-teammates still on the team -- Dunham and Roosevelt Jones, who scored only five points but had eight rebounds, four assists and three steals.
But the events made it tough for everyone to focus on the game.
Before tip-off, there was a moment of silence and a video tribute to the late 6-foot-11 center. After winning, Holtmann gave Smith's father a game ball. Players wore warm-up shirts with Smith's number, 44, and a patch on their jersey. Holtmann donned a No. 44 lapel pin on his sport coat and in the most emotional scene of the day, Samantha Smith spoke to the crowd at halftime.
"Andrew and I have had this game on our calendar to come to. I say that and we were supposed to come here together," Smith said from midcourt, her voice cracking. "We didn't come because it was easy. It's really hard.""
It was tough on the players, too.
Following the emotional pregame ceremonies, Butler started sluggishly -- going 3 of 11 from the field with no 3-pointers and eight turnovers in less than 8 minutes.
St. John's (7-12, 0-6) wasn't much better.
Eventually, though the Bulldogs got it together. The Red Storm never really did.
Butler broke a 16-16 tie by scoring six straight points midway through the first half, took control with a 10-0 run that made it 39-25 at halftime and never let St. John's get closer than 11 in the second half.
Federico Mussini led St. John's with 14 points and Felix Balamou with 13. But the Red Storm lost their school-record ninth straight.
"They pounded us on the boards, and we didn't shoot well," coach Chris Mullin said, explaining what happened to his team during that first-half spurt.
MORE TRIBUTES
On Sunday, the Smith family will hold a celebration of life for Smith at Traders Point Christian Church in Whitestown, Indiana. Doors open at 4 p.m., the service begins at 5 p.m. and it will be live streamed at TPCC.org. The Andrew Smith Scholarship Fund has been established to provide scholarship support for future men's basketball players. Contributions can be made online at Bulldognation.butler.edu/andrewsmith. Smith's family asked that flowers be sent to Flanner & Buchanan in Zionsville, Indiana. In lieu of flowers, the family requested that donations can be made to Be The Match. Donations can be made online at https://bethematch.org/support-the-cause/donate-financially/ .
SHOOTING WOES
St. John's shooting struggles continued Saturday. The Red Storm shot just 33.9 percent from the field and was just 4 of 21 on 3-pointers. It's the fifth time this season St. John's has made less than 34 percent of its shots and the fifth time it failed to make at least 20 percent from beyond the arc.
SECOND-HALF SURGE
Despite still coming off the bench, Martin has scored 20 or more points five times this season. Martin started the game by making just two of his first six shots, but was 7 of 10 from the field with 13 points in the second half. He also finished with 10 rebounds.
TIP-INS
St. John's: Has lost three straight to Butler after winning the first three in the series. ... St. John's is 0-6 against ranked teams this season. ... Mullin, who played on the Indiana Pacers' Eastern Conference championship team in 1999-2000, returned to Indy for the first time as a head coach. ... The Red Storm finished with six blocks.
Bulldogs: Dunham has made 13 of his last 22 3s after missing 23 straight. ... All Big East games this weekend will have a moment of silence before tip-off in Smith's honor. ... Jones moved within 18 points of passing Thomas Jackson and Tom Bowman (1,334) for No. 20 on the Bulldogs' career scoring list.
UP NEXT
St. John's hosts Marquette on Jan. 23.
Butler travels to No. 12 Providence on Tuesday.
---
---