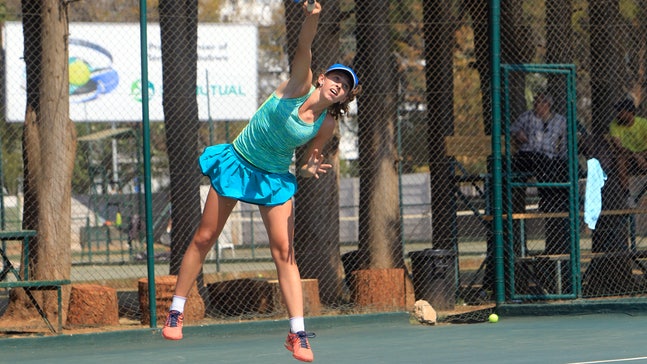 Election violence in Zimbabwe didn't faze tennis teens
Updated
Mar. 4, 2020 3:29 p.m. EST
HARARE, Zimbabwe (AP) — As Zimbabwean soldiers opened fire on rioters, protesters and bystanders after a disputed election, teenagers in an International Tennis Federation tournament were playing each other on hard courts a few kilometers (miles) from the deadly violence.
On Monday, junior tennis players from countries including South Africa, Egypt, Denmark, Thailand and the United States were still competing at the Harare Sports Club, days after international election monitors had gone home and troops and riot police had left downtown Harare. The decision to stick it out through tense times last week was based on security assessments by the London-based ITF and Zimbabwean tennis officials such as Cliff Nhokwara, who often quizzed the young players.
'"Do you guys feel threatened? Did you see any violence? Do you think where you are staying is dangerous? Do you want me to move you to any other location?'" Nhokwara recalled asking boys and girls who would ordinarily have other concerns: Who is my next opponent? Will I get through the qualifying rounds? What time is practice before the match?
ITF ranking points are a big deal for young players whose sporting accomplishments could help them get into universities in, for example, the United States. As the tennis teens were grinding out matches, Zimbabwe was experiencing one of its most tumultuous weeks since independence from white minority rule in 1980, when Robert Mugabe took power.
Millions voted on July 30 in the first election without the former leader on the ballot and, when official results showed the ruling ZANU-PF party would stay in power, the military violently dispersed angry protesters who accused the government of vote-rigging. Six people died. Authorities have yet to announce an inauguration date for President Emmerson Mnangagwa, a former enforcer for Mugabe who succeeded him after a military takeover in November.
The opposition, meanwhile, says it will challenge election results in court and alleges security forces are harassing and intimidating some supporters, in a sign that the political situation remains edgy.
"In elections, anything can happen, especially here in Africa," said Nigeria-born Ike Nweke, who lives in Denmark and traveled with his 14-year-old daughter, Divine, to Harare for three consecutive ITF junior tournaments over a three-week period.
The cluster of tournaments at the same location reduces expenses for players, particularly Zimbabweans in a country whose economy has been struggling for years, Nhokwara said an interview with The Associated Press. He said a Russian player left Zimbabwe because of concerns about safety, but everybody else stayed.
Tinashe Taruberekera, a 16-year-old Zimbabwean player based in South Africa, said he had been training hard because the competition is tough. He was staying at the Rainbow Towers, a downtown hotel, on Aug. 1 when opposition demonstrators approached the gates because electoral officials were announcing voting tallies at a conference center in the complex. Police fired tear gas and water cannon before the military crackdown in surrounding streets.
"There was a riot but they didn't get inside, so nothing happened to the guests," Taruberekera said. "It was quite scary."
On Aug. 3, two 16-year-old South African players were returning to another hotel, the Bronte, when they encountered riot police who tried to disperse journalists gathering for an appearance by opposition leader Nelson Chamisa.
"We saw so many police and we didn't really know what was going on," Cara O'Flaherty said.
"I didn't think we were going to get injured or hurt or anything," Isabella Weatherhead said.
Tapiwa Masunga, the ITF's regional development officer, said by telephone from Botswana that the federation's security department advised Zimbabwean tennis officials to offer player accommodation away from trouble spots, but concluded it it was not necessary to cancel the tournaments. There were similar concerns last year when a tournament coincided with a disputed election and violence in Kenya, Masunga said.
"Unfortunately, the political environment in Africa often changes," Masunga said.
---
---