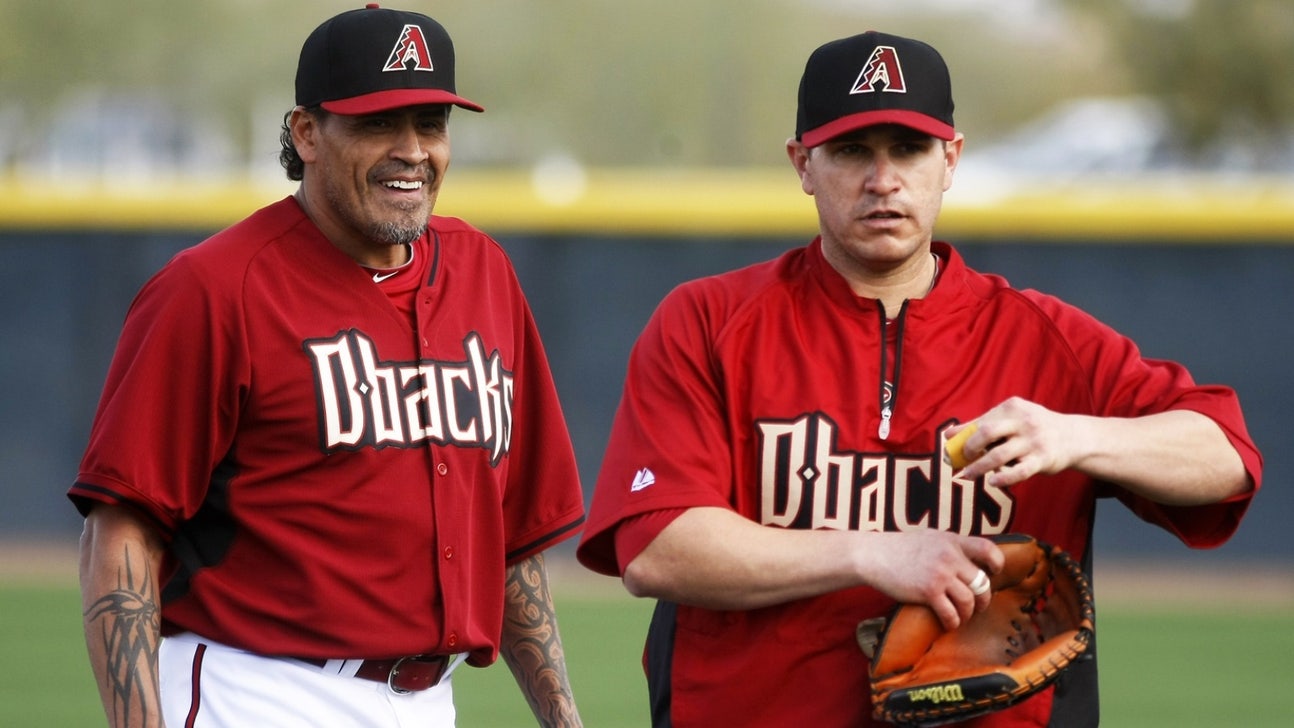 Early riser Blanco having a strong spring
Published
Mar. 12, 2014 8:05 p.m. ET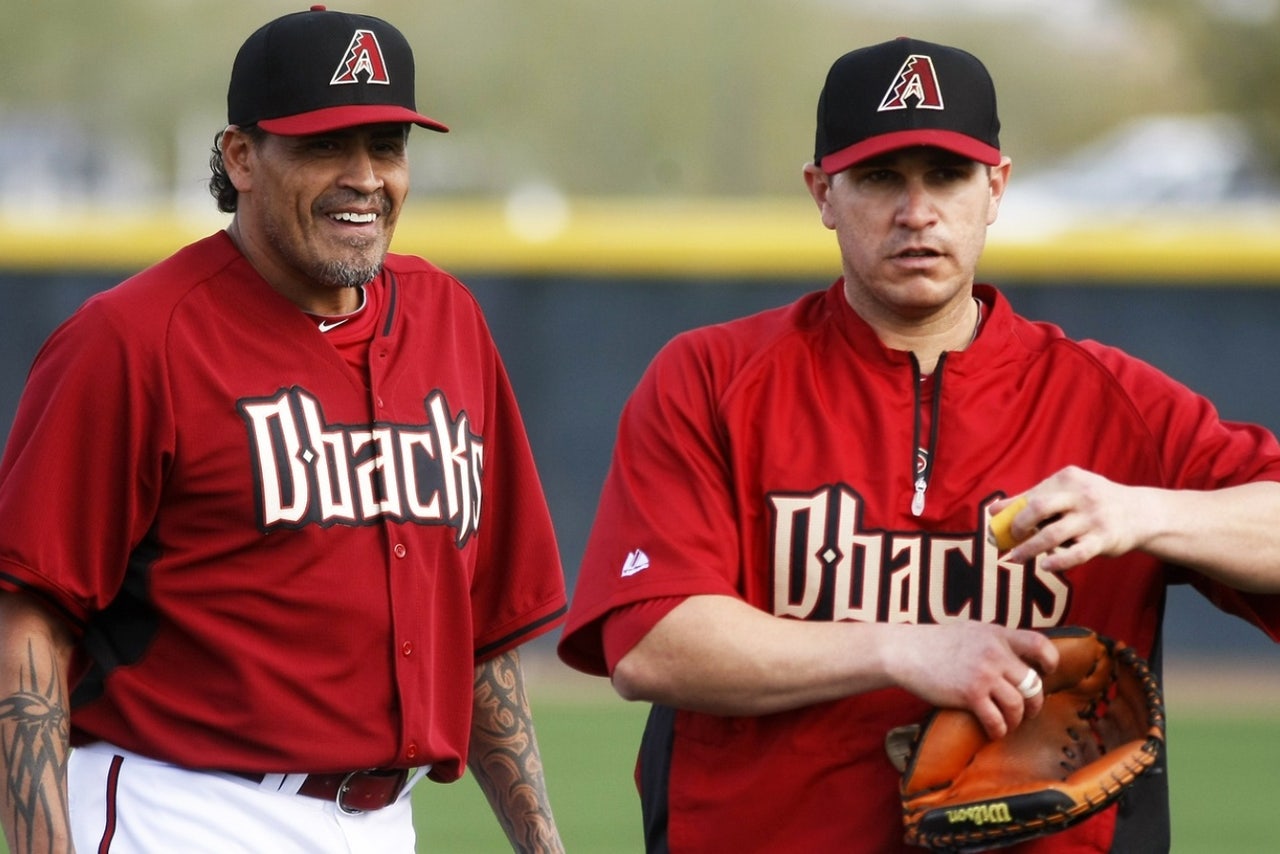 SCOTTSDALE, Ariz. -- It is 5 a.m. and Henry Blanco has beaten dawn in order to beat himself up once again. Blanco is one of several Diamondbacks who participates in an insane, hour-long workout at Salt River Fields just about every morning. To Blanco, it is as necessary as the blocking drills or swings he takes in the batting cage.
"I think it is keeping me in baseball," said Blanco, one of the top candidates to back up catcher Miguel Montero this season.
"It keeps me in shape and gives me a lot of energy, and that's what we need at this age. I feel good probably better than I when I was here" in 2011-12. "I have to work out a little bit harder. It's nice to feel good at this age."
Blanco is 42. But the number that best defines him is 40.49. Blanco has thrown out 40.49 percent of the base runners who have attempted to steal on him in a major league career that began in 1997. He is the active leading major league leader, one one-hundredth of a point ahead of St. Louis' Yadier Molina. Blanco was at it again last Friday, when he threw out Oakland speedster Billy Burns, who had 74 stolen bases at two minor league levels last season.
Tuffy Gosewisch and Blake Lalli are the other catchers in camp vying for the spot behind Montero, which Blanco occupied in 2011 and for four months in 2012 until he suffered a torn ligament in his left thumb that August. The D-backs will take three catchers to Australia, manager Kirk Gibson said, but almost certainly will carry just two during the regular season.
"We like our depth there," Gibson said.
Blanco does not see it as a competition per se.
"We have to go out and play our game and then it is going to be their decision," said Blanco, who had a single plus in twplus at-bats in a 9-2 win to the Los Angeles Dodgers at Camelback Ranch on Wednesday afternoon.
"All we can do is go there and do the best we can and show them that we can still play this game."
If clubhouse positioning means anything, Blanco might be slightly ahead. Blanco and Montero have lockers on either side of top prospect Archie Bradley, and Blanco's clubhouse presence has long been considered a long suit.
"We've chatted a couple of times," Blanco said. "Trying to make him understand what it takes to stay here in the big leagues. It is a game of adjustments. He's going to be real good. He has the talent, and I think he has the guts to pitch up here."
Blanco hit .250 with eight home runs behind Montero when the D-backs won the NL West in 2011, but he has not been above .200 in his two seasons since.
"It feels pretty good right now," he said.
Closer candidate J.J. Putz has used his five spring training outings to tinker with his delivery in an attempt to keep his fastball lower in the strike zone, the better to keep hitters off his pet split-finger pitch.
"He's been great about it. He's been open," D-backs pitching coach Mike Harkey said. "He's tried some things that worked, and he's tried some things that don't work. Which is the whole process."
The numbers not been great -- he has given up six hits and four walks in five innings -- but no one is giving them much credence. Putz had a career-high 45 saves in his first spring with the D-backs, when he gave up four runs and four only outs in major league games, doing most of his work on the back fields.
"You can look at the history of spring trainings over the years. Those numbers can be really misleading," Gibson said. "With J.J., I look at the experience that he has had in the past. We went through this last year a bit. I'm not concerned about that."
Putz pitched a scoreless seventh inning Tuesday, getting three groundouts. Trainers made a quick trip to the mound, but Gibson said it just was a blister.
"It's just something they wanted me to try to work on, so we are trying to work on it," Putz said of his delivery tweak.
"It's just a matter of getting the timing right. A lot of that happens once the regular season starts, when the energy level is just faster. Things usually seem to find a way to work themselves out. I've had some of the best years of my career having some of the worst spring trainings. The only thing I really worry about is how I feel, and I feel great. Once the lights come on and it's the real deal, you throw all the mechanical issues you are trying to work through ... you throw those away and you just hope that the work you put in is going to take over, and it always has."
When Trevor Cahill suffered a jammed right knee covering first base Tuesday, he admitted he feared the worst. But after a good night's rest, his knee injury does not appear serious. He played catch Wednesday morning and was able to push off his right leg without excessive discomfort.
"I don't have the best knees, so when it happened ... it was one of those things, my whole season flashed before my eyes," Cahill said. "But after I lay there for a second, I knew it was nothing structural. I'll just be a little sore."
Cahill, who is scheduled to start the D-backs' second game in Australia against the Los Angeles Dodgers, played catch Wednesday and reported no problems, just a little soreness. He is expected to throw a bullpen session Thursday.
"We're optimistic about it. We'll have a better idea tomorrow," Gibson said.
Follow Jack Magruder on Twitter
---