Duluth to host 10th annual Hockey Day Minnesota, presented by Wells Fargo
Published
Jul. 30, 2015 12:05 p.m. ET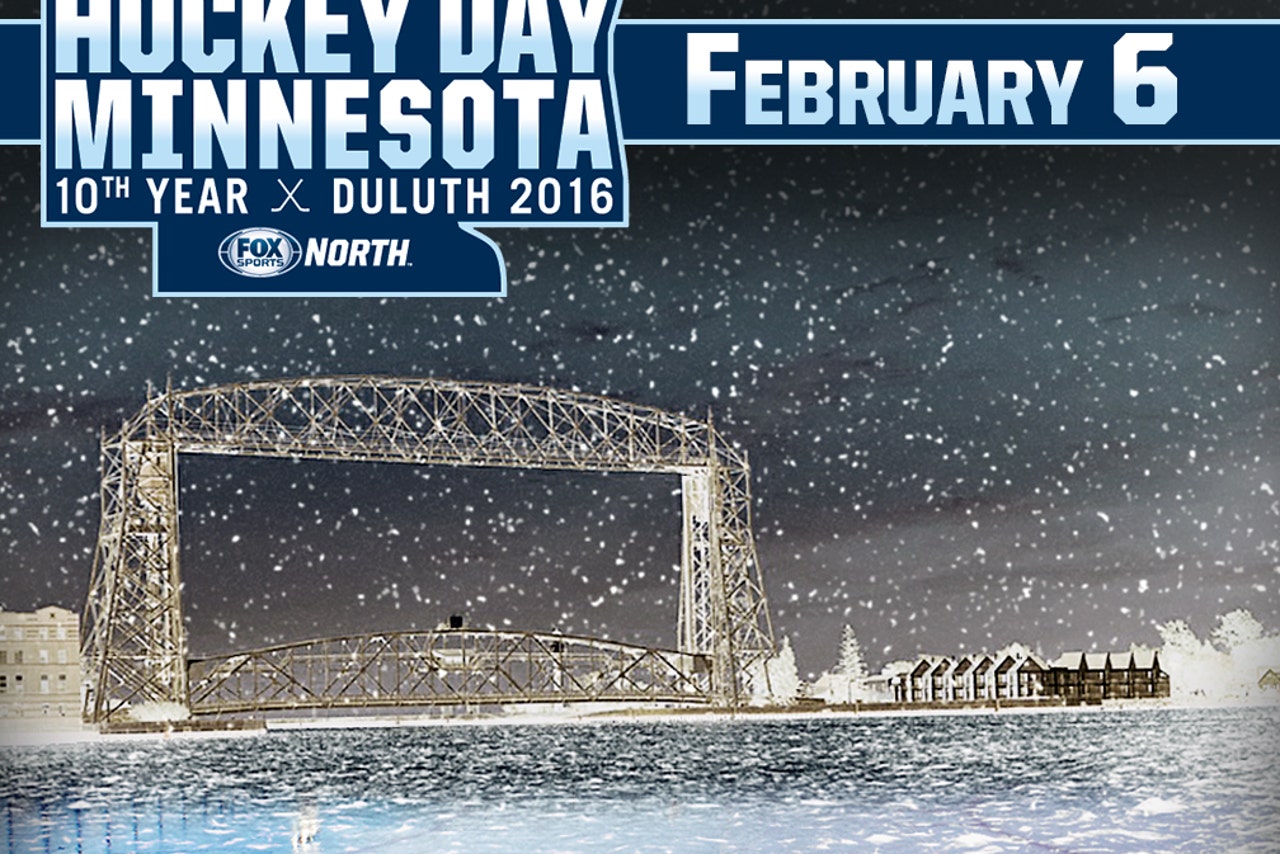 The Minnesota Wild, along with FOX Sports North and Minnesota Hockey, today officially announced that the outdoor games for the 10th Annual Wells Fargo Hockey Day Minnesota will take place on Saturday, Feb. 6, at Duluth's Bayfront Park along the shore of Lake Superior.
Proceeds from the event will benefit Duluth area youth hockey programs. The 2016 event will mark a decade of Hockey Day Minnesota celebrations.
"We are thrilled to bring Wells Fargo Hockey Day Minnesota 2016 to Duluth's Bayfront Park," said Minnesota Wild vice president of brand content and communications John Maher. "Duluth has a vibrant hockey community that extends from youth to the pros, which will be a delight to showcase. Additionally, we believe the unique setting and the community's enthusiasm will combine for a magical 10th edition of Hockey Day Minnesota."
Duluth leaders are in full support.
"What a great way to show what Duluth is about -- a hearty community that embraces the outdoors. So many of us love the game of hockey and grew up playing at our local rinks on ice that our parents built. Our kids are still growing up that way -- it's a tradition," said Duluth Mayor Don Ness.
Duluth's festivities will be part of a television event broadcast on FOX Sports North starting at 9 a.m. The first game will feature a battle between Section 7A rivals, in the Duluth Denfeld Hunters and the Eveleth-Gilbert Golden Bears. This will be the first Hockey Day appearance for the Hunters and the second for the Golden Bears, who fell to Lake of the Woods 5-0 on Baudette Bay in 2008.
The second game will feature a state championship rematch between Duluth East and Lakeville North. The Panthers capped their undefeated season by beating the underdog Greyhounds, 4-1, to earn the 2015 Minnesota State High School League Boys' Hockey AA Championship title on March 7 at Xcel Energy Center. This will be the third Hockey Day appearance for Duluth East (2009, 2012) and the first for Lakeville North.
Hockey Day Minnesota 2016 will be capped when the Minnesota Wild face off against the St. Louis Blues at 7 p.m. in St. Louis.
Wells Fargo Hockey Day Minnesota 2016 on FOX Sports North will include a full day of hockey-related programming designed as a celebration of the game from peewees to the pros. Ticket information, the game schedule -- including collegiate matchups -- and additional programming details for Hockey Day Minnesota 2016 will be announced at a later date.
The outdoor games will be played on a specially constructed rink set against the backdrop of Lake Superior. In the event the outdoor ice is deemed unplayable due to weather, outdoor games would be moved to the Duluth Heritage Sports Center.
"It's hard to believe it has been 10 years since the first Hockey Day in Baudette," said Mike Dimond, senior vice president and general manager of FOX Sports North. "Over the past decade, Hockey Day Minnesota has turned into a state holiday in celebration of this great game, the lifestyle, and values it fosters. All of us at FOX Sports North are especially proud to be a part of something so special and look forward to carrying on the tradition this year in Duluth."
Said Duluth Local Organizing Committee (LOC) member Pat Heffernan: "We have a passionate hockey community with families who have lived the game for generations. This is a fantastic way to celebrate our love of the game and showcase Duluth's unique outdoor youth hockey programs."
"Hockey in Duluth and Wells Fargo share a long, proud history in Minnesota dating back to the late 1800s," said Joe Ravens, Wells Fargo regional president for Minnesota. "We are honored to sponsor Hockey Day Minnesota in the State of Hockey and look forward to this year's activities in the great City of Duluth."
Hockey Day Minnesota began in 2007 by the Wild to celebrate the game that has made Minnesota the State of Hockey. It is produced in partnership with FOX Sports North, Minnesota Hockey and the respective local community that serves as host each year. Previous locations included Baudette Bay (2007, 2008), Phalen Park (2009), Hermantown (2010), Moorhead (2011), Minnetonka (2012), Grand Rapids (2013), Elk River (2014) and Saint Paul (2015). For more information on the event, please visit http://www.wild.com/hockeyday.
---
---