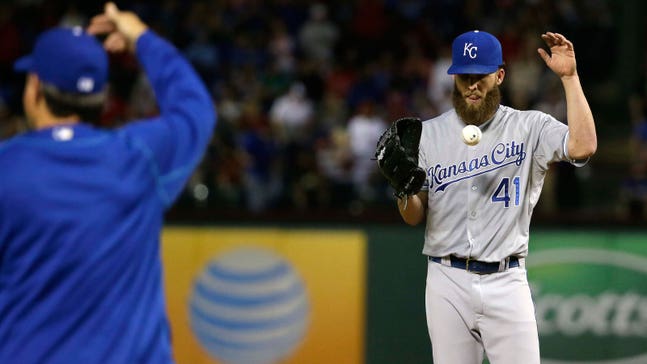 Duffy to miss Saturday's start due to shoulder stiffness
Published
May. 22, 2015 7:22 p.m. EDT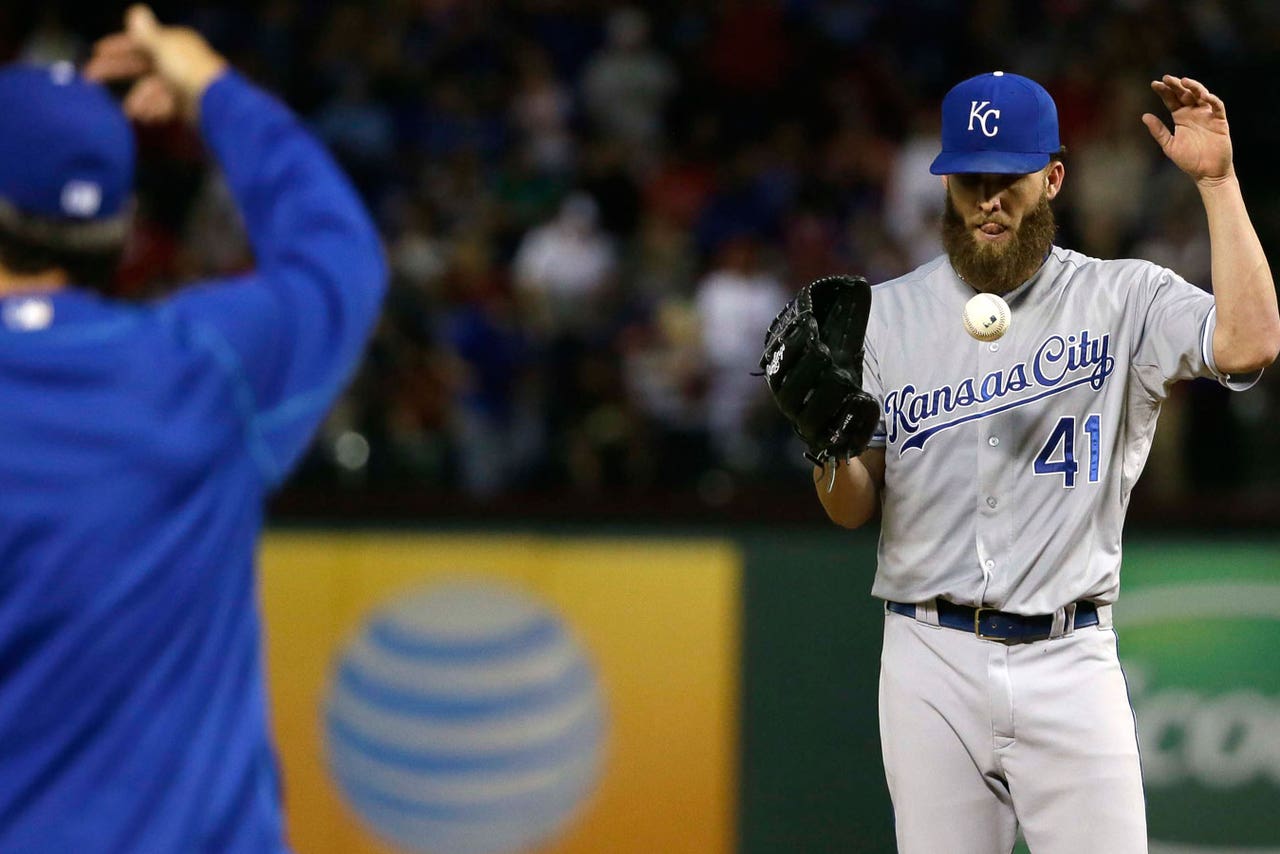 KANSAS CITY, Mo. -- Danny Duffy will miss his scheduled start Saturday with shoulder stiffness, the latest obstacle for the struggling Kansas City left-hander.
Duffy said he first felt stiffness Wednesday while playing catch and then fully felt the injury Thursday during a bullpen session as he completed his delivery.
"Yesterday, I got all the way through (and) it just kind of grabbed a little bit," Duffy said. "Just felt like it needed a little WD-40."
Royals manager Ned Yost said the club would aim for Duffy to return for Tuesday's game in New York. With two off days this week, Duffy's delayed start doesn't mean the remainder of the rotation will be pitching on short rest. Edinson Volquez will start Saturday, while Yordano Ventura and Jeremy Guthrie moved up to Sunday and Monday, respectively.
Duffy dealt with shoulder issues last season, including exiting a start just one pitch into the first inning on Sept. 6 against the Yankees. He didn't start for another 16 days.
Duffy said the tightness was still there a little on Friday, but was confident it wouldn't be a lingering issue. He confirmed that he expected to be ready by Tuesday.
"I don't foresee this being something that's going to be chronic," Duffy said. "I had to battle something for a long time last year, and that's the last thing we want to do."
Yost said he was not very concerned about the long-term impacts of the injury, but general manager Dayton Moore chose to take a wait-and-see approach before determining the effects of the stiffness.
"You never want to see a guy miss a start," Moore said, "but we'll see. It's hard to tell."
Duffy has scuffled in his last three starts, totaling just 9 2/3 innings and giving up 14 runs (13.03 ERA) on 15 hits and 10 walks (2.586 WHIP). His spot in the rotation has been questioned, but Yost is confident the 26-year-old will bounce back. Duffy is also one of the few Royals with options remaining, some clamoring for a trip to the minors to right the results.
Watch the Royals Live pregame and postgame shows before and after every Kansas City Royals game on FOX Sports Kansas City.
Moore was not deterred by Duffy's recent struggles.
"He's been through this before," Moore said. "He's a power arm that can be inconsistent at times. When he's commanding his fastball and staying in his delivery, he's very good. That's who he is."
The break will certainly help Duffy physically, but given his last three starts, could the hiatus be beneficial to his mental state?
"It's going to help you mentally if you're feeling better," Yost said. "It's one thing you don't have to worry about. Again, we'll have to go day to day with this. We feel like backing him up one start is going to take care of it. We still have to monitor it every single day and see where he's at."
Duffy said he felt responsible for "hanging our other guys out to dry" by missing a start, stealing an extra day of rest from them on a week with a couple of off days.
"That's not a good feeling," Duffy said. "But I've learned that if you try to push something, you know, nine out of 10 times, it's probably going to end up worse. And so, we'll nip it in the bud early, and go from there."
You can follow Matthew DeFranks on Twitter at @MDeFranks or email him at matthew.defranks@gmail.com.
---