Ducks' forecheck spurs comeback win over rival Kings
Published
Feb. 28, 2015 2:27 a.m. ET

The forecheck seems so simple in concept: A defensive play made in the offensive zone. Yet its complexities are varied and its execution can mean the difference in a hockey game.
Friday night at the Honda Center, the Anaheim Ducks' forecheck was exactly that: The difference in the hockey game.
Credit their Freeway Faceoff rivals from Los Angeles as they weathered an absolute forecheck storm through the first two periods, managing to go up 2-0.
But a full 60 with that kind of pressure can crack a lot of teams, even the staunchest of defensive clubs. Hurricane Forecheck was responsible for the Ducks' first goal by Ryan Kesler, and after they got one, two more were scored quickly thereafter.
Once again, Anaheim foiled the Kings in a 4-2 win.
"For 60 minutes, we played the right way," Ducks coach Bruce Boudreau said. "We didn't get anything out of it the first 40, but it's one of those things where you've got to keep at it. Eventually we got one, and the crowd gets into it -- well our fans, or crowd -- gets into it. And we're good to go."
The Ducks seemingly outplayed the Kings throughout the first two periods, but it was Los Angeles who was up in the game. Three times this week, Anaheim has been down 2-0 in the third period and came back twice. The defensive execution has been questionable all season and the struggles magnified in recent weeks.
But there were two key aspects to the Ducks' game that pushed them over the top of a the hottest team in hockey: The consistency of lines one through four and the forecheck.
"I think their forecheck overwhelmed us the whole night and it just caught up with us," said Kings coach Darryl Sutter.
It started with the second line, and when you have Andrew Cogliano and Jakob Silfverberg on the same line, that's typically where it's going to start. Kesler's goal developed behind the net when Silfverberg took the puck from Andrej Sekera in one backhanded swoop.
When the Ducks could have eased off the pressure and concentrated on their own offensive game in the third period, they went full throttle, effectively throttling the Kings with the forecheck.
"We tweaked it a little bit and I thought we were able to generate more hits and more turnovers," Kesler said. "For us, when you're not doing that, it's frustrating. You seem to be chasing it all night. But I thought we were on our toes and we finished every check and we seemed to get a lot of pucks to turn over."
Emerson Etem's tying goal for the Ducks also developed off the forecheck, and it should come as no surprise since the third line dominated the Kings all night.
At one point in the second period, the third line was responsible for trapping the Kings on the ice for almost four minutes. They managed to change a defenseman but Sekera remained for a shift that lasted a whopping 3:41.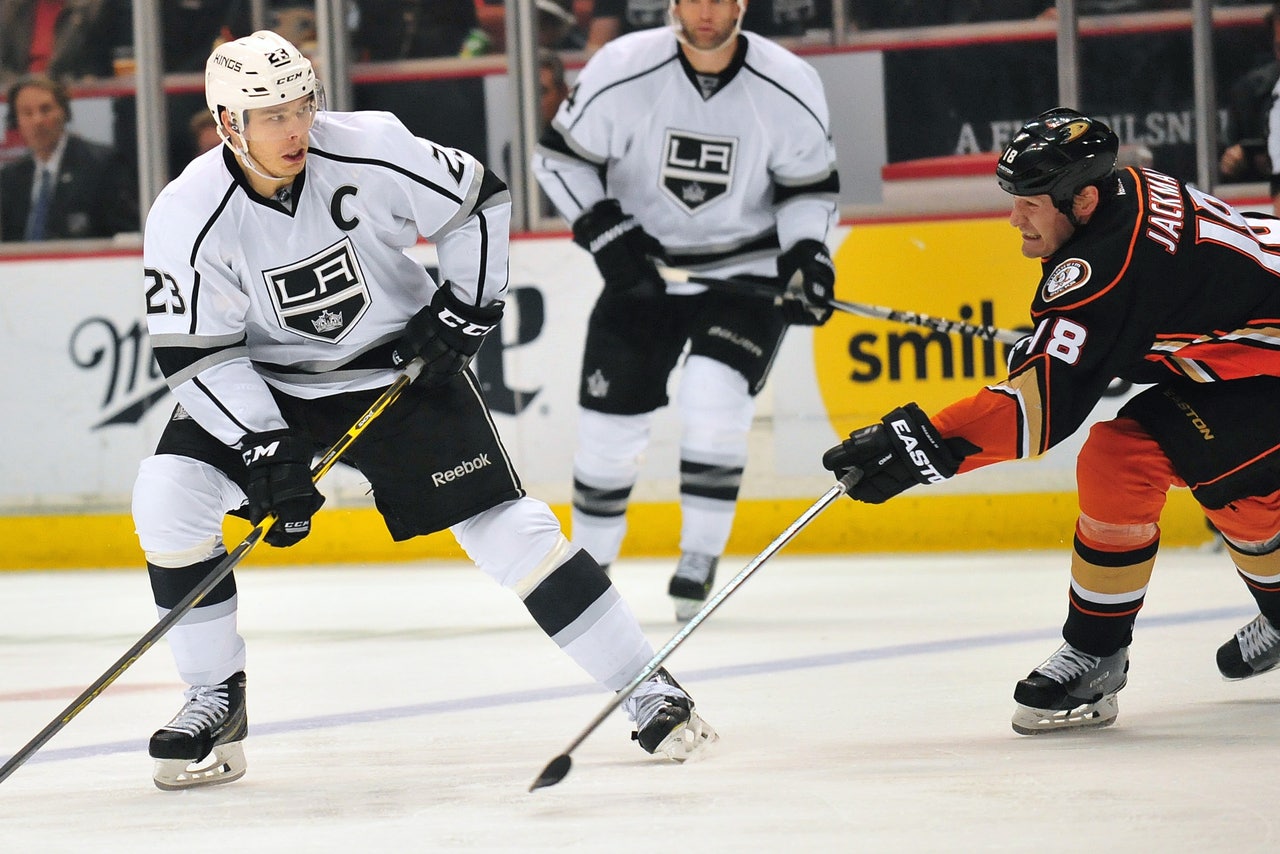 Brown says consistency not an issue for Kings after loss to Ducks
"Sekera was dying out there," Kesler said. "And we just kept rolling them over, rolling them over and that line really got us going tonight."
The third line didn't generate a goal during that stretch, but it generated enough momentum to keep that line going all night.
"I thought we were creating a lot of energy out there," Etem said. "I don't think there was any reason why we can't build off that."
The Ducks have come back from two-goal deficits twice this season, but they know they can't bank on having to comeback.
Much like a Freeway Faceoff game, every game of the playoffs is emotionally charged with a high-energy atmosphere. A win in this environment over a team of the Kings' caliber is a win the Ducks can move forward from if they apply the same skill and will that they did Friday night.
"If we play the right way and we bring our A-game, we're capable of playing against anybody," Boudreau said. "This hopefully will bring them back as a group and say, 'Hey, listen: When we play like this, the fun in the dressing room after -- all of these things are good stuff.' We'd much rather end the game happy than going home miserable."
---