Dubnyk's strong play creates goalie question for Coyotes
BY foxsports • November 17, 2014
The Coyotes have a goalie conundrum. 
Devan Dubnyk came within five minutes and 50 seconds of posting back-to-back shutouts on Arizona's just-completed, three-game road trip, stopping 33 shots in a 2-1 win over Edmonton. 
Arizona is 4-0-1 in games Dubnyk has started. He has the hot hand and the team is playing well in front of him. 
The problem is that Mike Smith is still the No. 1 goalie. The Coyotes are in Year 2 of a six-year deal that will pay Smith a total of $34 million ($6 million this season). The continued belief among the coaches and general manager Don Maloney is that the Coyotes will only go as far as Smith can carry them.
Maybe this dilemma will sort itself out in time, but the Coyotes are 4-9 when Smith plays, and his stats -- 3.43 goals against average and .889 save percentage -- don't compare favorably to Dubnyk's (2.25, .925).
"We've had some inconsistency in that position this year," Coyotes coach Dave Tippett told FOX Sports Arizona's Todd Walsh after Dubnyk beat his old team, the Oilers, on Sunday. "You come in and play solid and it really helps our case."
There is little defense for Smith's first three starts this season when he allowed 16 goals, but he hit a stretch of eight games where he played well in seven of them. It would be hard to find fault with the nine goals he allowed in his last two starts; losses to Dallas and Calgary, but he also could have made some big saves -- the kind of thing you'd expect from your No. 1 goalie.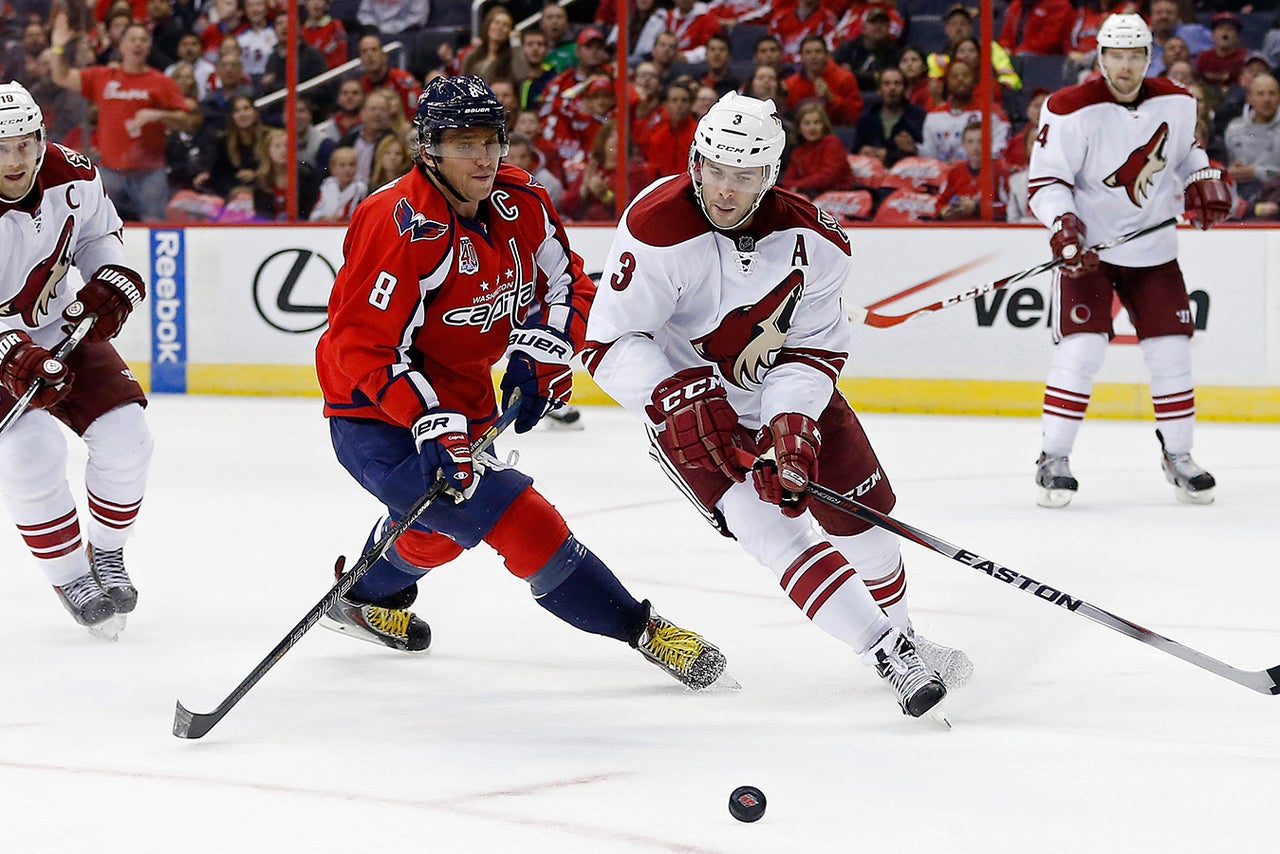 CAPITALS AT COYOTES
When: Tuesday, 7 p.m.
Where: Gila River Arena, Glendale
TV: FOX Sports Arizona
Records: Washington 7-7-3; Arizona 8-9-1
Injuries: Arizona F David Moss (hand) and F Rob Klinkhammer (upper body) are day-to-day. There has been no update on D Brandon Gormley (right leg). Washington F Brooks Laich (left shoulder) and D Dmitry Orlov (broken wrist) are on injured reserve. F Liam O'Brien (lower body) is day-to-day.
Quick facts: The Caps' power play is ranked third in the NHL at 25.9 percent, but Washington is just 24th in total power play opportunities with 54. ... The Caps have been off since a 4-1 loss in St. Louis on Saturday. They flew to Arizona after that game. ... The Caps recalled former Coyote Chris Brown from Hershey (AHL) and he could face his old team. ... The Caps used roughly $12 million in cap space to sign defensemen Brooks Orpik, Matt Niskanen and a backup goaltender Justin Peters this offseason. The Coyotes just lit up Peters in Washington on Nov. 2, scoring six goals on 30 shots. Peters has a 3.15 goals against average and a .882 save percentage. Orpik has no goals, four points and has a rating of minus-7. Niskanen has no goals, five points and is minus-3.
On the other hand, the team has undoubtedly played better in front of Dubnyk. While Dubnyk faced a healthy dose of shots in Edmonton, Tippett noted for the second consecutive game that the Coyotes did a good job of limiting quality chances and keeping those shots to the outside. In other words, they played the way Tippett wants them to play.
"He was solid just like the other night," Tippett said of Dubnyk. "We blocked a lot of shots in front of him, but he was big and solid in net. He gave us another really strong game.
"We want to play a certain way all the time whoever is in there. For whatever reason ... we've played well in front of him."
The dilemma for Tippett and goalie coach Sean Burke is how to read that. Five games is too small a sample size to draw grand conclusions. The team could start playing well in front of Smith and all would be right again.
But in the short-term, how do the Coyotes not ride the hot hand when they have already fallen off the Western Conference playoff pace and Tippett has stressed how important it is to stay with the pack and get off to a good start this season?
The West looks even more challenging this season with Vancouver, Nashville, Calgary and Winnipeg all jumping into the playoff picture.
It's important not to let hysteria drive decisions 18 games into the season. Tippett and Maloney both have good track records in that regard. Dubnyk has done his best to distance himself from any controversy and has unfailingly supported Smith throughout the season. 
"We always stick together," he told Walsh. "I used to play a lot of games, too and I know there's times during a season where the other guy is going to get a couple in a row. That's the way it is. It doesn't change the situation here."
Dubnyk acknowledges the team has played well in front of him.
"We've talked about trying to be more consistent, but I've certainly had a lot of consistency in front of me," he said. "I don't know if there's any rhyme or reason to that, but I certainly appreciate the way the guys have played in front of me."
At the same time, he doesn't expect his role to change.
"That's part of being a backup goalie," he said. "Just because you play a good game and win doesn't mean you're going to get the next one." 
Follow Craig Morgan on Twitter
---