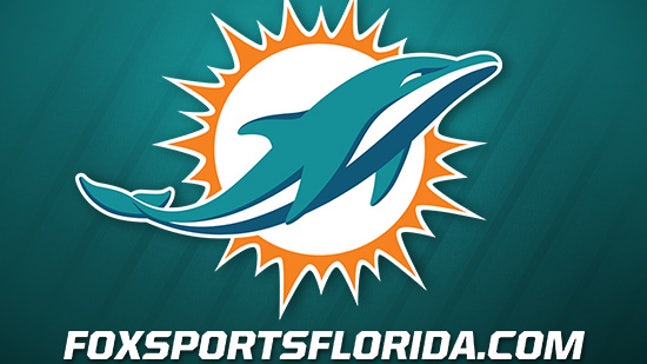 Dolphins rookie minicamp: Top pick Parker not feeling added pressure
Updated
Mar. 4, 2020 2:12 p.m. ET

DAVIE, Fla. -- The Miami Dolphins kicked off their rookie mini camp Friday with the participation of all seven of their draft picks after each of them signed contracts the day before.
Joining them at the Dolphins practice facility in Nova Southeastern University were more then two dozen undrafted free agents and almost 30 tryout players eager to make a good first impression with the coaching staff. The camp will consist of two practice sessions, one in the morning and one in the afternoon, on Friday and Saturday.
"This is a very exciting time for our organization, the start of rookie minicamp," said Dolphins general manager Dennis Hickey. "We've been going through phase two with our veterans and that's been going really well, seeing the development of a lot of our young players. It's a great opportunity for us as scouts, for us as coaches, to get guys into our building and to continue to evaluate them and to get to play with some of our new toys that we were excited to draft."
DeVante Parker, the first wide receiver drafted by the Dolphins in the first round since 2007, was among the shiny new toys on display and his impressive skills were quickly made apparent. Like his fellow drafted rookies, he mostly worked out separately from the team and spent most of his time with wide receiver coach Ken O'Keefe practicing running routes and taking different stances. Notably, Parker displayed good hands while catching passes from undrafted free agent quarterbacks Chase Rettig (Boston College) and Hutson Mason (Georgia).
Though he was working mostly at half-speed, he didn't appear to show any lingering issues from the foot injury he suffered in his final season with Louisville. Quite the contrary, he looked the part of a dazzling playmaker capable of big things in his first season in Miami.
As if there was any additional reminders needed that Parker represents the next generation of receivers is the fact that he will be wearing No. 11, the same number Mike Wallace wore during his two-year stint with the Dolphins. The rookie insisted there was no hidden agenda and that he simply requested a low number from the organization.
A man of few words, Parker instead chose to keep the focus on how eager he was to get his pro career started in earnest.
"It's very exciting to come out here and have fun with the rookies and get to know each other," he said. "Just being around each other and just familiarize ourselves. It's an exciting time just to be here for this organization."
At the conclusion of morning practice, Parker claimed he didn't drop any balls during the nearly two-hour session and dismissed the notion that there was any added stress as a first round pick among the drafted and undrafted rookies.
"I don't think there's any pressure on me," he said. "I'm just going to come out and play like I've been doing. There's really no big deal about it. I just want to come out and compete and get better with the rookies."
Dolphins head coach Joe Philbin liked what he saw already out of the 6-foot-3, 209-pound rookie who carried himself like a veteran with his poise and focus.
"I liked the way he got in and out of the huddle," said Philbin. "Day one you're looking for some simple things. Can you hear the formation call? Can you get lined up properly? Can you take the appropriate split based on what route you're running? If you get a cloud corner, can you make an adjustment on a specific route? Without totally focusing on him today, I thought he looked good, did some good things. I like the way he's coming in and out of his breaks during the routes during the routes on air segments. We'll take a closer look here in a little bit."
LIPPETT READY TO LEARN
One of the more intriguing players at rookie camp is fifth-round pick Tony Lippett who mostly played wide receiver at Michigan State and has limited experience at the cornerback position, where he is being groomed by the Dolphins.
"I have a good comfort level," said Lippett, who measures 6-foot-3 and weighs 192 pounds, of playing cornerback. "I just have to keep grinding every day to get more comfortable and just feel out the position."
Philbin remarked that Lippett's skill set and his physical traits made him a tantalizing prospect.
"As you can imagine, we studied a vast majority of corners coming out in the draft," he said. "We looked at all of the attributes, the physical, the test numbers, the vertical, the film, the combine workouts, the pro day workouts. At the end of the day, we just thought this guy has potential. We really liked him. We wanted to work with him. Coaches were excited about working with him. Personnel people were excited abut him. That's really why he's here."
For his part, Lippett isn't concerned with the steep learning curve of not only settling in at the cornerback position, where he started five games last season, but also getting acclimated to the speed and pace of the NFL game.
"For me, it's just getting back (to being) comfortable and not turning my head when I see the ball is in the air and I see a receiver break, because I'm used to turning my head back," he said of the adjustments needed. "It's just a certain level of comfortability with me so every day I'm just trying to continue to get better. I know certain things as far as a wide receiver, when they want to break and things like that. I've done it as a wide receiver. I haven't done it as a corner yet so I've got to get more comfortable with that and just understand the position more."
DOLPHINS RESPOND TO MATTHEWS REPORT
Hickey was asked by reporters before the start of camp about veteran receiver Rishard Matthews, who is reportedly upset with his minor role on the team as the fifth receiver and is seeking to be traded or released.
"It's a competitive situation," said Hickey. "There are a lot of things that have to be played out before we get to our 53-man roster. That's part of phase two. We have rookie minicamp, there will be June minicamp and preseason as those decisions are made."
With the team drafting Parker in the first round in addition to signing veteran Greg Jennings and trading for Kenny Stills during the offseason, a frustrated Matthews took his frustration out on social media.
"It's funny how people claim to want to do right by you," Matthews wrote on Twitter. "In the end it's all just talk."
With Matthews now apparently skipping out on voluntary team workouts in an attempt to force the team's hand, Hickey preferred to keep the focus on the players present at camp.
"(I) read some of those things," said Hickey. "Phase two (of team workouts) is voluntary. We're focused on our players. We're excited about the guys in our receiver room. It's fun watching them out here through phase two, watching them compete and work with our quarterbacks. That's what we're focused on, the guys that are here."
You can follow Surya Fernandez on Twitter @SuryaHeatNBA or email him at SuryaFoxSports@gmail.com.
---