Dolphins make handful of trades, end up with WR Landry, OL Turner on draft's second day
Published
May. 9, 2014 10:24 p.m. EDT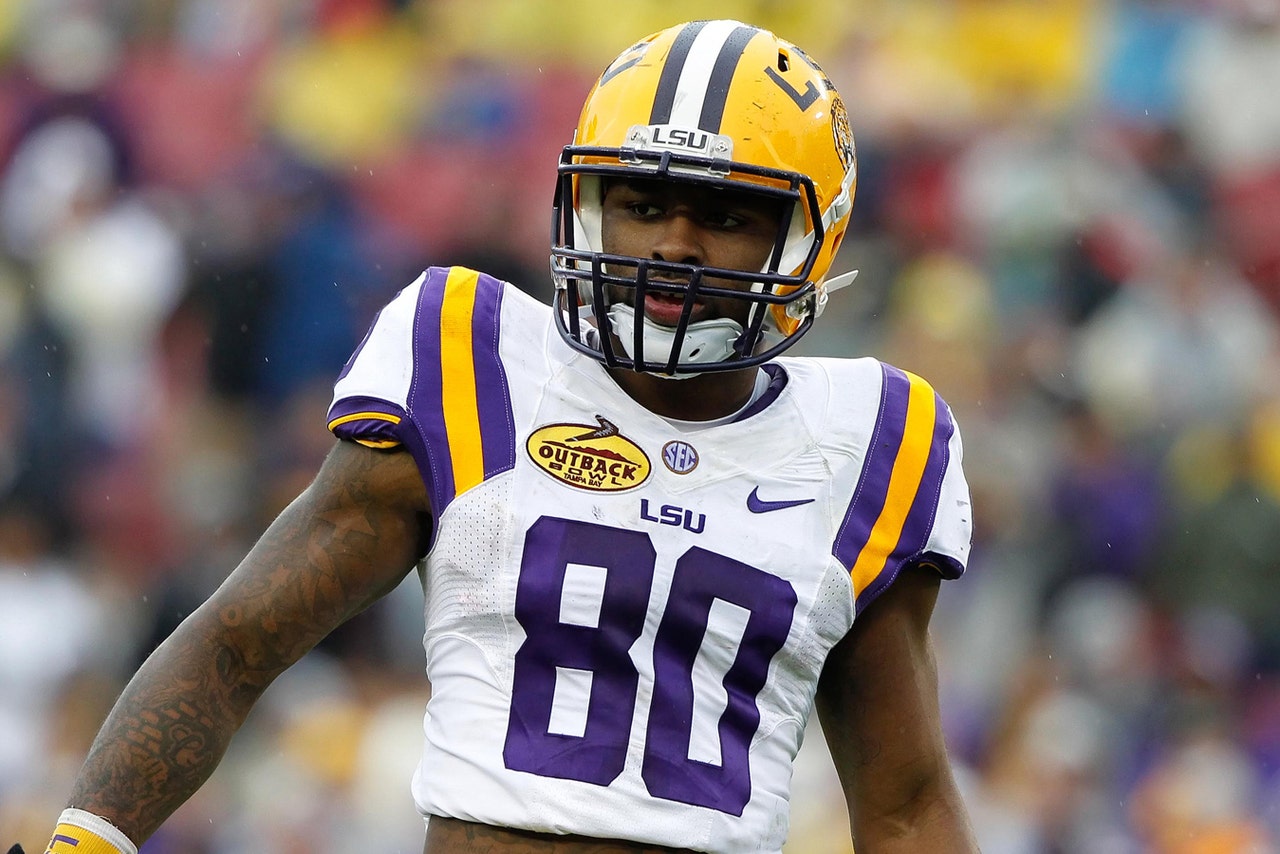 DAVIE, Fla. -- Dennis Hickey's versatile draft-day strategy allowed him to select players with exactly that quality.
The Miami Dolphins general manager pulled off a couple deals during the second day of the NFL draft in order to add picks and add adaptable players in receiver Jarvis Landry and offensive lineman Billy Turner.
The Dolphins, who started the day with picks No. 50 and No. 81 in the second and third rounds, respectively, dropped back to No. 63 before grabbing Landry, then moved up to No. 67 to select Turner.
"When we took Jarvis Landry, [Turner] was the next guy [on our draft board], so as soon as we made the Jarvis Landry pick, we worked the phones to try and get [Turner]," Hickey said.
In Landry, Miami gets a physical, playmaking receiver who is also adept at special teams. Playing alongside Odell Beckham Jr. at LSU, Landry was part of just five receiving tandems with multiple 1,000-yard performers.
Asked whether he played the role of the more physical or more speedy guy of the duo, Landry quipped, "I was the reliable guy."
Landry describes himself as a player with big, reliable hands who is quick and fast and has a smart football IQ.
"Most of those factors have been key factors [in my game]," he said.
The cousin of San Francisco's Glenn Dorsey, Landry also lined up at flanker on special teams for LSU. He finished his Tigers career with 137 receptions, 1,809 yards and 15 touchdowns.
Landry, who never visited Miami, expressed surprised at being picked by the Dolphins, especially after running a 4.77 40-yard dash at the combine due to a pulled hamstring.
Hickey dismissed the low number and saw it as an opportunity.
"We interview a lot of players, 'Hey, when you played different teams, who was a player who stood out?' And his name kept coming up," Hickey said. "Every player that played against him had tremendous amount of respect for him and it definitely shows up on tape. We are thrilled to have him."
"I guess I've been under the radar my whole life," Landry said. "And for me it was always having to prove myself. Even after accomplishing what I have accomplished, I know that I am nowhere near the potential I am going to be at in a couple years. I can't wait to display that on the highest level of football."
Four picks after getting Ryan Tannehill a pair of reliable hands to throw to, Hickey again focus on protecting his quarterback by selecting Turner. The 6-foot-4, 315-pound lineman said he's capable of playing "the left side, the right side. I can play guard, tackle or center. Wherever they need me to play and wherever they want to plug me in is where I'll be."
"He brings toughness, size athletic ability and a lot of versatility," Hickey said. "He was a guy we definitely valued and wanted to move up to get. He was in the mix."
Hickey also cited Turner's experience of being part of three FCS National Championship teams at North Dakota State as a plus.
There may not be a statistic to judge character, but Hickey is clearly stocking up on it. All three of his picks thus far -- Ja'Wuan James, Landry and Turner -- have served as team captain at the collegiate level.
The Dolphins traded twice earlier in the evening, dealing the No. 50 pick to San Diego Chargers for pick Nos. 57 and 125. Miami then shipped the No. 57 selection to San Francisco for Nos. 63 and 171.
After selecting Landry, the Dolphins moved their third-round (No. 81) and fourth-round (No. 116) choices for the No. 67 pick from the Oakland Raiders.
"We're always trying to get more picks, but sometimes you're not as confident about getting the player that you target there," Hickey said. "Again, it's a balance. Every time is different. Fortunately, we were able to get some movement, some teams that were motivated to come up in the spots we were selecting and we did so."
WHAT'S NEXT
Miami enters the final day of the draft with five selections: No. 125 in the fourth round, Nos. 155 and 171 in the fifth, No. 190 in the sixth and No. 234 in the seventh.
With the offensive line seemingly set after day two, Miami may look to target help on defense, adding depth at linebacker or the secondary.
You can follow Erin Brown on Twitter @rinkside or email her at erinbrownfla@gmail.com.
---