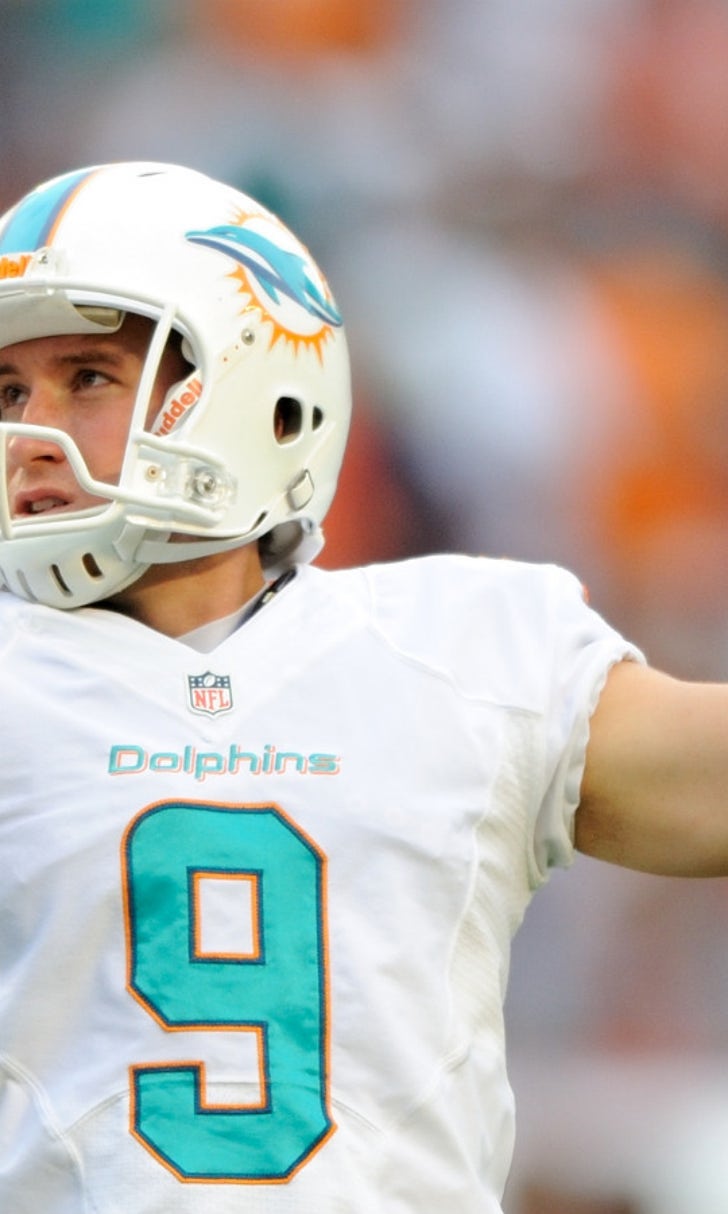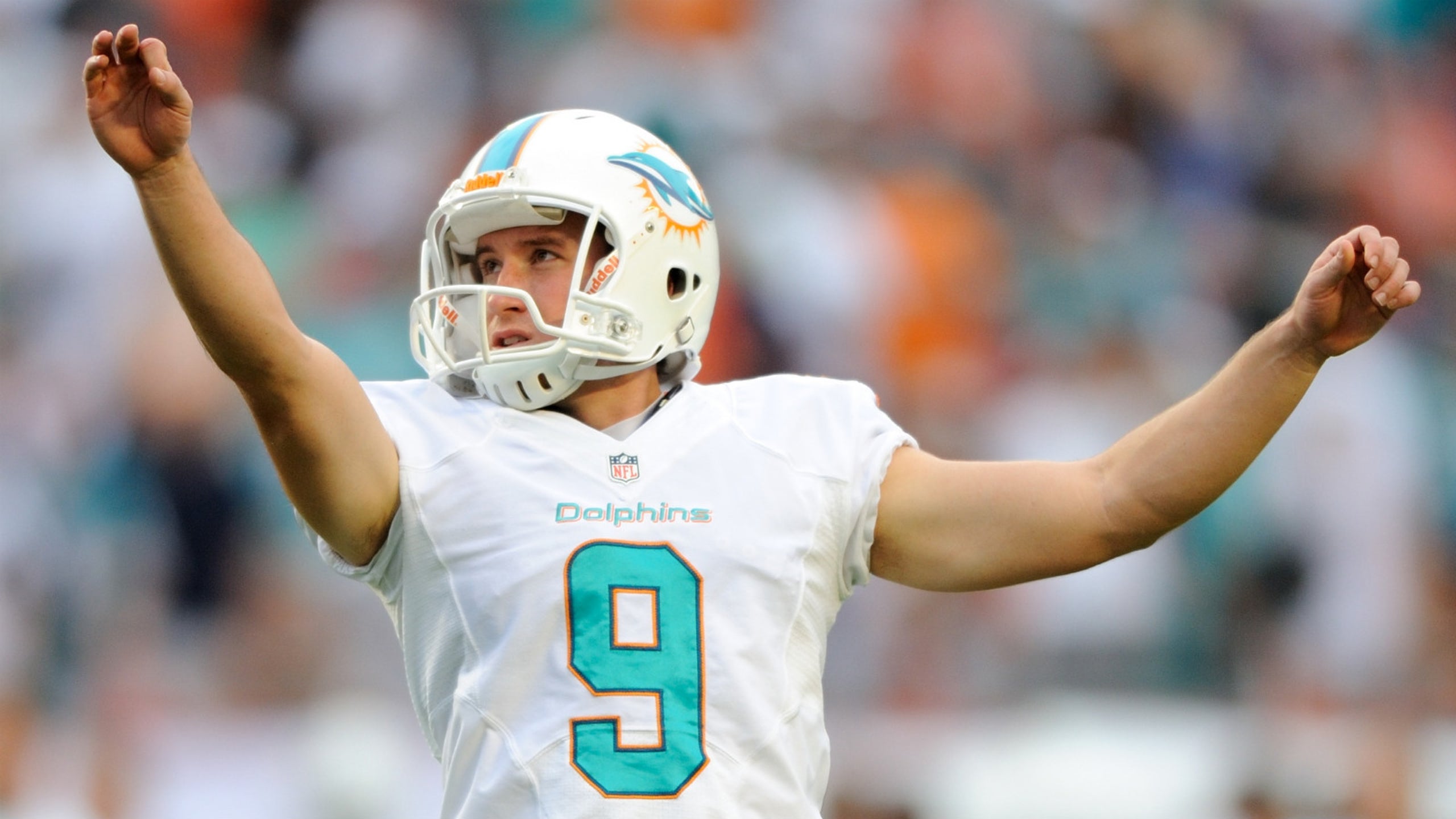 Dolphins kicker Caleb Sturgis strives for long-term reliability
BY foxsports • February 19, 2014
DAYTONA BEACH, Fla. -- It's not enough for Caleb Sturgis just to reach the NFL and become part of a small fraternity of players at his position.
The Miami Dolphins placekicker wants to develop the sort of reliability and durability associated with Phil Dawson, who went from Cleveland to San Francisco last offseason. After spending 14 years kicking for the Browns, he helped the 49ers get within a whisker of a repeat trip to the Super Bowl.
"He's still constantly trying to learn and trying to get better," Sturgis said last week while serving as an instructor at a kicking camp at Mainland High School. "And that's what I really need, to look up to guys like that and try to do what they do."
When Sturgis arrived at the University of Florida out of St. Augustine High School, former Gators kicker Judd Davis -- the winner of the Lou Groza Trophy and a first-team All-American in 1993 -- reached out to him with tips on how to go about his business on the field.
Even before he beat out Dan Carpenter for the job with the Dolphins last summer, Sturgis sought the advice of Dawson, who has converted 84.5 percent of his field-goal attempts despite frequently having to deal with snow and swirling winds off Lake Erie while with the Browns.
"Every year, I like to look at a few guys and see what they do," Sturgis said. "He was coming off a great year in Cleveland, plays in rough conditions and all. So I just wanted to know how he did it, whether it be his technique or the way he prepares himself. When you last that long in the league, you've done something right."
Kickers in general did plenty right during the 2013 season. The average field-goal success percentage of 86.5 league-wide was up from 83.9 the year before and included only six misses on 242 attempts of 30 yards-or-less.
Sturgis went 23 of 27 from inside of 50 yards, including a game-tying 44-yarder at the end of regulation against the Cincinnati Bengals, but converted only three of seven attempts from distances greater than that.
"I think this was the highest percentage year ever, which I did bring down a little bit," he said.
His periodic struggles from long range probably came as a surprise to those who saw Sturgis pave the way for Carpenter's departure by connecting on a 58-yard field goal and several touchbacks at Jacksonville in a preseason game. More than half of Sturgis' kickoffs during the regular season resulted in touchbacks.
With a better idea now of how to prepare for every practice and game, Sturgis is confident he can boost his field-goal accuracy while maintaining a strong leg on kickoffs.
"The biggest thing is just how long the season is," Sturgis said. "You have to remember how many kicks you do. You always have to be fresh for every game. I played 20 games this year, including preseason. Now I've been through it one year, so I think I'll be a lot more ready."
The position has become so proficient that suggestions include making point-after attempts either modified or eliminated as well as the width of the uprights narrowed.
Sturgis scoffs at those ideas but is fully aware of the NFL's track record of success when it comes to innovations and tweaking the game.
"I mean, completion percentages are up from 50 years ago too. So are you going to make the ball harder to throw or something like that?" Sturgis said. "I don't know how far down the line they can go. But whatever they do, football is very successful. And every move they make will be good for the NFL. So you'll just have to roll with what happens."
The Dolphins were one of seven teams to attempt more field goals than PATs. Their offense's inability to reach the end zone with much consistency was never more evident than in the final two games, when a 19-0 loss at Buffalo and a 20-7 defeat at the hands of the New York Jets kept Miami out of the playoffs.
While Miami's 8-8 record was its best in the last five years, the Dolphins still have reached the postseason just once since 2001 and haven't won a playoff game in 13 years.
"Our expectations are always very high individually and as a team," Sturgis said. "I think we're all disappointed and have a bad taste in our mouth. We're all excited about reporting back and getting better this next year, and I think we will be."
If that leads to him becoming more like the type of kicker Dawson is, Sturgis would be delighted.
"There's an elite group of guys that are in the NFL," Sturgis said. "And I want to be one of them."
You can follow Ken Hornack on Twitter @HornackFSFla or email him at khornack32176@gmail.com.
---