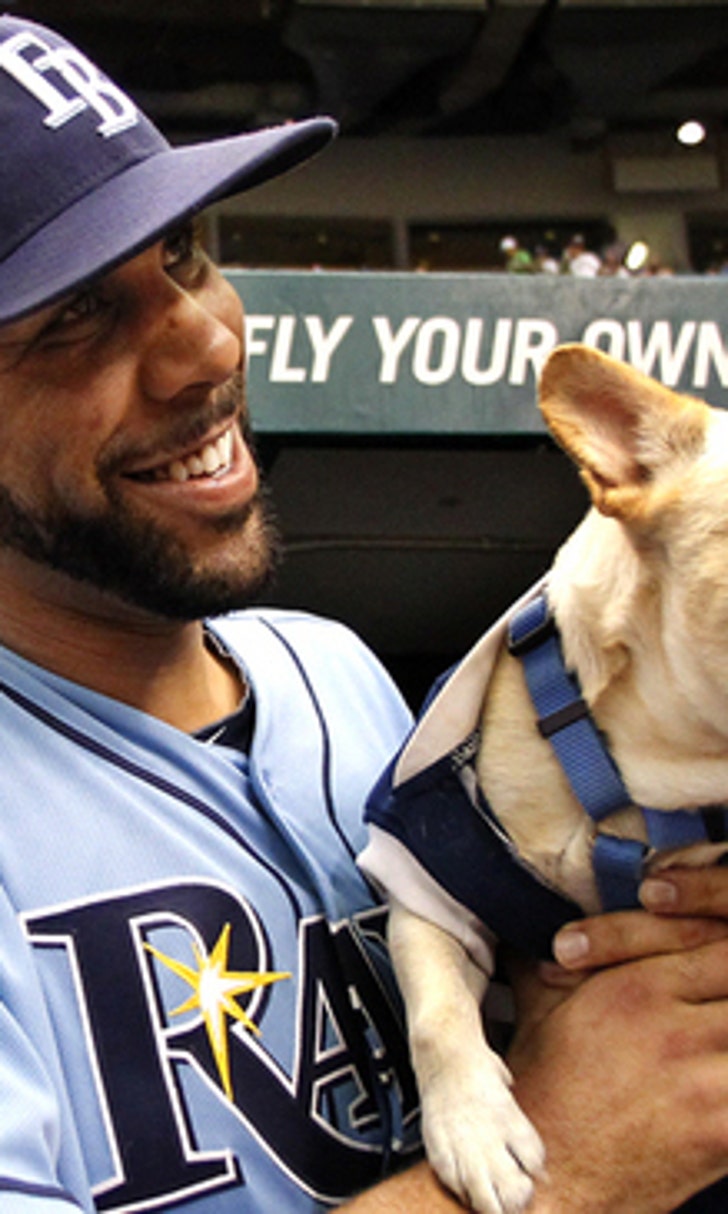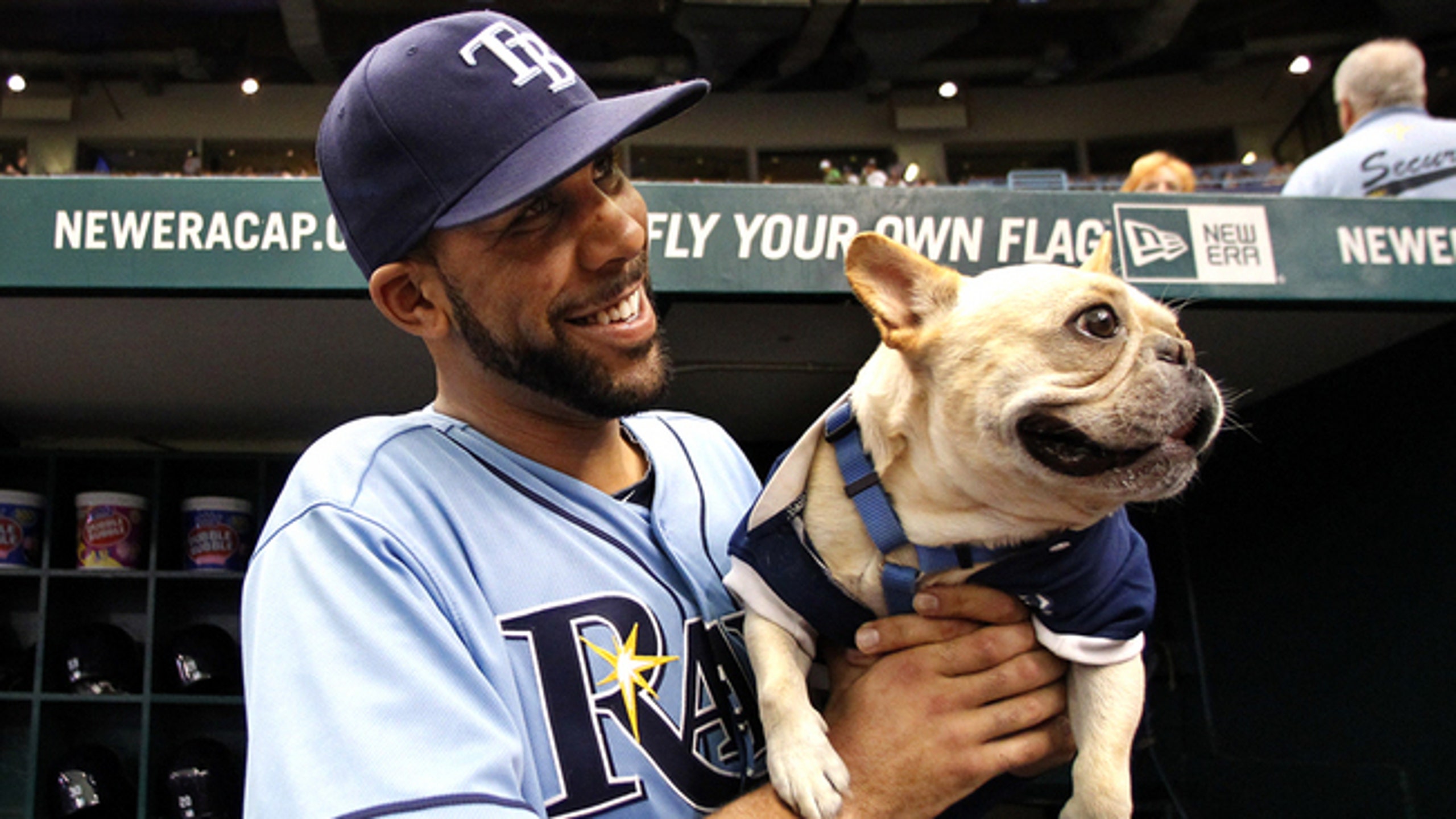 David Price and Astro headed for Motown
BY foxsports • August 1, 2014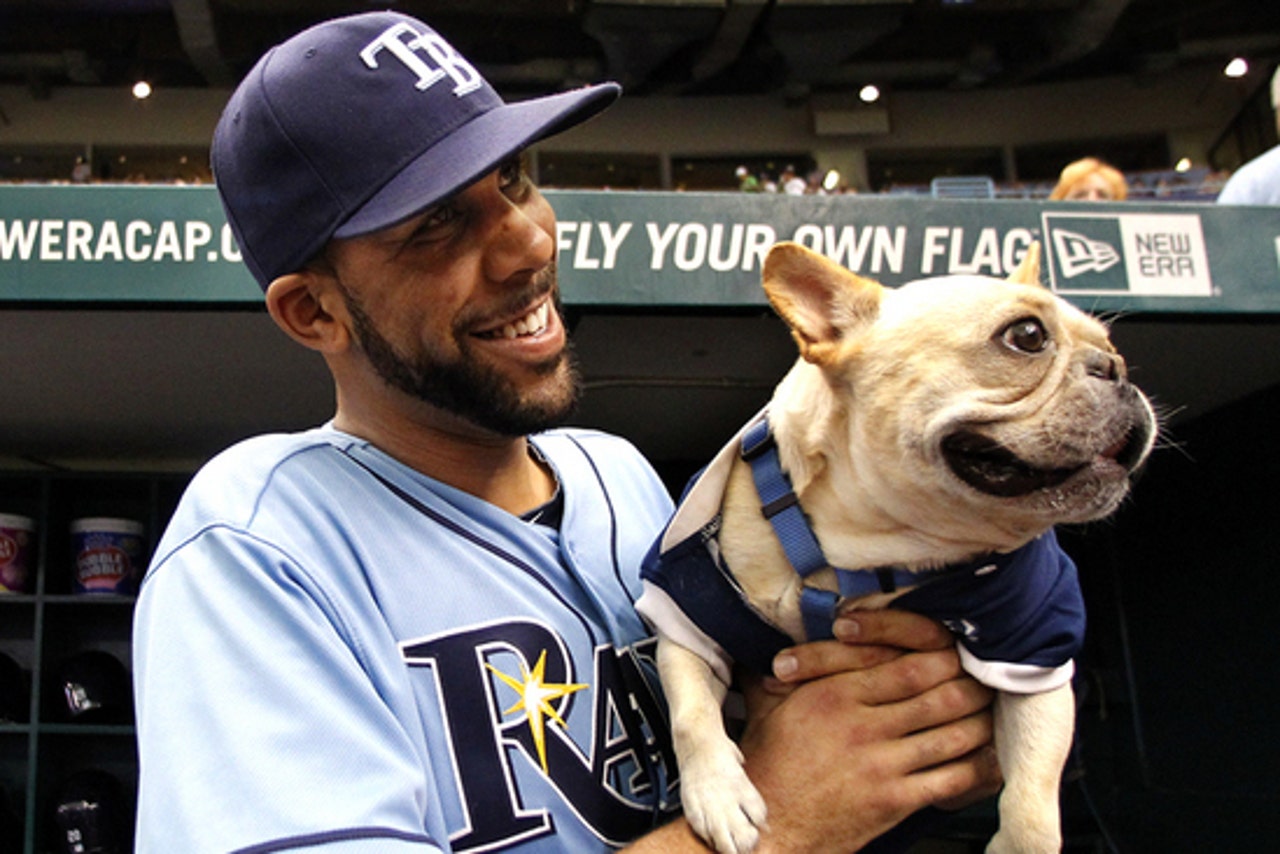 DETROIT -- When David Price arrives at Comerica Park for the first time as a Detroit Tiger on Saturday, his French Bulldog won't be far behind.
Astro was a frequent visitor to Tropicana Field before the Tampa Bay Rays traded one of the game's premier pitchers on Thursday.
The Rays went so far as to have an Astro bobblehead giveaway, and Astro and Price received the keys to the city of Tampa after Price won the Cy Young Award in 2012.
Astro does tricks for treats when Price wants to entertain people. The dog gave his master a high-five with its left paw onto the back of Price's right foot one day.
Named for George Jetson's lovable dog with perky ears from the "Jetsons" cartoon in the 1960s, Astro has appeared in numerous commercials, including some for Major League Baseball and sports television networks.
"Astro's always around David and has been in more commercials than 99 percent of the players in this clubhouse," said Tigers reliever Joba Chamberlain. "His relationship with his dog is neat."
Chamberlain became friends with Price while playing for the New York Yankees -- East Division rivals of the Rays.
"I got to know him on a personal level," Chamberlain said, "and now he will be there to see every day. It was tremendous to see him evolve. He always threw hard and now he's a pitcher. I'm glad he's on our side now. Now, we've got a great piece of the puzzle and thank goodness we won't have to face him again."
Price was 20-5 with a 2.56 ERA in 2012, and this year is 11-8 with a 3.11 ERA and 1.05 WHIP. He leads the American League with 23 starts, 170 2/3 innings and 189 strikeouts.
"What Dave Dombrowski was able to do was impressive," Tigers right fielder Torii Hunter said of the team's general manager getting Price in a three-team trade that cost Detroit starter Drew Smyly, starting center fielder Austin Jackson and shortstop prospect Willy Adames.
"He's a bulldog and we know that from facing him. I've seen the bulldog side."
Price was 5-1 with a 2.40 ERA against Detroit, and held its hitters to a .224 average. Miguel Cabrera was 1-for-17 (.059) against him. However, three Tigers did hit Price very well: Victor Martinez (.471), J.D. Martinez (.364) and Hunter (.348).
Hunter wasn't referencing Astro with the "bulldog" description of Price, but his new teammate surely will appreciate the connection to his beloved pooch.
Tigers manager Brad Ausmus said he didn't know about Astro, but was asked if the dog would be welcome at Comerica Park.
"A dog?" asked Ausmus. "No, I don't think so -- Major League Baseball might not allow that. Is it a service dog?"
No, but it is a dog that performs the service of amusing others and having a special place in the heart of Price.
Ausmus said he knows when Price will debut, but didn't want to make that decision public until he speaks about it with Price. It's likely that his first start will be Tuesday in New York against the Yankees, slotting right into the spot vacated by Smyly.
"He seemed excited," Ausmus said of speaking by phone with Price. "Dave (Dombrowski) felt the same sentiment."
Detroit has drawn 1,903,855 fans this season, while Tampa Bay is next-to-last in the majors with 973,830. Ausmus said the fact that Tigers fans "show up en masse" for games had Price looking forward to pulling on the Olde English D.
Astro's old Rays jersey won't cut it anymore. The Tigers most likely will have his new uniform ready for the next home stand. They provide them for the children of players. And where Price is concerned, Astro is just like family.
---
---