Daniel Winkler, A.J. Minter take overlapping, injury-marred paths to Braves bullpen frontrunners
BY Zach Dillard • February 17, 2018
KISSIMMEE, Fla. — Sitting in Coolray Field's home dugout last July, A.J. Minter pressed Daniel Winkler for an answer, an explanation, anything. The big leagues were one call away and Minter's confidence was waning after allowing nine runs over an eight-day span. So the former second-round pick turned to his Triple-A Gwinnett teammate: "I didn't know what I was doing. I didn't know what it was. 'Do you see anything?'"

Winkler was facing down his own challenges. His long road to recovery hit a three-week snag due to shoulder soreness and Gwinnett pitching coach Reid Cornelius began tweaking his mechanics to find a more conventional arm slot. So as the two relievers sat 35 miles away from their ultimate destination, Winkler, three years older and one extensive rehab wiser, pointed to the road they already traveled — together, in many ways — just to reach the final rung on the minor-league ladder.

"'Hey man, three months ago I didn't know if I was going to throw,'" Winkler told Minter. "And he was the same way, his body didn't feel good. We kind of took that and ran with that idea. That was when things kind of took off for both of us."

One month later, the two received major-league call-ups two days apart. Winkler teared up his first time re-entering the clubhouse, reminiscing on the Pensacola hotel room he sat in after his second major elbow surgery wondering if his career was over. Minter was Kimbrel-esque in limited action. The two friends have combined for a 2.56 ERA and 48 strikeouts in just 31 2/3 career MLB innings over the past two seasons. Small sample sizes be damned when years of rehabilitation pay dividends.

As they enter the Braves' 2018 spring camp together it's evident that none of this was guaranteed even a year ago, especially for Winkler, a 28-year-old right-hander whose professional world has been set in doctors' offices and rehab facilities since June 2014. Every time he's stepped on a mound, he's proven to be one of Atlanta's best relief options.

As Brian Snitker phrased it, "He's not scared."

* * *

Type in Dan Winkler's name in any Internet image search engine and the moment floods the screen. Turner Field. A pitch sidewinding behind Cardinals outfield Randall Grichuk's back. The immediate flinch. The sound he heard. A clinched fist. Winkler barely making it to foul territory before dropping to his knees, burying his face in the grass. Trainer Jeff Porter rushing out of the dugout, offering immediate consolation because the diagnosis, though not identified until later as a medial epicondyle fracture in the right elbow, was imminently serious.

"It was just heartbreaking to watch that," Minter said.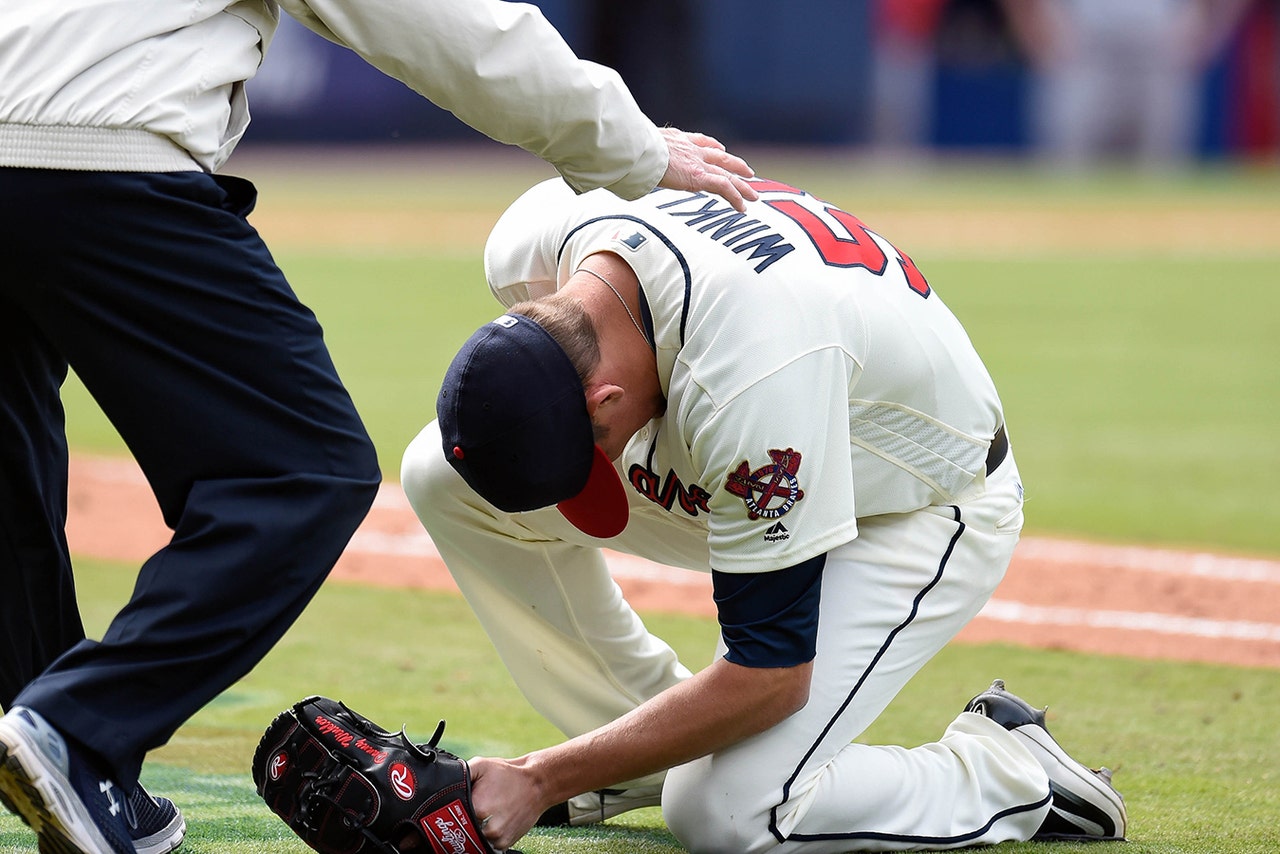 Winkler, a graduate of the nearby University of Central Florida, arrived back in Orlando just as Minter was finishing up his own Tommy John rehab. The two became fast friends when the left-hander was drafted out of Texas A&M despite undergoing elbow surgery in March of 2015 and Winkler, a Rule 5 draft selection that previous December as another injury draft-and-stash, was already at the team's Florida facilities. When their paths of misfortune crossed a second time, Winkler was prepping for a somewhat uncharted rehab process.

"The Tommy John was very structured, a lot of guys have gone through it before. And then when I broke my elbow it was similar, but we couldn't really do anything until that bone healed," said Winkler, who now sports an L-shaped scar on his elbow where Dr. James Andrews had to cut through the Tommy John scar tissue to insert a metal screw into his elbow to fuse the bones together. "And that bone took forever to heal just because it's in not a great spot, not a lot of blood flow gets to it."

With his elbow immobilized for a time, Winkler focused on the aspects of his career that remained within his control. He improved his diet and sleep habits. He strengthened his legs, which he believes at least partially contributes to his average fastball velocity jumping from 90 to 94 miles per hour, per Pitch Info, despite two major elbow surgeries. It's all part of the reason Winkler calls the second comeback his "little miracle."

He says he was too young to ever consider throwing in the towel.

"I can't explain it. … Nobody's ever come back from a broken elbow like this and I'm throwing harder," Winkler said. "It's definitely mentally draining, but I've learned a lot about myself. Honestly, what I've learned when I've been hurt I've kind of translated it into pitching and being in the big leagues," Winkler said. "There's so much adversity to overcome, and I've had to overcome a lot and I'm going to have to overcome more in my future career. I think of it just as building blocks, learning steps. It's not easy at all."

Winkler is now considered a favorite to make Atlanta's Opening Day 25-man roster for the second time in three years. If the Braves keep Winkler on their active roster through the first two weeks of the regular season, they will reach the 90-day minimum for Rule 5 obligations and no longer face the possibility of offering him back to the Colorado Rockies. (Winkler still has all three of his minor-league options remaining.) The righty is an odd Rule 5 case — he's already arbitration-eligible despite pitching fewer than 20 innings in the majors — and still needs to put together a solid (and healthy) spring, but after Atlanta stayed the course through two injury rehabs over the course of four years it would be an even odder choice to back off at the finish line.

"From where he's come and the injury that he overcame," manager Brian Snitker said, "I said that (Wednesday), we had a meeting and we were talking about him. I never felt like he was fragile by any stretch last year. We were cognizant of his workload just because it was his first year back. Shoot, I feel good when he comes in. He did a really job.

"He's got a little mound presence from being a starter and knows how to pitch."

* * *

When A.J. Minter's groin injury sidelined him last April, the friends' rehab paths crossed again in Osceola County.

"We have a little sour taste about Orlando," Minter joked, standing at his locker within city limits.

This past summer, however, their collective injury luck turned. The 20-something relievers got healthy around the same time and began to climb through the system together. They boarded a flight to pitch for Low-A Rome one weekend in June. They made rehab outings with the High-A Florida Fire Frogs, who play their games down the road in Osceola County Stadium. After Winkler skipped Double-A Mississippi, Minter re-joined him in Gwinnett in early July. That's when the numbers sputtered. That's when they sat in their home dugout and tried to maintain their perspective.

"It was good for me just to kind of watch him and how he goes about his business, because coming into pro ball for the first year, not really knowing what to do, I can always lean on him and ask questions. 'Hey, what do I need to do here?'" Minter said. "It's just good to have that person there."

https://twitter.com/FOXSportsBraves/status/964203455400370182

Winkler added: "It was kind of nice to have somebody to bounce ideas and encouragement off, especially coming along the same road. … I feel like we both helped each other out."

Barring any setbacks, this spring training could extend the longest stretch of good health for either pitcher in recent memory.

Winkler took full advantage. His entire professional life has revolved around building up his arm for four years. He spent his offseasons rehabbing at the Braves' Florida facilities. He spent his seasons either rehabbing on the same fields and in the same doctors' offices and training rooms or pitching somewhere in Atlanta's system. Good health translated to a much-needed break.

"Just getting to go home — my wife and I bought a house, we had a baby (boy, Declan Allen Winkler), so it was a big offseason for us," Winkler said. "Just being able to work and set my own schedule and do what I wanted to do was huge for me. Just to kind of have that freedom and a mental break per se. Because I didn't have that. I was rehabbing here in the offseasons too. So just being able to get away from baseball for a little bit was everything to me."

Winkler bought his house in Nashville, close to friends including former Brave Mike Minor, and relished regular workouts at Chadwick's Fitness four days a week in the vicinity of his big-league peers, including higher-profile names Ben Zobrist, Steven Matz and Chase Headley. It was his first glimpse of normalcy since putting on a Braves uniform. Meanwhile, Minter stayed at his parents' place in Tyler, Texas, working out at the nearby APEC training center with names like Cleveland's Josh Tomlin and White Sox top pitching prospect Michael Kopech, his confidence restored after striking out 43 percent of the 60 MLB batters he's faced while issuing only two walks.

Winkler and Minter may be back in familiar confines, but cliché spring optimism seems earned for both — perhaps now more than ever.

"He knows that he's been through a lot," Minter said of his teammate. "Nothing's going to hold him back."

https://soundcloud.com/foxsportssouthchopcast/chopcast-ep-356-discussing-legacy-of-90s-braves-with-producers-of-atlanta-rules
---
---