D-backs finalize $68.5M deal with Tomas, eye other moves
BY foxsports • December 8, 2014
PHOENIX -- The Diamondbacks are not unfamiliar with impact Cuban players can have, and it goes deeper than the recent run highlighted by Alexei Ramirez, Yoenis Cespedes, Yasiel Puig and Jose Abreu.
At Monday's press conference to officially announce the signing of outfielder/third baseman Yasmany Tomas, D-backs chief baseball officer Tony La Russa referenced his playing days. When La Russa played 44 games at second base for Oakland in 1970, his double play partner was shortstop Dagoberto Campaneris, who brought 313 doubles and 649 stolen bases with him to the major leagues when he left Cuba in the early '60s.
"You go to the old days ... you know they are playing quality baseball down there," La Russa said at the winter meetings in San Diego. "When you make an acquisition, some of the first clubs that did it had success, and we all paid attention. I think it is fair to say that Cuba will now be viewed as Mexico, Puerto Rico, the Dominican, Latin American and Venezuela as a source of potential major league stars."
The D-backs signed the slugging Tomas to a six-year, $68.5 million contract with the full expectation of the same. Cespedes averaged 23 homers and 84 RBI in his first three major league seasons and Abreu was the AL Rookie of the Year with 36 homers and 107 RBI this past season.
Tomas' contract includes an opt-out provision after four years, similar to the one Abreu received from the Chicago White Sox, and general manager Dave Stewart such a clause was never an issue.
"My thought is, we get the first four years with him. ... If he plays well, my guess would be that ownership would want to extend his contract before his opt-out comes," Stewart said. "So we don't have any fear at this moment that we'll be able to negotiate something with more length if he plays well."
Meanwhile, the D-backs appear active on other fronts. FOX Sports' Ken Rosenthal and Jon Paul Morosi reported Arizona has been engaged in trade talks with the Chicago Cubs involving Miguel Montero for several weeks and may be closing in on a deal that would return young, controllable pitching. The Cubs were in the hunt for free agent catcher Russell Martin before he signed a five-year, $82 million deal with Toronto last month.
To those with big pockets, Montero's $40 million over the next three years could look like a bargain for a player who has averaged 14 homers and 72 RBI the last four years.
Trading Montero would be the simplest way for the D-backs to get the 2015 payroll into the $90 million-$95 million range for which team president/CEO Derrick Hall is shooting. Including projections for the six arbitration eligible players, the D-backs are committed to a little over $100 million at this point. Montero is to make $12 million in 2015 and $14 million each in 2016 and 2017.
Yahoo! Sports reported outfielder Mark Trumbo is in play despite the fact Stewart on Friday said he has no interest in moving Trumbo. Rosenthal reported the D-backs would have to be "overwhelmed" to trade Trumbo, who is penciled in as their starter in right field.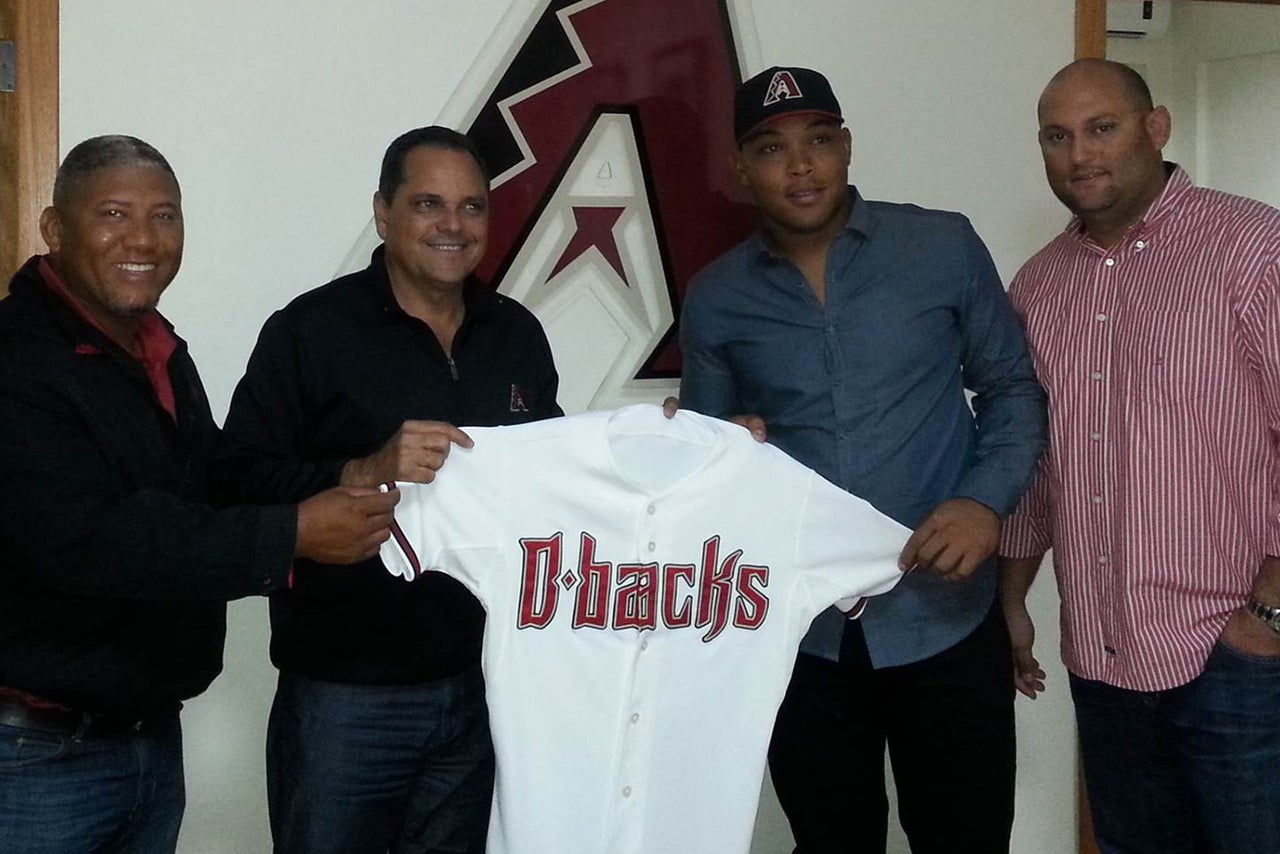 Yasmany Tomas (second from right) on Sunday signed a six-year, $68.5 million contract with the Diamondbacks.
Stewart and manager Chip Hale on Monday reiterated Tomas, 6-foot-1 and 252 pounds, will start spring training at third base to test the fit. Tomas has played third base, both corner outfield positions and was used as a DH in his five years in Cuba. He will play the entire 2015 season as a 24-year-old. Cespedes played his first season with the A's at 26. Abreu was 27 last year. Puig signed at 21 and made his major league debut in 2013 at 22.
Hale understands attention must be paid to Tomas' assimilation process, something Hale saw first-hand with Cespedes in Oakland, where Hale was the bench coach for Cespedes' 2-1/2 seasons there.
"It's a new country. It's a lot different for them," Hale said. "There are people that you bring into their life to help them. It's important.  We're going to try to get somebody for him just like we had in Oakland that was basically with him, not 24 hours, but was making sure that the decisions he was having to make and the people who were trying to get him to do certain things were the right ones."
The game itself should translate well, he said.
"All the Cuban players that I've been around, they love the limelight," Hale said. "They love the big games. Yoenis was so good against the big teams in the playoffs, and that's what I expect for Tomas. He's learned to play on the big stage, and that's just going to make everybody else be better on this club."
Hale, who played second and third base in his major league career, and D-backs third base coach/infield coordinator Andy Green will spent a lot of time with Tomas at spring training. Tomas is expected to continue working out in the Dominican Republic before spring training begins.
"As soon as he gets here, we'll have somebody every day," Hale said. "As everybody knows, you can look good in ground balls and 'BP' ... but the game speeds up. We'll see how he does then. We'll have a good idea by the time the season opens where he'll be. Like I said, he could be third baseman, he could be in the outfield. He may have to start for a short time in the minor leagues. Who knows? We're not a hundred percent on that.
"Like I said, I had Cespedes in Oakland and I saw the difference he made and how ready he was. So I'm hoping it's the same kind of situation."
Follow Jack Magruder on Twitter
---