Coyotes overhaul penalty-kill unit that has been among the NHL's worst
BY foxsports • October 12, 2016
GLENDALE, Ariz. -- The Arizona Coyotes roster has a new look to it.
First-year general manager John Chayka made acquisitions at several positions this offseason, but his abundant defensive acquisitions in particular could improve a penalty-kill unit that was among the worst in the league last season.
In fact, the Coyotes negated just 77.3 percent of their penalties in 2015-16, third-worst in the NHL.
In 2014-15, Arizona's penalty kill of 76.7 percent was the second-worst, and the year before it was the league's fifth-worst.
The Coyotes have attempted to address that deficiency by bringing in a number of new bodies. The most prominent additions to the defense are Alex Goligoski, a 10-year NHL veteran with a plus-21 rating last season, and Luke Schenn, a nine-year vet at just 26 years of age who had the 15th-most hits among NHL defenseman last year.
Oliver Ekman-Larsson has shoulder a lot of penalty-killing responsibility as well, but head coach Dave Tippett says the new roster additions will relieve some of the expectations put on the team's top defenseman.
In each of the last four seasons, Ekman-Larsson has finished in the NHL's top 20 in average time on ice per game.
"We relied on Oliver an awful lot to carry a big workload, both power play, penalty kill, and against top players," said Tippett.
"What Goligoski will do is enable us to manage some of OEL's minutes so we can get maximum capacity out of him, maybe a little less minutes from him. Goligoski will just be a solid player that can play in all of those situations."
Goligoski saw time at both full strength and special teams with the Dallas Stars last year, averaging 23 minutes and 50 seconds of ice time per game.
"(The penalty kill) was a role that I always played and something that I like to do," Goligoski said. "Hopefully if I get the chance to do that, I would love to help.
"I pride myself in being able to play in any situation and I think I should fit in good here with the 'D' that they already have here."
When Chayka was asked if the offseason moves were done to bolster the penalty kill, he noted the importance of his goaltending.
"That's part of it," Chayka said of the acquisitions. "We've got (assistant coach) John Slaney here who I think does a phenomenal job with our PK. He worked super hard all summer to make sure he's doing everything he can.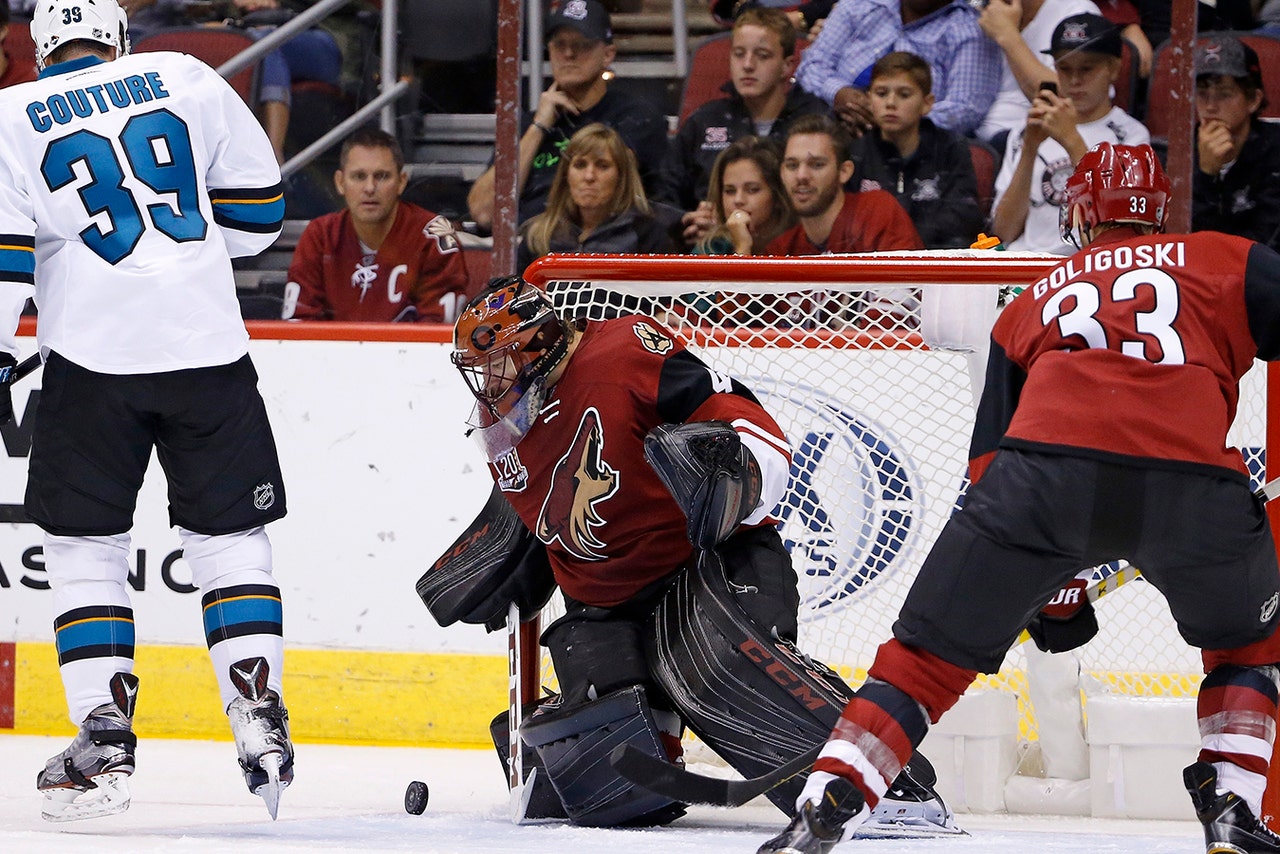 Coyotes goalie Mike Smith (middle) makes a save on a shot by the Sharks' Logan Couture (left) as the Coyotes' Alex Goligoski (33) watches during a preseason game earlier this month.

"I think between a healthy Mike Smith, Louie Domingue that's going to take that next step, goaltending is a big part of it. I think as a group it will be much improved, and that's something that we'll need to do if we want to be successful this year."
Tippett said Schenn and Goligoski each brings a different style to the mix.
"Schenn is more a shot-blocker, a heavy guy," he said. "Goligsoki is just a real smart player that reads plays really well. So we hope both of those guys will enhance our penalty kill a little bit.
"We're going to try a couple different things in the structure of the penalty kill this year, it's going to be a little bit different."
---
---