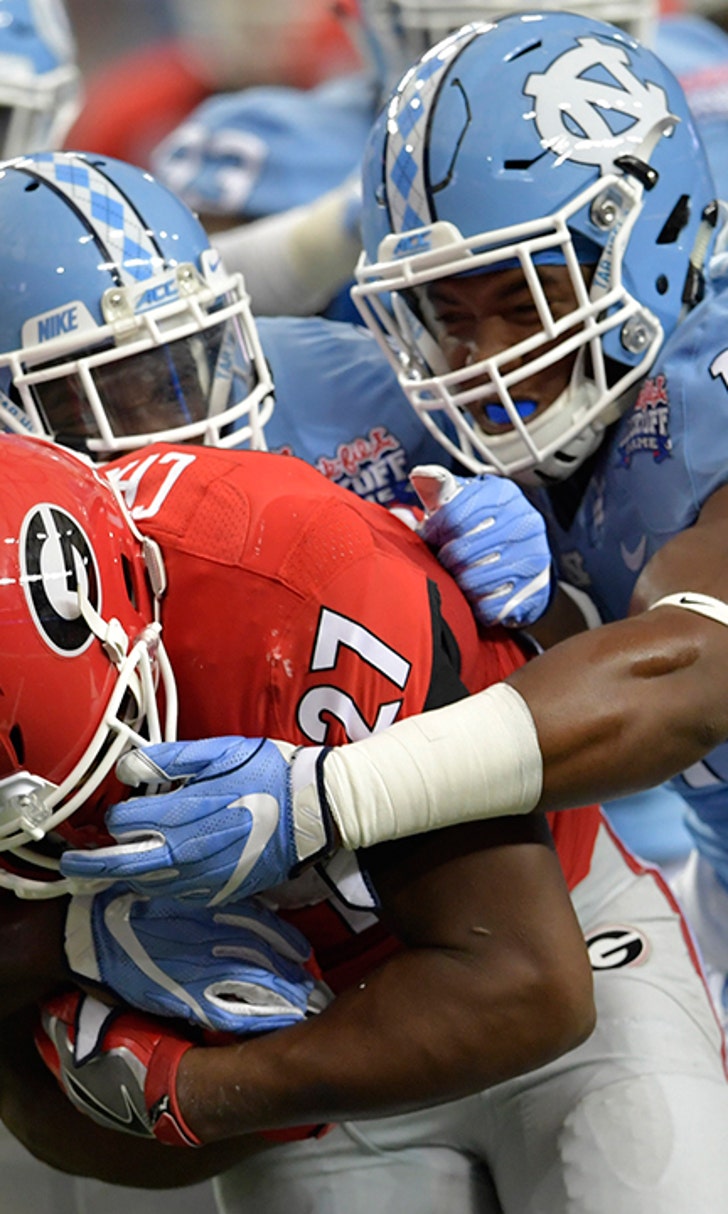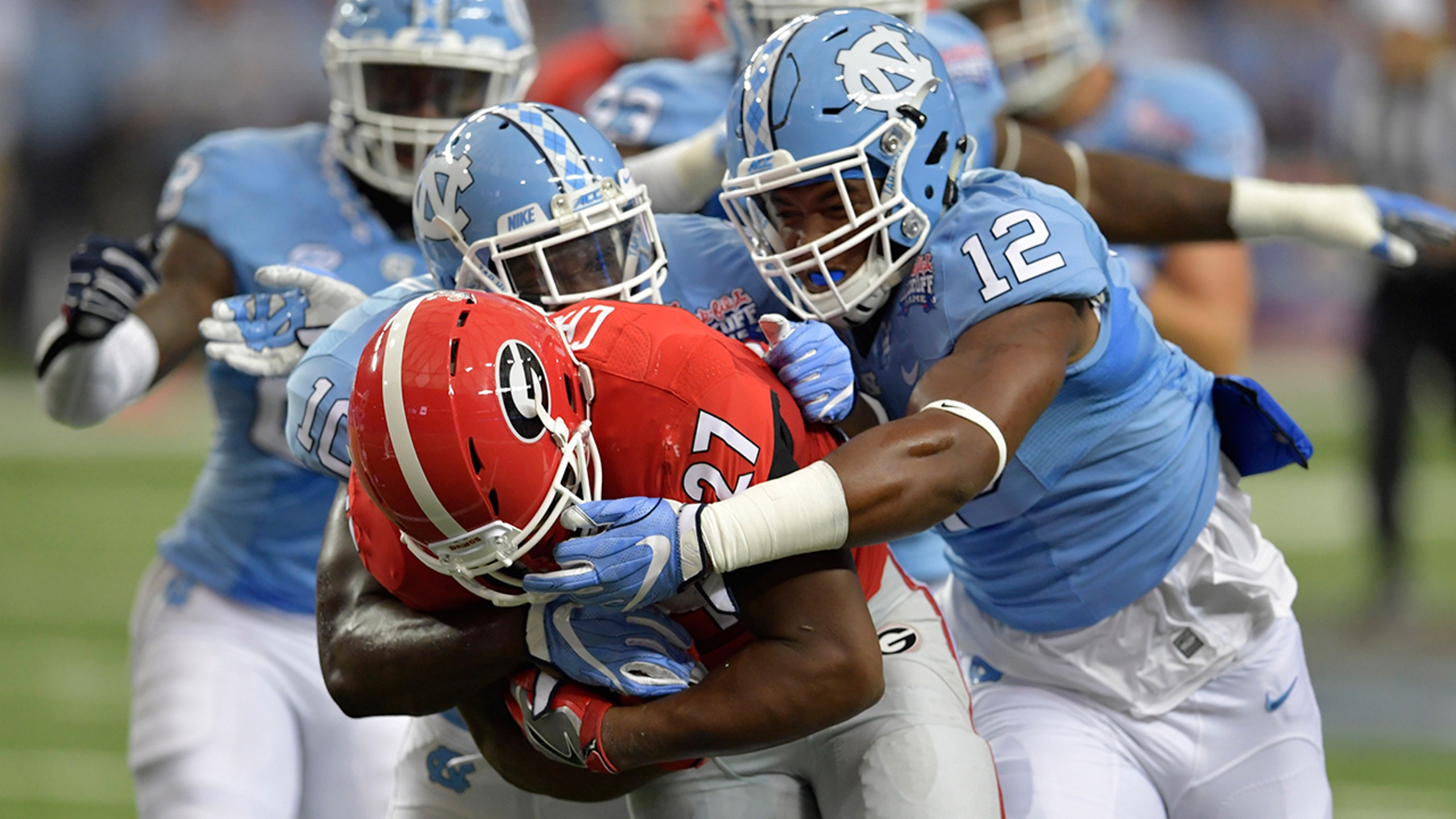 Continued problem haunts North Carolina in loss to Chubb, Georgia
BY foxsports • September 3, 2016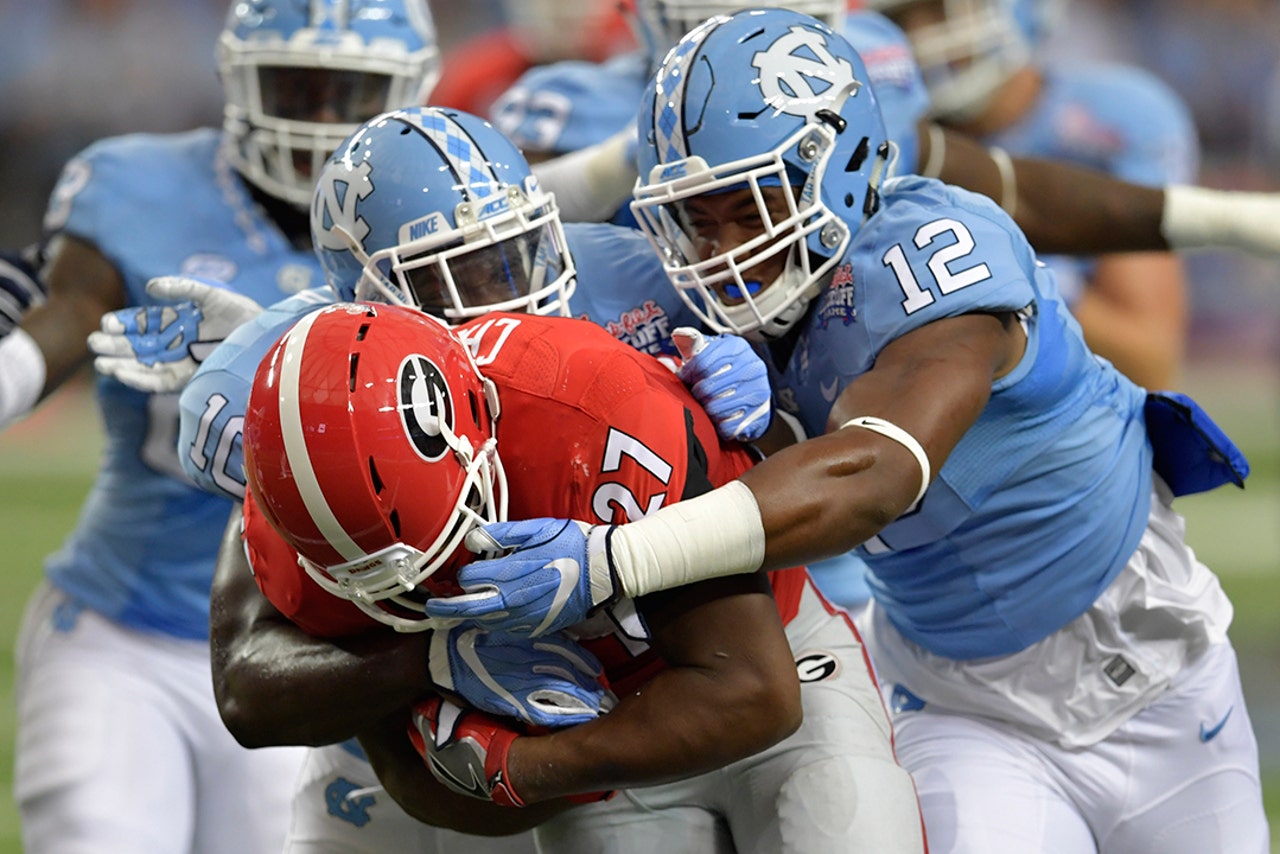 ATLANTA -- Question answered, and it wasn't anywhere near the reality No. 22 North Carolina wanted when it came it's defense.
They were gashed and shredded as Nick Chubb's welcome party came at the expense of the Tar Heels' defense, No. 19 Georgia's running back stealing the show on opening weekend with 222 yards and two touchdowns in the Bulldogs' 33-24 win Saturday at the Georgia Dome.
"There was some things that we did that were not characteristic of us, and hopefully we can get that going back in the right direction," said North Carolina coach Larry Fedora.
Considering the quality of running backs that dot the schedule, that's imperative.
In order, James Conner and Qadree Ollison (Pitt), Dalvin Cook (Florida State), Travon McMillian (Virginia Tech), Joseph Yearby (Miami) -- all of who have 1,000-yard seasons on their resumes -- await the Tar Heels after tune-up games against Illinois and James Madison.
Granted, Chubb at the height of his powers -- and based on what he showed time and time again in his first game since tearing three ligaments in his knee Oct. 19 against Tennessee, he's back to his old Heisman Trophy-buzz inducing ways -- is a level few backs in the country can equal.
"He's pretty special," said Fedora said. "There's no doubt he's one of the best in the country, and they're going to keep feeding it to him."
But giving up 289 total yards on the ground was a potentially demoralizing sight for a Tar Heels defense that must improve if its to reclaim its ACC Coastal Division throne, or even enter the College Football Playoff conversation.
A season ago the Tar Heels were last in the league in rushing yards allowed and 121st in the nation at 247.4 per game. Only two teams that won 10 or more games in 2015 finished lower than 80th, and they were TCU (80th) and Oklahoma State (87th) out of the Big 12, where defense is often a foreign subject.
Those Tar Heels largely lived with the issues against the rush because they ultimately didn't matter. So Duke racked up 327 yards? North Carolina still won 66-31. Miami going for 326 yards? That was in a 59-21 UNC victory. The same thing as the Tar Heels won despite NC State running for 308 yards.
But it proved a major issue in North Carolina's two losses, getting burned for a stunning 645 yards on the ground by Baylor in the Russell Athletic Bowl and 318 to Clemson in the ACC Championship Game.
North Carolina's offense was potent enough to largely offset any defensive efficiency, and to its credit, the D did prove opportunistic in its first season under Gene Chizik. It tied for the ACC lead in interceptions and turnovers created.
With seven starters back there was more of the same there, as nickleback M.J. Stewart forced a fumble that defensive end Tomon Fox recovered. But an offseason to get further acclimated with Chizik's system, and more seasoning for seven returning starters isn't showing the desired improvement, at least not yet.
Just like against Baylor and Clemson, the offense couldn't make up for the inability to limit damage on the ground.
It wasn't just a Chubb thing, either. The Bulldogs, who were playing quarterbacks Greyson Lambert and Jacob Eason -- a true freshman -- were expected to run heavily, and the did. In all they averaged 7.2 per carry from their backs, helped by Brian Herrien adding 59 and a TD on seven tries.
The Tar Heels are at least poised to recover defensively, with a gift coming next weekend in the form of Illinois. The Illini were 110th in the nation and last in the Big Ten last season, averaging just 129.3 rushing ypg, but they did just ran for 287 in Lovie Smith's debut as coach, dumping FCS foe Murray State behind 118 yards from Kendrick Foster on just four carries.
Fedora and Co. also know their offense will find its rhythm with new starter Mitch Trubisky at the controls. Against the Bulldogs they had their lowest-scoring game since dropping last year's opener to South Carolina 17-13, and the 315 yards were 171 fewer than their normal output last season.
With established weapons like RB Elijah Hood and receivers Ryan Switzer and Mack Hollins, and an emerging all-purpose threat in T.J. Logan, who had 253 all-purpose yards and two scores, including a kickoff return for a TD to star the second half. It's just a matter of time before North Carolina regains its swagger.
"We were so inconsistent offensively, we weren't moving the chains," Fedora said. "So that makes you start guessing on all your play calls, when you're trying to hit some big plays to get something going, and we just didn't make them."
On defense, though, it's searching for answers, because the one it received at the Georgia Dome may not be the stuff of another division crown.
A victory over Georgia would have gone a long way toward legitimizing the Tar Heels, both for 2015's successes and what they could potentially do this season.
Instead, they're left facing the same doubts as it's now been five games -- dating back to a 30-27 overtime win over Virginia Tech in Frank Beamer's final home game -- since North Carolina held anyone under 289 yards on the ground.
Chubb added the punctuation mark with his final run, racing for a 55-yard touchdown with 3:34 to go and putting North Carolina right back where it was a year ago.
That's opening the season 0-1 after a loss to an SEC team, concerns over its ability to stop the rush again looming as a potential limiting factor.
Those prolific backs are going to keep coming. But at least they wont' be Chubb. It's likely the Tar Heels won't see anyone like him again.
"That dude doesn't stop," said Tar Heels defensive tackle Nazair Jones. "He was hard to cover."
Follow Cory McCartney on Twitter @coryjmccartney and Facebook. His book, 'Tales from the Atlanta Braves Dugout: A Collection of the Greatest Braves Stories Ever Told,' is out now, and 'The Heisman Trophy: The Story of an American Icon and Its Winners' will be released Nov. 1, 2016.
---
---